Market Overview
The Central European heavy ground transportation vehicles market, which includes trucks and buses, was valued at $42.9 billion in 2021. This number is expected to reach $66.6 billion by 2030, with a CAGR of 5.0% during 2021–2030. The key factors driving the market are an increase in trade activities and rapid urbanization, which drive the demand for road freight transportation and logistics, along with the innovations in technologies.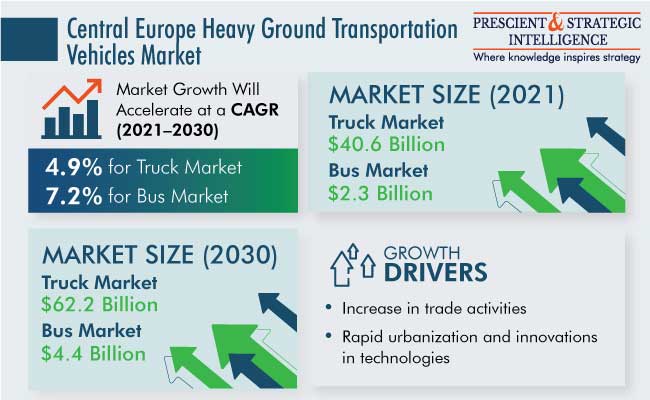 Trade requires efficient goods transportation solutions, which boosts the growth of the market in Central Europe. Moreover, the market is strengthened by the numerous trade agreements between neighboring countries. For instance, in 2019, Austria was the number 27 economy in the world in terms of GDP, number 31 in total exports, and number 28 in total imports. Austria exports specialized industrial machinery, pharmaceuticals, glassware, power machinery, and food products mainly to Germany, Italy, Switzerland, and France by means of ground transportation, thereby supporting the growth of the industry.
Trucks Form Backbone of Ground Transportation in Central Europe
Truck sales generate the majority of the revenue in Central Europe due to the strengthening focus on electric transmission. Regional countries are trying to reduce their emission of greenhouse gases (GHGs), especially from road transportation, and oil dependence. Companies including AB Volvo and Mercedes-Benz Group AG are spending more on R&D so they can innovate transport for the cities of tomorrow. Autonomous driving, electromobility, and connected vehicles will lead to quieter, cleaner, and safer roads, thus allowing megacities to grow. Countries such as Austria, the Czech Republic, Hungary, Poland, and Switzerland are adopting electric light and heavy trucks to reduce CO2 emissions. For instance, in Switzerland, the number of electric trucks sold was 50 in 2020, compared to 13 in 2019, as per the European Automobile Manufacturers Association (ACEA).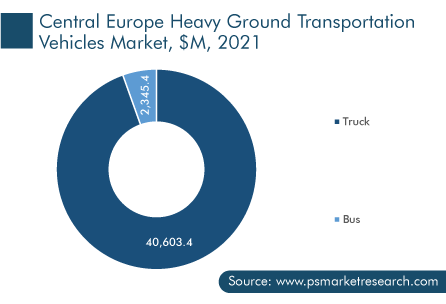 LCV Trucks Are More in Demand
LCV trucks held the larger revenue share, of over 80%, in the Central European truck market in 2021. This category is also expected to grow with the higher CAGR during the forecast period (2022–2030). Light trucks are more in demand due to their lower price, which makes them affordable for small-to-mid-sized enterprises. Moreover, the growing need for last-mile delivery services is expected to drive the growth of the market in this category in the region during the forecast period.
Conventional Trucks Generated Majority of Revenue
Conventional (diesel) variants held more than value 90% share in the Central European truck market in 2021. This was primarily due to the low prices of these trucks, along with a minimal aftermarket service requirement. Hybrid and electric vehicles are expensive compared to conventional ones, which is why truck owners prefer those with conventional powertrains.
However, now, the Central European market for electric trucks is growing with a healthy rate owing to the stringent government regulations for the reduction of carbon emissions, growing number of electric truck manufacturers in the region, including many that have majorly offered conventional, diesel-based variants till now. Many companies from overseas have also launched electric trucks, anticipating the growing demand for them in the region. The pilot e-truck projects by OEMs have also helped boost the adoption of these vehicles in the region.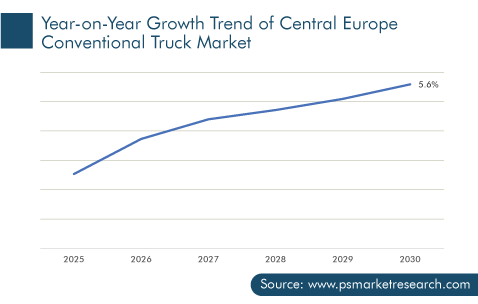 Poland Is Largest Truck Market in Central Europe
Poland generates the highest revenue in the Central European truck market. With a population of 38.0 million, Poland is the largest consumer market in Central Europe and the sixth-largest economy of the EU. Poland's exports and imports were both valued at $345.2 billion in 2019. Poland's chief export partners in terms of the value of the exported goods are Germany (27.5%), the U.K. (6.0%), the Czech Republic (6.1%), France (5.8%), and Italy (4.6%). Hence, the significance of the Polish market goes well beyond its borders. For the international trade of commodities, different means of transportation are required, which boosts the ground transport machinery market.
Small Bus Market in Central Europe an Ocean of Opportunity for OEMs
Compared to the truck market, the bus market is relatively small in the central part of Europe; therefore, OEMs have lucrative opportunities here. Bus sales in the region are mainly driven by the increase in the need for public transportation. Moreover, the surging demand for clean buses and government initiatives to promote public transportation are predicted to positively influence the Central European bus market during the forecast period. The prevailing concerns over the pollution caused by automobiles have forced governments to take initiatives to reduce the levels. For instance, in February 2019, the European Union (EU) adopted a new rule to make 25% of all European buses electric or hybrid by 2025. Secondly, regional governments are taking initiatives to improve the public transportation system.
Single-Decker Bus Sales Are Flourishing with Significant Rate
Single-decker buses are expected to progress with an around 8% CAGR during 2021–2030, in terms of value. Schools, colleges, universities and other academic institutions, and public transport agencies continue to procure these variants in high numbers to suffice the demand for daily commute.
Transit Buses Held Significant Revenue Share
The transit buses category dominated the Central European bus market with around value 50% share in 2021. These buses improve social inclusion, providing access to education, employment, and healthcare to all, including those on low incomes, those who do not drive, the older generation, people with disabilities, and people living in remote areas. Buses are the most-widely used form of public transport in the region and thus, a vital contributor to tourism. Moreover, there are 58 bus assembly plants in Europe and 692,207 buses on the EU's roads as of 2020. Additionally, 30,570 European buses, worth $0.9 billion, were exported to other nations in 2020.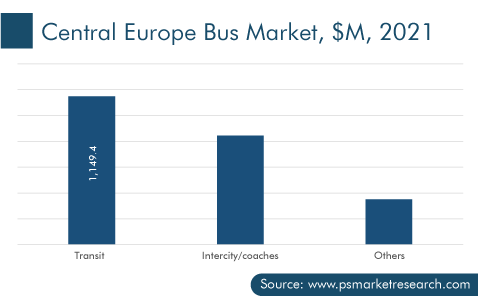 Fastest Growth Being Observed in Polish Bus Market
Poland is one of the largest conventional- and electric-bus-producing countries in Central Europe. The manufacturing of electric buses is growing with many companies, such as Germany's MAN Truck & Bus, starting production here. This new investment of MAN has strongly enhanced Poland's position in the zero-emission public transport segment. MAN Truck & Bus is also collaborating with Europe's third-largest electric bus manufacturer, Solaris. About a third of all the electric buses in Europe are manufactured in Poland, led by Solaris Bus & Coach. Moreover, in the region, Poland has the highest number of passengers traveling by road, which is essentially propelling bus sales here.
Market Players Are Introducing New Products and Engaging in Partnerships and Collaborations
Players in the heavy land transportation vehicles market have been launching new products and entering into strategic partnerships and collaborations to gain a competitive edge. For instance:
In September 2021, AB Volvo launched the new Volvo BZL Electric chassis, which has a two-stage automated gearbox and a 200kW motor, which offers a maximum of 540 hp. This arrangement offers a higher torque at lower speeds and evens out the peaks, thereby helping save energy and enhancing battery health and service life. Moreover, the buses support both depot and on-route charging.
In December 2020, AB Volvo, Daimler Truck AG, IVECO, OMV Group, and Shell PLC collaborated to launch H2Accelerate zero-emission hydrogen trucks in Europe, to achieve the complete decarbonization of the trucking sector.
Key Players in Central Europe Heavy Ground Transportation Vehicles Market
Alstom Holdings
CRRC Corporation Limited
Hitachi Ltd.
Stadler Rail AG
Siemens Aktiengesellschaft
Wabtec Corporation
CNH Industrial N.V.
AB Volvo
Mercedes-Benz Group AG
Traton Group
PACCAR Inc.
CAF Construcciones y Auxiliar de Ferrocarriles S.A.
Mitsubishi Fuso Truck and Bus Corporation
VDL Bus & Coach B.V.
BYD Motors Inc.
Toyota Industries Corporation
SAIC Motor Corporation Limited
Stellantis N.V.
This research offers market size of the Central Europe heavy ground transportation vehicles market for the period 2015–2030.
Based on Type
Geographical Analysis
Austria
Czech Republic
Hungary
Belgium & Luxembourg
Poland
Switzerland
Netherlands