Market Overview
The global heart pump devices market size stood at USD 2,212.5 million in 2022, and it is expected to grow at a CAGR of 22.1% during 2023–2030, to reach USD 10,912.6 million by 2030. This is due to the growing cardiovascular disease incidence, increasing geriatric population, and various new product launches by market players.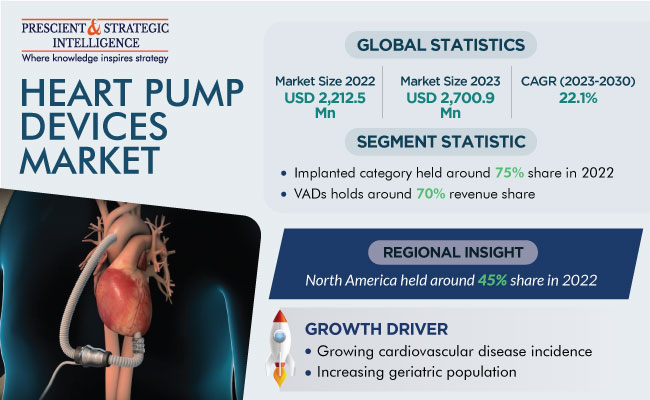 Globally, heart failure is one of the most-common problems. It is a complex clinical syndrome characterized by the abnormal functioning of the heart, which leads to an insufficient cardiac output. According to the Global Burden of Heart Failure article published by the NCBI in 2023, more than 65 million people are affected by this condition worldwide. An artificial heart pump can temporarily help in the pumping action of the heart.
Various CVD and hypertension diseases affect the proper functioning of the circulatory system. The risk of cardiac arrest and the above-mentioned CVDs is especially high for people consuming lots of processed meat, alcohol, and sodium-rich products. Therefore, the rapid globalization, coupled with unhealthy lifestyles, is supporting the advance of the market, as they are the primary external risk factors for CVDs. According to the Centers for Disease Control and Prevention data, coronary heart disease is the most-common CVD, with approximately 20.3 million adults of age 20 and more suffering from it in the U.S.
Furthermore, the unavailability/shortage of heart donors delays the transplantation procedure. As per government sources, in 2023, nearly 4,150 people need heart transplants, and approximately 3,400 people are on the active waiting list in the U.S. The surge in the count of patients suffering from irreversible end-stage heart failure and waiting for a transplant has led to an increase in the demand for cardiac pump devices due to the shortage of donor organs.
Additionally, the rising geriatric population is a major factor driving the growth of the market. The U.S. has the third-fastest-growing geriatric population after China and Japan. According to the U.S. Census Bureau, in 2021, there were around 55,892,050 persons aged 65 years and above in the U.S. With the rise in age, the population tends to become more susceptible to cardiovascular diseases.
Ventricular Assist Devices Category Accounts for the Largest Share
Based on product, ventricular assist devices (VADs) hold the largest share, of around 70%, on account of the increasing rate of technological advancements in these products by market players and the unavailability of organ donors. The essential drivers for the category are the rising patient pool suffering from heart failure and the long waiting list for surgeries.
VADs are mechanical pumps that are surgically implanted into the heart to help it pump blood to the rest of the body. They are used in patients with a weakened heart or cardiac failure to temporarily maintain systolic function, before receiving a transplant or until the organ's complete functionality returns. VADs may also be used as a permanent support therapy. Therefore, the procedure may be lifesaving and can significantly improve a patient's quality of life.
Moreover, many companies are increasing R&D on mechanical cardiac pump technology, to improve patient outcomes. For instance, in February 2020, Abbott Laboratories announced that the U.S. Food and Drug Administration has designated its in-development fully implantable left ventricular assist system (FILVAS) as a Breakthrough Device. The FDA launched the Breakthrough Devices Program to help expedite the development and review of submissions for technologies that offer significant advantages over the existing approved products. In the future, the approval of these products by government bodies is expected to help generate more revenue in this category.
The intra-aortic balloon pumps category is expected to witness healthy growth. This device is suitable for patients who have recently experienced cardiac insufficiency, as it eases the burden on the still-beating human heart by forcing blood into the coronary arteries, which are not receiving an adequate supply.
Heart Pump Devices Market Report Coverage

| | |
| --- | --- |
| Report Attribute | Details |
| Historical Years | 2017-2022 |
| Forecast Years | 2023-2030 |
| Market Size in 2022 | USD 2,212.5 Million |
| Market Size in 2023 | USD 2,700.9 Million |
| Revenue Forecast in 2030 | USD 10,912.6 Million |
| Growth Rate | 22.1% CAGR |
| Report Scope | Market Trends, Drivers, and Restraints; Revenue Estimation and Forecast; Segmentation Analysis; Impact of COVID-19; Companies' Strategic Developments; Market Share Analysis of Key Players; Company Profiling |
| Segments Covered | By Product; By Type; By Therapy; By End User; By Region |
Explore more about this report - Request free sample pages
Implanted Category Accounts for a Larger Share
Based on type, the implanted category holds a larger share. This is due to the better quality of life and longer survival after a heart transplant these variants offer and the product launches by market players. For instance, in 2022, Abiomed announced that the first participant in an FDA-regulated Early Feasibility Study (EFS) had been successfully implanted with the Impella Bridge-to-Recovery device.
Whereas, the extracorporeal category is expected to experience a higher growth rate, due to the rising usage of the extracorporeal membrane oxygenation procedure. ECMO is an advanced life support technique used for critically ill patients with severe cardiopulmonary insufficiency that has not responded to conventional management approaches. During the procedure, a patient's blood is continuously removed from the body through the ECMO machine, wherein it is oxygenated, and then returned to the patient, thus temporarily replacing the lung function (i.e., veno-venous ECMO) or both the cardiac and pulmonary functions (i.e., veno-arterial ECMO).
Moreover, in April 2023, Abbott Laboratories received clearance from the Food and Drug Administration for its CentriMag blood pump, which can be used to provide long-term life support to critically ill patients, thus providing doctors with more time to make critical care decisions.
BTT Category Is Expected to Register Fastest Growth
The bridge-to-transplant (BTT) category is expected to experience the fastest growth in the coming years. This is due to the rising awareness of transplantation and the availability of LVADs for bridge-to-transplant procedures. According to the United Network for Organ Sharing, in 2022, over 3,850 heart transplants were performed across the U.S., each providing the opportunity to a recipient with end-stage heart disease to regain the desired quality of life. Bridges to transplantation are used to help patients who are listed for a heart or lung transplant, acting to temporize whilst on the waiting list.
Hospitals Hold the Largest Revenue Share
Hospitals held the largest share, of 50%, in the past. This is attributed to the rising prevalence of cardiovascular diseases, which is leading to a surging number of patient visits to hospitals. Moreover, the number of cardiac assist device implants is increasing due to the easy availability of reimbursement for such procedures, which helps in reducing the financial burden on patients. For instance, as per a report, around 7.7 million people are suffering from diseases of the circulatory system in the U.K.
Product Launches and Mergers and Acquisitions by Market Players
In order to maintain a strong market position, the key players have adopted several strategies, such as product launches, collaborations, and acquisitions. For instance;
In April 2023, Abbott Laboratories completed the acquisition of Cardiovascular Systems Inc. (CSI), as part of its investment in its vascular device portfolio. The move enhances Abbott's ability to care for patients with peripheral and coronary artery disease.
Moreover, in March 2023, Abbott announced that the FDA approved its Epic Max stented tissue valve to treat people with aortic valve disease. This device is designed to achieve an appreciable blood flow.
North America Is Prime Revenue Contributor
North America captured the largest revenue share in the market, of around 45%, in 2022. This is attributed to the rising demand for technologically advanced cardiac assist devices due to the increasing prevalence of cardiovascular diseases. In Canada, according to government statistics, heart disease is the second-leading cause of death after cancer, with approximately 67,400 individuals in the country dying as a result of these issues in 2020.
Thus, the major factor that is driving the market is the increasing burden of various cardiac diseases, such as stroke and cardiomyopathy. As per a report by the Canadian Chronic Disease Surveillance System (CCDSS) updated in 2022, every hour, a Canadian may have a heart attack. This situation is giving rise to a substantial demand for heart pump devices for the better management of these diseases, which will support the growth of the market in Canada.
The APAC region is expected to register the fastest growth during the forecast period, due to the increase in the count of government initiatives to support patients with CVDs, rising funding for R&D, and product launches. For instance, in 2022, an implantable left ventricular assist device, named HeartCon, was approved by China's National Medical Products Administration for entry into the market. It is an implantable LVAD with magneto hydrodynamic levitation technology.
Various governments and institutes have allocated funds for research and development activities in order to create devices based on novel and cost-effective technologies for those afflicted by CVDs. For instance, according to the National Bureau of Statistics of China, in 2021, a total of RMB 2,795.63 billion was invested in R&D across the country.
The European region also holds a significant share due to the rising number of diabetic patients, who are at a high risk of diseases of the circulatory system. Moreover, eating unhealthy food or processed food directly contributes to a rise in cholesterol levels and raises the risk of CVDs, stroke, and diabetes. Therefore, the severe blockage of a coronary artery makes cardiac assist devices necessary. Furthermore, hospitals are making several changes to their services by adopting advanced technologies to address the growing burden of such issues.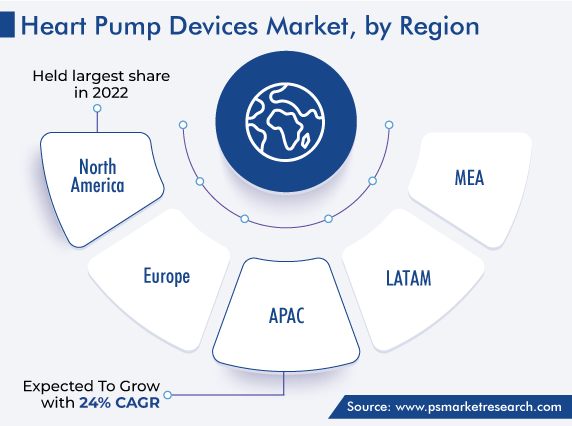 Key Players in Heart Pump Devices Market Are:
Abbott Laboratories
Medtronic plc
Getinge AB
Jarvik Heart Inc.
Fresenius Medical Care AG & Co. KGaA
Abiomed Inc.
Teleflex Incorporated
Terumo Corporation
Berlin Heart
SynCardia Systems LLC
Market Size Breakdown by Segment
This report offers deep insights into the heart pump devices market, with size estimation for 2017 to 2030, the major drivers, restraints, trends and opportunities, and competitor analysis.
Based on Product
Ventricular-Assist Devices

Left ventricular-assist device (LVAD)
Percutaneous ventricular-assist device (PVAD)
Biventricular ventricular-assist device (BIVAD)
Right ventricular-assist device (RVAD)

Intra-Aortic Balloon Pumps
Total Artificial Hearts
Based on Type
Based on Therapy
Bridge-to-Transplant (BTT)
Bridge-to-Candidacy (BTC)
Destination Therapy (DT)
Based on End User
Hospitals
Cardiac Centers
Ambulatory Surgical Centers
Regional Analysis
North America
Europe

Germany
U.K.
France
Italy
Spain

Asia-Pacific

Japan
China
India
South Korea
Australia

Latin America
Middle East and Africa

Saudi Arabia
South Africa
U.A.E.