Market Overview
The healthcare analytical testing services market size stood at USD 7,240.1 million in 2023, and it is expected to grow at a CAGR of 11.5% during 2024–2030, to reach USD 15,390.5 million by 2030. This growth can be mainly attributed to the rising number of subcontracting actions of analytical testing services by several pharmaceutical companies. Moreover, the mounting number of clinical trials that involve analytical testing, the increasing need for drugs and therapeutics, and the surging emphasis on biosimilars are other factors propelling the market growth.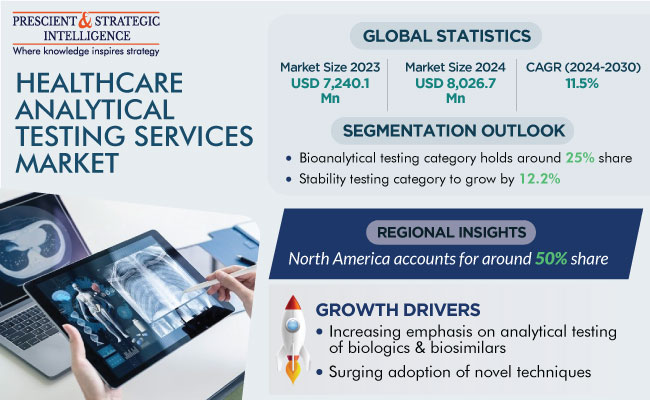 Healthcare analytical testing services are significantly used by various healthcare organizations, such as pharmaceutical, biopharmaceutical, and medical device producers, for assisting the processes of drug discovery and development, from the part of discovery through clinical development and clinical trials, to the commercialization of drugs in the market. Moreover, the prime purpose of using these testing services is to have in-depth knowledge of patient records, disease diagnosis, and drug manufacturing expenses, along with the overall management of hospitals.
In addition, key players that are operating in the market have a competitive spirit and spend a major part of their income on these services. They are continuously involved in a broad range of growth strategies, including partnerships, collaborations, mergers, and joint ventures, for maintaining their market positions and providing good testing service facilities.
For instance, in July 2022, SGS announced the acquisition of Silver State Analytical Laboratories Inc. and Excelchem Laboratories Inc. to augment SGS's environmental testing capabilities in the western U.S. This acquisition emphasized providing a whole range of analytical services with a focus on metals, asbestos, hazardous waste, bacteria, mold, and particulate analysis in soil, air, and water; and it is a significant part of SGS's global strategy for the industries & environment sector.
Increasing Emphasis on Analytical Testing of Biologics & Biosimilars
Biologics are considered a promising therapeutic area and are beneficial for offering the most efficacious means of treatment for several medical conditions with no treatment alternative in healthcare. These are FDA-approved medications produced by pharmaceutical companies and represent the latest biomedical research. As per the U.S. Food and Drug Administration 2022 report, the Center for Drug Evaluation and Research (CDER) approved 37 new drugs as new molecular entities and new therapeutic biological products. Thus, the rising development of novel biologics and biosimilars, owing to the growing incidences of chronic disorders, is driving the market growth.
Additionally, the emergence of biosimilars is continuously leading to analytical testing for their approvals and creating the demand for more sensitive and faster healthcare analytical procedures. According to the Sandoz International GmbH press release, analytical testing is emphasized as a pivotal step in the development of biosimilars. Moreover, the prime motive in the development of biosimilars is to match the similarity to verify therapeutical action with its reference molecule. Herein the analytical, preclinical, and clinical studies come into play, which is further propelling the demand for healthcare analytical testing services.
Bioanalytical Testing Services Hold a Major Share
The bioanalytical testing services category held a major revenue share, of around 25%, in 2023. This is due to the accessibility of extensive bioanalytical testing services for a wider range of drug types, such as small molecules, biologics, and vaccines, and several drug manufacturers are constantly working to produce more reliable healthcare analytical procedures that are accurate and efficient.
Moreover, the higher need for the latest bioanalytical testing services is witnessed by contract manufacturers. In addition to that, large firms are renewing their pipelines by investing in R&D departments, and as a consequence of the increasing complexity of these testing services, companies are conforming with norms and regulations levied on them. Thus, such factors are driving the demand for healthcare analytical testing services. In the same way, the molecule bioanalytical demand is rising, due to the surging investments in the production of amino acid-based molecules and biological drugs.
In addition, the usage of cell-based assays in bioanalytical testing services is resulting in high demand for such services. These cell-based assays are comprehensively employed in high-throughput screening because of their capability of providing beneficial in-vivo biological information that consequently bustles the drug discovery process.
Healthcare Analytical Testing Services Market Report Coverage

| | |
| --- | --- |
| Report Attribute | Details |
| Market Size in 2023 | USD 7,240.1 Million |
| Market Size in 2024 | USD 8,026.7 Million |
| Revenue Forecast in 2030 | USD 15,390.5 Million |
| Growth Rate | 11.5% CAGR |
| Historical Years | 2017-2023 |
| Forecast Years | 2024-2030 |
| Report Scope | Market Trends, Drivers, and Restraints; Revenue Estimation and Forecast; Segmentation Analysis; Impact of COVID-19; Companies' Strategic Developments; Market Share Analysis of Key Players; Company Profiling |
| Segments Covered | By Type; By End User; By Region |
Explore more about this report - Request free sample pages
North America Makes Largest Contribution to Global Revenue Generation
North America leads the market for healthcare analytical testing services, with a revenue share of 50% in 2023. This is attributed to the presence of top manufacturers offering testing instruments as well as high-end pharmaceutical materials, technological advancements, and collaborations among industry players to develop advanced healthcare solutions, in the region.
For instance, in September 2022, Bureau Veritas announced the acquisition of Galbraith Laboratories Inc. for expanding its advanced analytical services in North America. This collaboration results in positioning Bureau Veritas in the industrial chemical and consumer healthcare supply chain by linking its existing services to support product development and upstream research through manufacturing to end users. In addition to that, high investments by biopharmaceutical companies in the U.S. are rapidly expanding the healthcare sector together with favorable regulatory reforms.
Whereas, the APAC market is expected to witness the highest, CAGR of 12.0%, over the next few years. This growth can be attributed to the rising investments by foreign companies for the formation of advanced facilities and alliances to boost the reach of their products and services to different locations; and improvements done by governing bodies for altering standards of evaluation to line up with the global standards in the region.
Moreover, the availability of clinical testing laboratories with advanced facilities and the easy accessibility to validating testing in the region are driving the growth of the market. For example, Labcorp announced the expansion of its global offerings and its mark in APAC in November 2021, with the introduction of a new, cohesive bioanalytical lab in Singapore. This has resulted in providing new comprehensive abilities to support global pharmaceutical drug development programs, enable clients quicker turn-around times for data in early phase trials, and support the development studies of small and large molecules.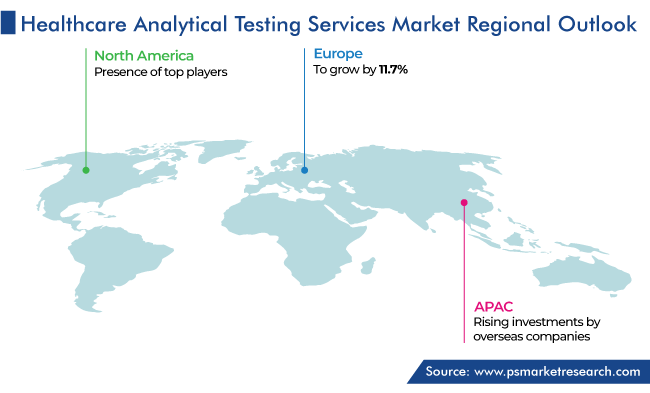 Pharmaceutical & Biopharmaceutical Companies Dominate the Industry
Pharmaceutical & biopharmaceutical companies accounted for the largest revenue share, of around 55%, in 2023. This is on account of the increasing number of analytical testing services outsourced by these firms to raise profit margins and concentrate on their main business competence. Outsourcing analytical testing facilities saves time for these firms and expands their growth. Thus, various small and big pharmaceutical and biopharmaceutical firms are coming together with contract research organizations to avail of the analytical testing.
In addition to that, the increasing number of pharma and biopharma firms globally is driving the growth of the market in this category, due to their initiatives for launching healthcare analytical and stability testing. For instance, in July 2021, LGM Pharma launched its new analytical services offering that provides analytical testing and stability services to drug manufacturers and developers like compounding pharmacies. Moreover, biopharmaceutical firms provide healthcare analytical testing to ameliorate productivity, describe biologics and biosimilars, and offer real-time quality control of products.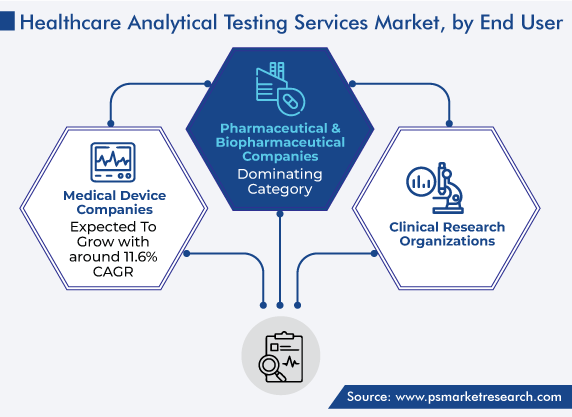 Surge in Adoption of Novel Technologies and Techniques
The rise in the adoption of novel technologies and techniques is providing lucrative opportunities to industry players. This is primarily ascribed to the increasing awareness of healthcare analytical testing services and the rising requirement for outsourcing facilities. The players, such as SGA SA, are extensively using the latest technologies like Dry Blood Spot technology during the quantification of pharmacokinetics, offering more benefits than other traditional methods. This technology needs minimal requirement of samples for processing and convenient storage & shipment of samples, has low biohazard risks, and absence of post-collection processing.
Other latest technologies that are extensively used include morphologically directed Raman spectroscopy (MDRS), high-resolution accurate mass spectrometry (HRAM) instruments, harmonized data acquisition applications software, and fully validated laboratory information & management systems (LIMS). Hence, the adoption of advanced technologies is making the quantification process easy, enabling the expansion of the market.
Key Healthcare Analytical Testing Service Providers Are:
Eurofins Scientific
Charles River Laboratories International Inc.
Laboratory Corporation of America Holdings
Syneos Health
Intertek Group plc
Sartorius AG
ALS Ltd
Pace Analytical Services LLC
WuXi AppTec Co. Ltd.
ICON PLC
Market Size Breakdown by Segment
This fully customizable report gives a detailed analysis of the healthcare analytical testing services industry from 2017 to 2030, based on all the relevant segments and geographies.
Based on Type
Bioanalytical Testing
Physical Characterization
Method Development & Validation Testing
Raw Material Testing
Batch-Release Testing
Stability Testing
Microbial Testing
Environmental Monitoring
Based on End User
Pharmaceutical & Biopharmaceutical Companies
Medical Device Companies
Clinical Research Organizations
Geographical Analysis
Europe

U.K.
Germany
France
Italy
Spain

Asia-Pacific

China
Japan
Australia
India
South Korea

Latin America
Middle East & Africa

Saudi Arabia
South Africa
U.A.E.