Market Overview
The global bioanalytical testing services market generated revenue of USD 3,456.6 million in 2023, and it is projected to witness a CAGR of 15.9% during 2024–2030, to reach USD 9,652.6 million by 2030. This is attributed to the established life sciences industry utilizing bioanalytical testing, the presence of key service providers, the increased number of ongoing clinical trials, high research and development expenditure, and the expansion of biosimilar and generic markets. Additionally, the expansion of pharmaceutical and biopharmaceutical firms outsourcing clinical, preclinical, and laboratory testing services is another factor driving the market growth.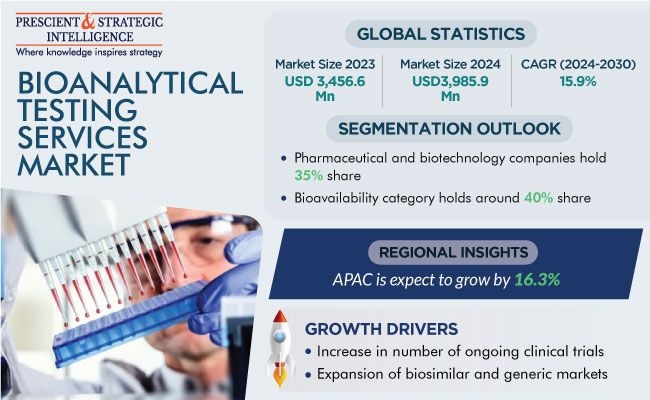 Moreover, the increasing preference of key players toward analytical testing of biosimilars and biologics, the rising healthcare spending for providing improved health services, and the surging focus of industry players on the approvals and launches of testing services during crucial times are boosting the market demand.
Furthermore, the rising rate of outsourcing research and development activities by leading pharmaceutical businesses to emphasize on their core capabilities is providing a significant positive impact on this market. Also, surging innovations and competitive pressure are leading firms to outsource such services. In addition, the rising prevalence of infectious and chronic diseases and government policies to control the outbreaks of infectious diseases such as COVID-19, HIV, etc. is expected to provide more opportunities to utilize these testing services for the detection of diseases, which, in turn, leads to the growth of the market.
Moreover, the adoption of bioanalytical testing by pharmaceutical companies is increasing for drug development, due to its advantage to provide high-quality and accurate results. Additionally, the services offered by companies for advancing drug development, including biomarkers, anti-drug antibodies, and pharmacokinetic assays, make the market profitable.
Increasing Preference Toward Outsourcing Analytical Testing
A large number of biopharmaceutical organizations are outsourcing bioanalytical testing rather than using in-house testing for the development of drugs and the validation of several assays at both the preclinical and clinical stages. This is because these businesses are trying to be more effective in the process of drug development by concentrating on their core capabilities to introduce new products to the market, with optimal staffing and in a more efficient and cost-effective manner.
In the pharmaceutical sector, analytical and testing services are more frequently used for mass production, due to the competition for drug launches. Thus, a large number of CROs are choosing specific providers over long-term as compared to short-term contracts. Also, these providers have high capabilities in providing advanced testing services to pharmaceutical companies for their drug development processes.
Moreover, outsourcing bioanalytical testing services helps pharmaceutical organizations to reduce the risk of spending a large amount of funds to purchase analytical equipment and maintain manpower. Therefore, the approachability of specialized service providers with advanced competencies to provide optimal and effective results quickly has led to the surging attention among pharmaceutical companies to outsource testing services to third-party service providers.
Bioanalytical Testing Services Market Report Coverage

| | |
| --- | --- |
| Report Attribute | Details |
| Market Size in 2023 | USD 3,456.6 Million |
| Market Size in 2024 | USD 3,985.9 Million |
| Revenue Forecast in 2030 | USD 9,652.6 Million |
| Growth Rate | 15.9% CAGR |
| Historical Years | 2017-2023 |
| Forecast Years | 2024-2030 |
| Report Scope | Market Trends, Drivers, and Restraints; Revenue Estimation and Forecast; Segmentation Analysis; Impact of COVID-19; Companies' Strategic Developments; Market Share Analysis of Key Players; Company Profiling |
| Segments Covered | By Molecule Type; By Test Type; By End User; By Workflow; By Region |
Explore more about this report - Request free sample pages
Small Molecule Type Held the Largest Share
The small molecule category held the largest market share, of 50%, in 2023, and it is also expected to maintain its dominance during the forthcoming period. This is because small molecules are traditional pharmaceuticals, and typically they have a low molecular weight of less than 900 Daltons and regulate a biological process. Moreover, many outsourcing companies are offering studies on many small molecules such as pharmacokinetic studies, pharmacodynamic studies, and assays of biomarkers.
Furthermore, many contract research organizations offer several testing services for small molecules. For example, XenoTech LLC, a subsidiary of BioIVT LLC, offers analytical services including high-performance liquid chromatography (HPLC) with mass spectrometry, different detectors, and ultraviolet-visible spectroscopy to various non-regulated small molecule bioanalysis, to determine a precise measurement of metabolite concentration and/or parent drugs in various biological matrices to help absorption, distribution, metabolism, and excretion (ADME), drug-drug interaction (DDI), and drug metabolism and pharmacokinetics (DMPK) studies in drug development. By using these tests, they can help promoters in lot-release testing and developing small molecules.
In addition, many branded and generic compounds are typically small molecules. Also, manufacturers have to conduct and give reports of bioanalytical testing, due to the rising patent expiration. Thus, this factor boosts the acceptance of bioanalytical testing for small molecules.
Whereas, the large molecule category is projected to witness the highest CAGR during the forecast period. This can be because many biologics or amino acid-based molecules are under development. Moreover, the testing of these molecules needs advanced techniques, improved infrastructure, and new-generation analytical instruments, which are mainly accessible with bioanalytical service providers. Thus, outsourcing of bioanalytical testing of these molecules is a key trend in the market.
Bioavailability Category Dominates the Industry
On the basis of test type, the bioavailability category accounted for the largest revenue share, of 40%, in 2023, and it is further expected to maintain its dominance during the analysis period. This is attributed to the high demand for these services in generic molecule development. Moreover, companies are more focused on producing the best effective therapeutic drugs with effective drug moiety. Additionally, the rising consumer concern about self-care is boosting the consumption of pharmaceutical drugs, which, in turn, significantly drives the demand for bioavailability testing.
On the other hand, the pharmacokinetic category is expected to register the highest CAGR during the forthcoming period. This can be ascribed to a large number of approved biologics reaching patent expiry. To support clinical and non-clinical studies, pharmacokinetic assays are required to measure biosimilar and reference products with comparable precision and accuracy. The most optimal approach is to develop a single pharmacokinetic assay, using a single analytical standard, for quantifying the measurement of the biosimilar and reference products in the serum matrix. Thus, the bioanalytical testing approach is widely utilized for knowing the pharmacokinetics.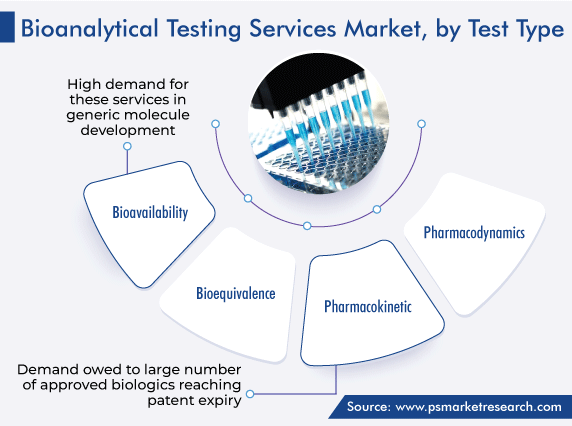 Pharmaceutical and Biotechnology Companies Accounted for the Largest Share
Based on end user, the pharmaceutical and biopharmaceutical companies category accounted for the largest revenue share, of 35%, in 2023, and it is further expected to maintain its dominance during the analysis period. This is because these companies are mainly focused on the development of new drugs for the treatment of various diseases, and are also more concentrated on the mass manufacturing of drugs due to the rising prevalence of diseases and many infectious cases. So, the companies are adopting outsourcing of the early-phase development of drug, laboratory, and clinical testing services to improve profit margins, avoid high expenditure, and reduce time duration to validate the products and processes.
On the other hand, the contract research organizations category is expected to show the highest CAGR during the forthcoming period. This can be because CROs are helping pharmaceutical companies to cater to the need for pharmaceutical products, and many organizations are encouraging in-house tests and intensifying test capabilities in several places.
North America Is Prime Revenue Contributor
Geographically, North America occupied the largest share in the bioanalytical testing services market, of around 45%, in 2023, and the regional industry is expected to experience a strong CAGR during the projection period. This is attributed to the existence of a large number of patients with chronic diseases, the rise in the acceptance of large molecule therapeutics and peptides, significant growth in the pharmaceutical and biotechnical industries, and the presence of major service providers for bioanalytical services in the region.
The U.S. leads the North American market, due to the presence of advanced healthcare infrastructure, a large number of pharmaceutical manufacturing facilities, and major contract research organizations and service providers of bioanalytical testing, in the country.
The European bioanalytical testing services market accounts for the second-largest revenue share. This is attributed to the rising amount of investment by pharmaceutical and biotechnology companies in R&D activities, the increasing cases of chronic diseases, and a large number of contract manufacturing and research organizations utilizing bioanalytical testing in the region.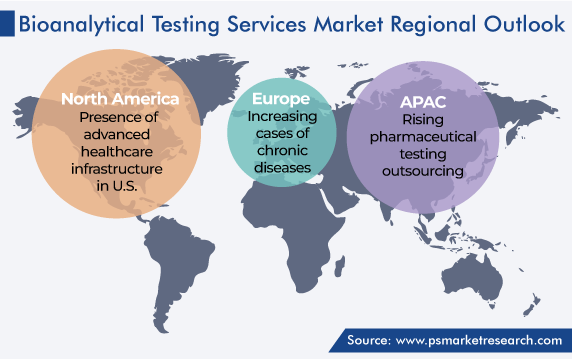 Germany leads the European market, owing to its promotion of in-house testing facilities of bioanalytical testing, expanding test facilities, and companies being more focused on outsourcing testing services in the country. On the other hand, the market in France shows significant growth, due to companies expanding their projects for providing bioanalytical contract solutions.
Top Providers of Bioanalytical Testing Services Are:
Syneos Health
Charles River Laboratories International Inc.
Laboratory Corporation of America Holdings
Icon plc
SGS Société Générale de Surveillance SA
Thermo Fisher Scientific Inc.
IQVIA Inc
Parexel International Corporation
Bioneeds India Pvt. Ltd.
Medpace Holdings Inc.
Market Size Breakdown by Segment
This fully customizable report gives a detailed analysis of the bioanalytical testing services market from 2017 to 2030, based on all the relevant segments and geographies.
Based on Molecule Type
Based on Test Type
Bioavailability
Bioequivalence
Pharmacokinetic
Pharmacodynamics
Based on End User
Pharmaceutical and Biotechnology Companies
Contract Development and Manufacturing Organizations
Contract Research Organizations
Based on Workflow
Sample Preparation

Protein precipitation
Liquid–liquid extraction
Solid-phase extraction

Sample Analysis

Hyphenated technique
Chromatographic technique
Electrophoresis
Ligand binding assay
Mass spectrometry
Nuclear magnetic resonance
Geographical Analysis
North America
Europe

Germany
U.K.
France
Italy
Spain

Asia-Pacific

Japan
China
India
South Korea
Australia

Latin America
Middle East and Africa

Saudi Arabia
South Africa
U.A.E.