Market Overview
The global garage equipment market revenue is estimated at USD 9,320.5 million in 2023, which is projected to reach USD 13,390.8 million by 2030, growing at a CAGR of 5.4% during 2024–2030.
This is due to the immense surge in the production and sale of vehicles, owing to technological advancements and the increasing population globally. Additionally, with their increasing price and taxes, people are buying pre-owned vehicles, which demand frequent maintenance, thus driving the demand for repair equipment. There has also been a surge in the sale of two-wheelers and lightweight vehicles, especially in emerging economies, which is further driving the market growth.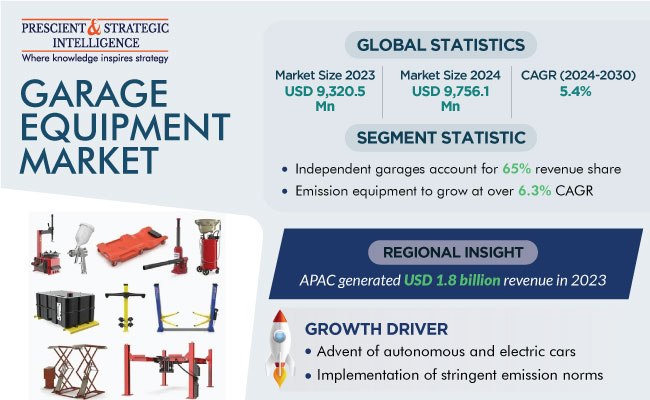 A garage is an allocated space, or a building attached to a house, where automobiles are kept and protected from the elements and burglaries. Its primary objective is to provide shelter for vehicles and serve as a workspace for maintenance & repairs. Garages differ significantly in size and design, from those meant for just one car to the commercial-grade ones, which can house multiple. Further, with the rise of electric vehicles, many garages these days have charging stations.
Further, many tools, machines, and devices are found in such places to perform maintenance, repairs, and servicing. The most prominent of these tools are vehicle lifts, tire changers, wheel balancers, battery chargers, and diagnostic tools. With the boom in the trend of owning cars, the demand for timely maintenance is rising, in order to prevent sudden breakdowns and long-term wear and tear. The need for timely service is especially high among those who drive their vehicles daily, majorly office-going people and those providing public/shared transportation services.
Moreover, people across the globe are demanding cars laden with advanced and premium features, including advanced driver assistance system and wireless smartphone connectivity. This has created the demand for qualified and experienced technical staff to provide high-quality repair and system replacement at reasonable prices. This leads to a surge in the usage of technologically advanced garage equipment around the world.
Additionally, the prominent players in the automotive industry are coming up with new solutions to enhance users' vehicle servicing experiences. For instance, in June 2022, Renault Group purchased a startup, Fixter, in order to link retail and professional consumers to nearby vehicle servicing centers. Strategies like this make it easy for individuals to have their vehicles taken care of without much hassles, which ultimately increases the demand for garage equipment.
Advent of Autonomous and Electric Cars Drives Market
The market for garage equipment is strongly driven by the emergence of autonomous vehicles, which carry unique requirements and challenges for maintenance and repairs. They are integrated with sophisticated sensors and computing systems; thus, they require specialized diagnostic equipment to access and interpret data from these complex systems. This leads to heavy investments in advanced tools and software to find and solve these specific issues.
Additionally, these vehicles are greatly dependent on precise sensor calibration and accurate wheel alignment. Garages are required to have state-of-the-art calibration and alignment equipment to ensure optimum performance, which, in turn, enhances the market growth potential.
With the surging population globally and increasing awareness of environmental pollution, people are shifting to electric vehicles. Moreover, governments are offering incentives to manufacturers and people to increase their adoption. As the use of electric cars increases, garages will need to provide charging services too. This will lead to investments in EV charging stations and related equipment. Furthermore, EV batteries need regular maintenance and testing for the best performance and long life. Thus, repair shops must have the tools to diagnose battery health, perform battery maintenance, and handle replacements.
Additionally, these advancements have created the need for garages to train their technicians in handling the unique characteristics and safety considerations of autonomous and electric vehicles. Training programs and workshops are actively being organized for technicians, in order for them to stay competent in servicing these advanced cars. There has been a surge in the number of automotive training centers owing to these requirements. This, in turn, increases the number of skilled technicians and the demand for equipment for when they open their repair shops or work in one.
Furthermore, the existing repair shops are investing massive amounts in updating themselves amidst the new era of automobiles. They are buying advanced tools and systems to enhance service quality and efficiency and remain competitive. Autonomous vehicles are completely based on software, which, at set intervals, requires updates, to maintain the desired performance and security levels. Therefore, repair shops must have the capability to update software and perform programming tasks.
There has also been a surge in the focus on passenger safety in autonomous vehicles in recent years, thus leading to heavy investments by these aftermarket establishments to buy inspection equipment.
Garage Equipment Market Report Coverage

| | |
| --- | --- |
| Report Attribute | Details |
| Market Size in 2023 | USD 9,320.5 Million |
| Market Size in 2024 | USD 9,756.1 Million |
| Revenue Forecast in 2030 | USD 13,390.8 Million |
| Growth Rate | 5.4% CAGR |
| Historical Years | 2017-2023 |
| Forecast Years | 2024-2030 |
| Report Scope | Market Trends, Drivers, and Restraints; Revenue Estimation and Forecast; Segmentation Analysis; Impact of COVID-19; Companies' Strategic Developments; Market Share Analysis of Key Players; Company Profiling |
| Segments Covered | By Garage Type; By Vehicle; By Application; By Function; By Installation; By Region |
Explore more about this report - Request free sample pages
Independent Garages Dominate Market
The independent garages category dominates the market with a revenue share of 65%, and it is expected to grow at a CAGR of around 5.8%.
This is owing to the flexibility and autonomy they provide to customers, as they are not bound by the policies of large repair shop networks or original equipment manufacturers. They provide the flexibility to customers to choose maintenance plans according to their specific needs and budget. Most vehicle owners only go to OEMs' repair shops till their vehicle is in warranty, to avoid paying for repairs, or saving as much as possible. After the warranty expires, car owners prefer independent garages as they have more-competitive pricing for the services. They also provide flexible payment options, which lure cost-conscious customers and reduces the customer churn rate.
Moreover, these entities have easy access to a variety of automotive repair equipment suppliers. They provide cost-effective alternatives to OEM equipment, thus allowing independent garages to procure good-quality tools and machines at economical prices. Additionally, these MRO entities are often situated closer to residential areas, which is beneficial to both the customer and garage owner, as this helps in increasing convenience and enabling faster pickup and drop-off services. Further, independent garages normally have lower overhead costs than large dealerships, which permits the former to allocate more resources to the actual repair & maintenance tasks.
Further, OEM garages also hold a significant share in the market. They are original equipment manufacturers' garages or dealerships, which sell and service cars from a particular brand. They are equipped with the latest diagnostic and repair equipment, as well as specialized software, to cater to the surging demand for maintenance and repair services for luxury vehicles.
Further, these establishments have a large customer base of car owners who are loyal to their brand. Additionally, OEM repair shops have the financial resources to invest in the latest equipment, along with trained technicians, who are familiar with the latest diagnostic and repair procedures.
Emission Equipment To Witness Highest CAGR
The emission equipment category will experience the highest CAGR, of over 6.3%, during the forecast period and hold a revenue share of around 20%.
This is primarily attributed to the surging stringency of emission standards to control pollution. The growing environmental concerns among consumers and governments have raised the demand for eco-friendly and sustainable practices in the automotive industry. This has led to investments in advanced emission testing and control equipment to align with these regulations.
Moreover, such advanced equipment has the capability to provide comprehensive diagnostics for engine and exhaust systems. Garages use this quality to detect potential issues early and suggest appropriate repairs and maintenance, to ensure optimum performance. Many countries have also mandated periodic emission testing and certification for vehicles, which facilities with emission testing and control equipment provide.
North America Dominates Market
North America accounts for the largest revenue share, of 45%, and it is expected to grow at a significant CAGR, of around 5.8%.
The dominance of North America on the market is due to its robust and advanced automotive industry. This region has a long history of vehicle production, innovation, and technological advancements. The continent also has the highest rate of vehicle ownership per capita in the world. The large number of vehicles on the road generates a continuous demand for repair services and equipment.
In addition, the high average disposable income enables people to spend more on vehicle customization, maintenance, and repairs. Moreover, the aftermarket industry in this region is well-developed due to a large number of MRO equipment suppliers, manufacturers, and distributors. Thus, the easy availability of repair tools and services aids in the growth of the garage equipment market in North America.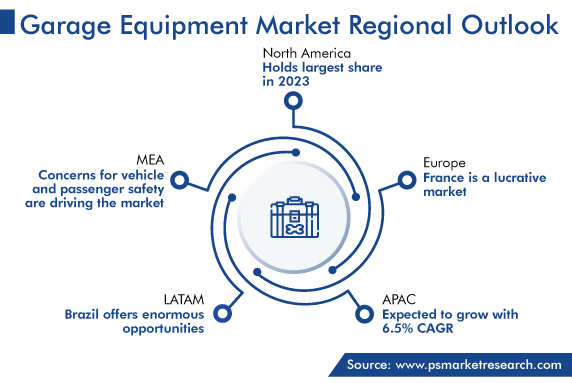 Top Companies Manufacturing Garage Equipment Are
BorgWarner Inc.
Robert Bosch GmbH
Continental AG
Vehicle Service Group
VisiCon Automatisierungstechnik GmbH
Symach Srl
Otto Nussbaum GmbH & Co. KG
Sarveshwari Engineers
Boston Garage Equipment Ltd.
Gray Manufacturing Company Inc.
Market Size Breakdown by Segment
The report analyzes the impact of the major drivers and restraints on the garage equipment market, to offer accurate market estimations for 2017–2030.
Based on Function
Based on Garage Type
OEM-Authorized Garages
Independent Garages
Based on Installation
Based on Equipment
Body Shop
Diagnostic & Testing
Emission
Lifting
Washing
Wheel & Tire
Based on Vehicle
Geographical Analysis
North America
Europe

Germany
U.K.
France
Italy
Spain

Asia-Pacific

Japan
China
India
South Korea
Australia

Latin America
Middle East and Africa

Saudi Arabia
South Africa
U.A.E