Market Overview
The global esters market is expected to advance from USD 93.8 billion (E) in 2023 to USD 136.7 billion in 2030, at 5.7% compound annual growth rate between 2024 and 2030.
The growth of this industry is attributed to the booming automobile sector, rising need for coatings in the construction sector, and surging usage of esters across the personal care, lubricants, and cosmetics industries.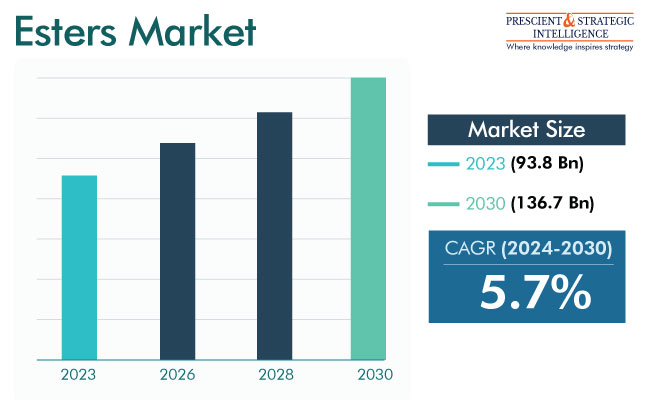 Esters are chemicals formed by replacing the hydrogen of an acid with an alkyl or an organic group. Some natural esters are oils, triglycerides, and fats. They are obtained from vegetable oils and, as a result, have a lower adverse impact on humans' wellbeing. Based on the actual function, esters formulated from a variety of raw materials are used across industries.
Moreover, because of the high-performance features and design flexibility of esters, they are adopted in some niche industrial applications. They include reciprocating air compressors and high-temperature industrial oven chain lubricants. In addition, esters obtained from pentaerythritol and alkanoic are mainly used for jet engine lubrication as they provide a combination of clean high-temperature functionality and flow agility at low temperatures.
Increasing Need for High-Performance Lubricants To Boost Market
The esters industry is growing because of the surging requirement for high-performance lubricants to offer fine shielding and lubrication properties. High-performance lubricants produced using esters offer high thermal stability, lubricity, and oxidation resistance, thereby enhancing the fuel efficiency, longevity, and performance of engines and various other machine parts. This makes them ideal for the automotive, industrial machinery, marine, and aerospace sectors.
Among them, the aerospace sector offers various opportunities for this industry. Aerospace applications, including aircraft turbines, hydraulic systems, and engines, work under high pressures and temperatures. Lubricants with exceptional features are important for guaranteeing smooth functioning and preventing mechanical failures, which can be catastrophic if they happen while the aircraft is in the air.
Growing Need for Sustainable and Bio-Based Products
The increasing demand for sustainable and bio-based products from various sectors is generating opportunities for the industry. This is a result of the announcement of sustainability goals and the implementation of strict environmental regulations by governments. For instance, the European Union's Renewable Energy Directive, as well as various sustainability certification packages, promote the acceptance of bio-based esters and renewable feedstock.
Esters produced using renewable feedstock, for example, fats and vegetable oils, are increasingly becoming popular as they have a weaker environmental impact compared to their petrochemical substitutes. These bio-based chemicals offer similar functionality and performance, thus making them an ideal substitute for traditional esters for different applications. The need for bio-based esters is high among cosmetics, lubricants, and personal care companies. In the personal care industry, these chemicals can improve texture, fragrance, and performance. Those obtained from natural sources are also dermatologically safe and environmentally sustainable.
Esters Market Report Coverage

| | |
| --- | --- |
| Report Attribute | Details |
| Market Size in 2023 | USD 93.8 Billion (E) |
| Revenue Forecast in 2030 | USD 136.7 Billion |
| Growth Rate | 5.7% CAGR |
| Historical Years | 2017-2023 |
| Forecast Years | 2024-2030 |
| Report Scope | Market Trends, Drivers, and Restraints; Revenue Estimation and Forecast; Segmentation Analysis; Impact of COVID-19; Companies' Strategic Developments; Market Share Analysis of Key Players; Company Profiling |
Explore more about this report - Request free sample pages
Polyol Esters Are Preferred Type
The polyol category, based on type, is leading the esters industry. Polyol esters are produced with the help of ester monomer polymerization. They offer high-temperature stability, long life, low maintenance, low energy consumption, affordability, biodegradability, and low production of smoke. Because of these advantages, they are widely used in fire-resistance hydraulic fluids and oils for jet engines.
They are also used adopted in the textiles, automotive, packaging, electronics, and construction sectors. Specifically, polyester fibers are extensively used in making home textiles, industrial fabrics, and clothing because of their high wrinkle resistance and strength. In addition, polyesters are used in the production of electrical insulation products, for instance, tapes and motion picture films, because of their excellent thermal stability and electrical resistance.
Textiles Category Is Dominating Industry
The textile category, based on application, is dominating the industry. This can be attributed to the fact that polyester fibers, which are produced from ester polymers, are extensively used in making textiles and fabrics for home furnishings, clothing, and industrial purposes. Polyester fabrics have great wrinkle resistance and high colorfastness and retention, making them easy to maintain and care for. Such fabrics also offer great printability, enabling long-lasting and vibrant prints.
Esters Producing Major Companies:
Croda International Plc
Mitsubishi Chemical Corporation
Nyco S.A.
Michelman Inc.
Alpek Polyester Usa LLC
Fushun Anxin Chemical Co. Ltd.
Cargill Inc.
NOF Co. Ltd.
BASF SE
Exxon Mobil Corporation
APAC Is Leading Market
APAC is leading the esters industry because of the existence of numerous manufacturing hubs, a large population, and surging demand for these solvents from the food industry. Thus, in August 2021, Mitsubishi Chemical Corporation operationalized a new facility for the production of sugar esters, for meeting the increasing requirement for them in the food sector.
India, China, South Korea, Taiwan, and Japan are the major contributors to the market in the region. These countries have developed textile and chemical industries, which are the main consumers of esters. The robust manufacturing infrastructure, as well as the excessive manufacturing expenses and easy availability of labor in the region, has attracted funding from global players. For instance, Ester Filmtech has planned to invest INR 1,350 crore in a factory in Telangana to manufacture advanced polyester films.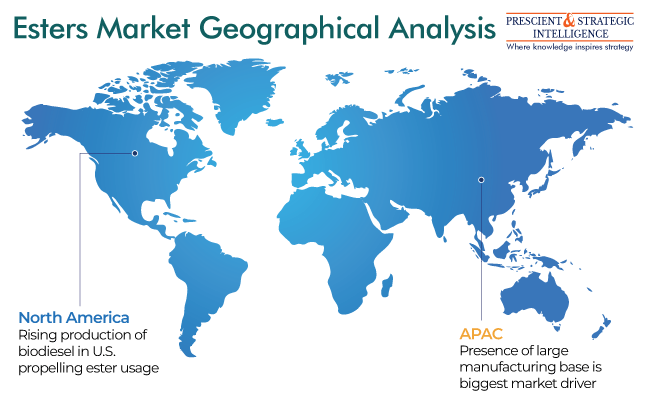 Furthermore, the region is observing rapid industrialization and urbanization, thus resulting in the increasing need for esters in various industries. Among these are the packaging, construction, textile, and automotive industries, all of which are undergoing significant advancement in the region.
The market in North America is expected to grow at a significant rate during this decade too. This is because the shifting customer trends toward beauty and health have resulted in the acceptance of an active lifestyle, which increases the consumption of diets that contain fatty acid esters. Such diets help in weight loss by improving body metabolism and burning calories.
Moreover, the rising acceptance of polyesters, easy accessibility of various esters, growing manufacturing sector, and increasing adoption in industrial fabrics, textiles, household goods, electrical insulation, and packaging boost the progress of the regional industry. Furthermore, the increasing consumption of biodiesel in the continent drives the market, as esters are a key ingredient of these sustainable fuels. As per the EIA, the U.S. had 75 biodiesel plants with a total installed capacity of 2.4 billion gallons per year in 2021.