Esters are a chemical amalgamation produced by substituting hydrogen of an acid with an organic group or an alkyl. Fats, oils and triglycerides are some of the naturally obtained esters. Esters are extracted from vegetable oils, thereby having a least impact on human health. Esters are required in industrial applications where operating complications are high. Owing to its custom design versatility and high-performance features, esters are also used in several niche markets in industrial application sector. These include high temperature industrial oven chain lubricants and reciprocating air compressor. Esters derived from alkanoic and pentaerythritol are majorly used in lubrication of jet engines since they offer a unique amalgamation of clean high temperature functioning with a low temperature flow agility.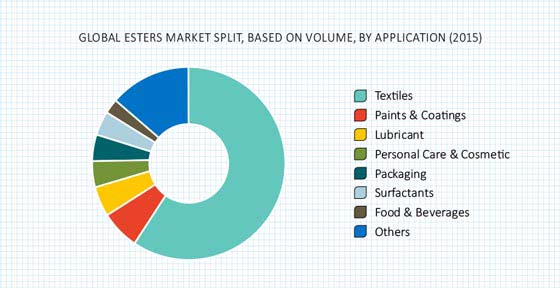 The global market for esters is majorly being driven by the growing automobile industry, increasing demand of coatings from the construction sector, technological advancements, and increasing demand for esters in end user industries including personal care, cosmetics, and lubricants. Additionally, the increase in adoption of environmentally acceptable lubricants (EAL) is expected to serve as a major opportunity for the global market.
However, stringent environment regulations, oscillating prices of raw materials and uncertain global economic conditions are likely to hamper the growth of the global market for esters to a certain extent. The fluctuating crude prices of crude plays a vital role in ester pricing since esters are chemically synthesized from petroleum derivatives which involve complex processing and high production cost.
By type, polyesters segment held the largest share in the global esters market in 2015. This is majorly owing to the increasing consumption in industries such as industrial fabrics, home furnishings, textile, electrical insulation, and packaging. By applications, textile segment dominated the global market with the largest market share globally in 2015.
Geographically, APAC dominated the global market for esters with the largest market share in 2015; and it is also likely to witness the fastest growth during the forecast period. The region is the largest consumer as well as producer globally. This is majorly due to fast paced growth of end user industries and increasing production capacities in emerging nations such as India and China; and easy availability of raw materials.
Leading players in the global market for esters are Croda International Plc, NYCO, DAK Americas LLC, Cargill Incorporated, BASF SE, Chemtura Corporation, Exxon Mobil Corporation, Esterchem Ltd., and The Dow Chemical Company.
Key Questions Answered:
What is the current and future scenario of the global esters market?
What are the major factors major driving the global esters market?
What are the upcoming opportunities for the players in the global esters market?
Which type is expected to dominate the global esters market during the forecast period?
Which region is expected to witness the fastest growth during the study period?
Who are the major players in the global esters market?