Lubricants Market Overview
The global lubricants market in 2019 was valued at $95,403.9 million, and is expected to demonstrate a CAGR of 2.3% during the forecast period (2020–2030). The growing automotive industry in developing economies, such as China, India, and Brazil, and the increasing awareness among consumers toward the usage of lubricants are some of the key factors for the growth of the lubricants industry.
The world is going through the COVID-19 crisis and so the lubricants industry. Not only the pandemic, but also the crude oil supply–demand imbalance and its future uncertainty are impacted the market negatively. As per the International Energy Agency(IEA), the global oil demand is expected to fall by a record 9.3 million barrel per day year-on-year in 2020.
The demand–supply imbalance with respect to crude oil and the industrial slowdown due to the pandemic have resulted in the slowdown of most of the industries, including automotive and other manufacturing. Since the lubricants market is highly linked with automotive and manufacturing industries amongst other, therefore, it is also witnessing the negative COVID-19 impact.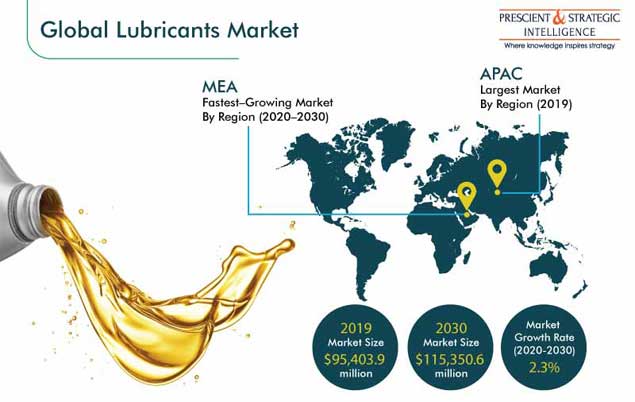 Mineral Oil Dominated the Market
The mineral oil category, based on base oil, held the largest share in the lubricants market in 2019. This is mainly ascribed to its easy availability and low cost, and high demand from manufacturing facilities. Further, consumers are more aware of mineral oil, as compared to synthetic and bio-based oil. In addition, presence of larger number of players in the market, which are engaged in the production of mineral oil.
Engine Oil to Retain its Position
The engine oil category is expected to account for the largest market size in 2030, on the basis of product type, on account of increasing demand for vehicles and growing transportation industry across all regions. Further, nowadays people are more aware about the advantages of using lubricants in their vehicles, such as these help in improving the vehicle mileage and increasing vehicle life period.
Automotive and Other Transportation Industry – the largest Consumer of Lubricants
The automotive and other transportation industry accounted for the largest size in 2019 in the lubricants industry, based on end-user. The growing automotive and other transportation industry due to increasing sales of vehicles, owing to the rising people per capital income across the world. For instance, as per the International Organization of Motor Vehicle Manufacturers, in 2014, 88.3 million of new vehicles were sold, while in 2019, the number reached to 91.3 million.
Further, the growing mobility services sector across the globe is also propelled the sales of new vehicles. Thus, resulting in increasing demand for lubricants.
APAC to Account for Largest Share in Lubricants Industry
The APAC region held the largest share in the lubricants market in 2019, and this trend is likely to continue during the forecast period. This can be majorly attributed to the shift in world manufacturing plants in Asian countries, especially in China and India, owing to the less labor costs, and less stringent environmental rules and regulations, as compared to western countries.
Further, as per the FUCHS PETROLUB SE, in 2017, the region has less per capita lubricants demand, compared to North America, Europe, and Latin America. Therefore, companies operating in the market are finding huge growth potential in the region. As a result, the companies are investing millions of dollars to increase their market share in APAC.
Middle East & Africa (MEA) Market to Witness Highest Growth Rate
The MEA lubricants market is expected to witness the highest growth rate during the forecast period, owing to the availability of numerous oil wells in the region. Therefore, prices of crude oil and its by-products, such as lubricants, are low, which helps the region to properly utilize the advantages of lubricants in manufacturing industries. Moreover, from past few years, the region has been in a way to change its dependency from oil to diversified number of industries for economic purpose, which would lead to the establishment of a larger number of industries in the region. This will eventually increase the demand for lubricants in foreseeable future.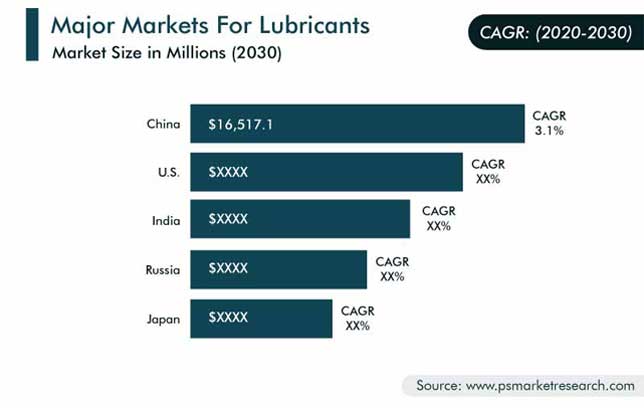 Adoption of Bio-Based Lubricants Among Consumers – Prominent Trend in the Market
Traditionally, mineral oil-based lubricants are used mostly in every application and industry, but with the rise in concern for global warming and to reduce the dependency on crude oil and its by-products, the demand for bio-based lubricants has been witnessing a significant surge. Since, bio-based lubricants are based on biodegradable and renewable materials, such as fatty acids, therefore, their usage would contribute to mitigate global warming.
Further, companies and governments of several countries are also developing new techniques and policies, in order to increase the demand for bio-based lubricants. For instance, Farm Security and Rural Investment Act (FSRIA), created by the United States Department of Agriculture, increased the use and procurement of bio-based products by creating labeling program to enable marketing of bio-based products and procurement preference program for federal agencies and their contractors.
Rising Sales of New Vehicles in Emerging Economies
From the past few years, the automotive sector in developing countries, such as China, India, Brazil, and Mexico, has witnessed a surge in sales of new vehicles, on account of increasing per capita income and consumers' awareness pertaining to the use of lubricants in vehicles. The increasing sales of new vehicles provides the growth opportunities to lubricant manufacturers. Lubricant is used in crankcase of a vehicle engine, which ensures efficient operation of the vehicle. Also, lubricants are used in vehicles to reduce friction, which leads to longer lifespan and reduce wear and tear of the vehicles.
Growing Consumer Awareness About Lubricants
Lubricants found applications in almost every industry, however, in the past, the awareness about lubricants usage was limited to western countries only. But nowadays, consumers across the globe are much more aware about the benefits of using lubricants in machinery, vehicles, and other equipment. Moreover, companies are also adopting customer-oriented method, so as to focus on creating brand awareness among the consumers through visual and print media. Some examples of the method are trade shows and promotional campaigns, where the companies offer free samples or gifts to the consumers, thus leading to increase the interest and awareness among the consumers about lubricants.
With the rise in awareness about lubricants, people more often start using lubricants in industries as well as in vehicles, thereby boosting the growth of the global lubricants market.
Lubricants Market Report Coverage

| Report Attribute | Details |
| --- | --- |
| Historical Years | 2014-2019 |
| Forecast Years | 2020-2030 |
| Base Year (2019) Market Size | $95,403.9 million |
| Forecast Period (2020-2030) CAGR | 2.3% |
| Report Coverage | Market Dynamics, Revenue Estimation and Forecast, Segmentation Analysis, Regional and Country Breakdown, Competitive Analysis of Key Players, Companies' Strategic Developments, Competitive Benchmarking, Company Profiling |
| Market Size by Segments | Base Oil, Product Type, End-User, Geography |
| Market Size of Geographies | U.S., Canada, Germany, U.K., France, Russia, Italy, Ukraine, Poland, China, India, Japan, South Korea, Indonesia, Thailand, Brazil, Mexico, Saudi Arabia, U.A.E., Turkey, Egypt |
| Secondary Sources and References (Partial List) | Additive Technical Committee, Alliance of Automobile Manufacturers, American Chemistry Council, American Petroleum Institute, Asian Lubricant Manufacturers Union, Association Technique De l'Industrie Européenne des Lubrifiants, Australian Lubricant Association, Automotive Oil Change Association, Central Intelligence Agency, U.S., Chinese Automobile Manufacturers Association International, Engine and Truck Manufacturers Association, Engine Manufacturers Association, European Automobile Manufacturers Association |
Merger & Acquisition is the New Trend Among Leading Players to Gain a Larger Hold on Industry
The lubricants market is fragmented in nature. The top players, such as Royal Dutch Shell p.l.c., Exxon Mobil Corporation, BP p.l.c., Chevron Corporation, Total S.A., PetroChina Company Limited, Idemitsu Kosan Co. Ltd., Sinopec Group, FUCHS PETROLUB SE, and ENEOS Holdings Inc., follow the strategy of merger & acquisition to hold their positions in the market, and capture larger share of the industry. For instance:
In January 2020, FUCHS PETROLUB SE completed the acquisition of synthetic lubricants manufacturer Nye Lubricants Inc. and its Fairhaven production facility located in the U.S., to expand its specialty lubricants product portfolio. Nye Lubricants Inc. employed 180 people and generated $51 million revenue in 2018 through sales of lubricants in North America, Europe, and Asia.
In June 2019, Brenntag AG announced the acquisition of B&M Oil Co. Inc. and its two distribution facilities, to strengthen its lubricants distribution business in the U.S. B&M Oil Co. Inc. generated $28.5 million revenue through sales in 2018.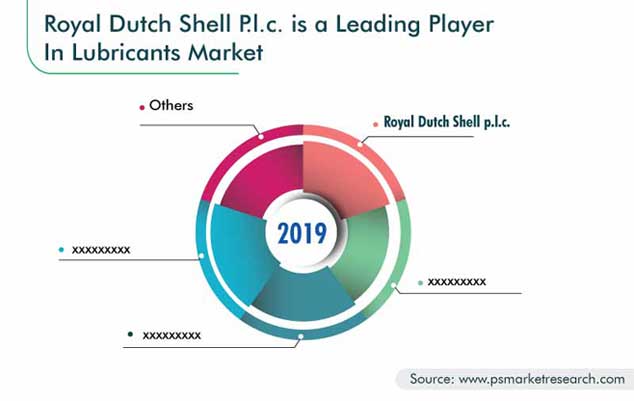 Some of Key Players in Lubricants Market Are:
PetroChina Company Limited

BP p.l.c.

China Petroleum & Chemical corporation (Sinopec)

Royal Dutch Shell p.l.c.

FUCHS PETROLUB SE

Idemitsu Kosan Co. Ltd.
Chevron Corporation

Illinois Tool Works Inc.

Buhmwoo Chemical Ind. Co. Ltd.

Castrol Ltd.

Petróleo Brasileiro S.A.

Hindustan Petroleum Corporation Limited
Lubricants Market Size Breakdown by Segment
The lubricants market report offers comprehensive market segmentation analysis along with market estimation for the period 2014–2030.
Based on Base Oil
Mineral Oil
Synthetic Oil
Bio-Based Oil
Based on Product Type
Engine Oil
Transmission and Hydraulic Fluid Oil
Gear Oil
General Industrial Oil
Grease
Metalworking Oil
Process Oil
Based on End User
Automotive and Other Transportation
Heavy Equipment
Food and Beverages
Metallurgy and Metalworking
Chemical
Geographical Analysis
North America
Europe

Germany
U.K.
France
Russia
Italy
Ukraine
Poland

Asia-Pacific (APAC)

China
India
Japan
South Korea
Indonesia
Thailand

Latin America (LATAM)
Middle East and Africa (MEA)

Saudi Arabia
U.A.E.
Turkey
Egypt

Major Markets

U.S.

By base oil
By product type
By end user

China

By base oil
By product type
By end user

India

By base oil
By product type
By end user

Japan

By base oil
By product type
By end user

Russia

By base oil
By product type
By end user