Market Outlook
Lubricants market is expected to reach $115,350.6 million by 2030, recording a CAGR of 2.3% during 2020–2030. This growth can be attributed to the flourishing automotive industry in China, Brazil, and India and surging awareness among customers regarding the usage of lubricants.
The ongoing COVID-19 pandemic and crude oil supply–demand imbalance and its future volatility are impacting the market negatively. According to the International Energy Agency (IEA), the global oil demand fell by nearly 9.3 million barrels per day year-on-year in 2020. The demand–supply imbalance and the lockdowns due to COVID-19 have led to a dip in most of the industries, such as automotive and manufacturing. Since the lubricants industry is primarily linked with the manufacturing and automotive sectors, it is also witnessing the negative impact of the pandemic.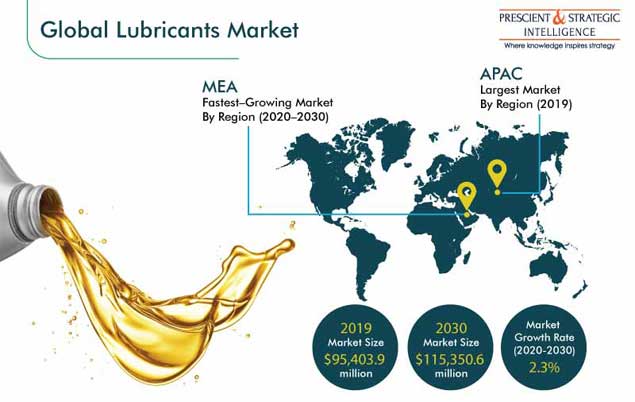 Mineral Oil Recorded Highest Sales
The mineral oil category, under the base oil segment, accounted for the largest market share in 2019 owing to the easy availability and low cost of mineral oils and their high-volume consumption in the manufacturing sector. Moreover, customers, nowadays, have become more aware of mineral oils than bio-based and synthetic oils. Additionally, the presence of a larger number of mineral oil producers plays a vital role in the growth of this lubricants market category.
Engine Oil To Remain Dominant Category
The engine oil category, within the product type segment, is expected to generate the highest revenue in 2030. This will be due to the mounting demand for automobiles and flourishing transportation sector across the world. Nowadays, people have become more aware of the benefits of using lubricants in their automobiles, especially of their role in enhancing the mileage and increasing the life of vehicles.
Automotive and Other Transportation Industry Consumes Largest Volume of Lubricants
The automotive and other transportation category held the leading position in the market for lubricants in 2019, based on end user. This was due to the surging vehicle sales on account of the rising per capita income of people worldwide. According to the International Organization of Motor Vehicle Manufacturers, 88.3 million new automobiles were sold in 2014, whereas 91.3 million vehicles were purchased in 2019. Moreover, the expanding mobility services sector is amplifying vehicle sales, thereby boosting the consumption of lubricants.
Asia-Pacific (APAC) Holds Major Share in Market
The APAC region accounted for the largest share in 2019, and it is expected to retain its dominance between 2020 and 2030. This can be owed to the rapid shift of global manufacturing units to Asian countries, especially India and China. This shift among lubricants market end users can be ascribed to the availability of cost-effective labor and presence of less-stringent environmental rules as compared to Western nations.
Middle East & Africa (MEA) To demonstrate Fastest Growth
The MEA region is expected to record the highest growth rate in the market for lubricants during 2020–2030 due to the existence of numerous oil wells in the region. The manufacturing industries in the region can properly utilize the advantages of lubricants due to the low-cost availability of crude oil and its by-products, such as lubricants. In recent years, the region has observed a significant rise in the number of manufacturing plants, which has been a major industry driver. The flourishing of the manufacturing sector can be owed to the increasing focus of MEA countries on reducing their dependence on oil and diversifying their economy.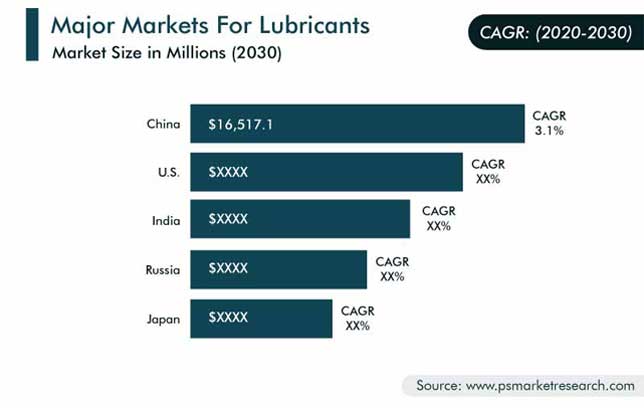 Increasing Focus on Bio-Based Lubricants Is Major Trend in Market
For a long time, mineral-oil-based lubricants have been used in every industry and for every purpose. However, the growing concerns regarding global warming and increasing emphasis on reducing the dependence on crude oil and its by-products have boosted the consumption of bio-based variants available with lubricants market players. As bio-based lubricants are derived from renewable and biodegradable materials, such as fatty acids, their adoption would help in mitigating global warming.
Moreover, several private companies and governments are developing novel techniques and drafting policies to amplify the consumption of these cleaner lubricants, respectively. For instance, the Farm Security and Rural Investment Act (FSRIA) implemented by the United States Department of Agriculture increased the usage and procurement of bio-based items by creating a procurement preference program for federal agencies and their contractors and a labeling program to allow the marketing of these items.
Spurring Sales of Automobiles in Developing Nations Fueling Market Growth
The mounting sales of vehicles in India, Mexico, Brazil, and China have been a major contributor to the growth. The rising adoption of vehicles can be ascribed to the escalating per capita income. Lubricants are used in the crankcase of the automobile engine to ensure the efficient operation of vehicles. Besides, these crude oil by-products help in reducing friction in automobiles, which results in a longer lifespan and lesser wear and tear. Thus, coupled with the increasing awareness of people on the benefits of using lubricants in automobiles, the rising sales of vehicles are creating huge growth opportunities for the lubricants market players.
Rising Consumer Awareness about Lubricants Propelling Their Sales
Lubricants are required in almost industry; however, in the past, the knowledge about their benefits was limited to Western nations. But in contemporary times, end users across the world are much more aware of the advantages of using lubricants in vehicles, machinery, and other equipment. Additionally, lubricant manufacturers are adopting customer-oriented methods to create brand awareness through print and visual media. Examples of such methods include promotional campaigns and trade shows. Through these platforms, companies offer free gifts and samples to customers to create curiosity and generate awareness about lubricants.
Lubricants Market Report Coverage

| | |
| --- | --- |
| Report Attribute | Details |
| Historical Years | 2014-2019 |
| Forecast Years | 2020-2030 |
| Base Year (2019) Market Size | $95,403.9 Million |
| Market Size Forecast in 2030 | $115,350.6 Million |
| Forecast Period CAGR | 2.3% |
| Report Coverage | Market Dynamics, Revenue Estimation and Forecast, Segmentation Analysis, Regional and Country Breakdown, Competitive Analysis of Key Players, Companies' Strategic Developments, Competitive Benchmarking, Company Profiling |
| Market Size by Segments | Base Oil, Product Type, End-User, Geography |
| Market Size of Geographies | U.S., Canada, Germany, U.K., France, Russia, Italy, Ukraine, Poland, China, India, Japan, South Korea, Indonesia, Thailand, Brazil, Mexico, Saudi Arabia, U.A.E., Turkey, Egypt |
| Secondary Sources and References (Partial List) | Additive Technical Committee, Alliance of Automobile Manufacturers, American Chemistry Council, American Petroleum Institute, Asian Lubricant Manufacturers Union, Association Technique De l'Industrie Européenne des Lubrifiants, Australian Lubricant Association, Automotive Oil Change Association, Central Intelligence Agency, U.S., Chinese Automobile Manufacturers Association International, Engine and Truck Manufacturers Association, Engine Manufacturers Association, European Automobile Manufacturers Association |
Explore more about this report - Request free sample pages
Merger & Acquisition is the New Trend Among Leading Players to Gain a Larger Hold on Industry
The lubricants market is fragmented in nature. The top players, such as Royal Dutch Shell p.l.c., Exxon Mobil Corporation, BP p.l.c., Chevron Corporation, Total S.A., PetroChina Company Limited, Idemitsu Kosan Co. Ltd., Sinopec Group, FUCHS PETROLUB SE, and ENEOS Holdings Inc., follow the strategy of merger & acquisition to hold their positions in the market, and capture larger share of the industry. For instance:
In January 2020, FUCHS PETROLUB SE completed the acquisition of synthetic lubricants manufacturer Nye Lubricants Inc. and its Fairhaven production facility located in the U.S., to expand its specialty lubricants product portfolio. Nye Lubricants Inc. employed 180 people and generated $51 million revenue in 2018 through sales of lubricants in North America, Europe, and Asia.
In June 2019, Brenntag AG announced the acquisition of B&M Oil Co. Inc. and its two distribution facilities, to strengthen its lubricants distribution business in the U.S. B&M Oil Co. Inc. generated $28.5 million revenue through sales in 2018.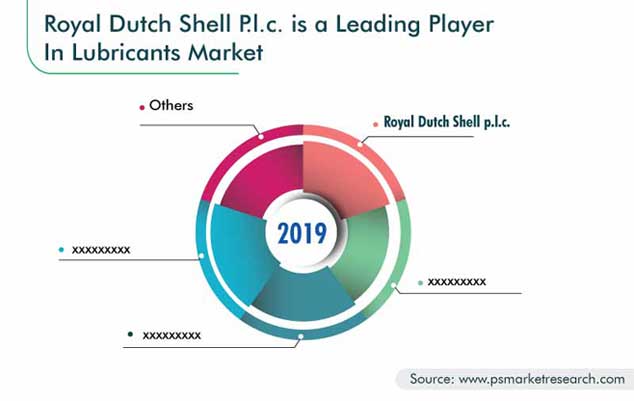 Some of Key Players in Lubricants Market Are:
PetroChina Company Limited

BP p.l.c.

China Petroleum & Chemical corporation (Sinopec)

Royal Dutch Shell p.l.c.

FUCHS PETROLUB SE

Idemitsu Kosan Co. Ltd.
Chevron Corporation

Illinois Tool Works Inc.

Buhmwoo Chemical Ind. Co. Ltd.

Castrol Ltd.

Petróleo Brasileiro S.A.

Hindustan Petroleum Corporation Limited
Lubricants Market Size Breakdown by Segment
The lubricants market report offers comprehensive market segmentation analysis along with market estimation for the period 2014–2030.
Based on Base Oil
Mineral Oil
Synthetic Oil
Bio-Based Oil
Based on Product Type
Engine Oil
Transmission and Hydraulic Fluid Oil
Gear Oil
General Industrial Oil
Grease
Metalworking Oil
Process Oil
Based on End User
Automotive and Other Transportation
Heavy Equipment
Food and Beverages
Metallurgy and Metalworking
Chemical
Geographical Analysis
North America
Europe

Germany
U.K.
France
Russia
Italy
Ukraine
Poland

Asia-Pacific (APAC)

China
India
Japan
South Korea
Indonesia
Thailand

Latin America (LATAM)
Middle East and Africa (MEA)

Saudi Arabia
U.A.E.
Turkey
Egypt

Major Markets

U.S.

By base oil
By product type
By end user

China

By base oil
By product type
By end user

India

By base oil
By product type
By end user

Japan

By base oil
By product type
By end user

Russia

By base oil
By product type
By end user