Market Overview
The global endoscopic submucosal dissection market was valued at USD 333.1 million in 2022, and the market size is predicted to reach USD 512.9 million by 2030, advancing at a CAGR of 5.5% during 2022–2030. The market is driven by the rising incidence of targeted diseases, increasing use of endoscopies for disease detection and treatment, and growing geriatric population.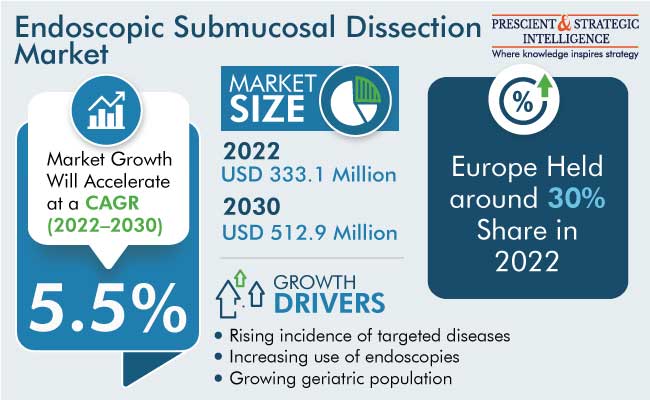 Endoscopic submucosal dissection (ESD) procedures are used to remove various lesions and tumors in the submucosa. It is comparatively more effective for eliminating certain growths that have clear borders or those that are too large to remove in one piece by other methods. In these cases, ESDs can help in minimizing the risk of the spread of cancer. In Japan, this procedure, which involves a large and deep esophageal wall resection via the dissection of the submucosal connective tissue just beneath the target lesion from the underlying muscle layer, with the help of electrocautery devices, such as a hook knife, is becoming increasingly popular.
Endoscopists have started to accept this procedure worldwide, although it is the most frequently performed in APAC, especially for the early neoplasia of the esophagus, stomach, colon, and rectum. Its key benefit is the ability to remove larger lesions en bloc in the plane between the muscularis propria and the submucosa. There are many forms of ESDs, including endoscopic submucosal tunneling, or, in select cases, even a full-thickness resection.
As the geriatric population is increasing, a rise in the number of patients riddled with target diseases and those being getting treated with antithrombotic drugs has been seen. The ESD is a comparatively safe technique on super-elderly patients suffering from early-stage gastric cancer. It is less invasive than open surgical procedures and highly advantageous in terms of organ preservation.
Stomach Cancer Is Dominating Market
Stomach cancer held the largest share in 2022. This is mainly due to the intake of large amounts of foods preserved by salting, such as salted fish and meats and pickled vegetables. In the U.S., stomach cancer is one of the leading causes of death; each year, it accounts for almost 2% of all new cancers. In the country, stomach cancer primarily begins in the gastroesophageal junction.
Moreover, obesity is one of the key causes of stomach cancer. In the U.K., around 5 out of 100 stomach cancers are caused due to overweight or obesity. In 2021, more than 25% of the adults in the U.K. were obese, and a further around 40% were overweight. Additionally, each year, Japan organizes a national endoscopic surveillance program due to the high stomach cancer risk. It has been suggested that every year, people who are older than 40 years undergo screening with endoscopy and a double-contrast barium X-ray.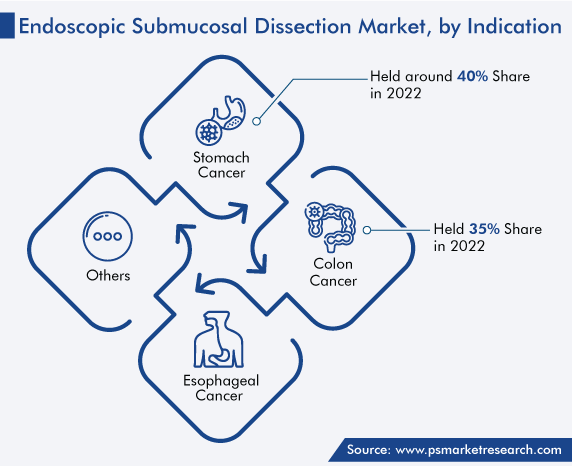 ESDs Mostly Performed in Hospitals
Hospitals held the largest share, of 60%, in 2022, due to the fact that various hospitals worldwide are opting for this procedure as it less invasive. For instance, in February 2023, Mediclinic Parkview Hospital in the U.A.E. launched endoscopic submucosal dissection services. This new minimally invasive procedure will positively impact the wellbeing of patients who could require surgical intervention, such as a colon, esophageal, or stomach resection, which can lead to further lifestyle complications.
Moreover, in 2020, in India, KMC Hospital performed an endoscopic procedure on a large tumor, which was present in the stomach of a 40-year-old woman. The tumor was removed via the mouth, without any surgery and external scar.
Further, various investments are being done in this area to make the procedure easily accessible, more effective, and safer. For instance, in 2021, Scope Investment, a private investment firm based in the U.A.E., partnered with the Asan Medical Center (AMC) Hospital in South Korea to open GCC's first comprehensive GI hospital in the U.A.E. for GI cancer procedures, such as ESD, EMR, and ERCP.
Surgical Knife Sales Are Burgeoning for Usage in ESDs
The knives category is expected to grow the fastest, with a global endoscopic submucosal dissection market CAGR of around 6.5%, in the forecast period. This will mainly be due to the availability of a wide range of surgical knives, which are, additionally, evolving rapidly for higher efficacy, safety, and cost-effectiveness. A variety of combination of I knives and O knives are available to resect different kinds of tissues.
Moreover, tissue retractors also held a significant share in the market. This is mainly attributed to the increasing number of surgical procedures and technological advancements, including robotic surgery, telesurgery, and multi-angle rear-viewing endoscopic tool (MARVEL). Surgical robots consist of several arms, one with a camera and others attached to surgical instruments. These robots provide more precision for a more-minimally invasive procedure, as well as faster recoveries, smaller incisions and scars, and reduced blood loss and risk of infections.
Of late, telesurgery has been one of the greatest advancements in the field of surgery. With this, surgeons can operate from anywhere, with the help of surgical robots. This technology has become even more popular during the COVID-19 outbreak.
Endoscopic Submucosal Dissection Market Report Coverage

| | |
| --- | --- |
| Report Attribute | Details |
| Historical Years | 2017-2022 |
| Forecast Years | 2023-2030 |
| Market Size in 2022 | USD 333.1 Million |
| Revenue Forecast in 2030 | USD 512.9 Million |
| Growth Rate | 5.5% CAGR |
| Report Scope | Market Trends, Drivers, and Restraints; Revenue Estimation and Forecast; Segmentation Analysis; Impact of COVID-19; Companies' Strategic Developments; Market Share Analysis of Key Players; Company Profiling |
| Segments Covered | By Product; By Indication; By End User; By Region |
Explore more about this report - Request free sample pages
APAC Held Significant Share
APAC held around 25% share in 2022, mainly because of the high prevalence of gastric cancer in the region. China ranks fourth and third in the world in gastric and esophageal cancer occurrence, respectively.
Due to its large population, the country has a significant number of patients with gastric and esophageal cancer. Thus, every year, the Government of China organizes an upper gastrointestinal cancer screening program in high-incidence rural areas. In this program, both the stomach and esophagus are inspected in a single endoscopy, for early cancer detection. This program covers most of the provinces of China.
The Chinese government also organizes other programs to prevent death from this type of cancer, such as the Cancer Early Diagnosis Program, Early Treatment Program in the Huai River Basin, and the Cancer Early Diagnosis and Early Treatment Program in Urban China.
Gastric cancer is the second major cause of cancer death globally. In 2021, a new study confirms that in China, the major cause of stomach cancer is an infectious bacterium H. pylori.
Moreover, the geriatric population has been continuously increasing in Japan Since 1950. In 2022, there were around 80,000 centenarians, while by 2036, people aged 65 and more will represent a third of the population. Additionally, elderly women numbered more than 20 million, accounting for more than 32% of the total female population, and the elderly male population stood at around 16 million, accounting for more than 25% of the overall male population.
Moreover, Europe holds around 30% in the market. The incidence of chronic diseases is on the rise in the region due to the sedentary lifestyles and many other external factors, which has increased the demand for the diagnosis and treatment of diseases of the gastrointestinal, cardiopulmonary, and urological systems. There were about 4 million new cancer cases and about 1.9 million related deaths in Europe in 2020.
In Western European countries, such as Spain, Germany, Italy, and Norway, there has been a constant rise in the incidence of cancer and GI diseases. Some of the highly prevalent diseases in the region that are diagnosed with endoscopies are peptic ulcer disease, colon polyps, colitis, colorectal cancer, and pancreatitis. Moreover, patients are shifting toward endoscopic surgeries to avoid the traditional approaches, which require a large incision, or even a laparotomy in extreme cases. Compared to traditional approaches, endoscopy-guided minimally invasive surgeries result in less pain and scarring, a faster recovery, and a lower risk of complications.
Moreover, the growth in the network of hospitals and ASCs in the region helps in the market advance. Approximately 25,000 hospitals are present in Europe, which are hosting more patients every year. Further, healthcare practitioners are becoming inclined toward minimally invasive surgeries, which propels the usage of endoscopes. In addition, companies operating in the market are actively collaborating to capture a significant position and expand their geographical footprint.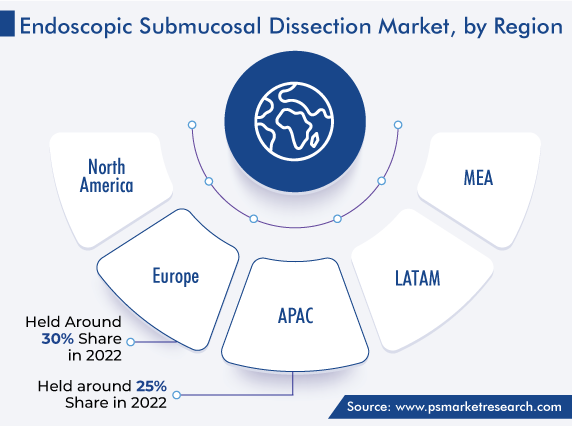 Top Endoscopic Submucosal Dissection Product Manufacturers Are:
Olympus Corporation
Boston Scientific Corporation
FUJIFILM Holdings Corporation
Sumitomo Bakelite Co. Ltd.
Creo Medical Plc
MTW-Endoskopie W.Haag KG
Ovesco Endoscopy AG
KARL STORZ SE & Co. KG
CONMED Corporation
Micro-Tech Endoscopy
Market Size Breakdown by Segment
The report analyzes the impact of the major drivers and restraints on the endoscopic submucosal dissection market, to offer accurate market estimations for 2017–2030.
Based on Product
Gastroscopes and Colonoscopes
Knives
Injection Agents
Tissue Retractors
Graspers/Clips
Based on Indication
Stomach Cancer
Colon Cancer
Esophageal Cancer
Based on End User
Hospitals
Specialty Clinics
Ambulatory Surgical Centers
Geographical Analysis
North America
Europe

France
Germany
Italy
Spain
U.K.

Asia-Pacific

China
India
Japan
South Korea
Australia

Latin America
Middle East and Africa

Saudi Arabia
South Africa