Market Overview
The global endoscope reprocessing market size stood at USD 2,051.0 million in 2022, which is expected to reach USD 4,277.6 million by 2030, advancing at a CAGR of 9.6% during 2022–2030. This is mainly ascribed to the supportive regulatory guidelines that promote endoscope reprocessing, increasing cases of diseases that require endoscopy procedures, and technological advances in reprocessing methods.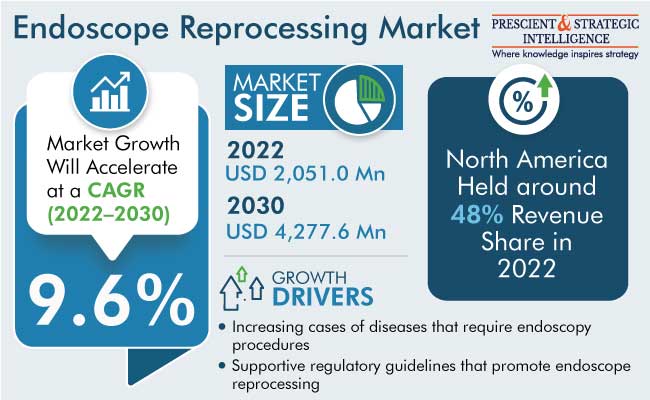 Extensive usage of endoscopic devices for diagnosis and treatment has been seen in the recent years. This is itself due to the increasing burden of various digestive and respiratory tract disorders, which often require an endoscopy. The frequent usage of these instruments leads to an increased risk of infections; hence, they are disinfected and cleaned regularly, using reprocessing systems and a range of approved chemicals.
Essentially, the growth is due to the rising prevalence of diseases such as colon polyps, peptic ulcer disease, colitis, and pancreatitis. Moreover, the rise in the number of colorectal cancer cases boosts the demand for endoscopes at the global level.
Some other prominent factors responsible for the high demand for these devices are the growing pace of technological advancements, surging geriatric population, presence of giant players, such as Steris, Ecolab Inc., and Olympus Corporation; improving healthcare services, and increasing number of hospitals. The increasing patient pool undergoing endoscopic diagnostic procedures, with the rising awareness of the benefits of early disease detection and staging, is another significant contributor in this regard.
High-Level Disinfectants and Test Strips Are Highest Revenue Generators
The high-level disinfectants and test strips category accounted for around 34% of the share in 2022, attributed to the rising prevalence of various endogenous infections, such as pneumonia and bacteremia, after endoscopy procedures.
Similarly, the adoption of test strips is increasing for the effective measurement of the minimum effective concentration (MEC) required for high-level disinfection, thereby providing faster disinfection reactions. In addition, they assist in the detection of residual proteins, carbohydrates, and hemoglobin on both flexible and rigid endoscopes, through the color comparison chart.
The automated endoscope reprocessors category is expected to register the highest CAGR over the forecast period, owing to the rising number of endoscopic surgeries and the surging adoption of AERs in hospitals and ambulatory surgical centers. Moreover, companies are actively involved in launching innovative and advanced AERs in the market. For instance, in October 2020, Olympus Corporation launched OER-Elite AER for cleaning and reprocessing endoscopes. The OER-Elite can disinfect two endoscopes in less than 28 minutes.
In addition, the several efforts put by government organizations to support the adoption of AERs enhance the endoscope reprocessing market growth potential. For instance, the FDA regulates all the critical factors that must be assessed while reprocessing various endoscopes, to mitigate the spread of infections. Additionally, as per the FDA guidelines, AER manufacturers must provide validation testing data.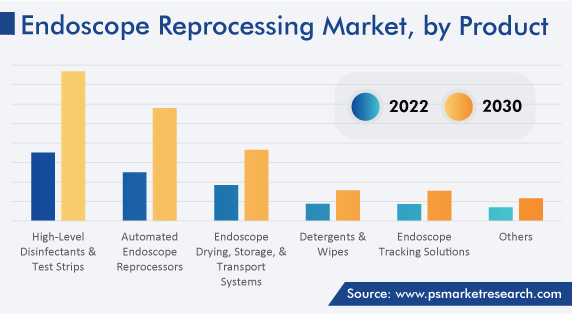 Endoscope Reprocessing Is Extensively Used for Flexible Endoscopes
Reprocessing is predominantly performed for flexible endoscopes, thus leading to their larger revenue share, of more than 65%, in 2022. This is because the prominent players are actively launching AERs that are highly compatible with flexible endoscopes. In fact, approximately 90% of the companies are developing AERs for flexible endoscopes due to their maneuverability to control and lower weight. For instance, in October 2021, FUJIFILM Corporation announced the launch of the El-740D/S flexible endoscope, which is a dual-channel flexible endoscope approved by the FDA for upper as well as lower gastrointestinal use.
Amongst the flexible types, upper gastrointestinal endoscopes and colonoscopes together account for a more than 50% market share. This is ascribed to the promulgating incidence of GI as well colon diseases, thus leading to a rise in the number of hospital visits. For instance, around 40 million patients suffering from digestive system disorders visit physicians' offices in the U.S. each year.
Amongst the rigid types, laparoscopes accounted for a more than 47% share in 2022, owing to the rising inclination toward minimally invasive procedures, due to their several benefits, such as fewer chances of postoperative complications and faster recovery in comparison to open surgeries. These factors are leading to the high preference for a laparoscopy over laparotomy. As a result, approximately 15 million laparoscopies are performed globally every year.
Supportive Regulatory Guidelines that Promote Endoscopic Reprocessing
Changes in the operating environment, such as the rising stringency of the regulatory requirements related to reprocessing, are progressing faster than anticipated. Regulatory authorities are taking initiatives to reduce the chances of hospital-acquired infections during diagnosis and treatment. For instance, at the July 2015 HICPAC Meeting, the CDC asked the HICPAC for guidance on ways to improve facility-level training and ensure competency for reprocessing endoscopes.
Moreover, reprocessing guidelines are a cornerstone for endoscopy units that seek initial certification and the subsequent maintenance of the accreditation. There are many guidelines and recommendations for endoscopy units on how endoscopes can be safely processed and the government regulations can be complied with. Several international and national medical societies, which include physicians, infection control and medical instrumentation experts, and nurses; as well as government agencies formulate and implement these guidelines.
Healthcare facilities should have a reliable, high-quality system for endoscope reprocessing that minimizes infection risk. To achieve this goal, all reprocessing programs must have infrastructure that supports training and competencies, quality measurement, and management. Guidance is provided to assist healthcare facilities, including clinical and administrative staff, in achieving a reliable, high-quality reprocessing program. A toolkit of sample documents accompanies this guidance, to help facilities create and maintain the infrastructure to support their flexible endoscope reprocessing program.
Hospitals Category To Witness Highest CAGR
The hospitals category is expected to record the highest CAGR, of around 10%, during the forecast period. This can be attributed to the rising number of endoscopy procedures, coupled with the increasing number of hospitals all over the world and the promulgation of funds and investments provided by government bodies. For instance, the Indian government augmented its healthcare expenditure to around 1.8% of its GDP in 2021–2022 from around 1.5% in 2020–2021.
Endoscope Reprocessing Market Report Coverage

| | |
| --- | --- |
| Report Attribute | Details |
| Historical Years | 2017-2022 |
| Forecast Years | 2023-2030 |
| Market Size in 2022 | USD 2,051.0 Million |
| Revenue Forecast in 2030 | USD 4,277.6 Million |
| Growth Rate | 9.6% CAGR |
| Report Scope | Market Trends, Drivers, and Restraints; Revenue Estimation and Forecast; Segmentation Analysis; Impact of COVID-19; Companies' Strategic Developments; Company Profiling |
| Segments Covered | By Product, By Type, By End User, By Region |
Explore more about this report - Request free sample pages
North America Is Dominating Market
North America held the largest share, of around 48%, in 2022. This dominance is ascribed to the rising frequency of technological advancements, surging geriatric population, increasing prevalence of chronic diseases, especially gastric disorders; presence of giant players, improving healthcare services, and increasing number of hospitals.
Additionally, the demand for endoscopies is increasing among the elderly population as it is more prone to chronic diseases, such as cardiac disorders, cancer, blocked arteries, and gastroesophageal reflux disease (GERD). These diseases require GI endoscopies and colonoscopies for their diagnosis, thus leading to an increase in the usage of endoscopes in the region.
The U.S. is experiencing a demographic shift with the increase in the number of citizens aged 65 years and older. As stated by the U.S. Census Bureau, the 65 years and older age group's share in the total population is projected to rise to nearly 24% (98 million) by 2060 from 15% (52 million) in 2018.
Furthermore, the rise in the capital expenditure on healthcare infrastructure and the growth in the number of hospitals and imaging centers in North America drive this market. The American Hospital Association (AHA), which conducts an annual survey of hospitals in the U.S., estimates the total number of hospitals associated with itself at 6,093. Apart from disease diagnosis and management, endoscopy plays an important role in clinical research as well; numerous hospitals in the region have a dedicated research department.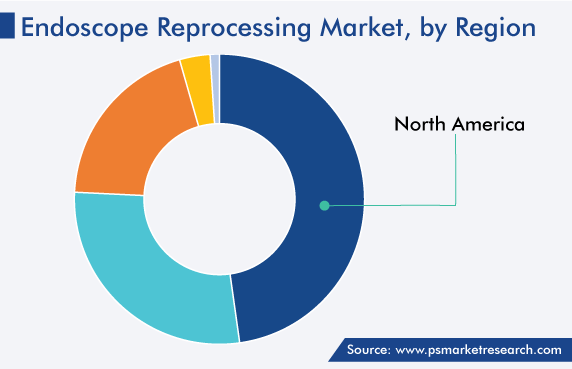 Europe Holds Significant Share
The incidence of chronic diseases is on the rise in Europe due to the sedentary lifestyles and many other external factors, which has increased the demand for the diagnosis and treatment of diseases of the gastrointestinal, cardiopulmonary, and urological systems in the region. In Western European countries, such as Spain, Germany, Italy, and Norway, there has been a constant rise in the incidence of cancer and GI diseases of late. Some significantly prevalent diseases in the continent diagnosable with endoscopies are colon polyps, peptic ulcer disease, colorectal cancer, pancreatitis, and colitis.
Moreover, patients are shifting toward endoscopic surgeries to avoid the traditional approaches, which require a large incision or even a laparotomy, in extreme cases. Compared to traditional approaches, endoscopy-guided minimally invasive surgeries result in less pain and scarring, a faster recovery, and a lower risk of complications.
Moreover, the growth in the network of hospitals and ASCs in the region helps in the endoscope reprocessing market advance. Approximately 25,000 hospitals are present in Europe, which are hosting more patients every year.
Top Endoscope Reprocessing Solution Providing Companies Are:
Advanced Sterilization Products
ARC Group of Companies Inc.
CONMED Corporation
Getinge AB
Borer Chemie AG
Metrex Research LLC
Belimed AG
Market Size Breakdown by Segment
This report offers deep insights into the endoscope reprocessing market, with size estimation for 2017 to 2030, the major drivers, restraints, trends and opportunities, and competitor analysis.
Based on Product
High-Level Disinfectants & Test Strips
Detergents & Wipes
Automated Endoscope Reprocessors
Endoscope Drying, Storage, & Transport Systems
Endoscope Tracking Solutions
Based on Type
Flexible

Upper Gastrointestinal Endoscopes
Colonoscopes
Bronchoscopes
Sigmoidoscopes
Laryngoscopes
Duodenoscopes
Nasopharyngoscopes
Rhinoscopes

Rigid

Laparoscopes
Ureteroscopes
Gynecology endoscopes
Arthroscopes
Cystoscopes
Neuroendoscopes
Based on End User
Hospitals
Ambulatory Surgical Centers and Clinics
Geographical Analysis
North America
Europe

Germany
U.K.
France
Italy
Spain

Asia-Pacific

China
India
Japan
Australia
South Korea

Latin America
Middle East and Africa

Saudi Arabia
South Africa