Market Overview
The global electric van market revenue has been estimated at USD 10,365.4 million in 2023, which is expected to reach USD 60,963.1 million by 2030, growing at a CAGR of 29.0% during 2024–2030.
This will be due to the surging demand for environment-friendly vehicles as a result of the growing concerns over pollution and the increasing focus on sustainable development. In addition, there have been continuous developments in battery technologies to extend automobile range, speed, and power. Further, people are becoming more health-conscious, which is resulting in an increasing usage of electric ambulance vans for field services. Moreover, e-commerce platforms are rapidly popular, in turn, creating a huge demand for such vehicles to deliver goods.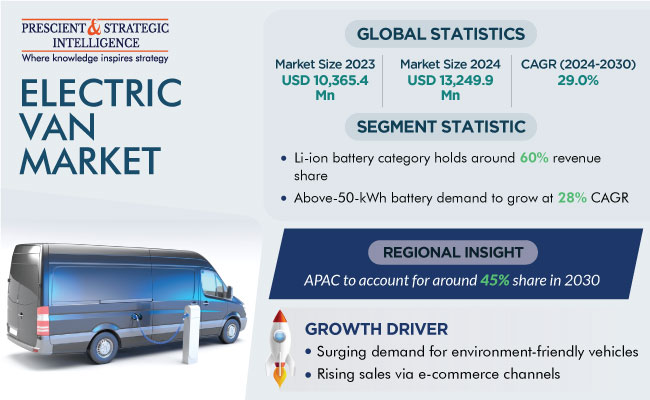 The rise of e-commerce has transformed the retail environment and increased last-mile delivery and online shopping activities. To quickly satisfy clients, e-commerce businesses rely on efficient delivery fleets. These companies can lower their fleet emissions, while improving their brand image, by using EVs.
Essentially, the demand for green automobiles has increased significantly in recent years with a rise in the need of individuals and organizations to reduce emissions and air pollution levels. Since they have no emissions, electric vans are the ideal answer to these problems. As a result, in order to meet sustainability objectives and lessen their carbon footprint, corporations and governments are switching to these automobiles.
Due to its persistent dedication to environmental sustainability, Europe has grown to be a significant market for electric vehicles. Strict pollution rules and a range of incentives have been implemented by European nations to encourage the use of EVs. Additionally, electric vans are a practical choice for last-mile deliveries and urban transit in Europe because of the significant investments in the charging infrastructure.
Surging Demand for Environment-Friendly Vehicles
Modern consumers want electric vehicles with strong performance and sophisticated features. Manufacturers are therefore creating high-performance electric vans to satisfy these changing consumer expectations. The sale of these automobiles has essentially increased as a result of the rapid economic growth around the world. Enterprises are expanding their fleets to satisfy the rising transportation demands, as a result of the growing economic activity and GDPs. Delivery and public transportation firms choose electric vans as an economical and ecologically friendly choice.
Traffic congestion, air pollution, and a lack of available fossil fuels affect cities all around the world. A greater need for energy-saving and emission-free public transit solutions is created because of these problems. With regard to last-mile connection and public transit, EVs are especially important in addressing this demand. This is why electric vans are being rapidly added to taxi fleets by municipalities and public transportation providers.
Further, public transport is being actively supported by governments around the world as it can reduce the number of personal vehicles and, in turn, GHG emissions. To lure public transport providers to switch to EVs, they offer a variety of incentives, subsidies, and grants. Additionally, some cities grant specific benefits to electric vans, such as dedicated lanes and lower tolls, thus making them a desirable alternative for public transportation companies.
Additionally, for the timely delivery of medical supplies and equipment, healthcare facilities need efficient logistics solutions. Electric vans are ideal for such field services due to their ease of urban mobility and zero-emission profile. As the healthcare industry grows more environmentally conscious, the adoption of electric vans by it is expected to increase, thus leading to market growth.
Additionally, the sale of such automobiles has increased significantly due to the falling price of traction batteries, which is a key aspect that makes them expensive. EVs become cost-competitive with their traditional counterparts as battery prices fall. Since the upfront vehicle expenses come down due to the lower battery costs, both businesses and consumers will find EVs more appealing and accessible.
Moreover, with the rise of e-commerce, last-mile deliveries have become a crucial part of the logistics sector. With their ability to go through highly populated areas and deliver goods without emitting any harmful substances, electric vans have become preferred among delivery firms.
100–200 Miles Range Category Dominated the Market
The 100–200 miles category accounts for the largest revenue share, of more than 50%, within the range segment, and it is projected to grow at a significant CAGR, of 28.7%.
This is due to electric vans' extensive usage in urban deliveries, last-mile logistics, and short-distance travel. In such situations, a range of 100–200 miles is more than enough to take care of the daily operational requirements without the need for regular recharging. Hence, vehicles that offer this driving range on a full charge are useful and economical for businesses that operate in small areas.
Although the infrastructure for electric vehicle charging is constantly expanding, urban locations and significant transportation corridors have more of it than other areas. Hence businesses that operate within established charging networks can easily find EV charging stations within 100–200 miles.
Additionally, batteries that offer a driving a range of 100 to 200 miles without recharging or swapping balance capacity, price, and weight. Within this range class, the improvements in the battery technology have enhanced energy density and charging efficiency. Hence, OEMs are finding a range of 100 to 200 miles extremely marketable in EVs.
Moreover, some rules, incentives, or subsidies may only be applicable to electric vehicles falling in a given driving range. This could make those that offer a range of 100–200 miles the most viable for consumers in the short term.
Electric Van Market Report Coverage

| | |
| --- | --- |
| Report Attribute | Details |
| Market Size in 2023 | USD 10,365.4 Million |
| Market Size in 2024 | USD 13,249.9 Million |
| Revenue Forecast in 2030 | USD 60,963.1 Million |
| Growth Rate | 29.0% CAGR |
| Historical Years | 2017-2023 |
| Forecast Years | 2024-2030 |
| Report Scope | Market Trends, Drivers, and Restraints; Revenue Estimation and Forecast; Segmentation Analysis; Impact of COVID-19; Companies' Strategic Developments; Market Share Analysis of Key Players; Company Profiling |
| Segments Covered | By Range; By Battery Capacity; By Propulsion; By Battery Type; By End Use; By Region |
Explore more about this report - Request free sample pages
Above-50-kWh Batteries Dominate Market
The above 50 kWh category dominates the battery capacity segment with a revenue share of around 65%, and it is expected to grow at a significant CAGR, of more than 28%.
This is because the driving range of electric vans with batteries offering more than 50 kWh of energy capacity is often greater than 150 miles on a single charge. Companies that handle short-to-medium-distance deliveries benefit from this range since it lessens the need for regular charging and boosts operational flexibility. Particularly, in urban locations and along major highways, the availability of charging facilities is constantly improving. Fast-charging stations are available for EVs with batteries offering a capacity of more than 50 kWh, which allows for longer trips and shorter charging times.
Moreover, a larger battery capacity is becoming more cost-effective as the battery technology develops and the energy density rises. Businesses can excel in their operations by choosing a van with a battery capacity exceeding 50 kWh because their driving range is likely to increase over time with the advancements in technology.
While heavier batteries increase the vehicle weight, electric vans with battery capacities beyond 50 kWh still have enough cargo capacity for the majority of the commercial uses. Due to the increased driving range, enterprises are able to transport large amounts of cargo. Hence, to satisfy the needs of logistics firms looking for longer-range delivery vehicles, manufacturers have been focusing on developing more of them.
Further, individuals and companies are getting used to the concept of greater driving ranges as the e-mobility technology becomes more widely used. Customers expect EVs to be able to go farther on a single charge, which is why those with a battery capacity above 50 kWh will become rapidly popular in the future. Additionally, businesses in developed countries can depend on the availability of charging stations to support EVs with bigger battery capacities. This lessens the worries about range anxiety and increases the usefulness of these vehicles.
Lithium-Ion Batteries Hold Major Share
The Li-ion battery category accounts for the dominating revenue share, of around 60%, and it is set to witness a CAGR of around 28.4% in the years to come. These batteries can store a significant amount of energy in a relatively compact and lightweight package, thereby allowing EVs to have longer driving ranges without increasing their weight or size.
Moreover, recent technological advancements have led to improved safety, by making these batteries less prone to overheating or catching fire. Further, their mass production has resulted in low prices, which will ultimately help make EVs cost-effective for customers.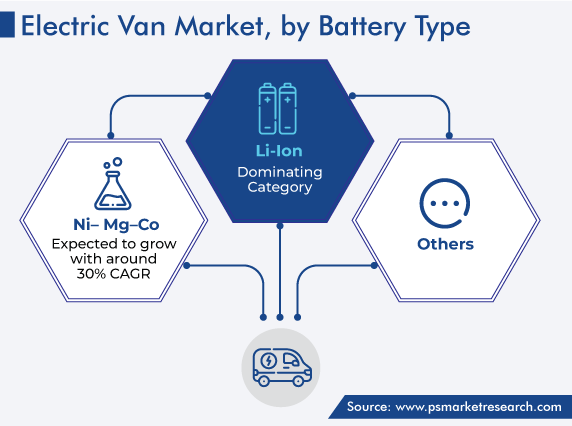 Asia-Pacific Leads Market
The APAC region dominates the market with a revenue share of 45%, and it is expected to grow at a significant CAGR, of 28.8%, during the prediction period.
This is due to the surging population and rapid urbanization in many regional countries, particularly China and India. China is the largest producer of these automobiles, with numerous companies focusing on advancements in them to bring down their purchase, operational, and maintenance costs. Moreover, India is the fastest-growing regional market for electric vans owing to the high population density and increasing government support to encourage the usage of EVs.
Moreover, urban congestion and pollution are increasing as a result of the massive urbanization and population growth in the region. When it comes to last-mile deliveries and transit in busy cities, electric vans provide a practical solution, by addressing environmental concerns.
Additionally, some of the biggest technology and automotive firms in the world are based in this region. A strong manufacturing base facilitates the mass production of these automobiles, thus increasing their availability and lowering their cost for both enterprises and consumers. Further, the construction of EV charging infrastructure is being actively funded by many nations in the region, as it is a crucial step in making EVs viable for the masses.
Additionally, due to the high levels of vehicle emissions, a number of cities in the region experience serious air quality problems. Electric vehicles are being actively promoted by governments and municipal authorities as a way to reduce pollution and enhance air quality. EVs align with the region's objectives for cleaner transportation solutions, which are becoming more important as economies develop and the rate of environmental degradation rises.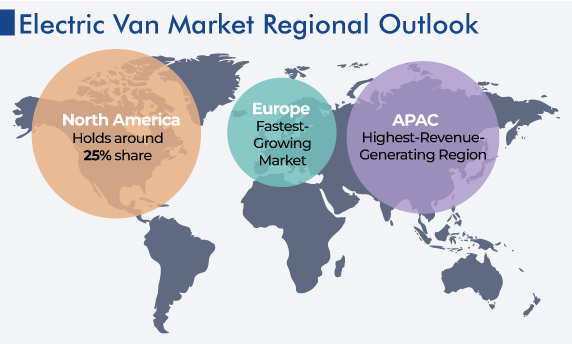 Top Companies Manufacturing Electric Vans Are:
Mercedes-Benz Group AG
BYD Company Ltd.
General Motors Company
Groupe Renault
Volkswagen AG
Toyota Motor Corporation
Hyundai Motor Company
Honda Motor Company
Nissan Motor Co. Ltd.
Stellantis N.V.
Market Size Breakdown by Segment
The report analyzes the impact of the major drivers and restraints on the electric van market, to offer accurate market estimations for 2017–2030.
Based on Range
Up to 100 Miles
100–200 Miles
Above 200 Miles
Based on Battery Capacity
Up to 50 kWh
Above 50 kWh
Based on Propulsion
Based on Battery Type
Based on End Use
Passenger Transportation
Freight Transportation
Geographical Analysis
North America
Europe

Germany
U.K.
France
Italy
Spain

Asia-Pacific

Japan
China
India
South Korea
Australia

Latin America
Middle East and Africa

Saudi Arabia
South Africa
U.A.E