Market Overview
The East Africa SOC as a service market is estimated to generate $67.8 million in 2022 and it is expected to reach $131.5 million by 2030, progressing at a CAGR of 8.3% during the forecast period. This is due to the rising demand for digital transaction management, increasing security concerns across organizations, surging government support, and growing adoption of advanced technologies in developing countries, such as Kenya, Uganda, Tanzania, Rwanda, and Burundi.
Additionally, the propelling retail market and increasing number of connected devices are further predicted to drive the demand for SOC as a service across such developing countries. Moreover, these emerging nations are witnessing significant penetration of security operation centers, especially in the BFSI sector, owing to the growing internet infrastructure. Furthermore, the surging penetration of the internet and cloud computing also enables organizations and consumers to make deals online, which requires authorization from both parties. Thus, these factors are expected to boost the market growth in the coming years.
In addition, the major factor credited for the growth of the market is the increase in the number of security breaches and cyberattacks. For instance, globally, there has been a 50% annual growth in cyberattacks. Also, the bring-your-own-device (BYOD) and work-from-home trends are boosting the market growth.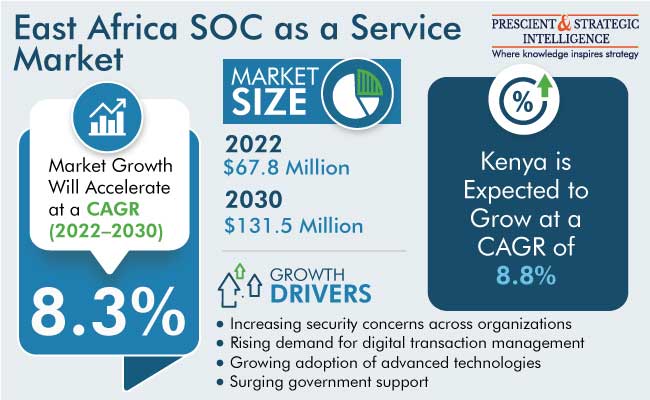 Large Enterprises Have Several Opportunities
Large enterprises are predicted to generate the highest revenue of $114.8 million in 2030. Moreover, large enterprises have several operations; thus, they are always implementing new and developed technologies to detect, prevent, and respond to any kind of cyberattack. Furthermore, multinational organizations have extensive corporate networks and multiple revenue streams, therefore they implement SOC as a service solution, which is the key driving factor of the market.
BFSI Sector Is Major End User
The BFSI sector is the largest end user in the market in 2022, as it is one of the most attractive industries for cybercriminals because of its nature of business. Typically, an employee of a financial service organization gets access to roughly 11 million files on the first day of work. This count rises to 20 million files for employees working in large enterprises.
Furthermore, more than 70% of cyberattacks are targeted at the financial sector. For example, over 30 billion accounts are expected to be breached by 2030. The organizations operating in the sector are largely prone to phishing attacks, which incur the cost of around $6 million per data breach.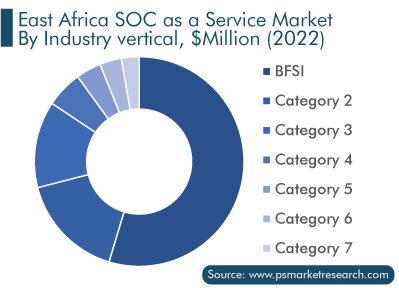 Kenya Will Contribute Highest Revenue
The Kenyan market is expected to reach $59.1 million by 2030 from $29.4 million in 2022, progressing at a CAGR of 8.8% during the forecast period. This is primarily due to the surging adoption of SOC as a service in the BFSI, retail, IT and telecom, and healthcare industries; and the supporting data protection laws and regulations, such as The Data Protection Act 2019, in the country.
Moreover, the rising cases of organized online threats and cybercrimes, mounting ransomware, and escalating count of end users' system hijacking are creating the demand for SOC as a service in the nation. For instance, according to an Interpol report, from January 2020 to February 2021, Kenya witnessed 72 million cyberattacks.
Furthermore, the Communications Authority of Kenya authorized a national framework for cybersecurity management in the country. The authority takes cognizance of the dynamic cyber threat environment that is characterized by highly skilled and well-organized cybercrime networks that seek to optimize vulnerabilities for fraudulent purposes. In an effort to protect the nation's cyberspace against these growing cyber threats, the authority has enhanced the capabilities of the National KE-CIRT/CC for people, processes, and systems, with the objective of boosting the nation's cyber threats detection, prevention, and response-ability, which further drive the market for SOC as a service.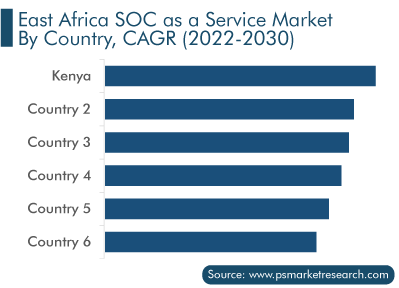 Increasing Need for Log Management
In business processes, log management is often used to handle data from a source. Typically, it deals with log messages generated by computers, including audit trails, audit records, and event logs, among others. In order to provide more suitable results, it often gathers and organizes the data. Moreover, it serves as a security control for all systems and network logs and is particularly helpful as it can identify security flaws, cyber threats, and criminal activities.
The growing strict security compliances and government guidelines is a crucial factor accelerating the log management growth. Moreover, the surging number of network devices, increasing advanced persistence threat (APT), rising need for responsive log management solutions with artificial intelligence and analytical benefits or features, along with increasing availability of computer-generated log data accessible to IT engineers, developers, and business analysts on-demand, are the key factors boosting demand for log management in East Africa. Moreover, the surging need for business intelligence, increasing technological advancement and modernization in management techniques, and rising demand from emerging economies will further create new opportunities for log management key players in the coming years. This is also due to the presence of such players, including Intel Corporation (Intel Security), SolarWinds, and Oracle Corporation, which offer advanced log management services in the region.
East Africa SOC as a Service Market Report Coverage

| | |
| --- | --- |
| Report Attribute | Details |
| Historical Years | 2017-2021 |
| Forecast Years | 2022-2030 |
| Market Size in 2022 | $67.8 Million |
| Revenue Forecast in 2030 | $131.5 Million |
| Growth Rate | 8.3% CAGR |
| Report Scope | Market Trends, Drivers, and Restraints; Revenue Estimation and Forecast; Segmentation Analysis; Impact of COVID-19; Segmentation Analysis of Countries; Companies' Strategic Developments; Market Share Analysis of Key Players; Company Profiling |
| Segments Covered | By Type; By Offering Type; By Enterprise Size; By Application; By Industry Vertical; By Country |
Explore more about this report - Request free sample pages
Growth in Security Breaches and Cyberattacks
In recent years, cybersecurity has become crucial for businesses to safeguard their digital assets from escalating cyber threats. Some of the most well-known cyber risks are spear phishing, phishing assaults, ransomware, malware, vishing, browser gateway frauds, DDoS, whaling, and ransomware. Furthermore, cyber terrorists target endpoints, networks, data, and other IT infrastructure, which costs individuals, businesses, and governments a significant amount of money. Moreover, cyber risks damage enterprises' sensitive data and key IT infrastructure, which hinders their productivity. Due to the quick expansion of digital transactions across all industrial verticals, cybercrimes are occurring more frequently.
Owing to the growing internet usage and demand for connected devices, the possibility of being attacked online increases. Moreover, organizations follow threat identification to minimize their occurrence because of the rapid growth in sophisticated cyberattacks. Hence, as the business environment grows more dynamic, they are being encouraged to adopt SOC as a service solution, to ensure greater data protection. The growth of this market will also be ensured by the surging demand for compliance with many regulatory accords, including PCI DSS, GDPR, and HIPAA.
Top Players in East Africa SOC as a Service Market Are:
Dimension Data
Serianu Limited
Safaricom PLC
MFI Document Solutions Ltd
Liquid Intelligent Technologies Limited
Tai SOC
Secur
AdcareIT
SMTP Africa Servers Ltd.
Simba Technology Ltd.
Market Size Breakdown by Segment
This report offers deep insights into the market, with size estimation for 2017 to 2030, the major drivers, restraints, trends and opportunities, and competitor analysis.
Based on Type
Detection Service
Prevention Service
Incident Response Service
Based on Offering Type
Based on Enterprise Size
Based on Application
Network Security
Application Security
Endpoint Security
Cloud Security
Based on Industry Vertical
BFSI
Government and Public Sector
IT and Telecom
Healthcare
Retail
Manufacturing
Energy and Utilities