Cyber Security Market Overview
The global cyber security market size was $119.9 billion in 2019, and it is expected to register a CAGR of 12.6% during the forecast period (2020–2030). The key factors driving the growth of the cyber security industry include the rising smartphone penetration, increasing risk of cyberattacks, shift toward digitization, rapid adoption of the cloud computing technology, and surging need to safeguard the confidential data of customers.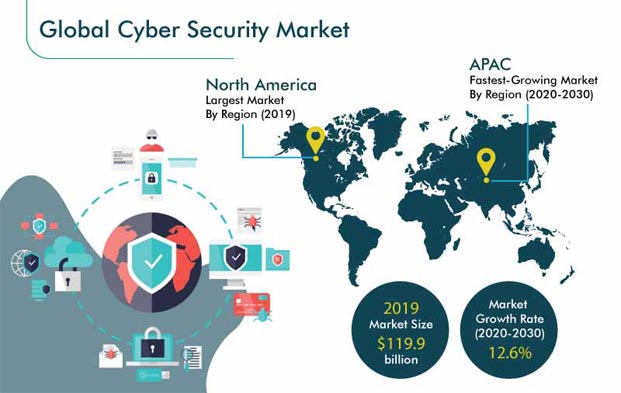 COVID-19 Impact Analysis
Owing to the effects of the coronavirus pandemic (COVID-19), the adoption of cyber security solutions is expected to increase during FY2020–21. This would be mainly due to the lockdown situation in numerous countries, which has led to the work-from-home situation, thus leading to an increasing number of cyberattacks and data breaches. For instance, according to a report by the World Health Organization (WHO), 450 active WHO email addresses and passwords were leaked online in April 2020. The rising number of COVID-19 related cyberattacks will further boost the cyber security market growth.
Segmentation Analysis
Services Category Is Projected To Register Faster Growth during Forecast Period
The services category, is projected to witness faster growth in the cyber security market during the forecast period, based on component. This is attributed to the increasing requirement of organizations for cyber security consulting, maintenance and support, and planning solutions. Furthermore, the risk and threat management category is expected to generate more demand during the forecast period, on the basis of services. This is attributed to the increasing utilization of threat management services, for 24x7 security monitoring, analyzing the causes of cyber incidents, proactively identifying the vulnerabilities, reducing the operational complexities, and improving the threat response time.
Large Enterprises Accounted for Larger Share in Cyber Security Industry
In 2019, the large enterprises bifurcation, in terms of enterprise, accounted for the larger size in the cyber security market. This was due to the complex network infrastructure, implementation of the cloud computing technology, rapid focus on digital transformation, increase in the need for the encryption of files and folders, and specific compliance requirements in such companies. Small and medium enterprises (SMEs) are projected to witness faster growth during the forecast period, owing to the rapid shift toward the adoption of cloud computing, surging awareness about cyber security, and increasing need to protect confidential information.
Enterprise Category Held Largest Share in Cyber Security Market
The enterprise category, on the basis of security type, held the largest share in the cyber security market in 2019. This was majorly due to the increasing focus of organizations on their overall security, including storage, networking, and application security. In addition, the growing awareness of large enterprises as well as SMEs about cyber security, rising number of data breaches, and increasing focus on establishing a high-security infrastructure, in order to safeguard themselves from malware attacks, are also supporting the market growth.
Threat Hunting Is Fastest-Growing Use Case Category in Industry
The threat hunting category, on the basis of use case, is expected to witness the fastest growth during the forecast period, in the cyber security market. This is ascribed to the surging focus of enterprises on leveraging advanced technologies, in order to detect and investigate advanced persistent threats and quickly respond to any potential attack. Some of the benefits offered by threat hunting solutions are a reduced inspection time, improved speed for threat and response management systems (TRMS), and early detection of threats, to secure the network infrastructure.
BFSI Is Dominating Category in Industry Segment
The banking, financial services, and insurance (BFSI) category accounted for the largest market size in 2019, owing to the rising focus of the sector on digitization, surging requirement to secure communication channels, and increasing consciousness to meet compliance regulations, such as the Payment Card Industry Data Security Standard (PCI DSS) and Federal Information Processing Standards (FIPS).
Additionally, the increasing number of data breach incidents among financial institutions and banks is a major factor driving the growth of the cyber security market. For instance, in March 2019, a U.S.-based bank, Capital One Financial Corporation, suffered a data breach, which affected 100 million individuals in the U.S and 6 million in Canada. The information accessed by cyber criminals included credit card application data, customer status data, and transaction data.
Geographical Outlook
North America Is Largest Market for Cyber Security Solutions
North America dominated the cyber security market during the historical period (2014–2019). The major factors supporting the market growth include the intense focus on leveraging advanced data analytics tools, rapid implementation of data center services, shift toward the multi-cloud environment, and presence of a large number of cloud service providers. In addition, the high utilization of mobile application services and focus on the adoption of electronic health record (EHR) systems are also contributing to the high requirement for cloud-based cyber security solutions. Market players are focusing on the launch of new security solutions and services and incorporating new features in existing security solutions, in order to provide support to enterprises for improving their security.
APAC – Fastest-Growing Region in Industry
Geographically, the cyber security market in Asia-Pacific (APAC) is expected to witness lucrative growth, due to the increasing traffic on websites, vast adoption of cloud computing services, deployment of big data analytics in business functions, growth in the e-commerce industry, and strong need to secure customers' data. Additionally, the rising number of data breaches, increasing utilization of connected devices, rapid shift toward digital transformation, and growing awareness about cyber security, in countries such as India, Singapore, and Malaysia, are also supporting the growth of the industry.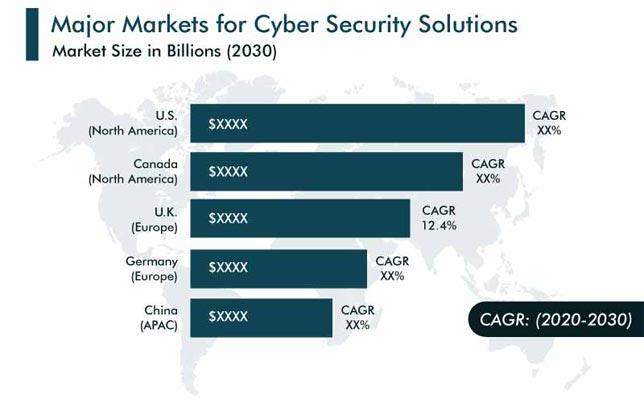 Trends & Drivers
Increasing Preference for BYOD Policy at Workplaces
The implementation of the bring-your-own-device (BYOD) policy in organizations is witnessing significant growth, as it increases productivity and enhances employee satisfaction. However, BYOD adoption poses a major challenge, by making corporate data vulnerable to cyberattacks. Employee devices often do not have advanced security measures to mitigate the risks involved. Also, IT departments may not be able to fully evaluate and approve each and every device, which may pose a high security threat to confidential data. The rising adoption of personal devices, such as personal digital assistants (PDA) and laptops, in corporate environments is projected to drive the growth of the cyber security market in the coming years.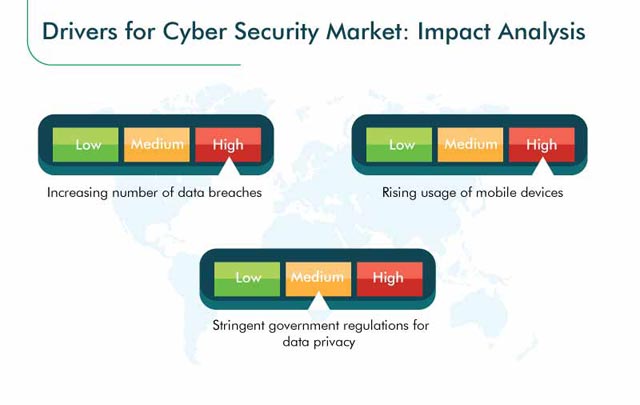 Increasing Number of Data Breaches
The increasing number of data breaches is a major factor resulting in the cyber security market growth. The major causes of a data breach include improper configuration, weak passwords, malware attacks, and complex access permissions. The rising emphasis of organizations on shifting their database to the cloud network has also increased the chances of data breaches. Cyber security solutions provide support for preventing unauthorized access to information, early detection of vulnerabilities, and analyzing and detecting cyber threats in real time.
High Utilization of Mobile Devices
Mobile devices with advanced capabilities, similar to PCs, are reaching the population at a mass scale, as they offer access to emails, the internet, global positioning system (GPS) navigation, and many other applications. However, security measures, such as firewall and software, are not updated frequently on mobile devices, thus making them vulnerable to cyberattacks. The global smartphone penetration stood at about 65% in 2019, which is expected to reach around 80% by 2025. In addition, the increasing usage of mobile devices is also giving rise to mobile botnets (compromised software), which lead to the loss of information or result in the denial of services (DoS). Such factors are expected to boost the cyber security market growth.
Cyber Security Market Report Coverage

| Report Attribute | Details |
| --- | --- |
| Historical Years | 2014-2019 |
| Forecast Years | 2020-2030 |
| Base Year (2019) Market Size | $119.9 billion |
| Forecast Period (2020-2030) CAGR | 12.6% |
| Report Coverage | Market Trends, Revenue Estimation and Forecast, Segmentation Analysis, Regional and Country Breakdown, Company Share Analysis, Companies' Strategic Developments, Product Benchmarking, Company Profiling |
| Market Size by Segments | Component, Security Type, Deployment, Enterprise, Use Case, Industry Region |
| Market Size of Geographies | U.S., Canada, U.K., Germany, France, Italy, Spain, China, Japan, India, Australia, South Korea, U.A.E., Saudi Arabia, Turkey, South Africa, Brazil, and Mexico |
| Secondary Sources and References (Partial List) | British Security Industry Association (BSIA), Cloud Computing Association (CCA), Cloud Security Alliance (CSA), Computer & Communications Industry Association (CCIA), Computing Technology Industry Association (CompTIA), Information Security Research Association (ISRA), Information Systems Security Association (ISSA), Internet Security Association and Key Management Protocol (ISAKMP), National Cyber Security Alliance (NCSA), UK Cyber Security Association (UKCSA), and Security Industry Association (SIA) |
Need to Meet Regulatory Compliances for Data Privacy
Governments of various countries have introduced several cyber laws and amended the existing ones, to provide a better security ecosystem. These government regulations make a mandate for companies to invest in cyber security solutions, to avoid potential reputation and financial loss and also ensure the safeguarding of individuals' personal data. Stringent cyber laws have been enacted in many countries to overcome cyberattacks. For instance, the California Consumer Privacy Act (CCPA) was signed in 2018 and came into effect in January 2020. It aims to provide consumers with strong data privacy rights and control over their personal information. Increasing number of stringent regulations are further expected to drive the growth in the cyber security market.
Product Launches Is The Key Growth Strategy Adopted by Players
The cyber security market is fragmented in nature, with the presence of a large number of market players, who are engaged in intense competition. Major players in the industry are focused on the launch of new cyber security solutions, in order to cater to the growing demand for advanced security services and improve their brand positioning. For instance:
In January 2020, Cisco Systems Inc. launched a comprehensive security architecture for industrial internet of things (IIoT), including Cisco Cyber Vision and Cisco Edge Intelligence. Cisco Cyber Vision, which supports real-time detection of security threats, is powered by Cisco Talos. Cisco Edge Intelligence supports in simplifying the process of data extraction and streamlining the transfer of data to the multi-cloud network.
In November 2019, Trend Micro Incorporated launched a security service platform, Trend Micro Cloud One, which is a comprehensive package for cloud security. It includes application security, file storage security, workload security, network security, container image security, and conformity solutions. It can be integrated with the Google Cloud platform, Microsoft Azure, and AWS Cloud, to provide security for DevOps teams.

Some of the Key Players in the Cyber Security Market Report include:
Fortinet Inc.

Juniper Networks Inc.

IBM Corporation

Micro Focus International plc

Sophos Group plc

Thales SA

CrowdStrike Holdings Inc.
Cyber Security Market Size Breakdown by Segment
The cyber security market report offers comprehensive market segmentation analysis along with market estimation for the period 2014–2030.
Based on Component
Solutions

Risk and compliance management
Identity and access management (IAM)
Firewall
Security and vulnerability management (SVM)
Encryption
Intrusion detection system/intrusion prevention system (IDS/IPS)
Unified threat management (UTM)
Distributed Denial of Service (DDoS) attack
Antivirus
Data loss prevention (DLP)

Services

Managed
Design and integration
Risk and threat management
Support and maintenance
Consulting
Training and education
Professional
Based on Security Type
Application
Network
Endpoint
Cloud
Enterprise
Based on Deployment
Based on Enterprise
Large Enterprises
Small and Medium Enterprises (SMEs)
Based on Use Case
Security Monitoring
Network Traffic Analysis
Threat Hunting
Incident Response
Data Exfiltration
Based on Industry
Aerospace & Defense
Government
Banking, Financial Services, and Insurance (BFSI)
Healthcare
Retail
Information Technology (IT) & Telecom
Manufacturing
Geographical Analysis
North America
Europe

U.K.
Germany
France
Italy
Spain

Asia-Pacific (APAC)

China
Japan
Australia
India
South Korea

Middle East & Africa (MEA)

U.A.E.
Saudi Arabia
Turkey
South Africa

Latin America (LATAM)