Market Overview
The cyber security market size stood at USD 171.9 billion in 2022, and it is expected to grow at a CAGR of 9.4% during 2022–2030, to reach USD 352.5 billion by 2030.
This can be mainly attributed to the increasing number of cyberattacks, growing spending on cloud computing technologies, rising adoption of cloud encryption solutions, surging acceptance of BYOD, snowballing implementation of ML, computer vision, big data analytics, and IoT, and increasing need to safeguard computers, network, and database from unauthorized access, coupled with an intense focus toward meeting compliance requirements.
Moreover, the rapid adoption of cloud computing technologies is the key factor resulting in the increasing implementation of the cloud-based IT security solutions, which supports the market growth globally. Nowadays, organizations are focusing on transferring information to cloud owing to enhanced accessibility, reduced IT expenditure, high-storage capacity, and easy integration of software with the cloud platform. Hence, with the deployment of cloud computing technology, the market is projected to achieve significant growth in the coming years.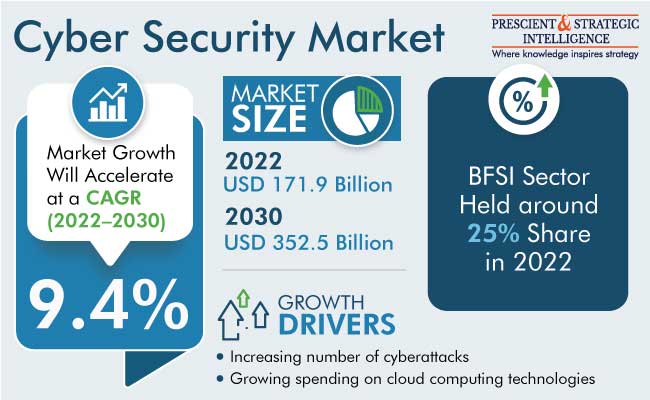 Additionally, the escalating number of targeted attacks is a major concern for enterprises. Hence, the rising need to protect themselves from vulnerabilities and unauthorized access results in significant growth of the market.
Globally, North America was the largest market for cyber security solutions due to the intense focus on leveraging advanced data analytics tools, rapid implementation of data center services, shift toward a multi-cloud environment, and the presence of key cloud service providers.
In addition, the shift toward digitization, high utilization of mobile application services, and focus on the adoption of electronic health record (EHR) systems are also contributing to the high requirement for cloud-based solutions, to protect the confidential information of customers. Thus, key players in the market are focusing on the launch of advanced IT security solutions, to provide enterprises with improved threat management.
Similarly, the APAC market is projected to reach USD 80 billion by 2030 due to the rising awareness to combat cyberattacks, increasing need for a centralized view of network infrastructure, snowballing requirement for data protection solutions, surging focus toward encryption solutions, growing mobile internet penetration, and mushrooming government support related to the implementation of data privacy and protection laws. According to the GSMA Intelligence, mobile internet users are expected to number more than 2.7 billion by 2025, as compared to 1.9 billion in 2018, in the region. Hence, the market is expected to witness significant growth in the coming years.
Increasing Number of Data Breaches
The increasing number of data breaches is the major factor resulting in the global market growth. It refers to the incident in which confidential information, such as SSNs and credit card details, is accessed without authorization. This includes major causes such as improper configuration, weak passwords, malware attacks, and complex access permissions. According to the Identity Theft Resource Center (ITRC) report, in 2021, the number of such cases in the U.S. stood at 1,862, which increased by about 68% as compared to the incidents that happened in 2020.
Furthermore, the rising emphasis of organizations on shifting their database to the cloud is increasing the chances of data breaches. Moreover, the implementation of IT security solutions provides support in preventing unauthorized access to information, early detection of vulnerabilities, and analyzing and detecting threats to systems, networks, software, databases, and applications in real-time. Hence, the cyber security market is projected to witness rapid growth owing to the rising cases of data breaches.
Booming Demand for Identity & Access Management Solutions
Based on solutions type, the IAM category held the largest share, of around 20%, in 2022. This is mainly due to the increase in demand for full control of user access within organizations, protection of sensitive data, secured collaboration with external stakeholders, and automation of repetitive tasks, to reduce IT expenditure. As a result, key players are launching cloud-based IAM solutions to cater to the growing need, to capture a larger market share.
For instance, in May 2019, a Europe-based provider of digital transformation services, Atos SE, launched IAM solution, based on Evidian software, which enables organizations to establish control related to the access of users, within the business system. The key benefits of the solution are audit simplification, cloud migration, and cost-effective provisioning of software-as-a-service (SaaS) applications.
On the other hand, the risk and compliance management category is expected to witness the fastest growth, at a CAGR of around 15%, during the forecast period. This can be ascribed to the growing focus of organizations toward improved visibility related to user access control, meeting compliance regulations, and surging awareness about managing and forecasting potential risks, to protect from financial losses.
Moreover, the managed category held the largest share, approximately 30%, in the global cyber security services market in 2022. This is due to the several benefits associated with these services, including trimmed IT costs and enhanced productivity, which is boosting the demand for managed services across SMEs. Moreover, large organizations are rapidly adopting managed services to reduce operational costs and expand their global reach with steady and reliable services. Moreover, managed services cater to functions, such as cyber crisis management, advanced threat management, and security device management, which support enterprises to proactively detect and respond to cyber risks and safeguard the organizations.
Stringent Government Regulations for Data Privacy
In an attempt to curb cyberattacks, governments of various countries have introduced several IT laws and amended the existing ones to provide a better security ecosystem. These governments' regulations mandate for companies to invest in related solutions, to avoid potential reputation and financial loss, and also ensure the safeguarding of individual personal information. Moreover, organizations across the globe are becoming proactive about the protection of their data and applications, as cybercriminals are using sophisticated brute-force attacks to steal sensitive information.
Furthermore, stringent laws have been enacted in many countries to overcome cyberattacks. For instance, California Consumer Privacy Act (CCPA) was signed in 2018 and came into effect in January 2020. It aims to provide consumers with strong data privacy rights and control over their personal information, such as the right to know, the right to delete, and the right to opt out of the sale of personal information that is collected by businesses.
The main purpose of such regulations is to protect organizations' systems from cyberattacks, such as Trojan horses, viruses, phishing, and unauthorized access. Some of the federal regulations implemented by the U.S. government include the 1996 Health Insurance Portability and Accountability Act (HIPAA), the 1999 Gramm-Leach-Bliley Act, the 2002 Homeland Security Act, and Federal Information Security Management Act (FISMA). Other such compliances include General Data Protection Union (GDPR) adopted by European Union (EU) and the Payment Card Industry Data Security Standard (PCI DSS) adopted by organizations.
Surging Number of Cyberattacks and Growing Concern for Financial Losses in BFSI Sector
The BFSI category held the largest market share, around 25%, in 2022. This is mainly attributed to the increasing number of data breach incidents in banks and other institutions, surging need for the elimination of phishing and malicious messages, rising requirement for email encryption solutions, surging focus toward the adoption of digital channels for communicating with customers, growing requirement for enhanced secured network infrastructure, and high adoption of next-generation technologies by banks, asset management companies, venture capital firms, and other institutions.
For instance, a record 1862 data breaches occurred in the U.S. in 2021, according to a report released by the Identity Theft Resource Center (ITRC). In comparison to the 1108 breaches in 2020, this figure increased by 68%, breaking the previous high of 1506 breaches achieved in 2017.
Moreover, the healthcare category is expected to witness the fastest growth, with a CAGR of over 9%, during the forecast period. This can be mainly due to the surging deployment of cyber security solutions and services to protect patients' and hospitals' information from data breaches, rapid adoption of digital technologies, restricting unauthorized access to network systems, increasing healthcare spending, and real-time visibility of network infrastructure.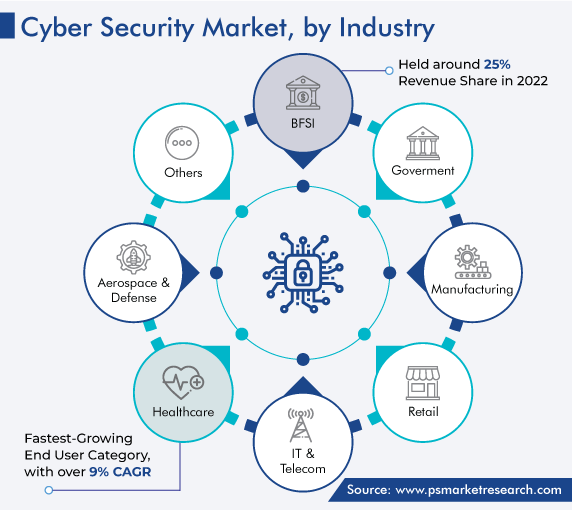 Rising Usage of Mobile Devices
Consumers are using mobile devices at unprecedented levels. Moreover, mobile devices with advanced capabilities similar to PCs are reaching the population at a mass scale, as they offer access to email, the internet, global positioning service (GPS) navigation, and many other applications. However, security measures, such as firewalls, and software are not updated frequently on mobile devices, which is making them vulnerable to cyberattacks. Many personal and sensitive information, such as passwords, contact details, and emails, are available on these devices, and appear more enticing to cyber adversaries.
Furthermore, mobile operators are also investing millions of dollars to overcome the challenges of cybercrimes. Moreover, operators, equipment makers, and operating system and application providers are introducing new approaches to stay ahead of criminals, to mitigate the risk of attacks on the IT infrastructure. The increasing usage of mobile devices is also giving rise to mobile botnets (compromised software), which lead to loss of information or result in denial of services.
For instance, according to Internet Security Threat Report (ISTR), mobile ransomware attacks are increasing at a higher rate. Thus, to prevent botnets from revealing sensitive information to hackers, effective security solutions for mobile devices are required, which is projected to drive the growth of the market in the coming years.
Rapid Focus Toward Digital Transformation Propelled Demand for Data Security Among Enterprises
The large enterprises category held the larger market share, around 65%, in 2022 due to the complex network infrastructure, implementation of cloud computing technology, rapid focus toward digital transformation, increase in need for encryption of files and folders, and specific compliance requirements.
Furthermore, the SMEs category is expected to register faster growth during the forecast period. This is due to the growing concentration of SMEs toward the adoption of cloud computing technologies, shifting toward digitization, surging awareness about cyber security, meeting compliance regulations, and the increasing need to protect confidential information. Also, cloud-based cyber security solutions provide benefits to SMEs, such as reduced IT expenditure, operational flexibility, and prevention against unauthorized access to information.
Cyber Security Market Report Coverage

| | |
| --- | --- |
| Report Attribute | Details |
| Historical Years | 2017-2022 |
| Forecast Years | 2023-2030 |
| Market Size in 2022 | USD 171.9 Billion |
| Revenue Forecast in 2030 | USD 352.5 Billion |
| Growth Rate | 9.4% CAGR |
| Report Scope | Market Trends, Drivers, and Restraints; Revenue Estimation and Forecast; Segmentation Analysis; Impact of COVID-19; Companies' Strategic Developments; Market Share Analysis of Key Players; Company Profiling |
| Segments Covered | By Component; By Security Type; By Deployment; By Enterprise; By Use Case; By Industry; By Region |
Explore more about this report - Request free sample pages
With Increased Dependency of Organizations on Cloud for Data Storage, Cyber Security Is Emerging Market
The European cyber security market stood at around USD 35 billion in 2022, owing to the surge in the number of cyberattacks, increase in dependency of organizations on the cloud for data storage, rise in focus of the EU toward the introduction of cyber security initiatives, and the intense focus of companies toward leveraging technologies, such as AI and ML in business functions. According to the European Statistical Office, around 41% of the EU enterprises utilized cloud computing solutions in 2021, mainly for the storage of files and email hosting services.
As a result, key players in the region are focusing on the acquisition of other strong players in the cyber security market, to capture a larger share, provide enhanced cyber security support, and meet compliance requirements.
For instance, in April 2019, Europe-based diversified company, Thales SA completed the acquisition of Gemalto NV for USD 5,376.0 million (approx.). With this acquisition, Thales SA aimed at developing solutions related to data and network cyber security, air traffic management, airport security, and financial transaction security. Moreover, the company is focusing on leveraging advanced technologies pertaining to biometrics, data protection, and cyber security.
Similarly, the LATAM market is expected to advance at over 7% CAGR during the forecast period. The major factors driving the regional market are the surging focus toward data protection initiatives by governments, increasing utilization of end-to-end encryption solutions by application providers, rising implementation of cloud-based security solutions in the BFSI industry, growing adoption of digital initiatives, snowballing internet penetration, mushrooming risk of email spoofing, and skyrocketing cases of cyberattacks, mostly in Brazil and Mexico. For instance, From January to June 2022, Brazil experienced 31.5 billion attempted cyberattacks.
In addition, Mexico is also among the most targeted countries for cyberattacks, in 2021. Hence, the increasing number of cyberattacks becomes a significant opportunity for players in the LATAM market to launch cybersecurity solutions, which would also result in high market growth.
Furthermore, the escalating count of data breach cases in Mexico, surging acceptance of cloud computing technologies, and growing awareness among enterprises related to the effect of cyberattacks in terms of loss of money and confidential information are other major factors boosting the demand for cloud-based encryption security services in various healthcare, retail and e-commerce, and IT & telecom, to protect sensitive information in a secured network infrastructure.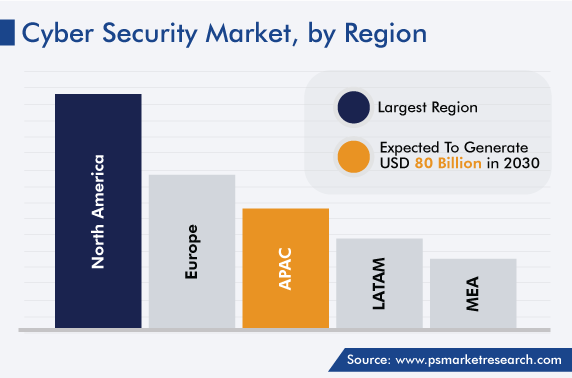 Top Cyber Security Solution Providers Are:
Cisco Systems Inc.
Check Point Software Technologies Ltd.
Fortinet Inc.
Juniper Networks Inc.
Palo Alto Networks Inc.
FireEye Inc.
The International Business Machines Corporation
McAfee LLC
Trend Micro Inc.
Broadcom Inc.
The report analyzes the impact of the major drivers and restraints on the market, to offer accurate market estimations for 2017–2030.
Based on Component
Solutions

Risk and compliance management
Identity and access management (IAM)
Firewall
Security and vulnerability management (SVM)
Encryption
Intrusion detection system/intrusion prevention system (IDS/IPS)
Unified threat management (UTM)
Distributed Denial of Service (DDoS) attack response
Antivirus
Data loss prevention (DLP)

Services

Managed

Design and integration
Risk and threat management
Support and maintenance
Consulting
Training and education

Professional
Based on Security Type
Application
Network
Endpoint
Cloud
Enterprise
Based on Deployment
Based on Enterprise
Large Enterprises
Small and Medium Enterprises (SMEs)
Based on Use Case
Security Monitoring
Network Traffic Analysis
Threat Hunting
Incident Response
Data Exfiltration
Based on Industry
Aerospace & Defense
Government
Banking, Financial Services, and Insurance (BFSI)
Healthcare
Retail
Information Technology (IT) & Telecom
Manufacturing
Geographical Analysis
North America
Europe

U.K.
Germany
France
Italy
Spain

Asia-Pacific

China
Japan
Australia
India
South Korea

Latin America
Middle East & Africa

U.A.E.
Saudi Arabia
Turkey
South Africa