Market Overview
The global dental equipment market generated revenue of USD 6,349.4 million in 2022, which is expected to observe a CAGR of 7.9% during 2022–2030, to reach USD 11,632.4 million by 2030.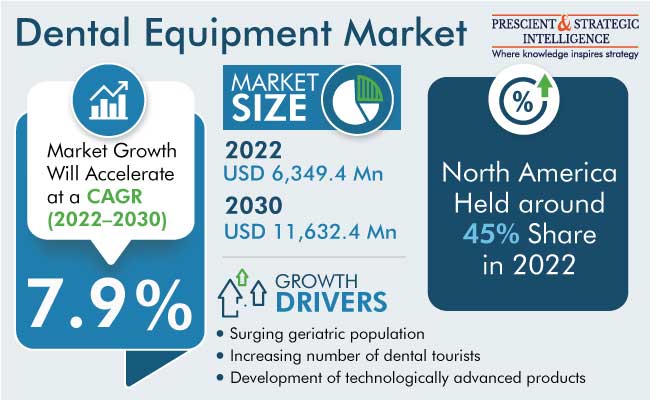 The growth of this market is primarily driven by the rapid rise in the geriatric population and the ensuing increase in the prevalence of edentulism, surge in dental tourism activities in emerging economies, sedentary lifestyles, consumers' focus on cosmetic dentistry services, rise in the frequency of oral health issues in the younger populations, and the development of technologically advanced products. Additionally, the launch of multiple government initiatives to promote oral health is expected to drive the market.
Dental lab equipment and indirect restorative material allow practitioners to offer more-effective treatment choices via customized goods, such as dentures and crowns. Lab technicians create many more goods, such as tooth prostheses, including clear aligners and veneers, in accordance with a licensed dentist's prescription. Moreover, it is expected that the growing demand for painless laser treatments and minimally invasive procedures that do not require needles or anesthesia will create profitable chances for the expansion of the dental equipment market.
Some of the most-frequent dental procedures are dental fillings, bonding, root canals, crown and bridge placement, periodontal treatments, and oral and maxillofacial procedures.
Rising Incidence of Teeth Problems
The increase in the number of people with oral problems, including periodontal disease, oral cancer, and oro-dental trauma, essentially leads to the market expansion. The WHO's Global Oral Health Status Report 2022 estimates that oral diseases affect close to 3.5 billion people worldwide, with 3 out of every 4 affected people living in middle-income countries.
According to the statistics of the Centers for Disease Control and Prevention, in the U.S., untreated tooth decay affects 26% of the adults, and gum disease is present in over half the population aged 30 or more.
The prevalence of oral illness is rising globally due to the unhealthy lifestyles of people, growing geriatric population, and changing living conditions. Moreover, dental disorders largely stem from a shift to softer, more-sugary foods than the ones people ate till 40–50 years ago.
Increasing Geriatric Population
The growth in the global geriatric population is also a major factor responsible for the increasing incidence of several oral problems. It becomes difficult to maintain oral health at an older age due to physical inability and confinement at home or institutionalization. According to the WHO, by 2030, 1 in 6 people in the world will be 60 years or older and this population will rapidly increase from 1 billion in 2020 to 1.4 billion. Moreover, by 2050, the world's population of people aged 60 and above will be 2.1 billion, effectively double of what it was in 2020. Similarly, the number of persons aged 80 years and above is expected to triple between 2020 and 2050, to reach 426 million.
In 2021, according to the Division of Oral Health, National Center for Chronic Disease Prevention and Health Promotion, nearly 95% of the persons in the U.S. whose age is 65 years and above suffered from cavities, which affect 1 in 5 people.
Increasing Demand for Aesthetic Dental Work
One of the fastest-growing areas of dentistry is cosmetic dentistry. With the rising discretionary income, there has been an increase in the desire to undergo cosmetic operations among the older population as well as the younger generation. Because of the changing lifestyles and an increasing emphasis on dental aesthetics, cosmetic oral procedures, such as implantation, crown and bridge placement, bonding, orthodontic treatment, inlaying and onlaying, and veneering, are becoming increasingly popular in both developed and developing nations.
Additionally, the growing trend of celebrities and social media influencers flaunting their picture-perfect smiles has sparked a global demand for aesthetic dentistry.
Rising Number of Dental Surgeries
The prevalence of oral health issues, including poor breath and gum disease, has caused a dramatic rise in the volume of oral surgeries. According to a report, 7–8 persons out of 10 have misaligned bite patterns and teeth.
Another study found that 95–96% of the American seniors over 65 years of age had an oral condition that affects their daily lives. Thus, as the number of elderly people approaches 1–2 billion in the next few years, this issue would worsen, in turn, contributing to the expansion of the industry. Moreover, the rising prevalence of oral cancer will positively influence the dental equipment market.
Dental Equipment Market Report Coverage

| | |
| --- | --- |
| Report Attribute | Details |
| Historical Years | 2017-2022 |
| Forecast Years | 2023-2030 |
| Market Size in 2022 | USD 6,349.4 Million |
| Revenue Forecast in 2030 | USD 11,632.4 Million |
| Growth Rate | 7.9% CAGR |
| Report Scope | Market Trends, Drivers, and Restraints; Revenue Estimation and Forecast; Segmentation Analysis; Companies' Strategic Developments; Market Share Analysis of Key Players; Company Profiling |
| Segments Covered | By Type; By Region |
Explore more about this report - Request free sample pages
Lubricated Compressors Will Hold Larger Share during Forecast Timeframe
Based on dental compressor, the lubricated category accounted for the larger revenue share, over 70%, in 2022, and it is further expected to maintain its dominance during the forecast period. This is owing to the strength, high durability, and low maintenance requirements of lubricated compressors. Therefore, their high usage rate in developing and underdeveloped countries will fuel the growth of this category during the projection period.
The oil-free bifurcation is expected to display the faster revenue increase during the forecast period, because these compressors are lightweight and less costly. Further, there has been a rise in the demand for compressors with reduced noise and vibrations and a compact shape, to conserve space, in recent years.
Adjustable Articulators Category Has Largest Market Size
Adjustable articulators held the largest revenue share, approximately 40%, in 2022, because they can handle the majority of the tooth procedures and are frequently utilized in dental clinics. These instruments are used primarily because they are easier to access than other modalities, such as radiography data and virtual articulators, which are still poorly understood or known. Most of the time, an adjustable articulator is suitable for training dentists.
Furthermore, the advancement of these devices is projected to accelerate the market expansion. For example, the Denar Mark II semi-adjustable articulator, with its progressive and immediate side-shift adjustments, has the capacity to simulate component condylar movements.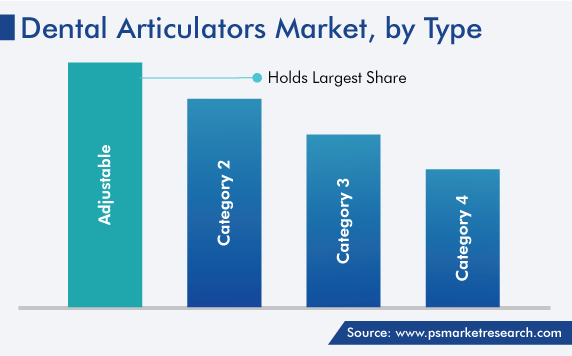 3D Printers Emerging as Key Pieces of Dental Equipment
The 3D printer category will show significant growth during the forecast period due to the surging requirement for more-efficient clinical workflows, shorter turnaround times, and fewer doctor appointments. Users are more likely to invest in them to speed up the delivery of dental equipment and augment the accuracy of treatments.
3D printers are mostly utilized to replace or repair damaged teeth. For this, a 3D image of the oral cavity is created by recording the definition, pattern, and arrangement of the teeth with an intraoral scanner, following which the data is fed into the printer to create the required teeth or other parts. The 3D printer is also used to construct surgical tools.
North America Is Prime Revenue Contributor
North America captured the largest revenue share in the market, of around 45%, in 2022. This is attributed to the ongoing development in dental equipment, such as lasers, intraoral cameras, digital radiographs, and CAD/CAM systems; rapidly changing lifestyles, rising incidence of oral diseases, widespread adoption of new technologies, shifting demographic trends, and increasing consumer awareness of the link between oral hygiene and overall health. Additionally, the rising frequency of product launches is boosting the industry advance.
Moreover, according to the American Dental Association, 85% of the Americans truly value dental health and consider it a crucial aspect of overall care. North America would be one of the most-promising regional markets over the projection period as a result of the interaction of all these factors.
Additionally, the major market players in the region are focusing on the development of advanced devices, to cater to a large patient pool. For instance, Ivoclar introduced VivaScan, a lightweight and cost-effective intraoral scanning system for dentists, in June 2022. Because of the device's standalone nature, it is simple to include in routine practice, where it generates appreciable scanning results and promotes a more-efficient workflow.
Furthermore, Zimmer Biomet Holdings Inc. introduced OverdenSURE in North America and Europe in February 2022. It is a system for attaching overdentures to Zimmer Biomet dental implants.
Canada is also significant for dental equipment market players owing to the growing demand for cosmetic dentistry in the region and the rising patient population. Moreover, the enhanced healthcare infrastructure, growing consumer awareness, robust support of the government, and technological advancement in dentistry can be credited for the industry advance in Canada.
Furthermore, Europe is projected to rank second, attributed to the steadily growing elderly population, which is susceptible to oral problems; presence of numerous manufacturers, and favorable reimbursement policies. Additionally, the rising popularity of cosmetic procedures and dental supplies such as crowns and bridges over implants will fuel the market's expansion.
Furthermore, Germany is showing significant growth in the European region. This is owing to the rise in the healthcare budget in the country, adoption of technologically enhanced solutions, and initiatives by the government to raise awareness of oral health and offer reimbursements for the associated procedures.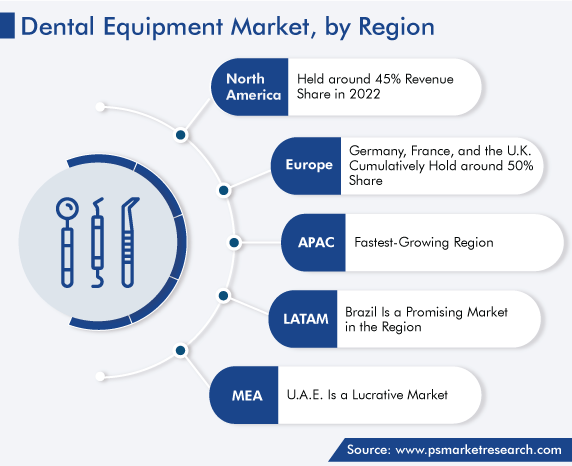 Top Providers of Dental Equipment Are:
Ivoclar Vivadent AG
Planmeca Group
Envista Holdings Corporation
Align Technology
Zimmer Biomet Holdings Inc.
J. MORITA CORP.
GC Corporation
Midmark Corporation
Straumann Group
3M Company
Market Size Breakdown by Segment
The study uncovers the biggest trends and opportunities in the dental equipment market, along with offering segmentation analysis at the granular level for the period 2017 to 2030.
Based on Type
Articulators

Adjustable
Dental facebow
Disposable
Non-adjustable

Compressors
Formers & Curing Systems

Pressure plots
Lab light curing units
Thermoformers
Vacuum formers
Denture curing units

Furnaces

Ceramic combination furnaces
Ceramic furnaces
Sintering furnaces

Lab Work Lights
Lab Workstations
Laboratory Acrylic Injection Systems
Laboratory Cleaning & Polishing Systems

Lab streaming cleaning units
Lathes
Ultrasonic cleaners
Water baths

Laboratory Die & Casting Systems

Alloy grinders
Casting rings & formers
Die preparation kits
Divesting machines
Duplicating kits
Dental glass droppers
Electric waxers
Dental laboratory measuring cups
Dental liquid dispensers
Vacuum mixers
Induction casting machines

Laboratory Handpieces & Motors
Laboratory Microscopes
Laboratory Model Construction

Pneumatic chisels
Model saws
Model trimmers
Dental organic solvents
Surfactant sprays
Vacuum mixers
Dental vibrators
Denture reline jigs
Pinhole drilling units

Dental Laboratory Sandblasters
Dental Laboratory Utilities
Dental Torches & Welders

Alcohol torches & lamps
Laser welders
Micro torches
Spot welders

Dental Waxing Equipment

Electric waxers
Lab waxing reservoirs

Digital Dental Lab Systems

3D printers
3D scanning systems
CAD/CAM software
CAD/CAM systems
Milling units
Geographical Analysis
North America
Europe

Germany
U.K.
France
Italy
Spain

Asia-Pacific

Japan
China
India
South Korea
Australia

Latin America
Middle East and Africa

Saudi Arabia
South Africa
U.A.E.