Intraoral Scanners Market Overview
The global intraoral scanners market size is estimated to be valued at $251.1 million in 2017 and is projected to advance at a CAGR of 10.2% during the forecast period. In terms of type, the market will be led by powder-free intraoral scanners, as the they have various advantages over the powder-based category, such as no need of impression material, better patient compliance, and better-quality images due to use of the latest laser technology, i.e., without the use of a device. The players in the market are focusing more on manufacturing powder-free scanners as buyers prefer these over powder-based scanners.
On the basis of end user, dental clinics have been holding the largest share in the market, and is expected to be the fastest growing category during the forecast period. Further, the demand for intraoral scanners in hospitals is also expected to witness a considerable growth during the forecast period, with 10.2% CAGR. This can be attributed to the upgradation of medical equipment infrastructure in hospitals, globally.
Geographically, Europe led the global intraoral scanners market with an estimated share of 44.5% in 2017. This leading position of the region is attributable to high prevalence of dental problems, developed healthcare infrastructure, rising aging population, and presence of some of the top market players in the Europe.
APAC is expected to be the fastest growing intraoral scanners market, showcasing a CAGR of 11.2% during the forecast period. This significant growth in the APAC market is driven by the growing aging population, rise in healthcare expenditure, increasing incidence of dental disorders, strengthening economic conditions, and growing pool of dental clinics and practitioners in APAC countries such as China, Japan, and India.
Intraoral Scanners Market Dynamics
Market Trends
Dental tourism is a key trend being observed in the intraoral scanners market in various countries. As medical treatment cost in developed countries is increasing, patients from these countries prefer to travel to developing countries that provide dental treatment at an affordable price. Dental tourism is growing throughout the world since globalisation has led to the easy transfer of technique, material, and technologies, which has enabled providers in developing countries to provide dental care at significantly low cost, as compared to developed countries.
Also, with the advancement in technology, the functionality of the latest dental devices is also improving. Advanced devices entail various additional advantages such as higher rate of accuracy and success, increased portability, and the ability to provide eco-friendly digital impressions. With the introduction of 3D imaging technologies, the diagnostic methods available for dental treatment have improved, and therefore the quality of dental implants and associated restoration procedures has also improved. The demand for advanced and portable intraoral scanners with greater accuracy and ease of operation is rising, resulting in increasing opportunities for the market players. Therefore, the rise in dental tourism and advancement in technology is expected to continue to positively influence the intraoral scanners market, globally.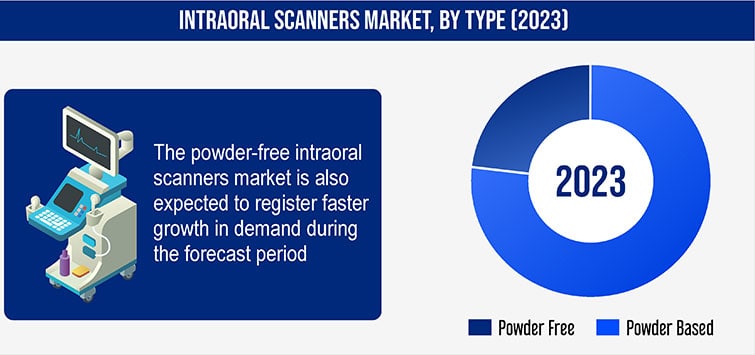 Growth Drivers
Some of the major factors contributing to the growth of the intraoral scanners market include increasing prevalence of dental problems, growing geriatric population, and improving accuracy and workflow of intraoral scanners.
The prevalence of dental problems around the world, especially among the underprivileged population in developed and developing countries is increasing. Edentulism, a condition of tooth loss is very common in geriatric population and is one of the major reasons behind people undergoing intraoral scanning and using dental implants such as dentures. The most common factors that cause edentulism include periodontal disease, unhealthy lifestyle, dental caries, and aging. According to the National Health and Nutrition Examination Survey 2011–2012, around 91% of adults (aged 20–64) had dental caries and nearly 27% had untreated tooth decay in the U.S. This indicates that the global intraoral scanners market is expected to witness considerable growth during the forecast period.
Also, with improving functionality and versatility of these devices, the intraoral scanners market is expected to grow significantly during the forecast period. These scanners provide optical impressions with high speed and accuracy and can generate a virtual 3D model with consistent measurements, and can also detect the minute details of impressions. The impressions produced are in realistic colors with high accuracy and hence, help to provide a satisfactory treatment experience to patients. They also provide scan with diagnostic information, eliminating the requirement of a stone model, and provide instant results to both, dentist and patient. Due to these reasons, intraoral scanners have been improving the workflow and accuracy of various dental procedures and hence, have become an integral part of dental clinics, dental hospitals, and dental laboratories.
Opportunities
The development of portable products, which easily fit in the hands of dentists, allow them to freely move the scanner in all directions inside the mouth, without causing discomfort to the patients. Moreover, the latest scanners are very compact in design and are equipped with wireless technology with long-lasting rechargeable batteries. These scanners allow dentists to move freely since there are no attached power cords or carts. Also, the cost of these scanners is expected to reduce over time as they become a standard of care. Thus, improving healthcare infrastructure in emerging countries is expected to unravel untapped opportunities in these markets.
Intraoral Scanners Market Competitive Landscape
The key players in the intraoral scanners market are partnering with several other companies or other dental products to strengthen their product portfolio and increase their market share. For instance, in November 2017, Align Technology Inc. announced an agreement with Glidewell Dental to distribute the iTero element intraoral scanning system in North America with the newly unveiled glidewell.io In-Office Solution, a chairside restorative ecosystem designed to simplify the process of prescribing and delivering laboratory-quality dental restorations. The iTero element, featuring the glidewell.io In-Office Solution, is expected to be available to the North American customers by the first quarter of 2018.
In June 2017, Dentsply Sirona Inc. announced that the company has extended and expanded its relationship with Pacific Dental Services LLC (PDS) through a five-year agreement. The agreement aims at providing PDS and more than 1,600 dentists -support practices with leading Dentsply Sirona equipment and technology such as CEREC and the entire consumables portfolio. These collaborations have further fueled the growth of the intraoral scanners market.
Some of the other key players operating in the intraoral scanners industry include 3Shape A/S, 3M Company, Carestream Health Inc., 3DISC, Densys3D Ltd., The Straumann Group, Planmeca Oy, and Guangdong Launca Medical Device Technology Co. Ltd.