The global voice assistant market generated $1,723.6 million in 2019, and is projected to generate $26,872.6 million by 2030, progressing at a CAGR of 29.7% during 2020–2030. Growing need for enhanced customer experience and increasing demand for contact centers are the key factors driving the growth of the market across the globe. Among all regions, APAC is expected to record the fastest growth in the market during the forecast period. This can be due to growing adoption of advanced technologies; such as natural language processing (NLP) and machine learning (ML); rising number of contact centers; and economic development in developing countries, such as China and India.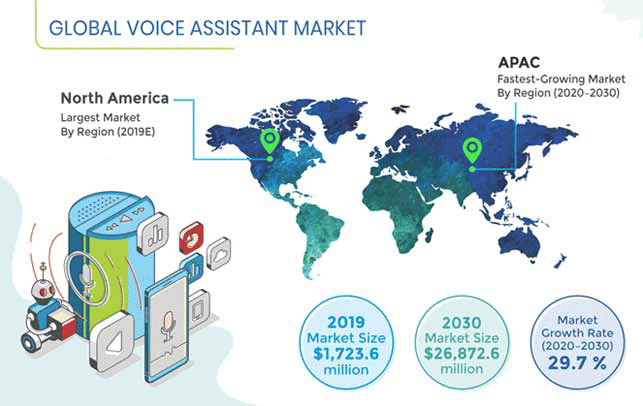 Factors Governing Voice Assistant Market
Advancement in NLP and automatic speech recognition (ASR) technologies is one of the key trends observed in the voice assistant market. Organizations are enabling AI-based chatbots and virtual assistants to automate several manual business processes, including general inquiries, customer service, technical assistance, and balance information. In comparison to traditional methodologies, NLP and ASR technologies have better understanding of human language, which helps in addressing customer queries instantly.
Growing demand for voice assistant technology in contact centers to assist customers is one of the key factors driving the growth of the voice assistant market. Voice assistant is based on NLP technology, which facilitates interaction between devices and humans and resolves the queries in real time. Voice assistants help contact centers in fetching data on customers' opinions, preferences, and buying patterns. The data is analyzed through the voice assistant technology, which further enables businesses to provide users personalized experience and proactive recommendations regarding offered products and services.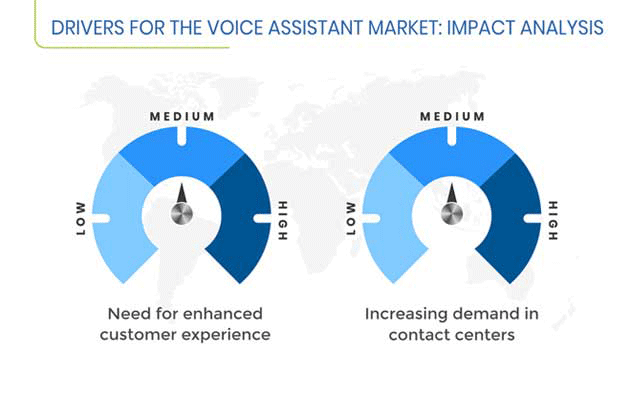 Rapid adoption of cloud technology by banking, financial services, and insurance (BFSI); retail & e-commerce; healthcare; and automotive industries generates growth opportunities for the voice assistant market. Cloud technology increases the efficiency of businesses and helps to make required changes within business models. A cloud platform allows businesses to deploy voice assistant technology with different customizations and gain its access efficiently.
Voice Assistant Market Segmentation Analysis
The solution category under the component segment generated larger revenue in the voice assistant market in 2019. This is attributed to the deployment of voice assistant solutions by BFSI, automotive, healthcare, retail, and other industries, in order to enhance customer experience.
The NLP technology category is expected to post fastest growth in the voice assistant market during the forecast period. This is attributed to the increasing demand for chatbots, as these help in dealing with various inquiries from customers, analyzing their actions and responses at a faster rate as compared to human agents.
The on-premises deployment generated larger revenue, of $944.6 million, in the voice assistant market in 2019, owing to the rising data security concerns by several organizations. Voice assistant technology helps extract and analyze unstructured data from received inputs, so organizations prefer to store this extracted data on-premises in order to reduce the risk of data breach. However, cloud deployment is expected to record faster growth during the forecast period.
The healthcare industry is anticipated to record fastest growth in the market during the forecast period. This is due to the growing adoption of internet of things (IoT), rising focus on patients' engagement, and increasing number of chronic disorders. As voice assistant technology is prodigious, several organizations, such as Boston's Children Hospital and American Red Cross in the healthcare industry, are integrating voice assistants in their business processes to improve patient experience and work efficiency.
Geographical Analysis of Voice Assistant Market
In the global voice assistant market, North America recorded largest revenue in 2019. The factors responsible for the adoption of voice assistant technology in North America include technological advancements, huge spending on IT, and rapid adoption of emerging technologies, such as ML, NLP, and deep learning.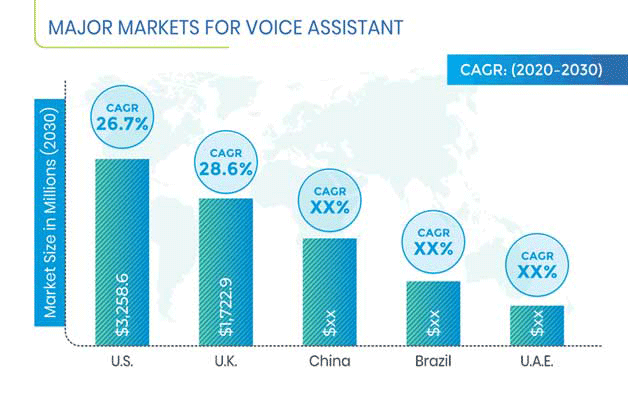 Competitive Landscape of Voice Assistant Market
The voice assistant market is highly competitive in nature. Some of the prominent market players include Alphabet Inc., Amazon.com Inc., Apple Inc., Microsoft Corporation, Verint Systems Inc., Nokia Corporation, IBM Corporation, Samsung Electronics Co. Ltd., and Salesforce.com Inc.
Recent Strategic Developments of Major Voice Assistant Market Players
In recent years, major players in the voice assistant market have taken several strategic measures. For instance, in November 2018, Microsoft Corporation acquired XOXCO Inc. for an undisclosed amount to enhance its approach of democratizing AI development, dialog and conversation, and integration of conversational experiences.
In August 2018, Amazon.com Inc. partnered with Microsoft Corporation to expand the technical abilities and reach of competing assistants. This partnership results in the integration of voice assistant capabilities of Cortana (Microsoft) and Alexa (Amazon), which is available via Echo devices, Microsoft Corporation's Harman Kardon Cortana, and Windows 10.
Market Size Breakdown by Segment
The voice assistant market report offers comprehensive market segmentation analysis along with market estimates for the period 2014–2030.
Based on Component
Based on Technology
Speech Recognition
Text-to-Speech Recognition
Voice Recognition
Natural Language Processing (NLP)
Based on Application
Messenger Bots
Websites
Contact Centers
Based on End-User
Small- and Medium- Sized Enterprises (SMEs)
Large Enterprises
Individuals
Based on Development
Based on Industry
Banking, Financial Services, and Insurance (BFSI)
Retail & E-Commerce
Healthcare
Automotive
Geographical Analysis
North America
Europe

U.K.
Germany
Ireland
France

Asia-Pacific

China
India
Japan
South Korea
Australia

Latin America
Middle East & Africa

U.A.E.
Saudi Arabia
South Africa
Key Questions Addressed/Answered in the Report
What is the current scenario of the global voice assistant market?
What are the historical size and the present size of the market segments and their future potential?
What are the current technologies prevalent in the market?
What are the major catalysts for the market and their impact during the short, medium, and long terms?
What are the evolving opportunities for the market players?
Which are the key geographies from the investment perspective?
What are the key strategies adopted by the major players to expand their market share?