Market Overview
The cross-linked polyethylene (XLPE) market will generate revenue of USD 7,544.8 million by the end of 2023, which is expected to witness a CAGR of 7.7% during 2024–2030, reaching USD 12,587.5 million by 2030. The usage of this material is rapidly increasing in the automotive industry, for cables and wires; and the construction industry, in pipes and wiring. The key reason behind the usage of this polymer in the automotive sector for cables and wiring systems is that it provides electrical insulation and durability.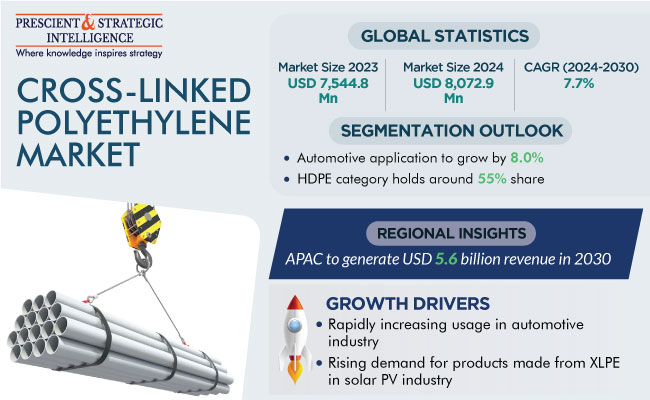 Additionally, in the coming years, there will be a huge demand for cross-linked polyethylene pipes, particularly in APAC. In the construction sector, they are preferred for their corrosion resistance, flexibility, and simplicity of installation. Moreover, XLPE is an inexpensive, versatile, and long-term substitute for regular plumbing materials, and it is commonly used in equipment that is used for heating. Therefore, the use of cross-linked polyethylene products in construction projects would likely rise in the Asia-Pacific due to the fast urbanization and rapid infrastructure development in the region.
Additionally, one of the major factors that is driving the industry forward is the usage of products made from XLPE in the global solar PV industry. Cross-linked polyethylene pipes are a viable material for use in solar-related products and infrastructure as they provide resistance against UV radiation, electrical insulation, and durability to wires.
According to the International Energy Agency, solar PV generation increased by a record 270 TWh, or 26%, in 2022, reaching almost 1,300 TWh. Moreover, solar PVs' installed power capacity is set to surpass that of coal by 2027, becoming the largest in the world.
Automotive Is Fastest-Growing Application
Automotive is expected to be the fastest-growing category, with a CAGR of 8.0%, during the forecast period, under the application segment. This is owing to the increasing usage of this polymer in various automobile components and parts for its durability, flexibility, electrical insulation, and high resistance to corrosion and extreme temperatures. Another major factor driving the demand for this polymer among automotive OEMs is that it enhances the life of vehicles due to its mechanical strength.
XLPE is commonly used for ensuring electrical integrity, mechanical durability, and insulation for wiring harnesses. Additionally, its chemical resistance and thermal resilience have made it useful in transporting various kinds of fluids in automobile tubes. XLPE is also found in battery components, especially insulators and separators, to enhance the performance of hybrid and electric vehicles. Further, it is used in seals, gaskets, and under-the-hood components to increase efficiency, lengthen vehicle life, and reduce noise.
Additionally, polyvinyl chloride (PVC) is vanishing from the auto sector and being replaced by a variety of alternative materials. In this case, XLPE becomes the first choice of users due to its higher resistance to corrosion and greater mechanical strength over PVC. An increase in incomes, availability of advanced vehicles, and simplicity of gaining financial aid for purchasing an automobile will take the automobile industry ahead, thus driving the consumption of XLPE.
Cross-Linked Polyethylene Market Report Coverage

| | |
| --- | --- |
| Report Attribute | Details |
| Market Size in 2023 | USD 7,544.8 Million |
| Market Size in 2024 | USD 8,072.9 Million |
| Revenue Forecast in 2030 | USD 12,587.5 Million |
| Growth Rate | 7.7% CAGR |
| Historical Years | 2017-2023 |
| Forecast Years | 2024-2030 |
| Report Scope | Market Trends, Drivers, and Restraints; Revenue Estimation and Forecast; Segmentation Analysis; Impact of COVID-19; Companies' Strategic Developments; Market Share Analysis of Key Players; Company Profiling |
| Segments Covered | By Type; By Technology; By Process; By Application; By Region; |
Explore more about this report - Request free sample pages
Wires and Cables Has Largest Share in Market
Wires & cables applications holds the largest share in the market. In telecommunications, copper and fiber-optic cables support global connectivity, facilitating voice, data, and video transmission. In aerospace, high-performance and lightweight cables play an essential role in communication, navigation, and powering aircraft. Moreover, in healthcare, cables are used to connect patient monitoring systems and diagnostic equipment, to enable precise diagnoses and care.
Robust cables are also necessary in offshore oil & gas and power generation facilities to withstand harsh environments, since they remain in constant contact with saltwater. Moreover, in the entertainment sector, cables are needed for delivering the sounds and sights of shows and concerts. Similarly, in the oil & gas industry, rugged cables are required to withstand harsh environments while in the public transportation industry, they establish train control and communication.
The application segment of the cross-linked polyethylene market receives significant revenue from the plumbing category, due to the increasing building and construction activities. The commonly used materials for plumbing, such as PVC, do not withstand extreme temperatures or perform well when highly chlorinated water is sent through pipes made of them for long periods. Polyethylene pipes are cheap and easy to install, and they can be reused with superior performance. Additionally, they offer elasticity, which removes the need for elbows and, consequently, creates the requirement for fewer attachments.
Manufacturers of this material thus have an excellent opportunity to make the most of it by supplying it for chlorinated water and radiant heating applications. Hence, many players are focusing on R&D to place more-efficient cross-linked polyethylene pipes on the market. Additionally, novel applications for XLPE pipes in solar and mining projects are promoting the growth of the market. Furthermore, the chemical industry uses XLPE storage tanks widely because of their ability to hold out against acidic corrosion and humid environments.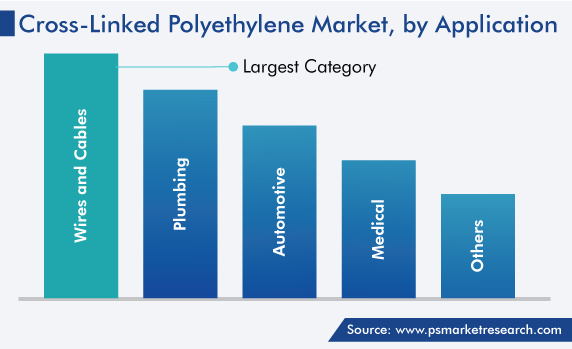 Key Role of High-Density Polyethylene (HDPE) in Growth of market
In terms of value and volume, the largest type in the overall market is HDPE. It remains an all-rounder material for plumbing applications due to its high density, high tensile strength, rigidity, strong resistance to chemicals, and ability to withstand higher temperatures than low-density polyethylene (LDPE). Thus, pipes and tubing made of HDPE have gained importance in the industrial and construction sectors.
HDPE pipes can be installed easily without any trouble and their flexibility allows for rapid positioning, which ultimately reduces installation and labor time and costs. Moreover, their flexibility permits them to twisted as per the structure of walls without affecting the physical integrity. These properties provide a long life to pipes by allowing them to withstand high temperatures of up to 120 degrees Celsius and extremely high pressures.
Furthermore, HDPE pipes are easily available at a low cost, and their replacement and maintenance costs are also quite low, which makes them a perfect choice for various industries and homeowners. Moreover, medical devices are an important aspect of healthcare systems. Here, HDPE is widely used for its biocompatibility in medical tubing, prosthetic devices, and syringes.
In addition, HDPE is commonly used in the packaging industry for the manufacturing of containers, bottles, and other objects. Its durability and chemical resistance make it perfect for transporting and storing various products, such as beverages, foods, and pharmaceuticals. HDPE's role is also crucial in agriculture, where it is used for pipes and irrigation systems, to which it provides flexibility and durability.
APAC Region Is Growing Fastest
The APAC region is expected to continue to dominate the market, in terms of both volume and value, and showcase the highest CAGR in the future. XLPE's demand has been increasing in the APAC region in different applications, such as wires & cables, plumbing, and automotive. India, China, and Japan are the main countries in the region in terms of the consumption of this polymer. The continuing development of the construction industry, increasing rate of urbanization, growing population, easy raw material availability, rising research and development in major industries, and market players' execution of strategies to fulfill the demand for this material drive the market.
Furthermore, the market is growing in the APAC region due to the rising investment in public infrastructure as well as industrial projects. This drives the need for low- and medium-voltage wires and cables, wherein XLPE is commonly used.
In this region, the largest market is China, in terms of value. There are several reasons for this, such as the strong focus on research and development, the ready supply of raw materials, and the booming construction sector. Urbanization is rapidly progressing in the People's Republic, which has increased the demand for plumbing. The extensive infrastructure projects in China, such as airports, high-speed railways, and industrial facilities, drive the demand for efficient, reliable, and durable piping systems, which further increases the use of XLPE.
The market growth in China is also due to the developments in manufacturing processes, materials, and end products. Chinese researchers and manufacturers have made hybrid XLPE composites by combining this plastic with other materials, which is why these composites have enhanced thermal and mechanical properties. Similarly, innovations in XLPE have helped make appropriate cables for use in nuclear power plants. In the challenging conditions encountered at such places, these cables can withstand radiation, while preserving their electrical features.
The usage of high-temperature XLPE formulations that can withstand extreme temperatures is significant in China. Applications of this material in the country include high-voltage electrical lines and aerospace components. Additionally, as electric vehicles are becoming popular, XLPE-insulated high-voltage connectors and cables are gaining popularity in the nation.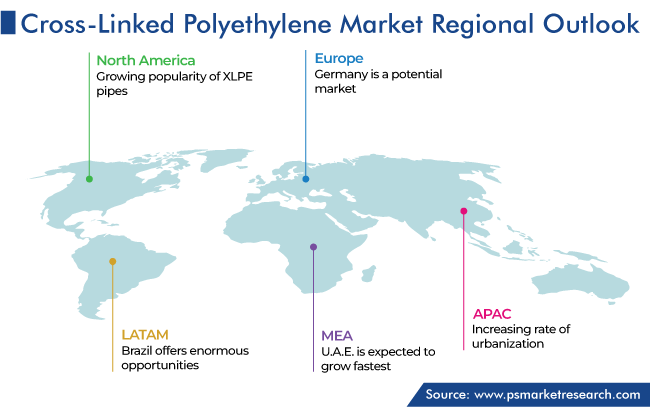 North America Is also a Significant Revenue Contributor
During the forecast period, North America's market is also expected to grow significantly. This is credited to the availability of excellent water transmission and sewerage systems, where the cost-effectiveness, flexibility, and easy installation of XLPE pipes make them suitable for use. Further, the demand for plumbing systems is rising in the commercial, industrial, and residential sectors in the region, thus propelling the sale of pipes. Additionally, in the cold climate in much of North America, the freeze resistance of XLPE makes it highly valuable for plumbing systems, as it prevents pipes from freezing and bursting.
Moreover, in the building codes of North America, this material has gained recognition as it is safe for heating and plumbing systems. Additionally, XLPE pipes are being installed in buildings after removing the old metallic plumbing systems, to save money. Further, since this polymer has a long life and can be reused, it is an environmentally sustainable alternative, especially if made from bio-based materials.
Top Providers of Cross-Linked Polyethylene Are:
Borealis AG
LyondellBasell Industries Holding B.V.
SACOAEI Polymers
Falcone Specialities AG
HDC Hyundai Engineering Plastics
3H Vinacom Co. Ltd
Avient Corporation
Exxon Mobil Corporation
Market Size Breakdown by Segment
This fully customizable report gives a detailed analysis of the cross-linked polyethylene market from 2017 to 2030, based on all the relevant segments and geographies.
Based on Type
High-Density Polyethylene (HDPE)
Low-Density Polyethylene (LDPE)
Based on Technology
Peroxide Method
Silane Grafting Method
Electron-Beam Processing
Based on Process
Based on Application
Wires and Cables
Plumbing
Automotive
Medical
Geographical Analysis
North America
Europe

Germany
U.K.
France
Italy
Spain

Asia-Pacific

Japan
China
India
South Korea
Australia

Latin America
Middle East and Africa

Saudi Arabia
South Africa
U.A.E.