Market Overview
The contract research organization services market size stood at USD 64.60 billion in 2022, and it is expected to advance at a compound annual growth rate of 10.4% during 2022–2030, to reach USD 142.56 billion by 2030. The growth can be primarily ascribed to the high cost of in-house drug development and technological advancements in clinical trials, and these services aid in trial planning, data analysis, hospital staffing, site access, and pharmacovigilance.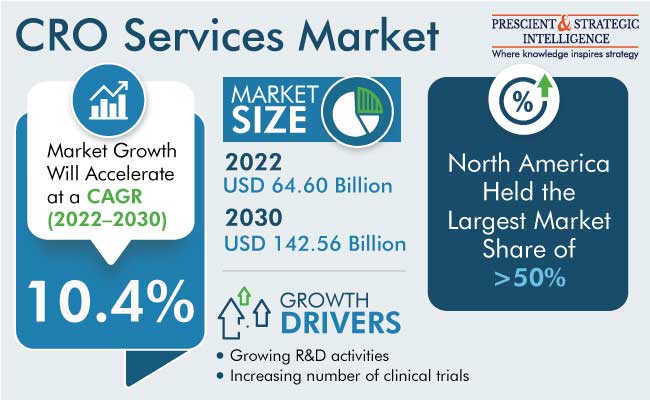 Due to a rise in the number of patents, generic competitors try to enter the industry, which will increase the competition and boost the market development. Furthermore, the expansion of pharmaceutical and biotechnology companies and the surging research and development activities for the introduction of new drugs fuel the growth of the market.
The rising need for drug discovery and development in the last few years, the surging clinical studies conducted, and the increasing total consumption of drugs result in a high need for new and advanced drug molecules. This provides an opportunity for various biotech and pharmaceutical companies to introduce new medicines. Also, most companies, which include pharmaceutical, biotechnology, medical device, and biopharmaceutical, are focusing on the development of new technologies, devices, and medicines for providing the most appropriate treatment.
In addition, the number of drugs in the pipeline and R&D is increasing year-on-year. For instance, in 2020, approximately 17,737 drugs were in pipeline, which increased to 20,109 in 2022, as per government reports. The rising number of drugs in the R&D pipeline is increasing their outsourcing and it helps manage the quality and quantity of the drugs. These advancements aid in the development of highly efficient and cost-effective drug molecules. Thus, these factors fuel the demand for CRO services.
Growing Geriatric Population Boosts the Demand
With older age, more diseases occur as the body weakens and various health issues initiate, and people usually tend to become more prone to diseases as the immune system tends to become slower. According to government reports, in the U.S., approximately one in five Americans will be aged 65 years or older by 2040. At this age, as the chances of getting sick increase, they require medicines to keep their health maintained. For this, clinical trials are needed, which will, in turn, propel the need for CRO services. Also, the demand for such services is rising because these are cost-effective to outsource.
CRO Services Market Report Coverage

| | |
| --- | --- |
| Report Attribute | Details |
| Historical Years | 2017-2022 |
| Forecast Years | 2023-2030 |
| Market Size in 2022 | USD 64.60 Billion |
| Revenue Forecast in 2030 | USD 142.56 Billion |
| Growth Rate | 10.4% CAGR |
| Report Scope | Market Trends, Drivers, and Restraints; Revenue Estimation and Forecast; Segmentation Analysis; Impact of COVID-19; Companies' Strategic Developments; Market Share Analysis of Key Players; Company Profiling |
| Segments Covered | By Type; By Application; By End User; By Region |
Explore more about this report - Request free sample pages
Clinical Research Services Dominate the Industry
The clinical research services category dominates the market, with a share of more than 64% in 2022. This is attributed to the increasing trial expenses, the growing size of R&D pipeline drugs, the surging prevalence of chronic diseases, the rising trend of outsourcing R&D activities, and the mounting need for medicines that are more effective and help in rapid relief. Moreover, the increasing quantity of registered studies is driving the demand for clinical research services. For instance, in the U.S., approximately 139,263 studies have been registered in 2023, as per a government site.
Among clinical research phases, phase III is known to provide the analysis of novel medications when compared to old medications and it also provides a comparative analysis of safety and effectiveness from phases I and II. For conducting clinical trials, almost 3,000 participants are involved in detecting that a drug is suitable for the long-term and its effectiveness of treatment. In addition, phase III is more complex and is needed for many patients, due to which the number of phase III tests is more than phase II and phase I. Additionally, other factors fueling the market growth in this category include the surging cases of diseases and the rising activities related to research.
On the other hand, the early phase development category is growing at a significant pace. This is because, in the early phase, the efficacy and safety of drugs are determined. Also, the R&D cost is high, due to strict regulations and drug molecules being more complicated. Further, it helps in the efficient management of clinical data and simplifies the supply chain.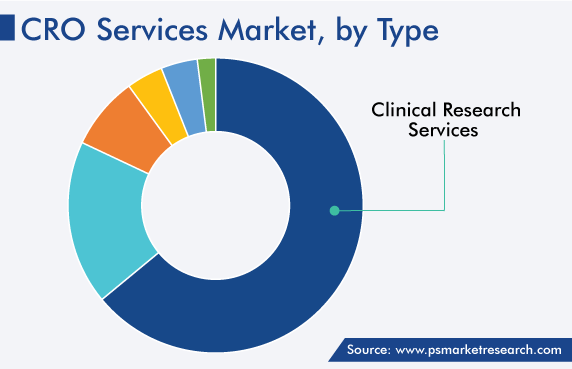 Oncology Is a Wide Application Area
Oncology is a wide application area in the industry. This is due to the rising prevalence of cancer and the development of several medical devices and different therapies for the treatment of cancer. The development is only possible with the rise in the number of cancer clinical trials. For instance, the number of these trials stood at 1,489 in 2021. Moreover, the paradigm shift toward precision medicine among individuals and drug developers is surging because of advanced genetic sequencing technologies and novel molecular targets. Also, interventional studies became more costly and complex, and take more time than usual because of stringent regulatory protocols and penalties. Due to these reasons, the market is developing in this area.
Pharmaceutical & Biotech Companies Are Largest End Users
Pharmaceutical and biotech companies are the largest end users, and this category is also expected to witness the same trend in the forecast period, advancing at a CAGR of around 11.2%. This is due to various factors such as the growing preference for outsourcing R&D activities. The main reasons behind outsourcing CRO services are to minimize the cost of development and discovery and increase the efficiency of the medicine. Moreover, the rising funding in this sector is because of the growing government support to conduct more and more clinical trials. It has also been evaluated that in the past few years, R&D has increased in the pharmaceutical and biotech sector.
North America Is Contributing to Largest Revenue Generation
North America has the leading position in the contract research organization services market, and it will hold the same position in the coming years, with a value of USD 74,134 million in 2030. This is attributed to the high healthcare expenditure, huge investment in interventional studies, the increasing number of chronic diseases coupled with a large number of patients suffering from these illnesses, and governments are increasingly spending in this field in the region.
Furthermore, the region has high personal income, due to which the demand for technologically advanced products has increased and people are able to spend extensively on healthcare services. Also, there is strong healthcare awareness among individuals and high spending for the development of new medicines. Thus, these factors fuel the regional market growth. In North America, the U.S. market holds the leading position, and it will grow at a CAGR of 11.6% during the forecast period. This is attributed to the robust healthcare infrastructure and the existence of a large number of key players in the country.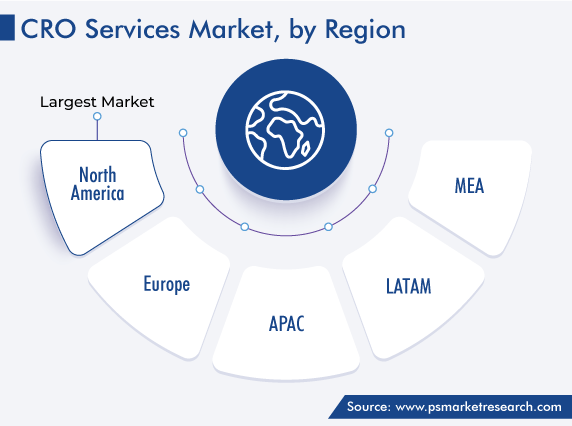 Increasing Number of Clinical Trials Boosts the Demand
The number of interventional studies is increasing every year because they are important for the development of medication. According to several government websites, in 2020, the number of trials conducted was around 362,484, which increased to 437,537 in 2022. Clinical trials help in the detection of new methods for the treatment, diagnosis, and prevention of diseases before their onset. The success rate of these trials often depends on the stage of study being conducted and the treatments that are followed till the present.
North America and Europe are key regions for conducting the majority of interventional studies, as per the clinical trials registry of the WHO. In 2023, more than 30% of clinical trials are conducted in the U.S., which increased by more than 25% as compared to 2022.
Major Players Are Involved in Acquisitions and Partnerships To Gain Competitive Edge
Major players offering CRO services have been involved in partnerships and acquisitions to expand their services and market reach. For instance:
In March 2023, Clinchoice Medical Development acquired Cromsource and its subsidiaries in order to have a highly experienced team of operational and technical experts in Europe and North America, and the combination will strengthen the global network and deepen its full-service capabilities.
In September 2022, Emmes, a global, full-service CRO, acquired Casimir, to provide training and certification visual function examiners at investigator sites conducting phase I to IV ophthalmic clinical trials.
In February 2021, Icon plc acquired PRA Health Sciences Inc., so that they can perform clinical trials from phase to post-approval studies with high quality and efficiency.
Key Players in Contract Research Organization Services Market Are:
BioAgile Therapeutics Pvt. Ltd.
Laboratory Corporation of America Holdings
Thermofisher Scientific Inc.
Syneos Health Inc.
Charles River Laboratories International Inc.
Parexel International Corporation
Icon plc
Medpace Holdings Inc.
Altasciences
Pharmaron Beijing Co. Ltd.
Market Size Breakdown by Segment
This fully customizable report gives a detailed analysis of the CRO services industry from 2017 to 2030, based on all the relevant segments and geographies.
Based on Type
Clinical Research Services

Phase I clinical research services
Phase II clinical research services
Phase III clinical research services
Phase IV clinical research services

Early Phase Development Services

Chemistry, manufacturing and control services
Preclinical services
Discovery studies

Laboratory Services

Analytical testing services
Bioanalytical testing services

Consulting Services
Data Management Services
Based on Application
Oncology
Infectious Diseases
Immunological Disorders
Metabolic Disorders
Respiratory Disorders
Cardiovascular Diseases
Neurological Disorders
Based on End Users
Pharmaceutical and biopharmaceutical companies - largest
Medical device companies
Academic institutes
Geographical Analysis
North America
Europe

Germany
U.K.
France
Italy
Spain

Asia-Pacific

Japan
China
India
South Korea
Australia

Latin America
Middle East and Africa

Saudi Arabia
South Africa
U.A.E.