Market Overview
The global pharmacovigilance market was estimated to generate $6,724.2 million in 2021, and it will grow with a CAGR of 9.5% during the forecast period, to further expand to $15,259.8 million by 2030. This growth is majorly attributed to the rising incidence of toxicity and adverse drug reactions (ADRs), surging concerns regarding drug safety, and high patient compliance for drug usage. Apart from this, government and non-government organizations are increasingly focusing on drug safety and efficacy.
Geographically, North America generated the highest revenue in 2021 owing to the presence of developed healthcare infrastructure, high healthcare expenditure, and growing number of advanced drug research studies.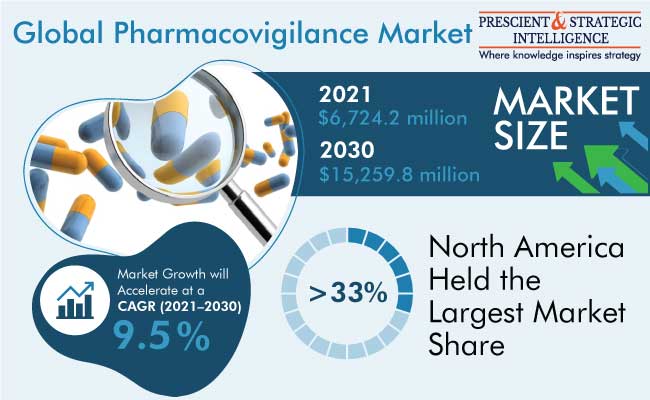 The APAC region is expected to witness the fastest growth, of over 10.6%, during the forecast period, mainly on account of the improving healthcare infrastructure, increasing drug research, and rising prevalence of chronic pain in the region.
Increasing Prevalence of Chronic Conditions Driving Market Growth
A major driver for the industry is the rising prevalence of chronic diseases.
For instance,
As per the National Cancer Institute (NCI), more than 16 million cancer survivors will exist in the U.S. by 2040.
Additionally, the number of new cancer cases diagnosed per year is expected to rise by around 30 million each year.
As the disease causes long-lasting and, often, excruciating pain, the demand for painkillers is rising. Thus, the rising number of cancer survivors and increasing drug demand are driving the market. Various other chronic conditions, such as cardiovascular diseases, diabetes, and autoimmune diseases, necessitate the use of drug combinations, which can cause ADRs. To deal with this problem, pharmacovigilance is used.
Aside from that, the increasing manufacturing of new pharmaceuticals and the presence of a strict government regulatory framework are propelling the industry forward. The U.S. Food and Drug Administration and the European Medicines Agency, for example, develop regulatory standards for various stages of clinical studies. Furthermore, the increasing government initiatives and charitable organizations' focus on drug safety awareness are adding to the market's growth.
Furthermore, the global COVID-19 pandemic and the rising demand for appropriate medication for the same are boosting the demand for clinical trials, thus driving the expansion of the industry.
Phase IV of Product Lifecycle Is Widely used
In 2021, phase IV clinical trials accounted for the largest revenue share, of more than 70%, in the product lifecycle segment. This is a result of the large number of clinical trials performed to examine the efficacy and safety of a new drug. Furthermore, because it is a critical stage of clinical studies where unexpected ADRs can be ascertained, the data gathered during this stage is of critical value.
Besides, the phase III category is expected to grow significantly in the coming years because it gives information regarding potential drug interactions as well as the safety and effectiveness of the drugs.
Further, the spending on R&D and the rate of introduction of new drugs have both increased in the past two decades. For instance,
In 2019, the pharmaceutical industry spent around $83 billion on R&D. Adjusted for inflation, this was about 10 times what was spent per year in the 1980s.
Furthermore, between 2010 and 2019, the number of new drugs approved for sale increased by 60% from the previous decade, with a high of 59 new drugs approved in 2018.
Spontaneous Reporting Is Growing Trend
The spontaneous reporting method had the largest market share in 2021 owing to its wide use in detecting significant, new, and rare ADRs, which is ascribed to its efficiency and cost-effectiveness. Furthermore, the reports generated using this method are frequently used by regulatory bodies and the pharmaceutical industry.
Pharmacovigilance Market Report Coverage

| | |
| --- | --- |
| Report Attribute | Details |
| Historical Years | 2017-2021 |
| Forecast Years | 2022-2030 |
| Market Size in 2021 | $6,724.2 Million (Estimated) |
| Revenue Forecast in 2030 | $15,259.8 Million |
| Growth Rate | 9.5% CAGR |
| Report Scope | Market Trends, Drivers, and Restraints; Revenue Estimation and Forecast; Segmentation Analysis; Impact of COVID-19; Companies' Strategic Developments; Market Share Analysis of Key Players; Company Profiling |
| Segments Covered | By Product Lifecycle, By Service Provider, By Type, By Process Flow, By Therapeutic Area, By End Use, By Region |
Explore more about this report - Request free sample pages
Contract Outsourcing To Show Faster Growth
Contract outsourcing transfers the execution of drug safety functions and processes to a third party. A lot of companies outsource to save on the high initial investments and fixed overhead costs, improve resource flexibility, and secure additional capacity. For small and medium-sized businesses, outsourcing is a cost-effective option. Pharmacovigilance outsourcing is done by consultants, individual contractors, specialist consultancies, service providers, and contract research organizations (CROs).
According to the Congressional Budget Office report, only around 12% of the medications that undergo clinical trials are eventually approved for use by the FDA. Furthermore, the average R&D expenditure per new medicine ranges between less than $1 billion and more than $2 billion. These estimates include the costs of both laboratory research and clinical trials for successful new drugs, as well as the expenditure on drugs that do not progress beyond the laboratory development stage, enter clinical trials, but fail or are withdrawn by the drugmaker for business gain, or are not approved by the FDA.
These estimates also reflect the capital spent by corporations during the R&D process. Such expenses can account for a sizable portion of the average total cost of developing a new drug, which makes effective pharmacovigilance necessary.
Oncology Category Dominates Market under Therapeutic Area Segment
The oncology category held the largest share, of around 27%, in 2021. Monitoring the safety of cancer drugs is extremely important, due to their side-effects. In oncology, these services aid in the prevention, detection, and management of drug-induced adverse effects, as well as the avoidance of unnecessary medical prescription orders. Patients should be aware of the side-effects of both traditional systemic anti-cancer medications and novel targeted therapy.
Hence, the growing consumer awareness about drugs and their symptoms is propelling the need for clinical trials. Furthermore, according to the CDC, in 2019, about 40 people died each day from overdoses involving prescription opioids, totaling more than 14,000 deaths.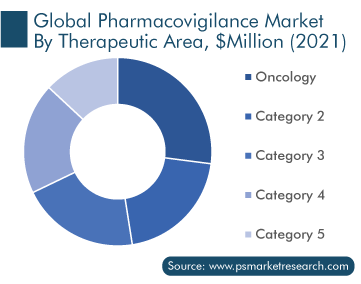 Signal Detection Process Flow Is Extensively used
Based on process flow, signal detection dominated the market in 2021. A signal in pharmacovigilance was defined by WHO in 2002 as "…reported information on a possible causal relationship between an adverse event and a drug, the relationship being previously unknown or incompletely documented. Usually more than a single case report is required to generate a signal, depending on the seriousness of the event and quality of the information".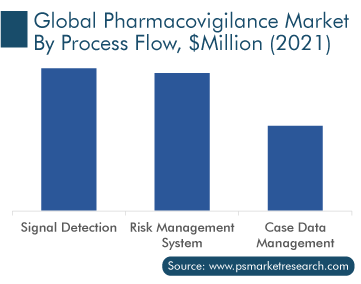 Players in Market Are Engaged in Product Development and Collaborations
The global pharmacovigilance market is competitive, and the major players are increasingly engaging in partnerships and developing new products to strengthen their position. For instance,
In April 2022, Novartis AG has announced the clinical data for JDQ443, an investigational selective, covalent, and orally bioavailable KRASG12C inhibitor, at the annual meeting of the American Association for Cancer Research. KontRASt-01 (NCT04699188) is a phase Ib/II open-label, multi-center, dose escalation study of JDQ443 in patients with advanced solid tumors harboring the KRAS G12C mutation, including NSCLC and colorectal cancer.
In February 2022, PAREXEL International Corporation, a CRO, and n-Lorem Foundation, a non-profit foundation, announced a partnership in support of n-Lorem's efforts to discover and provide experimental antisense oligonucleotide (ASO) medicines to nano-rare disease patients.
Key Players in Global Pharmacovigilance Market Are:
Accenture plc
Bristol-Myers Squibb Company
Clinquest Group B.V.
Cognizant Technology Solutions Corporation
GlaxoSmithKline plc
ICON plc
Novartis AG
F. Hoffmann-La Roche Ltd.
PAREXEL International Corporation
Pfizer Inc.
ICON plc
Wipro Limited
Market Size Breakdown by Segment
The report offers comprehensive market segmentation analysis along with market estimation for the period 2017–2030.
Based on Product Life Cycle
Pre-Clinical
Phase I
Phase II
Phase III
Phase IV
Based on Service Provider
Based on Type
Spontaneous Reporting
Intensified ADR Reporting
Targeted Spontaneous Reporting
Cohort Event Monitoring
EHR Mining
Based on Process Flow
Case Data Management
Signal Detection
Risk Management System
Based on Therapeutic Area
Oncology
Neurology
Cardiology
Pulmonology
Based on End Use
Pharmaceuticals
Biotechnology Companies
Medical Device Manufacturers
Geographical Analysis
North America
Europe

Germany
France
U.K.
Italy
Spain

Asia-Pacific (APAC)

China
India
Japan
Australia
South Korea

Latin America
Middle East and Africa

Saudi Arabia
South Africa