Market Overview
The global contrast media market was valued at USD 5,231.4 million in 2022, which is expected to reach USD 7,647.7 million by 2030, growing at a CAGR of 4.9% during 2022–2030.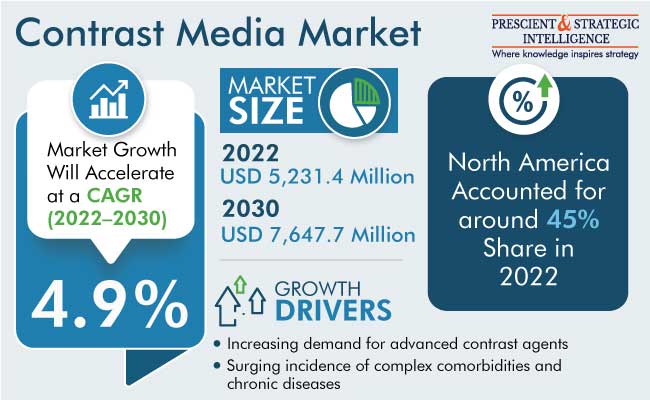 Diagnostic imaging procedures, including X-ray, ultrasound, and the cutting-edge modalities, such as MRI and CT, are becoming increasingly common with the surging incidence of complex comorbidities and chronic diseases. Moreover, these modalities are being made better and more accurate to diagnose these conditions, and contrast media is a key product that enhances image quality.
In March 2021, Guerbet's new macrocyclic gadolinium-based contrast agent with high relaxivity that is intended for use in adults and children aged two and older for contrast-enhanced MRI, Elucirem (gadopiclenol), was given the U.S. FDA approval, following priority review. The product aids in the detection and imaging of lesions with abnormal vascularity in the brain, spine, thorax, head and neck, pelvis, abdomen, muscles, and bones.
Essentially, the demand for advanced contrast agents will continue to rise with the increasing requirement for diagnostic imaging. Media producers have made significant R&D investments as a result of the rising demand for imaging procedures, in order to launch new products and acquire approvals for novel indications.
For instance, a common procedure used to diagnose novel coronavirus is a chest CT scan. Chest CTs for pulmonary embolism have been used frequently to predict the progression of the condition, because this modality is effective at diagnosing COVID-19 as well as other diseases with similar symptoms. Moreover, according to an article published by The BMJ, medical imaging services are in greater demand than most other healthcare services.
Rise in Chronic Disease Incidence To Drive Industry Growth
There has been significant growth in the incidence of chronic conditions in recent years due to the increasingly sedentary lifestyles of people. Moreover, there has been significant consumption of high-calorie foods and prevalence of inadequate physical activity, which, in turn, are contributing to the development of chronic ailments.
The number of cancer patients has significantly increased across the globe. According to the WHO, cancer is one of the biggest causes of death around the world, resulting in almost 10 million fatalities in 2020, or almost one in every six deaths. Therefore, it is utilizing techniques that can aid patients in receiving diagnoses as soon as possible has become imperative, as cancer prognosis becomes grimmer the later it is diagnosed.
Contrast agents are utilized to improve the visibility of body structures and organs during imaging procedures. The demand for these agents will, thus, be driven by the rising prevalence of chronic diseases, including cancer and cardiovascular diseases (CVDs), which will lead to a rise in the need for enhanced diagnostic imaging procedures.
High Number of Research Studies on Contrast Agents To Result in Exponential Rise in Market Revenue
Players in the industry have a ton of chances due to the growing research and development activities in novel contrast agents and the creation of newer applications for them. For instance, to substitute the often-used gadolinium-based imaging agents, Gang Han, PhD, professor of biochemistry and molecular pharmacology, has received seed funding from the UMass Technology Development Fund to investigate a novel, safer, biogenic family of contrast agents for magnetic resonance imaging.
Contrast Media Market Report Coverage

| | |
| --- | --- |
| Report Attribute | Details |
| Historical Years | 2017-2022 |
| Forecast Years | 2023-2030 |
| Market Size in 2022 | USD 5,231.4 Million |
| Revenue Forecast in 2030 | USD 7,647.7 Million |
| Growth Rate | 4.9% CAGR |
| Report Scope | Market Trends, Drivers, and Restraints; Revenue Estimation and Forecast; Segmentation Analysis; Impact of COVID-19; Companies' Strategic Developments; Market Share Analysis of Key Players; Company Profiling |
| Segments Covered | By Modality, By Product Type, By Application, By Route of Administration, By End User, By Region |
Explore more about this report - Request free sample pages
X-Ray/CT Category Dominates Modality Segment
On the basis of modality, the X-ray/CT category accounted for the largest share, around 50%, in 2022. This is majorly attributed to the rise in the incidence of infectious and non-infectious diseases over the past few years. According to a study, there has been a significant rise in the volume of CT scans during the COVID-19 pandemic.
Moreover, the ultrasound category is predicted to hold a notable share as well. This is because contrast sonograms offer major advantages over other imaging modalities. They are carried out without ionizing radiation and are less expensive, safer, better, faster, and more convenient than other types of diagnostic imaging.
During the projection period, the MRI category is expected to expand with the highest CAGR. Gadolinium contrast agents are now employed in almost one out of every three MRI scans, which shows how widely used they are in these examinations. The best option for imaging soft tissues, to find malignancies, is usually a contrast MR scan. Additionally, during such scans for the diagnosis of neurological disorders, aortoiliac occlusive disease, and liver diseases, these media are used to detect lesions.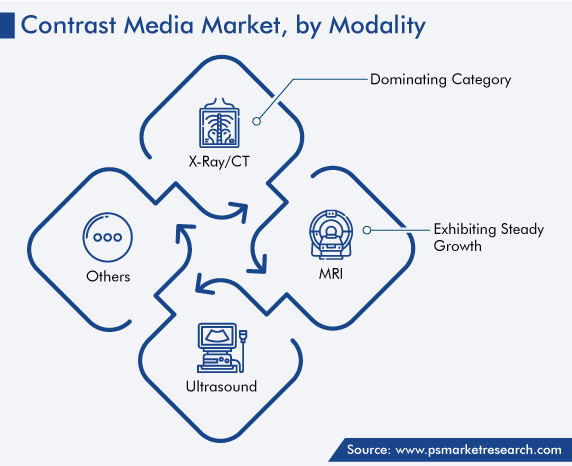 Iodinated Category Dominates Product Type Segment
On the basis of product type, the iodinated category accounted for the largest share, around 60%, in 2022, credited to the increasing application of X-ray and CT. Additionally, stable, non-ionic iodinated compounds are readily available for better diagnoses, which significantly contributes to the industry expansion.
The GI tract, blood vessels, soft tissues, brain, and all other internal organs can be better seen with iodinated contrast media. This agent is commonly used for a range of indications, including cancer and conditions related to the nervous system, the kidneys, the GI tract, the heart, and the musculoskeletal system.
Additionally, the microbubble division is projected to witness fast growth because contrast media have the potential to reflect high-pitched sound waves, thus making the structures seem brighter on a sonogram. It is a beneficial alternative for people who are allergic to CT or magnetic resonance imaging contrast agents or who have kidney problems. Additionally, they are a practical and reasonably priced agent to enhance blood flow visibility.
Cardiovascular Disorders Dominate Application Segment
On the basis of application, cardiovascular disorders accounted for the largest share, approximately 40%, in 2022, because of the growing number of older people. As per a study done by the WHO, the biggest cause of death worldwide is cardiovascular diseases (CVD), which claim 17.9 million lives annually. Further, the rate at which the elderly population is growing is significantly higher than in the past.
Moreover, the adoption of sedentary lifestyles, characterized by a lack of physical activity and high consumption of fast food, contributes to the category's growth. The most-often-utilized technique for examining the cardiovascular system in both adults and children is a contrast-enhanced ultrasound of the heart (echocardiography).
Cancer will also account for a substantial share during the projection time frame. According to a study, cancer accounts for the second-largest proportion of the deaths globally. Alcoholism, poor diet, smoking, and air pollution all contribute to a spike in the cancer rate.
Strategic Collaborations, Acquisition, and Product Launches by Top Players to Gain Competitive Edge
Over time, the frequency of partnerships, collaborations, and approvals for improved media/agents has increased noticeably. This is because these tactics allow firms to hold on to their market share and acquire an advantage over rivals. For instance,
In March 2020, four imaging agents owned by Daiichi Sankyo were purchased by U.S.-based firm GE Healthcare Pharma Limited, which will also be in charge of managing all facets of their marketing to Japanese hospitals and clinics.
Gadavist, produced by Germany-based pharmaceutical firm Bayer AG, was granted approval by the U.S. FDA in July 2019. It is a contrast agent for use in cardiac magnetic resonance imaging to evaluate myocardial perfusion and late gadolinium enhancement in adult patients with known or suspected coronary artery disease.
North America Is Highest Revenue Contributor
As per regional analysis, North America accounted for the largest share, around 45%, in 2022. The number of inpatient examinations in the region is increasing owing to the established healthcare facilities, comprehensive disease screening programs initiated by federal, state, and provincial governments, easy access to cutting-edge technology, and surging need for better management of the existing diseases. Furthermore, the presence of the top players in the region is a prominent contributing factor to the industry expansion.
The European region is projected to hold a prominent share as well, which is mainly attributable to the considerable geriatric population in the region. Since older people are more prone to chronic diseases, the demand for effective detection technologies continues to escalate. In addition, the strong economy of the region, which leads to the provision of quality healthcare services, is a key contributor.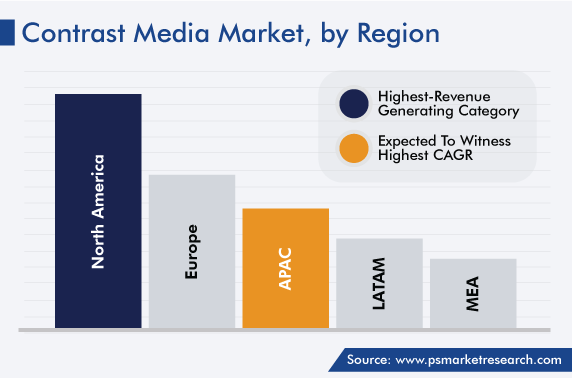 Top Contrast Media/Agent Companies Are:
Bayer AG
Bracco S.p.A.
GE HealthCare
Guerbet
iMAX Diagnostic Imaging Limited
Lantheus
Nano Therapeutics Pvt. Ltd.
Trivitron Healthcare
Market Size Breakdown by Segment
This report offers deep insights into the contrast media market, with size estimation for 2017 to 2030, the major drivers, restraints, trends and opportunities, and competitor analysis.
Based on Modality
Based on Product Type
Iodinated
Barium-Based
Gadolinium-Based
Microbubble
Based on Application
Cardiovascular Disorders
Neurological Disorders
Gastrointestinal Disorders
Cancer
Nephrological Disorders
Musculoskeletal Disorders
Based on Route of Administration
Intravascular
Oral
Rectal
Based on End User
Hospitals, Clinics, & Ambulatory Surgery Centers
Diagnostic Imaging Centers
Geographical Analysis
North America
Europe

Germany
U.K.
France
Italy
Spain

Asia-Pacific

Japan
China
India
South Korea
Australia

Latin America
Middle East and Africa

Saudi Arabia
South Africa