MRI Systems Market Overview
The global MRI systems market valued $5.9 billion in 2017 and is projected to register a CAGR of 5.2% during the forecast period, on account of technological advancements in MRI systems, growing awareness on the early diagnosis of diseases, increasing government support for MRI, rising prevalence of chronic diseases, and surging geriatric population.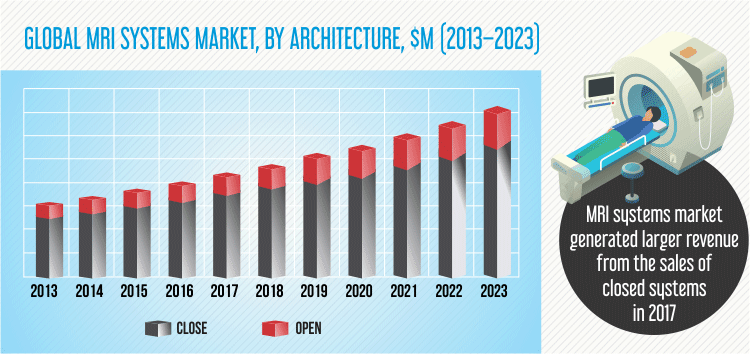 On the basis of architecture, the MRI systems market is categorized into closed and open systems. Closed MRI systems held a larger share in the global market in 2017, with a revenue contribution of 79.9%. This can be attributed to the fact that closed MRI systems facilitate scans which are more accurate and of high resolution over open MRI systems.
Based on type, the MRI systems market is classified into fixed and mobile systems. Among these, the mobile MRI systems category is expected to grow at a faster CAGR of 6.6% during the forecast period, and is predicted to generate more than $700.0 million revenue by 2023.
On the basis of field strength, the MRI systems market is categorized into high Field (1.5 T), very high field (3 T), low to mid field (<1 T) and ultra-high field (7 T and above) systems. The high-field category is expected to continue dominating the global market, accounting for 51.8% share by 2023. This leading position of the category can be ascribed to the advantages of high field MRI systems, such as accuracy and efficiency to offer spatial resolution.
These systems are majorly used for brain, head, and neck; spine; musculoskeletal; vascular; pelvic and abdomen; breast; cardiac, and other applications. The MRI systems market is expected to witness the fastest growth in the brain, head, and neck imaging, with 5.7% CAGR during the forecast period. This can be attributed to the growing incidence of trauma brain and neck injuries globally.
The end users in the MRI systems market include hospitals and clinics, diagnostic centers, and others, where the "others" category primarily includes academic and research institutes and ambulatory settings. Hospitals and clinics held the largest share of, 80.3%, in the global market in 2017. This can be mainly attributed to the large patient pool that visits hospitals and clinics for medical care.
Geographically, North America was the largest market for MRI systems, contributing 38.5% to the global market in 2017. Advanced healthcare facilities, and high healthcare spending are the key factors supporting the growth of the regional market. Moreover, growing geriatric population in North America is also supporting the demand of MRI systems required for scanning images for disease diagnosis.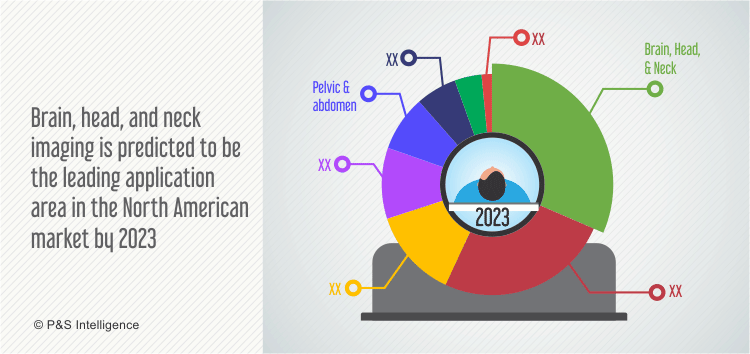 MRI Systems Market Dynamics
Growth Drivers
Factors such as escalating aging population, technological advancements in MRI systems and growing awareness on the early diagnosis of diseases are supporting the growth of this market. Increasing life expectancy and falling death rates are the major contributors to the growth in geriatric population. As per the United Nations Department of Economic and Social Affairs (UNDESA) report World Population Ageing 2017, the population of people aged 60 years or above is growing at a high rate. Furthermore, geriatric care is complex and requires better management through cutting-edge technology and treatment. Apart from general radiology, MRI offers better characterization of most musculoskeletal diseases and is also used for suspected soft tissue mass or invasion. Thus, owing to the intensive care required for geriatric population, healthcare settings are increasingly adopting technologically advanced radiology systems, which, in turn, is boosting the growth of the MRI systems market, globally.
Furthermore, continuous research and development (R&D) activities have led to various advancements in MRI systems in recent years. These advancements have further led to the evolution of MRI systems that offer improved image quality, better throughput, and faster exam time. Hybrid MRI and MRI-compatible devices are some of the advanced products available in the market.
Also, to facilitate the detection of multiple anomalies in different parts of the body with a single MRI scan, companies in the market are focusing on the development of multi-contract MRI scanners. For instance, in October 2017, Siemens AG received the USFDA approval for its 7 T MRI system, Magnetom Terra. The system is recommended for patients weighing more than 66 pounds and is used for the examination of the head, arms, and legs (extremities). Thus, advancements in technology are leading to the introduction of more efficient and compatible MRI systems, which, in turn, is driving the market growth.
MRI Systems Market Competitive Landscape
The MRI systems market is dominated by players, such as Koninklijke Philips N.V., Siemens AG, General Electric Company, Hitachi Ltd., and Canon Medical Systems Corporation. These market players offer a wide product portfolio and also have an extensive distribution network.
The market players are launching technologically advanced products to increase their market share. For instance, in September 2018, Koninklijke Philips N.V. (Philips) further extended Ingenia MRI portfolio by launching the Ingenia Ambition X 1.5 T MRI scanner. The first commercial installation of this MRI scanner was done at Spital Uster Hospital, a provider of extended primary healthcare in the canton of Zurich, Switzerland. Ingenia Ambition X 1.5T is a CE marked as well as USFDA 510(k) approved MRI scanner.
Some of the other companies operating in the MRI systems industry are Esaote S.p.A, Fonar Corporation, Shenzhen Mindray Bio-Medical Electronics Co. Ltd., Neusoft Medical Systems Co. Ltd., Aurora Healthcare US Corp., Bruker Corporation, Time Medical Holdings, and Aspect Imaging Ltd.