Market Overview
The global MRI systems market valued USD 8,924 million in 2022, and it is projected to register a CAGR of 6.60% during 2022–2030, reaching USD 14,880 million by 2030. This will be on account of the technological advancements in magnetic resonance imaging, growing awareness of the early diagnosis of diseases, increasing government support for MRI, rising prevalence of chronic diseases, and surging geriatric population.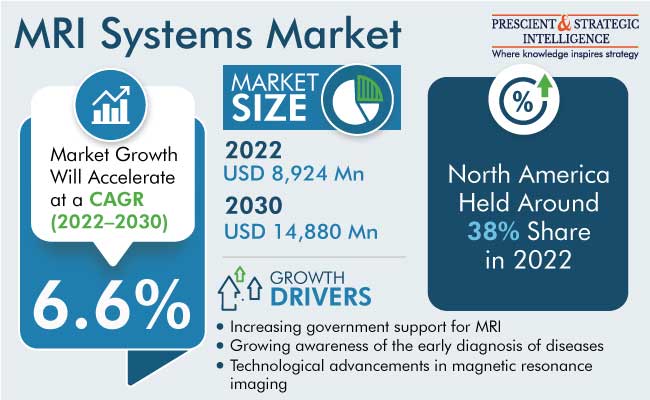 The continuous R&D has enabled the creation of enhanced MRI systems in the recent past, which have improved image quality, throughput, and exam times. Some of the key advancements in this field are MRI-compatible devices and hybrid MRIs. Moreover, with the advent of MRI-compatible devices, people with implanted devices can undergo MRI screening for a range of diseases. Furthermore, the development of the intraoperative MRI technology has revolutionized neurology, by playing a vital role in the diagnosis and treatment of central nervous system disorders.
An early diagnosis of chronic diseases allows patients and their families to receive timely advice and support for disease management. Diagnosing a disease at an early stage lowers the chances of developing a severe condition in the future. This particularly helps in the case of cancer, where initiatives are being made globally to spread awareness on the importance of early diagnosis. The increasing awareness on the warning signs of cancer among physicians, nurses, and other healthcare providers as well as the general public can greatly help in ensuring proper disease management. The detection of breast cancer at an early stage can help improve the survival rate, lower morbidity, and reduce the cost of care, if the patient is promptly diagnosed and effectively treated.
Demand for Closed Systems Is Higher due to Their Greater Imaging Accuracy
On the basis of architecture, magnetic resonance imaging systems are categorized into closed and open. Of them, closed variants held the larger share in the global market in 2022, of around 78%. This can be attributed to the fact that closed systems offer more-accurate scans of a higher resolution than the open variants.
Moreover, open ones are generally preferred by claustrophobic and obese patients, who are difficult to fit inside closed canopies; thus, open systems lead to a higher compliance than the closed ones among these patients.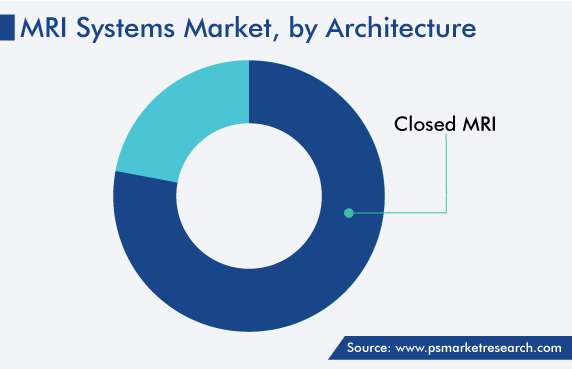 With Growing Home Healthcare Trend, Mobile MRI Scanners Becoming Popular
Based on type, the market is classified into fixed and mobile. Of these, the mobile category is expected to grow at the higher CAGR, of 7.2%, during 2022–2030. This is because portable variants entail lower pre-installation costs and reduce the travel requirements for patients.
High-Field-Strength Variants Continue To Be Used Most Extensively
On the basis of field strength, low-to-mid (<1 T), high (1.5 T), very-high (3 T), and ultra-high (7 T and above) are the categories. The high category is expected to continue to be dominant globally, accounting for a significant share by 2030. This leading position of the category can be ascribed to the advantages of high-field-strength MRI machines, such as high accuracy, efficiency, and spatial resolution.
Due to Rising Volume of Neurological Imaging, Hospitals and Clinics are Largest End Users
Brain, head, and neck; spinal; musculoskeletal; vascular; pelvic and abdomen; breast; cardiac, and others are the divisions under the application segment. Among these, the market is expected to witness the fastest growth in the brain, head, and neck category, with 7% CAGR, during 2022–2030. This can be attributed to the growing incidence of traumatic brain and neck injuries globally.
The end users include hospitals and clinics, diagnostic centers, and others, where the "others" category primarily includes academic and research institutes and ambulatory settings. Hospitals and clinics held the largest share, of around 81%, in the global market in 2022. This can be mainly attributed to the large patient pool that visits hospitals and clinics for medical care.
MR Imaging Need Growing with Booming Elderly Population
The key driver of MRI system sales is the escalating aging population, itself on account of the rise in the life expectancy and fall in the death rate. As per the World Population Prospects 2022 report, the global population aged 65 years or above will rise from 10% of the total in 2022 to 16% in 2050. These people often witness a more-complex manifestation of diseases than in the younger generations and thus, need cutting-edge technologies for screening and treatment. Resonance imaging can help better characterizes the majority of musculoskeletal diseases and look for tumors or invasion in soft tissue. Thus, with the geriatric population's requirement for intensive medical care, healthcare providers are procuring high-tech radiological imagers.
Technological Advancements in Radiological Equipment for Better Imaging Results
Additionally, to detect multiple health issues in diverse body parts via just one scan, companies are creating innovative products in partnership with each other. For instance, in January 2022, Ohio State University's Wexner Medical Center installed a full-body MRI scanner created in collaboration with Siemens Healthineers. This FDA-approved scanner produces a weaker magnetic field compared to its existing counterparts and yet offers detailed images of the internal anatomy, so that implanted electromagnetic devices, such as pacemakers and defibrillators, do not interfere with the MRI's magnetic signal and pose a threat to patients' lives.
MRI Systems Market Report Coverage

| | |
| --- | --- |
| Report Attribute | Details |
| Historical Years | 2017-2022 |
| Forecast Years | 2023-2030 |
| Market Size in 2022 | USD 8,924 Million |
| Revenue Forecast in 2030 | USD 14,880 Million |
| Growth Rate | 6.60% CAGR |
| Report Scope | Market Trends, Drivers, and Restraints; Revenue Estimation and Forecast; Segmentation Analysis; Impact of COVID-19; Companies' Strategic Developments; Market Share Analysis of Key Players; Company Profiling |
| Segments Covered | By Architecture, By Field Strength, By Type, By Application, By End User, By Region |
Explore more about this report - Request free sample pages
North America Generates Highest Revenue for System Providers
Geographically, North America was the largest market, contributing 38% revenue, in 2022. The advanced healthcare facilities and high healthcare spending are the key factors supporting the growth of the industry in this region. Moreover, the growing geriatric population in North America is supporting the demand for diagnostic imaging.
The U.S. market is advancing at a high pace owing to the increasing healthcare expenditure and rising pace of technological advancements in MRI systems. The growing geriatric population and increasing prevalence of chronic diseases are also driving the growth of the U.S. market. According to the U.S. Census Bureau, more than 56 million adults aged 65 and older live in the country, accounting for about 16.9% of its population.
The growing prevalence of chronic diseases is a major concern in the U.S., which has led to an increasing number of radiological scans. According to the CDC, each year in the U.S., more than 1.7 million people are diagnosed with cancer, and almost 600,000 die of it. In order to reduce the cost of chronic disease care, physicians suggest diagnosis at an early stage, thus leading to a high demand for effective MRIs in the country.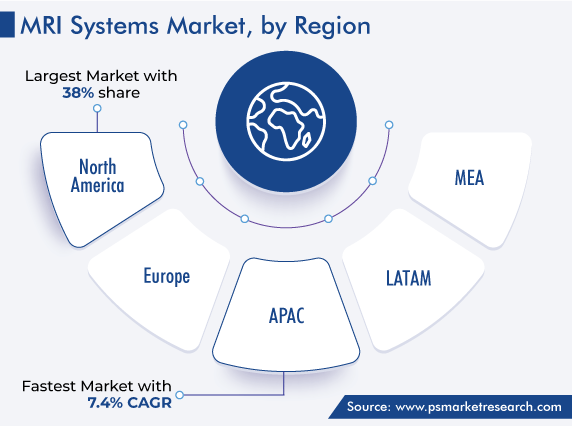 Increasing Government Support for MRI
Globally, governments are providing financial support to boost the adoption of these scanners in healthcare settings, in addition to raising awareness about the early diagnosis of diseases. For instance, Right Action for Women, a sponsored program of the New Venture Fund, helps women in the country undergo screening for breast cancer. Under the program, women receive financial assistance of up to USD 1,500 per occurrence during a six-month period. Besides, in January 2023, the Ontario government plans to expand access to MRI services in Hastings, Lennox, and Addington. The Minister of Health announced that the province is investing CAD 1 million to enable Lennox and Addington County General Hospital to procure its first MR imager. This is part of the government's investment of over CAD 20 million toward supporting the addition of 27 new MRI machines in hospitals across Ontario.
Furthermore, the Multiple Sclerosis Association of America (MSAA), under its MSAA Access Fund, assists in the payment for cranial (brain) and C-spine scans to qualified individuals who have no medical insurance or cannot afford insurance but are required to undergo the exam to diagnose MS or evaluate its progression. Thus, owing to the growing government support, the affordability of imaging has increased substantially, in turn, leading to the high adoption of MRI systems among healthcare providers.
Competitive Landscape
The MRI systems market is dominated by Koninklijke Philips N.V., Siemens AG, General Electric Company, Hitachi Ltd., and Canon Medical Systems Corporation, all of whom have a wide product portfolio and an extensive distribution network.
Moreover, these players are launching technologically advanced products to increase their market share.
In December 2020, Resonance Technology Inc. (RTC) showcased the CinemaVision MRI at the RSNA 2020 event.
In July 2021, Siemens Healthineers announced that it has received the FDA approval for its 0.55-T MAGENTOM Free. Max 80-cm MR scanner.
Additionally, companies in the radiological imaging sector are working with healthcare organizations and academic institutions to develop cutting-edge products.
The Center for MRI Research, Zuckerman Mind Brain Behavior Institute (ZMMBBI), and PMX, a medical artificial intelligence firm, signed a joint research agreement in February 2022 to boost the efficacy of brain diagnoses via MRI in the U.S.
In November 2022, Koninklijke Philips N.V. and MagCorp, a magnet provider based in the U.S., began a research partnership to study the feasibility of superconducting MRI magnets that do not need to be cooled to ultra-low temperatures with liquid helium. More-sustainable alternatives to helium-cooled MRI magnets developed at a lower cost could potentially make MR imaging accessible to patients across diverse settings.
Top Global Providers of MRI Systems Are:
Siemens AG
General Electric Company
Esaote S.p.A.
Hitachi Ltd.
Fonar Corporation
Shenzhen Mindray Bio-Medical Electronics Co. Ltd.
Neusoft Medical Systems Co. Ltd.
AURORA HEALTHCARE US CORP.
Bruker Corporation
Time Medical Holdings
Aspect Imaging Ltd.
Magnetic Resonance Imaging Systems Market Size Breakdown by Segment
The study uncovers the biggest trends and opportunities in the MRI systems market, along with offering segmentation analysis at the granular level for the period 2017 to 2030.
Based on Architecture
Based on Field Strength
High (1.5 T)
Very High (3 T)
Low to Mid (<1 T)
Ultra-High (7 T and Above)
Based on Type
Based on Application
Brain, Head, and Neck
Spine
Musculoskeletal
Vascular
Pelvic and Abdomen
Breast
Cardiac
Based on End User
Hospitals and Clinics
Diagnostic Centers
Geographical Analysis
North America
Europe

Germany
U.K.
France
Italy
Spain

Asia-Pacific

Japan
China
India
Australia
South Korea

Latin America
Middle East and Africa

Saudi Arabia
South Africa