Market Overview
The cloud-managed network market was valued at USD 21,212.2 million in 2022, which is expected to reach USD 50,287.1 million by 2030, growing at a CAGR of 11.5% during 2023–2030.
A cloud-managed network provides flexibility and scalability to organizations and enables them to maintain their infrastructure without purchasing any physical devices or hardware. Their devices start running when connected to the network. By using this infrastructure, an organization can manage and secure its network.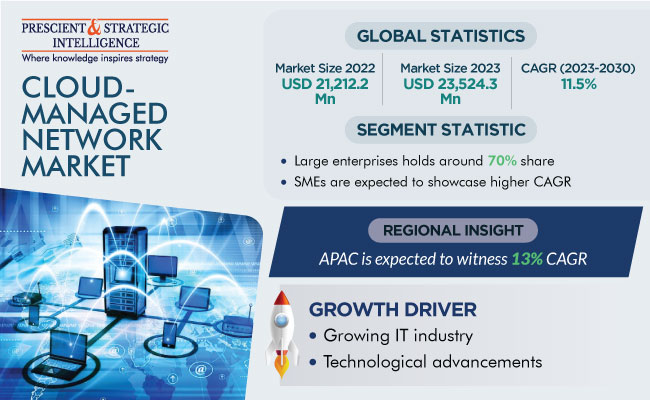 It proves itself a cost-effective choice for organizations as it is difficult for SMEs to purchase costly networking hardware. Here, a cloud-managed network allows them to purchase software services online, paying only for what they use. Companies can also buy these services on a subscription basis as they are not expensive, thus offering SMEs affordability and the freedom to use them efficiently.
The network framework is controlled by a single authority and from a single place in an organization, which enhances operations and reduces the need for IT staff. An organization can structure and configure its network rapidly without any expertise, due to the natural and simple interfaces offered by the cloud-managed networking; hence, it enhances the expansion of the business's network.
Cloud services provide privacy and security features, such as firewalls, data protection, and access control, as it is important for any firm to ensure the privacy and security of their data. Therefore, firms of all sizes spend high amounts on solutions that can help safeguard their intellectual property.
As remote and distributed employees become more common, the adoption of such solutions will surge, as they provide smooth and secure access to the enterprise network and resources from anywhere. This way, they enhance the efficiency of work, as employees no longer have to compromise on productive capacity and security.
IoT has expanded the digital world, as new technologies, devices, and electronic sensors collect data and transform it into business insights. Additionally, these devices provide this information at lower prices with higher accuracy; hence, IoT technologies offer numerous benefits to businesses to drive operations smoothly and efficiently.
Cloud Services Category Dominates Market
Information as a service (Iaas) provides computing resources on a pay-as-you-go basis, due to which organizations are able to purchase online network assets. Computer networks, subnetworks, and network security systems are among the services provided to organizations, and they are easily manageable as well through the cloud.
Software as a service (SaaS) is preferred to avail of cloud services due to its secure and trustworthy communication. SaaS provides network services via the internet, to guarantee the security of applications, including encryption & key management, identity & access management, security monitoring, and data privacy.
Moreover, cloud-native network functions are offered to allow organizations to manage and control their infrastructure through a centralized interface. Using cloud networking, software-defined wide-area networking (SD-WAN) connects organizations and allows for communication between their branch offices and remote areas.
SMEs Are Expected To Showcase Higher CAGR
Cloud-managed networking offers SMEs affordability, as instead of investing in expensive networking tools and equipment, SMEs can use cloud services on a subscription basis, thus minimizing their upfront expenses. The subscription-based business model makes it an appealing option since it helps SMEs use their limited IT budgets more wisely.
The operation of networks is made simpler by cloud-based management, which offers simple user interfaces and centralized management. As most SMEs have a small number of IT workers and equipment, they can contract cloud service providers to handle the complicated features of computer system management, such as updates, designs, privacy, and security, for them.
In present times, the COVID-19 epidemic has led to a massive growth in the number of remote workforces. It is common for SMEs to hire remote workers and distribute teams. Cloud-managed network services enable safe and efficient access to company networks and assets, thus promoting productivity and teamwork for distant workers.
The requirement of SMEs to assist and safeguard on-site networking devices is removed by cloud-managed networking. The workload of SMEs' IT staff is lessened because cloud service providers handle device maintenance, updates, and debugging. This makes it possible for SMEs to concentrate on their core strengths and allocate resources more wisely.
In order to fulfill their organizational requirements, SMEs frequently need the rapid implementation of networking solutions. Network infrastructure can be rapidly set up for SMEs due to the high installation and configuration speed of cloud-managed networking solutions. This adaptability enables SMEs to shorten the time to market and act quickly on market possibilities.
Large Enterprises Are Expected To Remain Larger Users of CMNs
Cloud services enable large enterprises to scale up their network infrastructure, by providing flexibility and scalability, due to which organizations can efficiently manage the growing network traffic.
The security of the sensitive data that big businesses manage is of the highest priority. Data encryption, safe access limitations, and intrusion detection and prevention systems are just a few of the strong security measures offered by cloud network services. By protecting MNCs' priceless data assets, these features assist them in adhering to regulatory regulations.
To operate important programs and procedures, large organizations need exceptional connectivity to the internet. In order to ensure high network efficiency for large-scale business activities, cloud network solutions offer capabilities such as load balancing, traffic optimization, and redundant networks.
The IT cost of large enterprises can be managed with the help of cloud network services, via the minimization of hardware expenses, as these cloud services are available on a subscription and pay-per-use bases.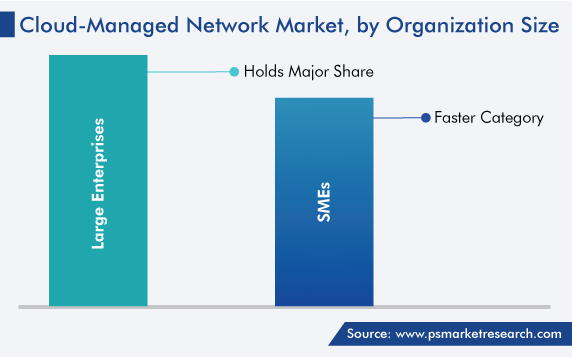 Public Cloud To Witness Highest Growth Rate
Public cloud providers offer high flexibility, enabling businesses to rapidly build up their offerings and equipment in response to the market's demand. Businesses of every size, including huge corporations, value this flexibility because it allows them to swiftly alter their resources to match the changing workloads.
Moreover, as the number of startups is increasing rapidly, cloud services are beginning to offer numerous benefits to them. Entrepreneurs use this technology to maintain hardware and space for document and media storage, so they can focus more on the growth of their business.
Instead of hiring or outsourcing support staff, cloud-based software enables clients to use an assistance network, which is available everywhere. By embracing this solution delivery method for client support and computational queries, entrepreneurs can save money, because they are not required to pay a dedicated staff for this purpose.
To introduce new products, services, amenities, and technology, cloud computing companies consistently spend time on research and development. Organizations can easily make use of the latest innovations, including machine learning, AI, big data analytics, and IoT, because of this continuous advancement. Public cloud services offer infrastructure for the quick development, testing, and implementation of novel solutions.
Large-scale frameworks are well-managed and secured by public cloud service providers. To guarantee the dependability and safety of their offerings, they use safety precautions, compliance frameworks, and devoted assistance staff. Organizations can improve their internal safety record and concentrate on their primary tasks, by utilizing the knowledge and assistance offered by cloud vendors.
Cloud-Managed Network Market Report Coverage

| | |
| --- | --- |
| Report Attribute | Details |
| Market Size in 2022 | USD 21,212.2 Million |
| Market Size in 2023 | USD 23,524.3 Million |
| Revenue Forecast in 2030 | USD 50,287.1 Million |
| Growth Rate | 11.5% CAGR |
| Historical Years | 2017-2022 |
| Forecast Years | 2024-2030 |
| Report Scope | Market Trends, Drivers, and Restraints; Revenue Estimation and Forecast; Segmentation Analysis; Impact of COVID-19; Companies' Strategic Developments; Market Share Analysis of Key Players; Company Profiling |
| Segments Covered | By Type; By Organization Size; By Deployment Model; By End User; By Region |
Explore more about this report - Request free sample pages
North America Dominates Market
The information technology sector of North America is renowned for creative thinking and advancing technology. The area has led the way in service management and innovations in networking and IoT. The adoption of cloud network service management in North America is driven by this technological superiority.
Moreover, there are several significant companies in different sectors in the North American region that have embraced digitization as a key operational prerequisite. Those companies were among the first to utilize cloud technologies, such as cloud network administration solutions.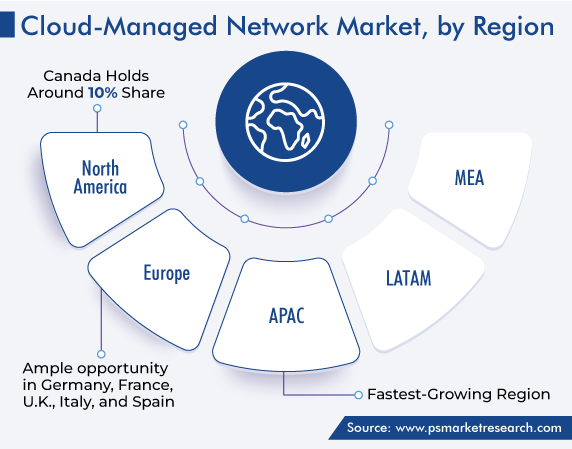 APAC Is Expected To Show Significant Growth
To sharpen their competitive edge and spur economic expansion, many APAC nations are making significant investments in technological advancements. Cloud-managed networking services, which offer scalable and adaptable network oversight solutions, are essential for facilitating the evolution of technology.
Many SMEs in APAC are using these technologies extensively to improve their operations, customer reach, and revenue generation. Cloud-managed network solutions provide SMEs with affordable ways for handling their computer systems effectively.
Key Players in Cloud-Managed Network Market Are:
Cisco Systems Inc.
International Business Machines Corporation (IBM)
Telefonaktiebolaget LM Ericsson
Huawei Technologies Co. Ltd.
Infoblox Inc.
D-Link Corporation
Accenture plc
Microsoft Corporation
HCL Technologies Limited
Oracle Corporation
Market Size Breakdown by Segment
This fully customizable report gives a detailed analysis of the cloud-managed network industry from 2017 to 2030, based on all the relevant segments and geographies.
Based on Offering
Hardware
Software
Cloud Services
Based on Organization size
Based on Deployment Model
Public Cloud
Private Cloud
Based on End User
IT
BFSI
Retail & E-Commerce
Healthcare & Life Sciences
Transportation
Manufacturing
Media & Entertainment
Energy & Utilities
Geographical Analysis
North America
Europe

Germany
U.K.
France
Italy
Spain

Asia-Pacific

Japan
China
India
South Korea
Australia

Latin America
Middle East and Africa

Saudi Arabia
South Africa
U.A.E.