Market Overview
The global circuit monitoring market generated revenue of USD 702.5 million in 2023, which is projected to exhibit a CAGR of 4.5%, to reach USD 949.1 million by 2030. The growth of the market is attributed to the rising demand for data centers and the strong concern regarding power stability and personnel safety. Circuit monitoring is essential to ensure the efficient and safe operation of electrical circuits in several industries, including manufacturing, data centers, and utilities.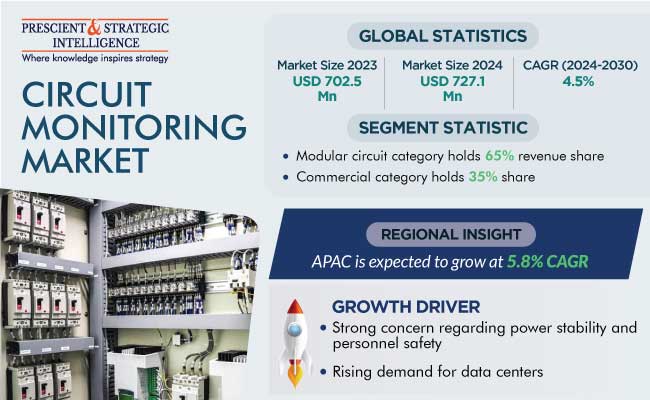 Moreover, the stringent regulations to reduce the carbon footprints of data centers are creating the demand for circuit monitoring technologies. Sustainability is one of the major issues in data centers, because they use a lot of resources, which necessitates reducing their environmental impact and carbon footprint. They use a lot of power, and over the years, there has been a steep increase in the amount of energy being used by them. Therefore, to track and forecast power and environmental metrics, the readings from meters and sensors must be converted to actionable insights.
Moreover, circuit monitoring is widely used for capacity planning, in which it allows users to track the total load and the available capacity in real time. This way, these pieces of information allow for greater operational efficiency and energy savings, by enabling the sharing of data with individuals. This methodology is also used for accurate billing, for which these monitors provide the level of granularity that enables colocation providers or enterprise data centers to track the individual tenants and departments' power consumption in real time, for accurate invoicing and chargeback.
Furthermore, the need for electricity budgeting and sustaining operating expenditure drives industries to plan for integrating circuit monitoring systems in their installations. Because they serve as a bridge between industrial power management and power consumption, they are becoming important in industries. In a sustainability report for 2022, Siemens Energy AG said that it has consumed 5.8 million Gigajoules of electricity, which was 8% less than 2021, when it implemented circuit monitoring methodologies.
Growing Concern over Power Instability
Electricity is a vital for industries, individuals, and, ultimately, the economy. The instability of the power supply is a major concern in industries as it affects production, in turn, resulting in losses and, sometimes, customer distrust. With the increase in the power density at modern industrial and commercial establishments, more attention is needed to enhancing the infrastructure, for a higher power distribution efficiency. Circuit monitoring units work as a supportive system for the resourceful monitoring of power, to increase efficiency.
Moreover, the consumption of electricity at the offices of IT & telecom companies is growing due to the increasing adoption of several new-generation technologies, such as IoT, AI, and supercomputers. In 2023, the consumption of electricity in the IT sector stood at 2,198 TWh, and it will reach 3,177 TWh by 2030, surging by 50%. With the launch of 5G networks worldwide, the consumption of electricity in this sector will grow further.
Hence, such companies require a 24x7 energy supply, to offer reliable communication services. This is why they need efficient power distribution systems to ensure a consistent and reliable supply of electricity to all pieces of the telecom infrastructure.
Similarly, the chemical and petroleum industry consumes a large amount of electricity because its operation is totally dependent on power. If there is a fluctuation in the power stability, the operations of the industry will be instantly affected.
Circuit Monitoring Market Report Coverage

| | |
| --- | --- |
| Report Attribute | Details |
| Market Size in 2023 | USD 702.5 Million |
| Market Size in 2024 | USD 727.1 Million |
| Revenue Forecast in 2030 | USD 949.1 Million |
| Growth Rate | 4.5% CAGR |
| Historical Years | 2017-2023 |
| Forecast Years | 2024-2030 |
| Report Scope | Market Trends, Drivers, and Restraints; Revenue Estimation and Forecast; Segmentation Analysis; Impact of COVID-19; Companies' Strategic Developments; Market Share Analysis of Key Players; Company Profiling |
| Segments Covered | By Type; By End User; By Region |
Explore more about this report - Request free sample pages
Modular Circuit Monitoring Held Largest Share
Based on type, the modular circuit category accounted for the larger share, of more than 65%, in the market, and it will further maintain its dominance in the forthcoming period. This would be due to the advantages of this type while monitoring modular circuits, such as simplified installation and easier connectivity, while providing an instant access to data in a user-friendly format. Moreover, these monitoring systems have the ability to sense voltages, and they can use a customized voltage field detection system to determine the status of the circuit breakers even when there is no load. It aids in locating failed circuits that conventional monitoring systems could have missed.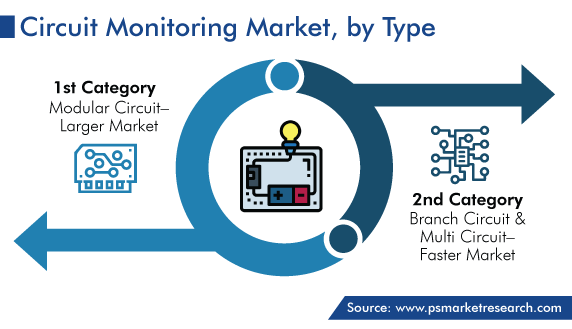 Branch & Multi-Circuit Monitoring To Show Fastest Growth
The branch & multi-circuit category is expected to show the faster growth over the forecast period. This is due to the technological enhancements and the advantages offered by these circuits, including a compact size, which enables space-saving over other monitoring systems. These circuits are extensively used at manufacturing facilities, data centers, and commercial & residential spaces due to their multi-point application. Moreover, branch circuits are ideal for high-density applications, while multi-circuit submeters are capable of monitoring multiple single-phase or three-phase circuits simultaneously.
North America Is Prime Revenue Contributor
Geographically, North America held the largest share, of around 55%, in 2023, and it is expected to grow at a robust CAGR during the forecast period. This is because the region is witnessing a substantial growth in the number of data centers, which gives lucrative opportunities to new and existing circuit monitoring market players to tap a larger consumer base. For instance, NTT DATA Corporation is planning to set up a new data center campus with a capacity of 336 MW in Northern Virginia.
Moreover, the presence of robust residential, commercial, and industrial infrastructure, which is constantly being upgraded, and a large number of key players drive the market in the region. The growing stringency of the regulations in the region for the reduction of carbon emissions is forcing companies across industries to deploy circuit monitoring systems.
In the same way, in Canada, the developed economy and the robust presence of the IT industry will create an extensive demand for monitoring electrical circuits. These monitoring systems are already being adopted in houses, as the public becomes aware of environment conservation practices.
However, the U.S. dominates the North American market, with industrial companies, residential users, and commercial spaces taking concrete initiatives to decrease their carbon footprint and prevent fluctuations in their electricity supply.
Moreover, Europe is showing significant growth in the circuit monitoring market, due to the presence of a large number of data centers. Additionally, the growing investment by the key players and the enforcement of stringent regulations by the government to reduce the carbon footprint of these facilities propel the market.
Within the region, Germany is showing significant growth in the adoption of such monitoring devices, as it has a large number of data centers and the regulations for carbon footprint reduction in the country are rather strict. Essentially, the growing IT and telecom infrastructure in the country is a major factor propelling the adoption of circuit monitoring systems for reducing the instability of the power supply.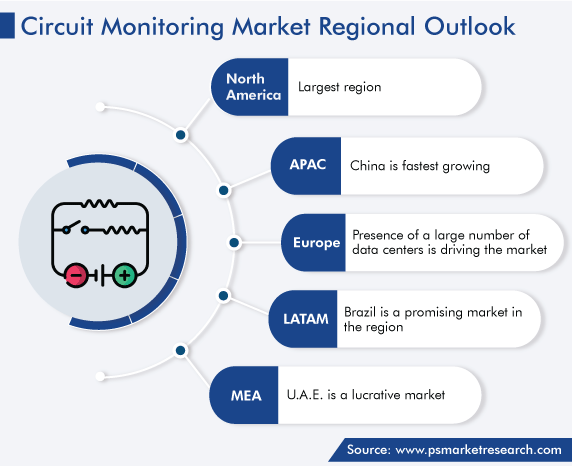 Top Providers of Circuit Monitoring Solutions Are:
ABB Ltd.
Schneider Electric SE
Eaton Corporation plc
Toshiba International Corporation
Accuenergy Inc.
CircuitMeter Inc.
OMRON Corporation
Daxten
ELMEASURE
Market Size Breakdown by Segment
This fully customizable report gives a detailed analysis of the industry from 2017 to 2030, based on all the relevant segments and geographies.
Based on Type
Modular Circuit
Branch Circuit & Multi Circuit
Based on End User
Residential
Commercial
Industrial
Geographical Analysis
North America
Europe

U.K.
Germany
France
Italy
Spain

Asia-Pacific

China
Japan
Australia
India
South Korea

Latin America
Middle East & Africa

Saudi Arabia
South Africa
U.A.E.