Market Overview
The global multiparameter patient monitoring systems market was valued at USD 9,789.2 million in 2022, which is expected to reach USD 17,950.8 million by 2030, growing at a CAGR of 7.9% during 2022–2030. This is ascribed to the growing prevalence of chronic ailments, surging demand for early disease diagnosis, and rising volume of surgical procedures.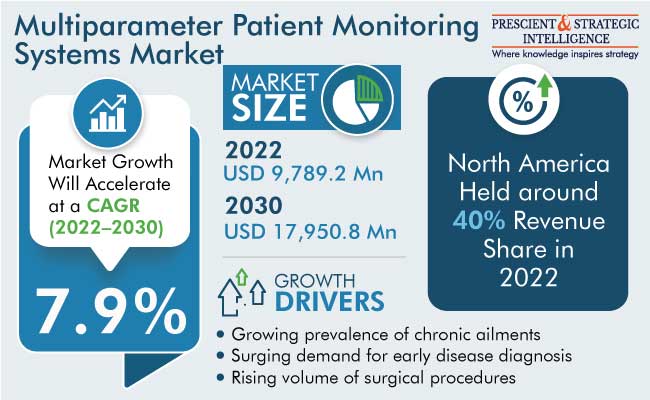 Additionally, hospitals are increasingly focusing on tracking patients' condition at every stage of treatment, which has led to the rising adoption of real-time patient monitoring systems in order to come up with apt clinical decisions right away.
During the coronavirus pandemic, the tracking of the respiration rate and oxygen saturation was crucial in order to determine the severity of the infection in the lung tissue. Moreover, studies have determined that after COVID-19 infection, certain patients would suffer from heart ailments; therefore, remote patient monitoring is a favorable option for their evaluation.
Multiparameter patient monitors are used extensively in both intensive care units (ICU) and in-patient wards. This is because tracking the health of severely ill patients is crucial and helps healthcare practitioners take necessary actions on time, by stabilizing the patient, if significant deterioration is observed in their health. Such devices also help in monitoring the efficacy of therapeutics and key physiological markers of health.
Additionally, the advancement in the wireless communication technology and the incorporation of telemetry monitoring in wearables have increased the feasibility of such solutions for patients both outside as well as inside medical facilities. Such cutting-edge equipment records and transmits the information readily from patients' devices to healthcare practitioners, in turn, reducing the evaluation and treatment times.
The diagnosis of patients has become smoother with the launch of wireless networks, such as medical body area networks (MBANs) and radiofrequency identification (RFID) devices, in the medical industry. Such technologies allow patients to be diagnosed and monitored in the comfort of their homes, by tracking their body temperature, blood pressure, oxygen level, and heart rate.
Moreover, such portable devices have significantly helped patients by reducing their expenditure on daily hospital visits. In this regard, the growing demand for home-based medical solutions for the geriatric population base is fueling the need for such devices.
Growing Prevalence of Chronic Ailments To Drive Market
There has been a tremendous surge in the number of people with chronic conditions, such as diabetes, high blood pressure, obesity, and asthma, over the years. This is attributed to the growing adoption of sedentary lifestyles, frequent consumption of high-calorie foods, lack of physical activity, and heavy alcohol and tobacco intake. This rising prevalence of diseases is resulting in an increasing hospitalization rate, which, in turn, is significantly contributing toward the growth of the multiparameter patient monitoring systems market around the world.
Moreover, there is an incessant increase in the geriatric population, which is susceptible to chronic ailments. According to the World Health Organization (WHO), by 2030, one in six individuals will be more than 60 years old. Moreover, the global population of individuals aged 60 or more will increase further by mid-21st century. Additionally, it is expected that the number of individuals aged 80 or older will rise by three times between 2020 and 2050. This will drive hospitalization rates and, in turn, the sale of multiparameter monitoring systems.
Portable Category Leads Device Type Segment
The portable category dominates the device type segment, with a market share of around 60% in 2022. This is owing to the multiple advantages offered by portable systems, primarily, the ease of transportation both inside and outside the medical premises, due to their lightweight nature. Additionally, their wearability offers added flexibility to patients in any setting. Moreover, the growing number of ambulatory care premises and the need for ease of tracking patients recuperating post-surgery are contributing toward the market growth.
Furthermore, many hospitals are focusing on increasing their reach by providing enhanced patient care services. Portable multiparameter patient monitoring equipment provides flexibility to both patients and healthcare institutions, by offering ease of mobility and usability in several settings inside and outside the medical facility. Additionally, such devices incorporate cutting-edge digital technologies and offer the convenience of having their data accessed via cell phones, with cloud integration and wireless connectivity. Further, such variants are easy to transport while still attached to patients and monitoring continuously as the patient is transferred from one department to another, such as between their ward and the OT.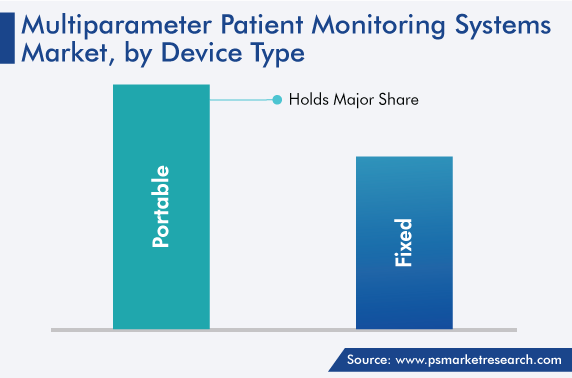 High Category Dominates Acuity Level Segment
On the basis of acuity level, the high category dominated the market in 2022, and it is expected to be the leader throughout the forecast period. This is because high-acuity patients are those who are suffering from lethal conditions and, thus, require monitoring at every stage of their healthcare journey. Healthcare practitioners need to be alerted in advance of even minor changes in such patients' condition, so quick action can be taken to prevent the worsening of patients' health. Moreover, such systems are more expensive than medium- and low-acuity-level equipment, which leads to the highest revenue generation in this category.
The rising prevalence of chronic ailments, such as diabetes, cardiovascular diseases, and respiratory ailments, especially asthma, is boosting the demand for high-acuity-level variants, as patients suffering from such conditions require regular monitoring of their health.
Additionally, patients suffering from life-threatening conditions are generally the first preference for healthcare practitioners. Such systems are installed in operation theaters (OTs) and intensive care units (ICUs) and incorporated with cutting-edge technologies, such as alarms that alert professionals when patients' vitals fall outside the safe limit.
Geriatric Category Dominates Age Group Segment
Based on age group, the geriatric category had the largest market share, around 50%, in 2022. This is due to the growing elderly population and its susceptibility to chronic ailments and sudden deterioration.
Essentially, the rising number of geriatric people suffering from chronic ailments is propelling the category's growth. Chronic conditions are commonly observed in this population group on account of its susceptibility to infections and weak physiology. According to the National Council on Aging (NCOA), 80% of the adults above 65 years of age suffer from at least one chronic ailment, whereas 68% have more than two. Another study has estimated that around 35% of the older people suffer from diabetes.
Multiparameter Patient Monitoring Systems Market Report Coverage

| | |
| --- | --- |
| Report Attribute | Details |
| Historical Years | 2017-2022 |
| Forecast Years | 2023-2030 |
| Market Size in 2022 | USD 9,789.2 Million |
| Revenue Forecast in 2030 | USD 17,950.8 Million |
| Growth Rate | 7.9% CRGR |
| Report Scope | Market Trends, Drivers, and Restraints; Revenue Estimation and Forecast; Segmentation Analysis; Impact of COVID-19; Companies' Strategic Developments; Market Share Analysis of Key Players; Company Profiling |
| Segments Covered | By Device Type; By Acuity Level; By Age Group; By End User; By Region |
Explore more about this report - Request free sample pages
North America Is Highest Revenue Contributor
According to regional analysis, North America holds the largest market share. This is ascribed to the presence of a robust healthcare system, high spending on healthcare facilities, technological advancements in the sector, high prevalence of diseases, growing consumer awareness regarding effective disease management, and rising number of surgical procedures.
In the North American region, the U.S. is significantly contributing to the market advance. This is because of the rapid adoption of cutting-edge technologies in the nation, advanced medical infrastructure, and favorable reimbursement policies. The presence of key players is another major factor fueling the market growth in the country.
In addition, Europe is expected to exhibit significant growth during the projection time frame. This is attributable to the presence of top players in the region, existence of a common healthcare system for EU member countries, and rising spending on the medical sector.
Germany is significantly contributing to Europe's market growth. This is because of its growing healthcare budget, large elderly population, rapid adoption of solutions based on advanced technologies, and growing awareness among consumers of getting an early treatment for ailments.
Moreover, France will exhibit significant growth during the forecast period due to the improving healthcare facilities and growing disease burden.
Additionally, considerable market expansion is set to be seen in the U.K. This is owing to the technological advancements in patient monitoring solutions, high disease burden, and enhancing medical infrastructure. Furthermore, the requirement for e-medicine is on the rise due to the growing medical costs in the nation. Many key industry players are also involved in product launches. For instance, in June 2022, GE HealthCare Technologies Inc. introduced a portable monitoring system, namely Portrait Mobile, which helps in the detection of SpO2, PR, and dual-vector RR continuously.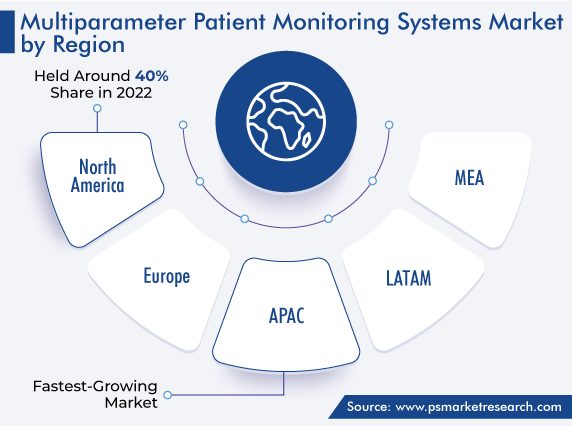 Top Companies Providing Multiparameter Patient Monitoring Systems Are:
GE HealthCare Technologies Inc.
Shenzhen Mindray Bio-Medical Electronics Co. Ltd.
Drägerwerk AG & Co. KGaA
Masimo Corporation
Skanray Technologies Limited
Spacelabs Healthcare Inc.
ICU Medical Inc.
SternMed GmbH
Bionet Co. Ltd.
Contec Medical Systems Co. Ltd.
Market Size Breakdown by Segment
This report offers deep insights into the multiparameter patient monitoring systems market, with size estimation for 2017 to 2030, the major drivers, restraints, trends and opportunities, and competitor analysis.
Based on Device Type
Based on Acuity Level
Based on Age Group
Pediatric
Adult
Geriatric
Based on End User
Hospitals
Homecare Settings
Ambulatory Surgery Centers
Geographical Analysis
North America
Europe

Germany
U.K.
France
Italy
Spain

Asia-Pacific

Japan
China
India
South Korea
Australia

Latin America
Middle East and Africa

Saudi Arabia
South Africa
U.A.E.