Market Overview
The cell dissociation market size stood at USD 381 million in 2022, and it is expected to advance at a compound annual growth rate of 17.10% during 2022–2030, to reach USD 1,347 million by 2030. This is primarily ascribed to the growing awareness of stem cell research, the rising advancements in technology, and the surging need for personalized medicine and monoclonal antibodies. Moreover, the increasing prevalence of infectious and chronic diseases, the rising number of pharmaceutical and biotech companies, and growing government funding for the development of new drugs are contributing to the demand for cell dissociation.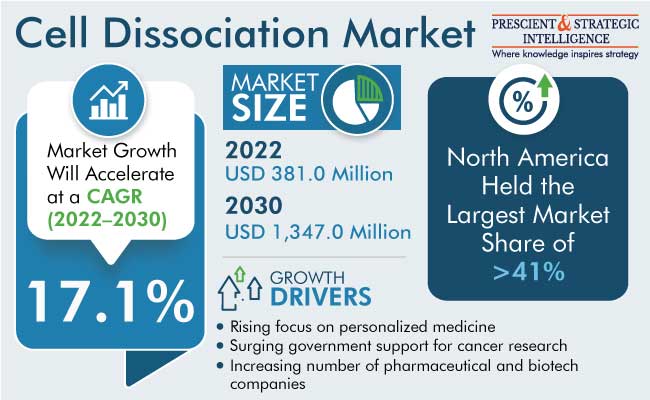 For the development of vaccination for the prevention of multiple diseases, the study of single cells and the dissociation of a cluster of cellules is required. Hence, the vaccine preparation requires cells to be dissociated for in-detail study, which, in turn, boosts the development in the market. Moreover, some novel techniques have been introduced for dissociating living units of life from a sample, such as several microfluidic devices for dissociating digested tissues into single cells and magnetic-activated cellular sorting for separating the population of cellulite into sub-population.
The advancements in microfluidics technologies have made studies possible at the single-cell level, such as nanowell arrays, cell-trapping microfluidic devices, and droplet microfluidic devices. These devices are known to have the capability to perform various biological reactions by trapping a single cell. Due to the increase in the accuracy of results and recent advancements, the demand has increased for single-cell analysis, which, in turn, boosts the cell dissociation demand. The various approved cellular products and cellulite for performing cell-based therapy (CBT) applications are used for different (stem) therapies and treatments of a broad variety of diseases. Thus, these factors drive the market growth.
Increasing Cases of Chronic Diseases Boost the Industry
The rising incidence of chronic illnesses mainly cancer, sustained expansion in the pharmaceutical and biotechnology sectors, acquisitions and collaborations by key players, and a strong trend of R&D investments in the life sciences industry and academia are other factors boosting the market. For instance, according to government reports, chronic diseases are responsible for approximately 75% of deaths all over the world, around 85% of premature deaths are reported in low- and middle-income countries, almost 4 million people are suffering from chronic respiratory diseases, and 2 million from diabetes. Thus, the increasing number of chronic illnesses is driving the growth of the market.
Enzymatic Dissociation Products Dominate the Industry
The enzymatic dissociation category dominates the market, accounting for a revenue share of over 48% in 2022. This is attributed to its greater efficiency, gentle nature, and widespread use in veterinary medicine, biotechnological processes, and tissue culture lab. Among enzymatic dissociation products, collagenases are widely used because of their large number of applications such as wound healing, burns, glaucoma, debridement, and keloid; presence in several organisms and animal cells; and availability.
In July 2020, the injection of collagenase is approved by the FDA for the treatment of cellulite in adult women. Because of its availability in the form of injection, the market is expanding in this category. Also, collagenase and hyaluronidase are successfully used as isolation enzymes in treating breast cancer. Further, with the rising prevalence of glaucoma, the use of collagenase is also increasing. For instance, in 2022, according to government reports, more than 80 million people suffered from glaucoma and more than 3 million cases were reported only in the U.S.
In addition, the trypsin category is expected to show significant growth during the forecast period. This can be attributed to various reasons such as it is used to treat digestive disorders and helps in protein digestion.
On the other hand, the non-enzymatic category is expected to witness the fastest growth in the coming years. This can be ascribed to the rising demand for non-enzymatic products because of their various advantages, such as non-toxic nature, ready-to-use, and high yield of viable cells during the dissociation process. It also reduces the risk of cellular damage, its components are derived from animals, and has gentle cellular disaggregation.
Furthermore, the instruments and accessories category is expected to show significant growth in the future. This can be due to their efficiency and speed of tissue dissociation at the point of care and controlled shear forces.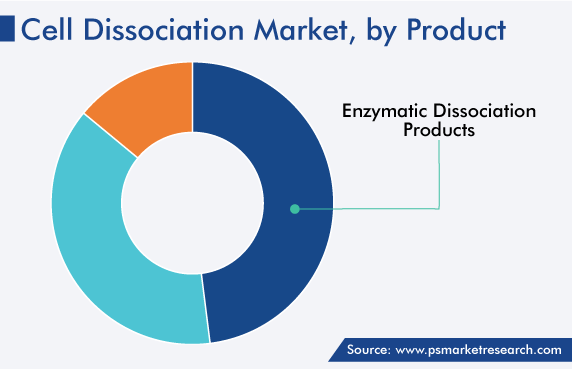 Connective Tissue Is the Leading the Category
On the basis of tissue type, connective tissue is leading the category because of the rising prevalence of cancer, which will rise the single cell-based research. For instance, according to government sites, around one in six deaths across the world was due to cancer in 2020. Moreover, it is composed of extracellular fibers and cells and the main component is collagen. The collagenase enzyme is used during the isolation of endothelial, epithelial, or adrenal tissue, and it is also used in the isolation of several cellulite types such as hepatocytes, adipocytes, and cardiomyocytes, and for the treatment of mammary or other soft tissues.
Pharmaceutical & Biotechnology Companies Hold Largest Share
Pharmaceutical and biotechnology companies account for the largest market share because of their rising R&D investments in various therapeutic areas for the introduction of novel drugs. Moreover, investments have also increased in various research activities including efficacy studies, clinical trials, and toxicity studies. These drive the need for dissociation products for the isolation of cells from primary tissues in pharmaceutical and biotechnology organizations.
Over the last few years, opportunities in the biopharmaceuticals sector have been increasing, as a result of the safety and great effectiveness of these drugs. Along with this, they provide several benefits, such as potent action and high effectiveness, have the potential to cure diseases rather than merely treat symptoms, and have fewer side effects, which have contributed to the growing demand for biopharmaceutical products. In addition, the increased spending in R&D activities by biopharmaceutical firms is further propelling the market in this category.
In emerging economies such as China, India, and Brazil, market players are expected to witness significant growth potential in the upcoming years, because of the increasing R&D efforts in these countries in the life sciences sector. For instance, pharmaceutical firms based in India are spending a lot of money on R&D to introduce novel medicines. An Indian pharmaceutical company, Cadila Healthcare Ltd. invested 7–8% of its revenue in R&D in 2021. Similarly, another pharmaceutical business with headquarters in India, Biocon spent USD 85.89 million in R&D in 2022. Thus, the rising investments in R&D by companies in developing countries are expected to fuel the demand for cell dissociation.
Cell Dissociation Market Report Coverage

| | |
| --- | --- |
| Report Attribute | Details |
| Historical Years | 2017-2022 |
| Forecast Years | 2023-2030 |
| Market Size in 2022 | USD 381 Million |
| Revenue Forecast in 2030 | USD 1,347 Million |
| Growth Rate | 17.10% CAGR |
| Report Scope | Market Trends, Drivers, and Restraints; Revenue Estimation and Forecast; Segmentation Analysis; Impact of COVID-19; Companies' Strategic Developments; Market Share Analysis of Key Players; Company Profiling |
| Segments Covered | By Product; By Tissue; By End User; By Region |
Explore more about this report - Request free sample pages
North America Is the Market Leader
North America has the leading position in the cell dissociation market, and it will also hold the same position in the coming years, accounting for a value of USD 552 million in 2030. This is attributed to the surging cases of cancer and glaucoma and the increasing need for biopharmaceutical products. In North America, the U.S. market holds the leading position, and it will grow at a CAGR of over 17.2%, during the forecast period. This can be attributed to the high focus on R&D related to biotechnology.
Moreover, in 2021, approximately 1.9 million cases of cancer were diagnosed and around 608,570 deaths were reported in the U.S., as per government reports. In the U.S., the major cause of cancer is cigarette smoking. Smoking prevalence is higher among Alaskan and American women than men, and about a quarter of people suffering from cancer are regular cigarette smokers. Due to a large number of cancer cases, it became important to study the physiology and anatomy of a single cell. For converting tissue clusters into single cells, dissociation is required because it helps in recovering fully functional units of life with several methods.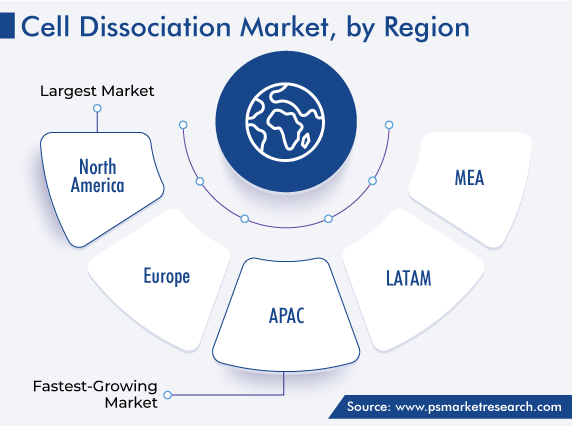 Rising Focus on R&D Activities by Biopharmaceutical Companies Drives the Industry
The major biopharmaceutical companies are focusing on the expansion of R&D in different therapeutic areas, in order to bring new pharmaceutical products. These players have initiated to invest significantly in toxicity studies, clinical trials, and efficacy studies, among others. In order to isolate cells from primary tissues, the majority of the research utilizes dissociation products. For instance, the pharmaceutical sector spent 7.2% of the total revenue on R&D in 2021, and it was evaluated that around 84 novel drug substances were launched, and approximately 6,000 products were in pipeline in 2021.
Additionally, biopharmaceutical companies are also focusing on the advancement of personalized medicine. Also, scientists and researchers are examining novel substances, so as to provide insights into the best medication targets and illuminate illness pathways. Therefore, it is expected that the market is fueled by the increasing R&D activities in the coming years.
Key Players in the Cell Dissociation Market Are:
Thermo Fisher Scientific Inc.
Becton, Dickinson and Company
F. Hoffmann-La Roche Ltd
STEMCELL Technologies Canada Inc.
PromoCell GmbH
VitaCyte LLC
Gemini BioProducts LLC
Innovative Cell Technologies Inc.
Worthington Biochemical Corporation
Capricorn Scientific
Market Size Breakdown by Segment
This fully customizable report gives a detailed analysis of the cell dissociation market from 2017 to 2030, based on all the relevant segments and geographies.
Based on Product
Enzymatic Dissociation Products

Collagenase
Trypsin
Papain
Elastase
DNASE
Hyaluronidase

Non-Enzymatic Dissociation Products
Instruments
Based on Tissue
Connective Tissue
Epithelial Tissue
Based on End User
Pharmaceutical and Biotech Companies
Research and Academic Institutes
Geographical Analysis
North America
Europe

Germany
U.K.
France
Italy
Spain

Asia-Pacific

Japan
China
India
South Korea
Australia

Latin America
Middle East and Africa

Saudi Arabia
South Africa
U.A.E.