Market Overview
The single-cell analysis market value stood at $3,839.0 million in 2021, and it is expected to advance at a CAGR of 11.6% during 2021–2030, to reach $10,304.3 million by 2030.
The growth can be ascribed to the increasing pace of technological advancements and rising prevalence of cancer. In 2020, the World Health Organization (WHO) reported about 10 million deaths due to malignancies. Moreover, single-cell analysis enables researchers to study the functions of cells in complex tissues. Researchers in the U.S. estimate that the majority of single cell isolating systems can analyze 800 cells at a time.
Among all types of cells, human cells are widely used for analysis, due to the rising prevalence of infectious diseases among older people, initiatives of governments for stem cell research, and the extensive use of human cells in research labs and academic institutes.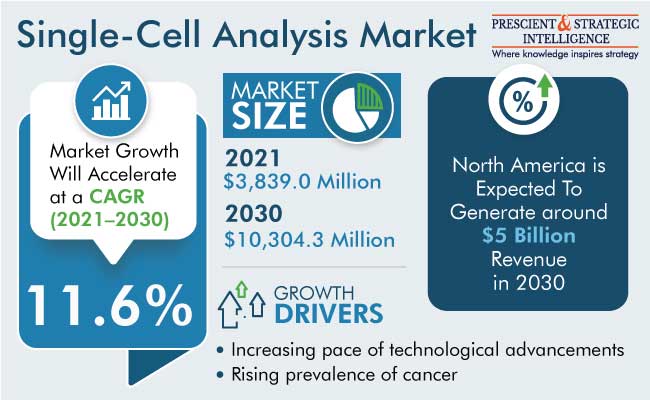 Various key players have announced the availability of new products, such as fixed RNA profiling and nuclei isolation kits, for single-cell analysis. For instance, in 2021, two U.S.-based biotechnology companies collaborated to launch the first portable single-cell RNA sequencing solution, which aids in RNA sequencing library preparation for different kinds of cells. Moreover, many U.S.-based companies are investing for accelerating the launch of AI-based platforms for the development of medicine.
The majority of the products work on the principle of whole-genome next-generation sequencing technology, which is able to analyze heterogeneity among cells with high accuracy. Moreover, many of these tests have a chromium platform, for the analysis of fragile human tissue samples.
North America Holds Largest Share in the World
North America has the leading position in the single-cell analysis market, and it will hold the same position till 2030, with a value of around $5 billion.
This is attributed to the rapid adoption of advanced analytical tools, robust healthcare system, various government funding programs, and the existence of a large pool of trained professionals. The surging demand for personalized medicine and rising prevalence of infectious diseases are the other key factors propelling the industry growth in this region. The existence of various key players and the increasing R&D expenditure are also credited for this.
In North America, the U.S. holds the leading position, and it will grow with a CAGR of over 10%, attributed to the favorable reimbursement policies for healthcare services. In 2021, approximately 1,000 different single cell RNA analysis tools were in wide usage across the U.S. The availability of such a wide diversity of tools makes the healthcare system of the country strong and, hence, contributes toward the market growth.
According to government statistics, around 350 deaths each day are caused by lung cancer, which is 2.5 times more than most other types. The increasing incidence of this disease in the U.S. has led to a rise in the demand for single cell analyses. Additionally, the whole-genome next-generation sequencing technology is being used for this purpose in the U.S. and Canada as it offers quicker and more-accurate results.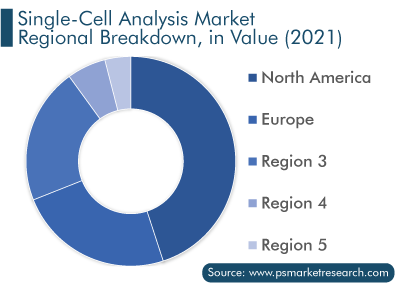 Moreover, as per government reports, the prevalence of cancer among American Indians and Alaskan natives is about 1,000 cases per 10,000, but this is 64% lower than in Whites. Cigarette smoking is the second-largest risk factor for cancer in the U.S. Smoking prevalence is higher among American and Alaskan women than men, and about a quarter of the people suffering from cancer are regular cigarette smokers.
The Asia-Pacific region is expected to show significant development because a large number of people here are suffering from infectious diseases, which is propelling the requirement for diagnosis. Moreover, governments organize various campaigns to create awareness about infectious diseases and advanced tools for diagnosing them at an early stage, which has driven the growth in the volume of such medical analyses in the region.
Consumables Accounted for Larger Share in Product Segment
The consumables category held the larger share, around 70%, in 2021, due to the increasing demand for isolation products, continuous purchase of reagents for research, and constant need for assay kits. An increase in the prevalence of target diseases and the continuous requirement for different products for exosome analysis and isolation of the DNA and RNA are also propelling the growth of this category.
The technological advancements in software tools, high-throughput assays, microfluidics, gene sequencing, and single cell amplification products and the widening availability of these products to healthcare settings, diagnostic laboratories, and academic institutions contribute in driving the sales growth.
The demand for instruments is growing at a lucrative rate, as they possess technically advanced features and superior clinical accuracy. Among instruments, NGS systems dominate the sales, as a large number of cells can be analyzed in a short period using this technology.
Single-Cell Analysis Market Report Coverage

| | |
| --- | --- |
| Report Attribute | Details |
| Historical Years | 2017-2021 |
| Forecast Years | 2022-2030 |
| Market Size in 2021 | $3,839.0 Million |
| Revenue Forecast in 2030 | $10,304.3 Million |
| Growth Rate | 11.6% CAGR |
| Report Scope | Market Trends, Drivers; Revenue Estimation and Forecast; Segmentation Analysis; Companies' Strategic Developments; Market Share Analysis of Key Players; Company Profiling |
| Segments Covered | By Product; By Application; By End User; By Region |
Explore more about this report - Request free sample pages
Oncology Application Holds Largest Share in the World
Among various applications, such as oncology, stem cell, neurology, non-invasive prenatal diagnosis, immunology, and IVF. Oncology holds among the largest shares, because researchers believe that single-cell analysis is the most effective for the diagnosis of cancer.
The most-widely occurring cancers are breast, lung, colon, rectum, and prostate cancers. According to the American Cancer Society, after coronary illnesses, cancer continues to be the second-biggest reason of death in the U.S. In 2022, a total of 1.9 million cases of cancer and about 609,360 deaths are expected. Moreover, it is estimated that about 8 in 10 deaths from lung cancer result from smoking cigarettes and exposure to radon gas.
Further, according to the WHO, in low-and-middle-income countries, about 30% of the cancer cases are due to the human papillomavirus. Moreover, researchers in the U.S. estimate that about 1 in 8 U.S. women will develop breast cancer during their life. Moreover, as per government reports, it is estimated that about 10,470 children and 5,480 adolescents will be diagnosed with cancer each year.
It is necessary to detect cancer at an early stage, to reduce the number of deaths. An increase in the prevalence of this disease is, thus, driving the market for single-cell analysis.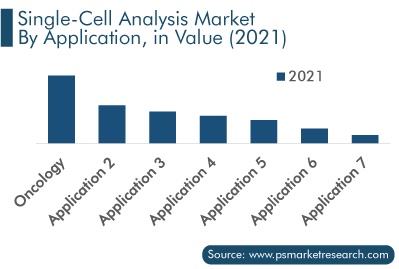 Academic and Research Laboratories Make Largest Contribution in Revenue
Academic and research laboratories hold the largest share due to the introduction of spatial genomics. Moreover, the development of new tools and technological advancements, such as the use of microfluidics, are driving the market for single-cell analysis. The growth is essentially because of a significant increase in the number of research and academic laboratories.
Increasing Demand for Precision Medicine Drives Growth of Market
In 2022, a U.K.-based biopharmaceutical company announced its collaboration with a precision medicine software company to accelerate the detection of disease from biobanks, for the development of medicine using the data.
Precision medicine aids in observing and treating patients according to individuals' physiological profile. Thus, due to the usage of advanced technology and development of various novel tools, the single-cell analysis market continues to make advances. Such studies allow researchers to find out the exact disease-causing cells, which can help in the identification of a suitable drug and the development of more-accurate biomarkers.
Precision medicine investigates insights into diseases using innovative technology and provides patients with the required treatment. It uses biomarkers to determine the risk and response to treatment by the patient.
The Government of the U.S. has made various investments for the development of precision medicine. The U.S. National Institute of Health (NIH) is supporting the usage of single-cell analysis through a common funding program. The identification of single cells in diseased tissues can determine the cell type involved; thus, the medicine can be customized correctly.
Major Players in Single-Cell Analysis Market Are:
Becton, Dickinson and Company
Danaher Corporation
Merck KGaA
Thermo Fisher Scientific Inc.
QIAGEN NV
Promega Corporation
Illumina
Market Size Breakdown by Segment
The report offers a comprehensive market segmentation analysis along with market estimation for the period 2017-2030.
Based on Product
Consumables

Beads
Microplates
Reagents
Assay kits

Instruments

Flow cytometers
NGS systems
PCR instruments
Spectrophotometers
Microscopes
Cell counters
Based on Application
Oncology
Stem Cell
Neurology
Non-Invasive Prenatal Diagnosis
Immunology
In-Vitro Fertilization (IIVF)
Based on End User
Hospitals & Diagnostic Laboratories
Cell Banks & IVF Centers
Biotechnology & Biopharma Companies
Research & Academic Institutions
Geographical Analysis
North America
Europe

Germany
U.K.
France
Italy
Spain

Asia-Pacific

Japan
China
India
South Korea
Australia

Latin America
Middle East and Africa

Saudi Arabia
South Africa
U.A.E.