Market Overview
The global carbon black market is expected to reach USD 19,135.3 million by 2030 from USD 13,622.8 million (E) in 2023, witnessing 5% CAGR during 2023–2030.
The development is because of the surging usage of this product in the manufacturing of plastics. Essentially, the augmenting usage of such polymers in electrical and electronic goods propels the need for carbon black. This raw material is created during the partial combustion or thermal decomposition of oil or natural gas as the feedstock, utilizing any of the four key processes: acetylene black process, furnace black, Lampblack process, and channel process.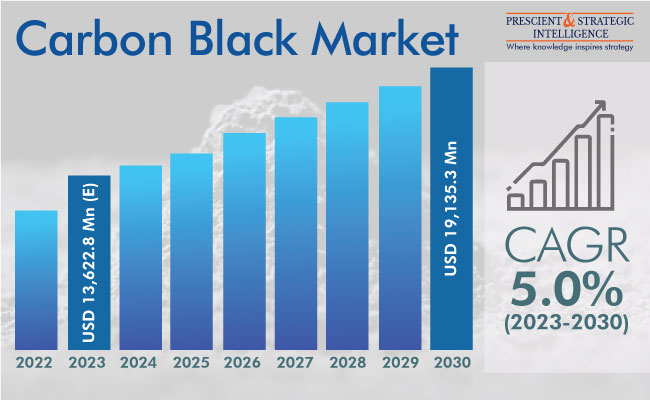 Among such approaches, furnace black is utilized the most extensively due to its high production capacity. It involves combusting heavy petroleum derivatives, such as fluid catalytic cracking tar, ethylene cracking tar, and coal tar, along with vegetable oil.
Industry dynamics heavily depend on the utilization of electronic discharge compounds, rubber, and inks and the numerous guidelines governing raw materials and manufacturing technologies, especially those of the governing bodies in North America and Europe.
Tire Category Is Largest because of Rapid Growth in Automotive Industry
The tires category is dominating the market, under the application segment, as carbon black is extensively utilized in tire making, by mixing rubber as a solidification agent and filler. Different types of this material are utilized in carcasses, treads, inner liners, and sidewalls, on the basis of specific performance needs. The tire demand is itself driven by the rebound of the automotive industry post the lockdown, people's rising disposable income, and rapid urbanization.
Plastics Category Is Witnessing Fastest Growth
The plastics category is growing at the highest pace. Carbon black is extensively utilized for conductive packaging, films, semi-conductive cable compounds, fibers, moldings, and pipes. Other key applications of plastics made from this material are refuse sacks, industrial bags, agriculture mulch film, stretch wraps, and photographic containers. It is utilized in the making of conductive plastics as it displays electrical conductivity and antistatic properties.
Fast Growth in Rubber Demand To Drive Industry Advance
The rubber industry is growing quickly, credited to the rising demand for it from the consumer goods, automotive, construction, and electronics industries. For these sectors, rubber products are used in making belts, tires, gaskets, wires & cables, hoses, windows & doors, and air springs. Almost every rubber compound contains carbon black as a filler, to strengthen and improve its physical characteristics. Moreover, it helps in solidifying the volume and vulcanization of rubber.
It also conducts heat away from the tread & belt area of tires, which can elongate their life and enhance fuel economy, vehicle handling, and abrasion resistance. This is why it is widely used in numerous parts of tires, including sidewalls, carcasses, and inner liners. The growing consumption of rubber in the tire sector, itself driven by the burgeoning automotive production and sales, will propel the market during the projection period.
Standard Grade Is Dominant due to Growing Industrial Applications
On the basis of grade, the industry is divided into specialty and standard, of which the standard category holds the dominating carbon black market share. This is because of the rising acceptance of standard-grade rubber items, such as cables, tires, and wires, for numerous industrial applications.
Moreover, the specialty category is projected to have a substantial development rate in the coming years because of the increasing usage of specialty carbon black in the inks & coatings and plastic sectors.
Carbon Black Market Report Coverage

| | |
| --- | --- |
| Report Attribute | Details |
| Market Size in 2023 | USD 13,622.8 Million (E) |
| Revenue Forecast in 2030 | USD 19,135.3 Million |
| Growth Rate | 5.0% CAGR |
| Historical Years | 2017-2022 |
| Forecast Years | 2023-2030 |
| Report Scope | Market Trends, Drivers, and Restraints; Revenue Estimation and Forecast; Segmentation Analysis; Impact of COVID-19; Companies' Strategic Developments; Market Share Analysis of Key Players; Company Profiling |
Explore more about this report - Request free sample pages
Asia-Pacific Region Is Dominating Market
In recent years, the Asia-Pacific region dominated the global industry, followed by the European and North American regions. The high need for tires is projected to continue to aid the industry advance in this region. Further, the rapid financial development, along with the quick urbanization and industrialization in the developing countries of Asia-Pacific, has fueled the demand for carbon black. The increasing foreign direct investments and supportive guidelines are further propelling the industry development.
As a result, the region is quickly becoming a major manufacturing center, which has augmented the need for the raw material in recent years. Key North American and European manufacturers are moving their production facilities to nations such as Vietnam, India, and China, as they offer cheap labor and have supportive government regulations. The increasing production of vehicles is also projected to boost the demand for this raw material over the projection period.
The North American market is led by the U.S., in terms of both production and consumption. The need for tires in the continent has augmented with a growth in the count of those being replaced each year. Furthermore, the continuous recovery of the automobile and construction sectors post the pandemic is driving the demand for coatings, paints, and rubber.
The U.S. tire market is projected to witness a rise in demand, propelled by the increasing automotive sales in the nation. Tire makers are setting up new units close to automobile production centers and integrating progressive technologies. The U.S. carbon black market is further boosted by the rising environmental worries. The need for high-performance coatings is also on the surge, boosted by the growth of numerous industries, such as aerospace, automotive, marine, and general manufacturing.
Introduction of New Variants Powering Market Advance
To gain a larger market share and target more customers, players continue to innovate their offerings of carbon black. For instance, in October 2021, Cabot Corporation introduced VULCAN 3-LP carbon black, a low-PAH variant, for rubber applications.
Moreover, in June 2021, Orion Engineered Carbons S.A. introduced ECORAX Nature, a new renewable carbon black item, for rubber production. It is made from plant-based oils of industrial grade, which are non-fossil-derived and renewable.
Geographical Expansions and Partnerships Are Key Market Trends
Many key players in the industry emphasize expanding their production output and integrating newer production technologies for carbon black. For example, Cabot Corporation has operationalized industrial units in the emerging economies of Asia for quicker and inexpensive production. Partnerships with suppliers of raw material and end users will further aid the players in attaining a substantial industry share over the projection period.
Some key companies in worldwide carbon black industry include:
Orion Engineered Carbons Holdings GmbH
Sid Richardson Carbon & Energy Co.
Tokai Carbon Co. Ltd.
Asahi Carbon Co. Ltd.
Ralson Goodluck Carbon
Atlas Organic Pvt. Ltd.
Continental Carbon Co.
OCI Company Ltd.
Birla Carbon
Bridgestone Corp.
Cabot Corporation