Market Overview
The global biodegradable mulch film market was valued at $50.8 million in 2022, and the size is predicted to reach $87.8 million by 2030, advancing at a CAGR of 7.1% during 2022–2030. The industry is driven by the growing awareness regarding the harmful effects of inorganic mulching and supportive government regulations.
Starch is widely used as a raw material for biodegradable mulch films, owing to the unavailability of conventional film-forming resins. Starch-based film is expected to register significant growth, as they are less expensive as compared to other raw materials, and are also abundantly available. Moreover, benefits, such as weed control, maintenance of soil structure, and prevention of crops from soil contamination offered by starch-based biodegradable mulch film are highly appreciated by users. Moreover, farmers have shifted their focus toward the adoption of starch as a raw material, as usage of inorganic mulch film leads to increased environmental concerns.
The rapidly increasing global population offers a major growth opportunity for the industry. APAC is expected to be the largest market in the future, owing to the increasing population. Growing population would result in high demand for crop production, thereby driving the market. Moreover, the rise in population would lead to reduction of agricultural land, thereby compelling the farmers to produce more in the same agricultural landholding.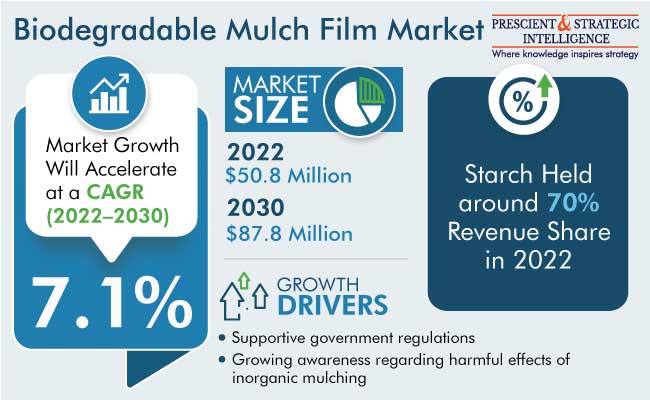 Moreover, Supportive government regulations for organic mulching across the globe is one of the major factors driving the market. As per the degradation standards to compost (ISO 17088, ASTM D6400), 90% of the carbon, which is organic, is required to be converted CO2, limiting the acceptance of inorganic mulching technique.
Starch is Widely Used
Starch had the largest market share of around 70% in 2022. Starch has been the largest raw material till now, due to its several benefits, such as low cost, compatibility with different soil types, and environmental sustainability. Owing to such benefits, the use of starch-based mulch film is growing among end users across the globe. Starch is employed as a viscosifier, emulsifier, defoaming agent, encapsulant, and sizing agent in a variety of industrial applications. Starches are prized for their ability to impart textural properties as well as providing gelling or film formation.
Starch-based film is expected to register significant growth, as they are less expensive compared to other raw materials, and are also abundantly available.
Moreover, thermoplastic starch (TPS) is environment friendly which can be used as an organic fertilizer. To some extent, the accumulation of plastic materials might contribute to environmental pollution. Although, most old plastics are resistant to microbial attack, the pollution caused by them is primarily aesthetic. As a result, there is growing interest in the creation of biodegradable polymers, produced from renewable natural resources. Many basic and advanced studies, which term starch as an inexpensive and abundant natural polymer are now being done. The research and production of biodegradable TPS is important in reducing total synthetic plastic waste.
PHA held significant share in 2022. This is mainly because, these are insoluble in water and relatively resistant to hydrolytic breakdown with good UV protection. PHA is also appropriate for medical purposes as chloroform and other chlorinated hydrocarbons are soluble in it and it is biocompatible and nontoxic. PHAs are also unique in that, they are both bio-based and biodegradable. "Bio-based" is a fairly broad term that simply signifies a material was derived entirely or partially from an organic (typically plant-based) source. Bio-based plastics are very different from more frequent petroleum-based polymers.
Fruits & Vegetables Dominates the Market
The demand for biodegradable mulching for fruit & vegetables is growing, owing to its low life time cost and ban on inorganic mulching materials in many countries. Globally, almost 2,500 square miles of agricultural land is used for mulching of fruits & vegetables. Around 99% of the mulching of fruits & vegetables is conducted by using polyethylene mulch. Polyethylene mulch is spread as a protective layer on top of the soil in crop production, as it offers benefits such as, soil conservation, decreases soil erosion, and maintains soil temperature. The mulching of fruits and vegetables also aids faster crop growth, weed control, better moisture retention, minimized fertilizer leaching, and improved crop quality.
Growing Awareness Regarding Harmful Effect of Inorganic Mulching
Mulching done with the use of inorganic materials, such as black polyethylene causes increased environmental hazards and human health risks globally, thereby driving the market for biodegradable mulch film. The production of inorganic mulching materials uses plastics derived from petroleum, typically polyethylene, which causes a problem with mulching waste management. They also harm the environment and cannot be composted. However, components for biodegradable mulch films are derived from organic substances like plants and animals. According to estimates, inorganic mulching contributes to the production of 0.4–0.6 million tons (Mt) of plastic trash annually in the European Union.
Moreover, the depletion of the plastic waste takes about 16 hours per hectare with the use of machines and still requires manpower. However, the waste which is produced by organic mulching or biodegradable mulching should not be disposed just as the one produced by inorganic mulching. Waste from biodegradable mulching is converted into methane, carbon dioxide, water, or biomass, thus benefiting the soil used for agriculture and causing no damage to environment.
Biodegradable Mulch Films Market Report Coverage

| | |
| --- | --- |
| Report Attribute | Details |
| Historical Years | 2017-2022 |
| Forecast Years | 2023-2030 |
| Market Size in 2022 | $50.8 Million |
| Revenue Forecast in 2030 | $87.8 Million |
| Growth Rate | 7.1% CAGR |
| Report Scope | Market Trends, Drivers, and Restraints; Revenue Estimation and Forecast; Segmentation Analysis; Impact of COVID-19; Companies' Strategic Developments; Market Share Analysis of Key Players; Company Profiling |
| Segments Covered | By Raw Material; By Crop Type; By Region |
Explore more about this report - Request free sample pages
APAC held the Largest Share
APAC held the largest revenue share of around 40% in 2022. The increase in population in countries of the region has given rise to increased requirement for food; thus, farmers have adopted the use of biodegradable mulching technique, owing to the adverse effects of inorganic mulching on the environment. The use of these film also enhances crop yield, thereby making itself the first preference of farmers for mulching in the region. Manufacturers like BASF SE are investing in China due to increased demand from APAC.
Moreover, farmers were forced to produce more on the same land due to expanding population and dwindling agricultural land as a result of industrialization and urbanization.
Moreover, Europe held the second largest share in the market. In Europe, 95% inorganic mulching includes the use of fossil-based and non-biodegradable materials that are mostly manufactured outside Europe. Benefits offered by biodegradable mulching technique has encouraged farmers to use this technique for crop production. Governments of France and Italy have formulated regulations regarding the use of biodegradable mulch films. Moreover, the European Committee for Standardization (CEN) is also working on developing a European standard regarding the use of these films. Furthermore, European Fertilizers Regulation and European Bioplastics recommend, including biodegradable mulch films as a soil improver for farmers.
Moreover, the market for biodegradable mulch film in LAMEA is relatively new as compared to other regions. Farmers have been widely using inorganic mulching materials for crop production in the region. However, unfavorable effects of these materials on the environment have led to high adoption of mulching technique from biodegradable resources.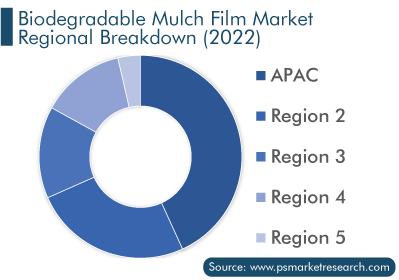 Top Biodegradable Mulch Film Manufactures Are:
BASF SE
Kingfa Sci & Tech Co. Ltd.
BioBag International AS
RKW Group
AEP Industries Inc.
AL-PACK Enterprises Ltd.
Novamont SpA
Armando Alvarez Group
Yifan Pharmaceutical Co. Ltd.
Market Size Breakdown by Segment
This fully customizable report gives a detailed analysis of the biodegradable mulch film market from 2017 to 2030, based on all the relevant segments and geographies.
Based on Raw Material
Starch
Polylactic Acid (PLA)
Polyhydroxyalkanoates (PHA)
Based on Crop Type
Fruit & Vegetables
Grains & Oilseeds
Flowers & Plants
Geographical Analysis
North America
Europe

France
Germany
Italy
Spain
U.K.

Asia-Pacific

China
India
Japan
South Korea
Australia

Latin America
Middle East and Africa

Saudi Arabia
South Africa