Market Overview
The global bromine derivatives market revenue is estimated to stand at USD 4,378.0 million in 2023 and expected to reach USD 5,614.1 million by 2030, advancing at a CAGR of 3.7% during 2024–2030. The wide application of these chemicals in the construction, pharmaceutical, oil & gas, automotive, and electronics industries, along with the surging demand for rubber and plastic products, is the key driver for the market growth.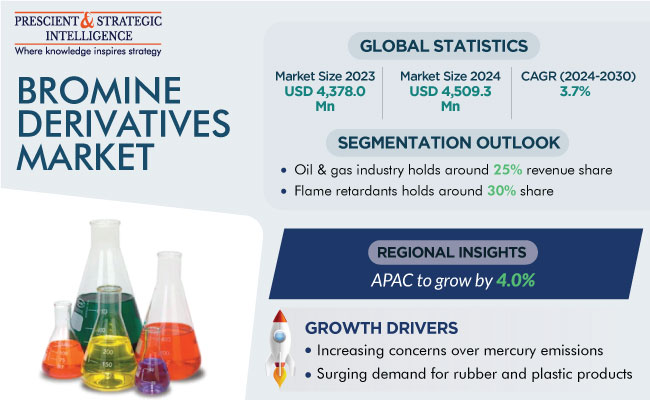 Bromine is a non-metallic element that is typically found in a fuming, reddish-brown liquid state at room temperature. It has properties similar to those of chlorine and iodine, along with a choking and irritating odor. Compounds derived from bromine play a significant role in the electronics industry, specifically the manufacturing of rechargeable batteries. Moreover, due to its chemical stability, NaBr is used in conjunction with other chloride and bromide solutions.
Increasing Concerns over Mercury Emissions Are Strong Market Driver
According to the U.S. Environmental Protection Agency (EPA), annual global mercury emissions from anthropogenic (man-made) sources are approximately 2,220 metric tons, with waste incinerators, coal-fired power plants, and residential heating systems as the chief sources. Mercury is hazardous as it can disperse through air, and even a minor amount can inflict significant harm.
Consequently, NaBr is employed in conjunction with activated carbon in power plants to reduce the adverse effects of mercury emissions. Power plants worldwide rely on bromine derivatives to comply with the government regulations to effectively reduce harmful emissions. Hence, with an increasing number of power plants around the world complying with such regulations, the market will continue to grow in the years ahead.
Sodium Bromide To Be Best-Selling Compound
Sodium bromide (NaBr), an inorganic, white, crystalline, non-flammable compound, dominates the market, on the basis of derivative. In the TEMPO-mediated oxidation processes, it acts as a catalyst. The demand for this chemical is expected to rise as regulations governing mercury emissions from coal-fired power plants and industrial boilers become more stringent in response to their adverse effects on both human health and the environment.
Further, calcium bromide (CaBr) usage is forecast to grow primarily due to the rising production of polymer-brominated-base flame retardants. The expanding application of drilling fluids is also expected to enhance the growth potential of this category. Moreover, the rising demand for CaBr in freezing mixtures, food preservatives, and pharmaceutical manufacturing will contribute to the category's growth.
ZnBr2 is another significant bromine derivative, as it is utilized for the production of batteries and additives for the glass industry, as well as for drilling purposes. As oil drilling technologies advance, the use of bromine-based drilling solutions will progressively expand worldwide.
ZnBr2 also serves as a transparent shield against radiation, which is why it is employed as an electrolyte in rechargeable zinc bromide batteries for energy storage in the nuclear power sector. These batteries are cost-effective to produce due to the abundance of zinc, which offers cost advantages to end users.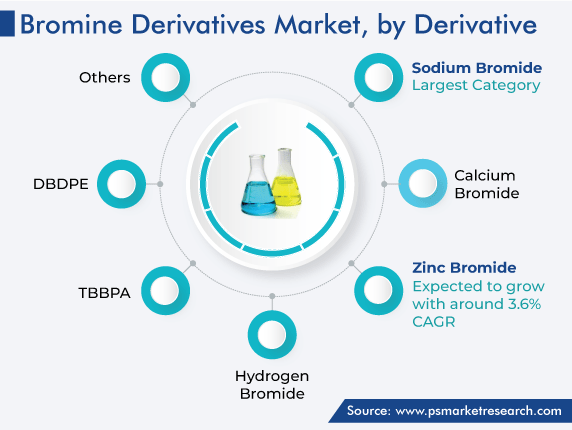 Flame Retardants Dominate Market
The flame retardants category holds the largest market share, and it will advance at a CAGR of 3.5% over the forecast period, under the application segment. Brominated flame retardants have various applications in electronic housing and electric connectors as well as in polyurethane foam, to provide protection from overheating. Such materials extinguish fires by disrupting the fire cycle in the gaseous phase. This interruption halts the chemical chain reaction and slows the fire's propagation, which allows additional time for evacuation from the area. As a result, the demand for these chemicals is increasing from industries such as electricals, rubber, textile, automotive, and construction. Moreover, brominated flame retardants are frequently used in malls, offices, trains, cars, theaters, flights, and other places.
Bromine derivatives also play a crucial role in purified terephthalic acid (PTA) synthesis, which is why this application is another significant contributor to the market revenue. PTA serves as an intermediate in the manufacturing of polyester films, fibers, and other products. Bromine derivatives act as a catalyst in the reaction that transforms raw materials into PTA. These derivatives help enhance the efficiency and selectivity of the synthesis process, which is why they are a fundamental ingredient in the polyester industry.
Bromine Derivatives Market Report Coverage

| | |
| --- | --- |
| Report Attribute | Details |
| Market Size in 2023 | USD 4,378.0 Million |
| Market Size in 2024 | USD 4,509.3 Million |
| Revenue Forecast in 2030 | USD 5,614.1 Million |
| Growth Rate | 3.7% CAGR |
| Historical Years | 2017-2023 |
| Forecast Years | 2024-2030 |
| Report Scope | Market Trends, Drivers, and Restraints; Revenue Estimation and Forecast; Segmentation Analysis; Impact of COVID-19; Companies' Strategic Developments; Market Share Analysis of Key Players; Company Profiling |
| Segments Covered | By Derivative; By Application; By End User; By Region |
Explore more about this report - Request free sample pages
Oil & Gas Industry Leads Market
In the future, the oil & gas category is expected to lead the market and advance with a considerable CAGR, under segmentation by end user. In the oil & gas sector, bromine derivatives are used as clear brine fluids to drill wells. As these chemicals have a high density, they prevent the migration of fluids between underground formations through the wellbore. Countries that have increased their activities in the oil & gas sector would continue to witness a high demand for clear brine fluids.
Thus, the increasing exploration activities in the global oil & gas sector, especially in Asia-Pacific and Latin America, create a highly conducive environment for the bromine derivatives market expansion. In particular, these activities lead to an extensive usage of CaBr and NaBr as drilling fluids for the petroleum extraction process.
Rapid growth is also being seen in the electronics industry with respect to the usage of bromine derivatives, as plastics are extensively used in the manufacturing of electrical components. Bromine compounds are used in many applications, such as electronic casings and components, printed circuit boards, connectors, wires & cables, and switches.
The wastewater treatment category is expected to witness a high CAGR over the forecast period. The growing consumption of derivatives from bromine for water disinfection and industrial cooling water treatment purposes, in line with the emphasis on sustainability, along with industries' usage of comprehensive water treatment solutions to enhance recyclability, will drive the market during the forecast period. Moreover, according to the UN data of 2020, around 56% of the household wastewater flows were safely treated globally.
Pharmaceutical companies are another significant end user in the market for bromine derivatives, driven by the rising utilization of NaBr in the manufacturing of medical intermediates as reagents that introduce functional groups or structural elements into a molecule; they can also act as a catalyst. Therefore, bromine and its derivatives act as a major component in various types of prescription medications, such as sedatives, analgesics, and antihistamines. They are also used as an ingredient in anti-epilepsy medicines (AEDs) due to their anti-seizure properties. Moreover, NaBr is used in hypnotics and sedatives, while CaBr is used in neuroses medicine.
Asia-Pacific Is Fastest-Growing Market
Asia-Pacific is projected to grow at a CAGR of 4.0% for the forecast period, due to the large population and rise in infrastructure development activities. China's bromine derivatives market holds the largest share in the region, and India's is the fastest-growing. According to the European Chemical Industry Council (CEFIC), China is the largest chemical producer in the world, contributing 43% of the global chemical sales in 2021.
The North American bromine derivatives market is growing at a significant rate too, and it is currently the second-largest in the world. The demand for these chemicals is primarily driven by the rapid rise in the extraction & production of natural gas in the region.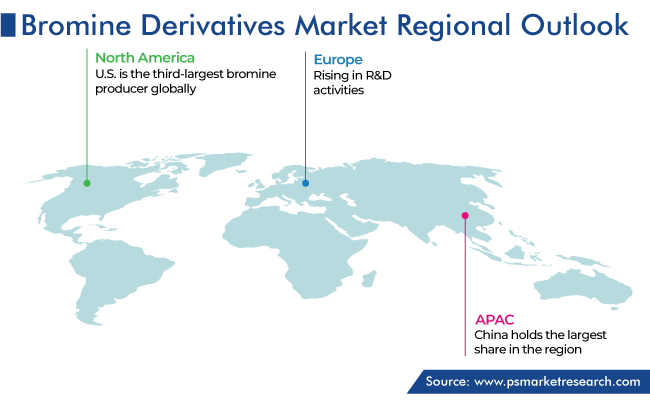 The U.S. is also the third-largest bromine producer globally. Several industries that consume bromine derivatives either as a raw material or as an ingredient in end-use products are well-established in the country. Moreover, the future rise in the sales revenue of these compounds in the U.S. can be attributed to their increasing demand in the pharmaceutical, chemicals, oil & gas, among other industries.
Some Key Global Players in Bromine Derivatives Market Are:
Albemarle Corporation
Honeywell International Inc.
TETRA Technologies Inc.
Tosoh Corporation
Lanxess AG
Neogen Chemicals Limited
Israel Chemicals Limited
Tata Chemicals Limited
Gulf Resources Inc.
Jordan Bromine Company
Market Size Breakdown by Segment
This fully customizable report gives a detailed analysis of the bromine derivatives industry from 2017 to 2030, based on all the relevant segments and geographies.
Based on Derivative
Sodium Bromide
Calcium Bromide
Zinc Bromide
Hydrogen Bromide
Tetrabromobisphenol A (TBBPA)
Decabromodiphenyl Ethane (DBDPE)
Based on Application
Flame Retardants
Safety Apparel
Organic Intermediates
Oil & Gas Drilling
Biocides
PTA Synthesis
Based on End User
Chemical
Construction
Oil & Gas
Pharmaceuticals
Electronics
Geographical Analysis
North America
Europe

U.K.
Germany
France
Italy
Spain

Asia-Pacific

China
Japan
Australia
India
South Korea

Latin America
Middle East & Africa

Saudi Arabia
South Africa
U.A.E.