Market Overview
The zinc chemicals market size stood at USD 1,050.5 million in 2023, and it is expected to grow at a CAGR of 5.2% during 2024–2030, to reach USD 1,485.6 million by 2030. This is primarily ascribed to the increasing usage of such chemicals in the agriculture, automotive, construction, and healthcare industries and the growing research and development related to the advancements in Zn nanoparticles.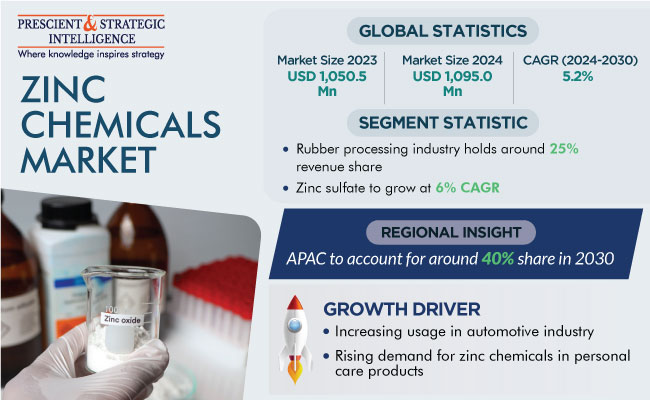 The amount of Zn is reduced in the body due to several issues related to health such as Crohn's disease and ulcerative colitis. This is because of the absorption of some amount and the remaining amount is lost through urine. In addition, a newborn who is older than six months is not getting the required amount of zinc from the mother's breast. According to various research, it has been predicted that individuals who are 60 years and above are suffering from its deficiency because people in older age eat fewer zinc-based products. Thus, it is necessary for them to take Zn supplements.
In addition, Zn is needed in trees and plants because it is important for performing various functions such as photosynthesis, membrane function, phytohormone synthesis, seedling vigor, protein synthesis, protection against several problems, sugar formation, and also protection from drought. The agricultural soils that are deficient in Zn are mostly found in India and deficiency is expected to increase by 2025 from 50% to 63%. It has been predicted that in several states of India, almost 80% of agricultural soils are zinc deficient.
Moreover, it has been evaluated that several materials used in the construction sectors, such as fasteners and steel beams, have a plating of zinc material for the purpose of avoiding and tolerating the worst weather conditions coupled with UV light at the time of outdoors. Thus, these factors are driving the requirement for zinc chemicals across various sectors.
Zinc Chemicals Market Report Coverage

| | |
| --- | --- |
| Report Attribute | Details |
| Market Size in 2023 | USD 1,050.5 Million |
| Market Size in 2024 | USD 1,095.0 Million |
| Revenue Forecast in 2030 | USD 1,485.6 Million |
| Growth Rate | 5.2% CAGR |
| Historical Years | 2017-2023 |
| Forecast Years | 2024-2030 |
| Report Scope | Market Trends, Drivers, and Restraints; Revenue Estimation and Forecast; Segmentation Analysis; Impact of COVID-19; Companies' Strategic Developments; Market Share Analysis of Key Players; Company Profiling |
| Segments Covered | By Type; By End User; By Region |
Explore more about this report - Request free sample pages
Zinc Oxide Holds a Major Share
The zinc oxide category holds a major revenue share in the market. This is attributed to the growing usage in skincare products, as it has anti-aging and anti-bacterial properties, and zinc oxide nanoparticles are used for killing selective cancerous cells. It also has various antiseptic properties that help in healing wounds and avoiding infections that are caused by bacteria, and it also acts as a physical barrier. Along with these, it helps in preventing allergies and rashes.
Whereas, the demand for zinc chloride is also growing at a significant rate, ascribed to the fact that it is used for the treatment of zinc deficiency and to maintain the levels of Zn. It is also used in water treatment facilities for inhibiting corrosion. The various advantages associated with it include easy handling, cost-effectiveness, acting as a broad-spectrum catalyst, and moderate toxicity.
On the other hand, the demand for zinc sulfate is growing at a rapid pace because of its applications in minimizing acne and promoting wellness. It can be given to patients orally for oral rehydration therapy for the purpose of minimizing the severity and time taken for treatment. Moreover, in the chemical industry, it is added to fertilizers for fastening up the process of plant growth and development.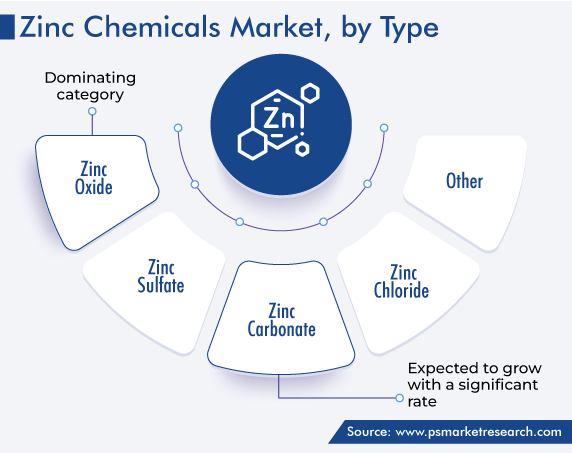 APAC Makes Largest Contribution to Global Revenue Generation
APAC has the leading position in the zinc chemicals market, and it will hold the same position till 2030, with a value of more than USD 0.4 billion. This is attributed to the increasing usage of zinc chemicals across several end-user sectors, the surging disposable income of individuals, and the growing agriculture and construction industries in the region.
For instance, according to government sites, around 33% of the current population and more than 40% of the population by 2030 would live in cities in India, which further increases the necessity for around 25 million housing units. This will boost the growth of the construction industry, which, in turn, will fuel the market.
Moreover, in several countries such as India and China, the agrochemical industry is growing, which is boosting the demand for zinc chemicals, due to their reduced prices and being easily available. In these countries, agriculture has prime importance in their economy, and zinc is used in plants for the prevention of deficiencies and it makes fertilizers affordable and available across the globe.
In APAC, the Chinese market holds the leading position, and it will grow at a CAGR of 6.1% during the forecast period. This is attributed to the growing construction activities and the increasing sales of automobiles in the country.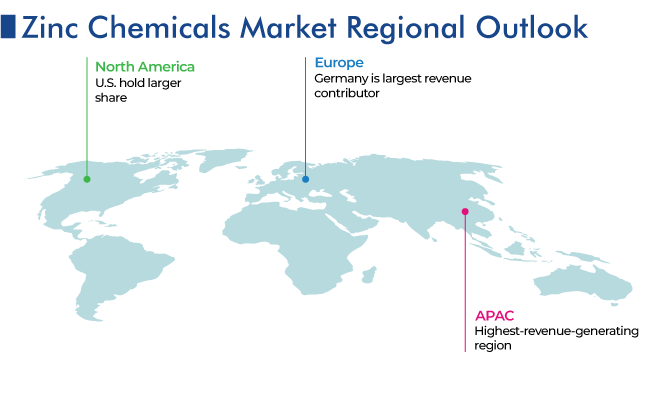 Rubber Processing Industry Is the Largest End User
Rubber processing is the largest end-user category in the market. This is because zinc chemicals are highly used in the rubber industry, due to their useful chemical, physical, and optical properties for rubber processing and also act as an activator in the industry. Moreover, the chemicals are known to provide strength and resistance in contrast to high temperatures, which aids in providing a protective shield related to UV damage. In addition, they have a wide application for the manufacturing of tubes and tires, whose demand is rising due to the surging need for vehicles, which, in turn, boosts the market growth. For instance, in March 2023, according to the Association of Natural Rubber, the production of natural rubber is increasing by 2.7%.
Rising Demand for Zinc Chemicals in Personal Care Drives the Market
The demand for such chemicals is increasing for the production of personal care products because they have a wide range of advantages in cosmetics and can be used as a colorant and bulking agent. These have been utilized in sunscreens for protection against ultraviolet radiation and also used in over-the-counter drugs for diaper rashes for protecting the skin. Moreover, they are approved by the U.S. Food and Drug Administration (FDA) and various organizations in Australia, Japan, Canada, and the European Union.
For the purpose of fighting infection, zinc is required in the body, as individuals not have the required quantity in their bodies are more prone to get infections. In the case of baby care creams and other products, it is used as an active pharmaceutical ingredient (API). Along with this, it aids in moisturizing the skin to keep it hydrated, lightening dark spots in order to enhance the complexion, and making skin acne free.
Key Players in the Zinc Chemicals Market Are:
American Chemet Corporation
EverZinc
Flaurea Chemicals
Global Chemical Co. Ltd.
Hakusui Tech
Intermediate Chemicals Company
Rech Chemical Co. Ltd.
TIB Chemicals AG
Weifang Longda Zinc Industry Co. Ltd.
Zochem LLC
Market Size Breakdown by Segment
The report analyzes the impact of the major drivers and restraints on the zinc chemicals market, to offer accurate market estimations for 2017–2030.
Based on Type
Zinc Oxide
Zinc Sulfate
Zinc Carbonate
Zinc Chloride
Based on End User
Agriculture
Chemicals and Petrochemicals
Ceramics
Pharmaceuticals
Paints and Coatings
Rubber Processing
Geographical Analysis
North America
Europe

Germany
U.K.
France
Italy
Spain

Asia-Pacific

Japan
China
India
South Korea
Australia

Latin America
Middle East and Africa

Saudi Arabia
South Africa
U.A.E.