Market Overview
The global biomarkers market generated revenue of USD 54.5 billion in 2022, which is expected to witness a CAGR of 11.8% during the forecast period, reaching USD 132.8 billion by 2030. This can be ascribed to the rising prevalence of chronic diseases and advancements in the technologies used for the development of biomarkers and biomarker-based diagnostic tests, such as biomarker signatures, which are making neurological diseases more treatable. Additionally, the increase in the number of infectious and rare genetic disease cases, as well as the rise in the geriatric population, will propel the utilization of such agents in the coming years. These agents are used in diagnostics for checking the presence of or risk of a specific disease; safety assessments, and drug discovery and development.
Furthermore, another major driver for the biomarker industry is the increase in the number of research and development initiatives supported by biotechnology and pharmaceutical firms, as well as the increasing incidence of cancer. Additionally, the market is expected to develop as a result of the rising COVID-19 cases across the world, as well as the increasing number of research studies on the use of biomarkers to aid in the detection and treatment of this infection.
Other factors driving the growth of the market include the increasing need for personalized medicine, improving disease diagnosis technologies, and growing preference for such agents in drug development. For instance, in November 2019, the Alzheimer's Drug Discovery Foundation (ADDF) awarded a grant of USD 492,000 to DiamiR, a company that creates innovative blood-based diagnostic tests for neurodegenerative and other diseases, for developing and studying microRNA blood-based biomarkers for Alzheimer's patients.
Growing Use of Personalized Medicine
Biomarkers are important in personalized medicine because they can be utilized for a variety of functions, such as diagnosis, prognosis, and the creation of targeted therapies for numerous diseases. Therefore, personalized medicine has gained popularity as a result of several limitations in the diagnosis and treatment of conventional diseases. Patients with cancer and immunological disorders are increasingly being offered personalized treatment approaches based on their unique clinical and genetic characteristics. The rising demand for personalized medicine is one of the main factors driving the demand for biological markers.
Companion Diagnostics Are Becoming More Important
Companion diagnostics and biological markers are vital in the practice of medicine as they improve disease diagnosis, treatment, and monitoring. These approaches allow doctors to determine which patients will respond to a specific medication or treatment desirably. These diagnostic tests are frequently performed in conjunction with a particular medication. For instance, the FDA has approved the Oncomine Dx Target test created by Thermo Fisher Scientific Inc. for the biomarker-driven testing of non-small-cell lung cancer.
Thus, the demand for new biomarker-based tests is driven by the growing use of companion diagnostics as a tool for personalized treatments. Furthermore, the rising investment by the key market players to develop companion diagnostics approaches is a key driving factor for the market. For instance, in April 2019, after the FDA approved the medications and the related tests, QIAGEN N.V. and LabCorp signed a service agreement to provide access to QIAGEN's companion diagnostic solutions to cancer patients.
Biomarkers Market Report Coverage

| | |
| --- | --- |
| Report Attribute | Details |
| Historical Years | 2017-2022 |
| Forecast Years | 2023-2030 |
| Market Size in 2022 | USD 54.5 Billion |
| Market Size in 2023 | USD 60.9 Billion |
| Revenue Forecast in 2030 | USD 132.8 Billion |
| Growth Rate | 11.8% CAGR |
| Report Scope | Market Trends, Drivers, and Restraints; Revenue Estimation and Forecast; Segmentation Analysis; Impact of COVID-19; Companies' Strategic Developments; Market Share Analysis of Key Players; Company Profiling |
| Segments Covered | By Application; By Product Type; By Type; By Disease; By Region |
Explore more about this report - Request free sample pages
Consumables Category Has Largest Market Size
Based on product type, the consumables category accounted for the largest share, of 70%, in the market in 2022, due to the rising demand for kit-based products for biomarker testing and the frequent purchase of consumables. Additionally, advanced consumable products are being made available for healthcare professionals for early diagnosis and better patient compliance.
Moreover, the software category will show the fastest growth in the biomarkers market due to the rapid adoption of software-based approaches in diagnostic labs for the accurate and early diagnosis of disease. The key areas software-based biomarkers are used in include gene sequencing, drug discovery, and pharmacodynamic evaluation. Additionally, the growth of this category is attributable to the increasing adoption of smartphones and wearable devices by patients, which aids in physiological data collection. The software-based technology makes it simple to transfer and analyze the data gathered from biosensors.
Safety Biomarkers Accounted for Largest Share
Based on type, the safety biomarkers category accounted for the largest revenue share, of 55%, in 2022, and it is further expected to maintain its dominance in the future. This is credited to an increase in the population who is at risk of cancer, cardiovascular ailments, and kidney disorders, as well as the rise in the understanding of the value of routine health examinations. Moreover, the frequent non-compliance to the drug regimen, including failure to take the dose or taking an incorrect dose, is propelling the category.
The usage of safety molecular biomarkers in preclinical trials is also increasing, to help identify drug candidates that are expected to be well-tolerated by humans. This decreases the time and resources needed for preclinical safety reviews during the drug development process.
Whereas, the efficacy biomarkers category will witness the fastest growth during the prediction period. This will be owing to the ability of these agents to evaluate the therapeutic efficacy of drug products, which is why such markers are rapidly increasing in adoption in the pharmaceutical and biotechnology industries for drug discovery.
Moreover, the validation biomarkers category is showing significant growth owing to the use of these biomarkers to predict the therapeutic failure of pharmaceutical compounds with weak therapeutic profiles and distinctive genetic profiles. For instance, in January 2020, Biocept Inc. unveiled a target selector platform and assays enabling medical professionals to examine circulating tumor cells and biomarkers linked to breast/lung cancer in the cerebrospinal fluid.
Drug Discovery & Development To Grow Fastest
Based on application, the drug discovery & development category is expected to grow with fastest CAGR in the future. This is because pharmaceutical and biotechnology companies are focusing on setting up state-of-the-art R&D facilities for the development of targeted drugs, easier drug efficacy prediction capabilities, and a quick approval process. Moreover, with the help of these agents, it is possible to classify patient groups, calculate the degree to which new medication hits its target, alter hypothesized pathophysiological processes, and achieve the desired therapeutic effects.
Whereas, the diagnostics category holds largest share, owing to the benefits of biomarkers in early disease identification, which offers the diagnostic sector a chance to advance early diagnosis and improve treatment success rates. For instance, biomarkers have made COVID-19 identification and treatment easier. Moreover, diagnostic biomarker kits are widely used in laboratories for several diagnostic purposes. Thus, innovative non-invasive methods that utilize such markers as diagnostic tools are expected to be a key driver for the industry in this category.
Thus, in May 2021, in order to increase its offerings of precision medicines and biomarkers for lung cancer, QIAGEN N.V. recently announced the release of its tissue companion diagnostic solutions, which are approved by the FDA, to detect the KRAS G12C mutation in non-small-cell lung cancer patients.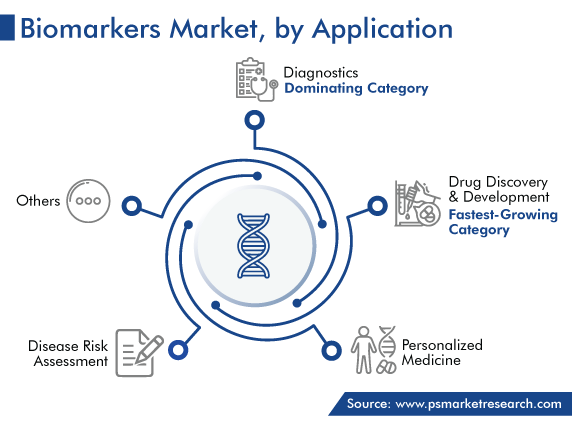 North America Is Prime Revenue Contributor
Geographically, North America accounted for the largest share, of around 40%, in 2022, and it is set to grow at a robust CAGR during the review period. The large share of this region can be attributed to the growing use of such markers in personalized medicine and various business expansion strategies adopted by the market players, such as partnerships and collaborations with established pharmaceutical and biotechnological companies in this region.
For instance, in September 2020, Thermo Fisher Scientific signed a collaboration bond with the University of Nebraska Medical Center and AstraZeneca to create new approaches to tackle the problems associated with the identification of clinical biomarkers. Furthermore, the high adoption rate of biological markers in the region for disease diagnostics, majorly for cancer, drives the market.
In Canada, the developed healthcare infrastructure, growth in consumers' knowledge of early disease detection, and the robust support of the government for technological advancements in the space drive the market growth. For instance, in 2020, the Canadian government invested USD 1,000,000 in a research project aimed at finding biomarkers for COVID-19 severity detection.
Moreover, Europe is the second-largest biomarkers market, due to the presence of prominent research institutions and market players. Additionally, the expansion of the partnerships between research institutions and providers of biomarker solutions for diagnostics is responsible for the market expansion.
Furthermore, Germany is showing significant growth in the adoption of these markers, as it has a developed healthcare infrastructure and favorable government policies for biomarker development and usage. Moreover, the adoption of specialized approaches for the treatment of cancer, driven by extensive R&D, and the presence of major hospitals, research centers, and clinics are contributing to the market growth. Additionally, a large number of cancer centers and hospitals have been established in the region, which is driving the usage of biomarkers for oncology research and tumor diagnosis.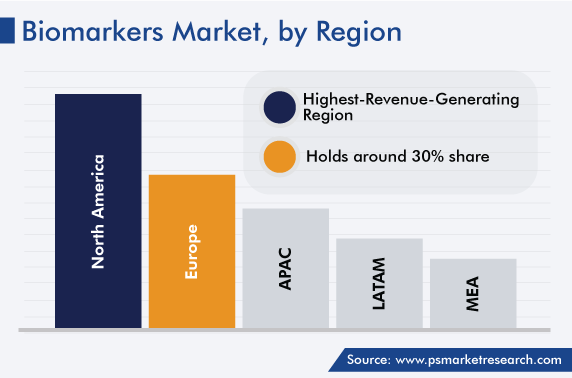 Top Providers of Biomarkers Are:
PerkinElmer Inc.
Abbott Laboratories
Thermo Fisher Scientific Inc.
Johnson & Johnson Services Inc.
F. Hoffmann-La Roche AG
Bio-Rad Laboratories Inc.
Epigenomics AG
Merck KGaA
Agilent Technologies Inc.
GE HealthCare Technologies Inc.
Market Size Breakdown by Segment
This fully customizable report gives a detailed analysis of the biomarkers market from 2017 to 2030, based on all the relevant segments and geographies.
Based on Application
Diagnostics
Drug Discovery & Development
Personalized Medicine
Disease Risk Assessment
Based on Product Type
Consumables
Services
Software
Based on Type
Safety
Efficacy
Validation
Based on Disease
Cancer
Cardiovascular Disorders
Neurological Disorders
Immunological Disorders
Renal Disorders
Geographical Analysis
North America
Europe

Germany
U.K.
France
Italy
Spain

Asia-Pacific

Japan
China
India
South Korea
Australia

Latin America
Middle East and Africa

Saudi Arabia
South Africa
U.A.E.