Market Overview
The automotive glass market is valued at an estimated USD 2,317.8 million in 2023, which is expected to reach USD 3,310.4 million by 2030, growing at a CAGR of 5.3% during 2024–2030.
The demand for windscreens, windows, and other glass parts is driven by the consistent increase in automotive manufacturing worldwide. Additionally, the need for glass with improved safety features is rising as the automobile industry places a greater emphasis on passenger safety. Government rules also mandate particular safety features, which has prompted the adoption of tempered and laminated glass, which is shatter-proof.
Further, the ongoing research and development have brought about significant technological advancements in the automotive sector, by leading to the emergence of tempered, laminated, acoustic, and smart glass. These developments boost functionality, durability, and safety, in turn, promoting market expansion. Moreover, environmental awareness is growing among both automakers and customers. In this context, automotive glass made from recyclable and environment-friendly materials is more marketable since it supports sustainability objectives.
Further, modern cars are increasingly being equipped with ADAS, which makes driving safer. To accommodate sensors and cameras for features such as collision avoidance, lane departure warning, and adaptive cruise control, automotive glass needs to have unique coatings and design changes.
The industry is also being driven by the burgeoning trend of vehicle customization as consumer preferences shift toward distinctive and personalized automobiles. The need for specialized variants, such as tinted, privacy, and decorative glass, has surged as a result. Additionally, larger and more-intricate glass panels are now being produced by manufacturers as panoramic sunroofs gain popularity.
Due to the use of modern production and blowing technologies, massive, sophisticated glass panels, and premium materials, luxury cars have a huge impact on the automotive glass market. Luxury vehicles prioritize comfort and safety, which results in the usage of specialized safety glass. The market for such high-end components is further fueled by the rising popularity of innovative designs and customization options, which increase the appeal of luxury vehicles.
The demand for these materials is essentially influenced by stable economies and the rising consumer spending on automobiles. The market is also expected to expand as a result of an aging fleet of vehicles, which is driving the demand for various components for retrofitting and replacement.
Laminated Category Dominates Market
Laminated glass dominates the market, with a significant share of 45%, in 2023. Consumers' need for safety, opulence, and comfort makes the material a popular choice among automakers, particularly in high-end models.
Its usage in windscreens is required by the stringent safety standards in many nations, due to its great safety and protective qualities, in order to increase passenger safety during accidents. The polyvinyl butyral (PVB) interlayer in the windscreen prevents shattering during collisions, thus lowering the risk of injuries to passengers by serving as a cushion. Additionally, side windows consisting of laminated glass remain unbroken following impact, thus protecting occupants from flying objects and ejection. As a result, laminated glass is frequently incorporated into car designs to ensure the safety and wellbeing of both drivers and passengers.
Additionally, because of its outstanding acoustic insulation, it is a great option for car windows and windscreens. Its PVB interlayer disperses and absorbs sound waves, thus reducing the outside noise of the wind and traffic. This makes for a calm and relaxing driving experience, especially in expensive vehicles. The function also improves the clarity of the audio system and promotes better internal communication.
Moreover, due to the PVB interlayer, which blocks the damaging UVA and UVB radiation of the sun, laminated glass provides efficient UV protection. This function protects occupants from UV-induced eye damage, premature aging, and skin damage. Additionally, it aids in preventing the fading and degradation of the interior parts of the vehicle. As a result, the demand for it has increased as both manufacturers and consumers place a higher priority on the security and durability of their automobiles.
In order to meet these safety requirements and guarantee the commercial viability of their vehicles, automotive manufacturers all over the world widely use this material.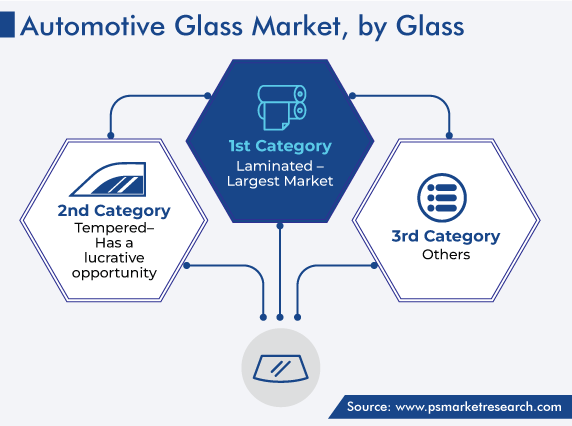 Rapid Growth of Smart Glass Market
The market for smart glass is growing rapidly, as this material improves comfort in high-end and luxurious cars by automatically altering the tint to prevent excessive sunlight from entering inside and maintaining a cooler interior. By transforming from clear to opaque, it also offers privacy and security, thus attracting high-profile owners. The technology also works in conjunction with sophisticated climate control systems to lessen the demand for air conditioning and increase energy efficiency, both of which improve the fuel economy. Moreover, smart glass' futuristic and opulent appeal raises the aesthetic value and uniqueness of premium vehicles, thus drawing buyers looking for distinctive features.
With further developments in smart glass technologies, performance, durability, and system integration have all increased. Production costs have also decreased as a result of the continued research and development, making this material more accessible in lower-end automobiles. It provides a seamless user experience and broadens its potential uses in the automobile sector due to quicker switching, larger tinting ranges, and improved optical clarity.
By offering real-time information and automatic assistance to prevent accidents, ADAS improves the functioning and safety of the vehicle. By displaying vital information, such as speed and navigation instructions, a heads-up display made of smart glass helps keep drivers' attention on the road.
By superimposing clear route directions in the driver's field of vision, augmented reality (AR)-based navigation enhances the driving experience even further. Smart glass sensors that enable lane departure warning alert drivers if they unintentionally veer out of their lane. Cameras and sensors made of this material are also used by collision avoidance systems to spot impending collisions and offer visual warnings or initiate automatic braking.
Windshield Category Is Dominant Application
The windshield category is the largest within the application segment, as windshields are necessary to ensure passengers' safety. They serve as a physical barrier between the interior and exterior, shielding residents from flying objects, insects, wind, rain, and other potential dangers. In the event of an accident, a perfectly mounted and undamaged windscreen provides structural integrity to the vehicle, preventing the roof from collapsing and passengers from being ejected out of the car and on to the road.
Modern windscreens now include convenience- and comfort-enhancing features, such as self-tinting glass, rain-sensing wipers, and de-icing capabilities. Additionally, consumers and automakers are becoming more aware of how driving affects the environment. Advanced windscreens can increase fuel efficiency by lowering vehicle weight and enhancing aerodynamics.
Furthermore, the advancements in glass recycling and sustainable business practices have increased the significance of windscreens in the automotive sector. Moreover, they are evolving beyond simple safety components and becoming interactive surfaces, as a result of the development of connected automobiles.
Automotive Glass Market Report Coverage

| | |
| --- | --- |
| Report Attribute | Details |
| Market Size in 2023 | USD 2,317.8 Million |
| Market Size in 2024 | USD 2,422.3 Million |
| Revenue Forecast in 2030 | USD 3,310.4 Million |
| Growth Rate | 5.3% CAGR |
| Historical Years | 2017-2023 |
| Forecast Years | 2024-2030 |
| Report Scope | Market Trends, Drivers, and Restraints; Revenue Estimation and Forecast; Segmentation Analysis; Impact of COVID-19; Companies' Strategic Developments; Market Share Analysis of Key Players; Company Profiling |
| Segments Covered | By Glass; By Application; By Sales Channel; By Vehicle; By Material; By Region |
Explore more about this report - Request free sample pages
OEMs Dominate Sales Channel Segment
Due to their close cooperation while creating glass components and bulk buying, OEMs occupy the dominant position in the automotive glass business, even though there is a sizable aftermarket for auto components. To satisfy the changing needs of automobile customers, OEMs are collaborating with component manufacturers on improvements in glass performance, safety, and usefulness.
Automotive parts and accessories for already-used automobiles are sold in the aftermarket; however, the need for them majorly arises in the case of accidents or excessive wear and tear from prolonged usage. The major factor behind OEMs' dominance on the segment is the growing production of automobiles around the world. After dropping to around 77.6 million units in 2020 amidst the pandemic from 91.7 million units in 2019, global automotive production improved to over 85 million units in 2022.
Automotive Glass Manufacturing Companies:
Compagnie de Saint-Gobin S.A.
AGC Inc.
Fuyao Glass Industry Group Co. Ltd.
Central Glass Co. Ltd.
Nippon Sheet Glass Co. Ltd.
Gentex Corporation
Magna International Inc.
Guardian Industries Holdings
Corning Incorporated
Vitro, S.A.B de C.V
APAC Is Expected To Showcase Significant Growth
The Asia-Pacific region holds a significant share, of 45%, in 2023, and its revenue contribution is expected to witness a CAGR of 5.0% during 2024–2030.
The region's automobile industry continues to flourish with the increasing production and sales in China and India. Further, more individuals now own vehicles as the middle-class population expands, thus increasing the demand for automotive glass. In the last 2–3 decades, APAC has developed into a significant center for auto manufacturing, drawing large international OEMs with its affordable labor and competent workforce.
Further, enhancing road safety is a growing priority for both governments and citizens in the region. Greater focus is being placed on integrating cutting-edge safety features into vehicles as a result of the stricter safety laws and customer awareness. This is driving the use of premium automotive glass that complies with safety standards and provides improved occupant protection.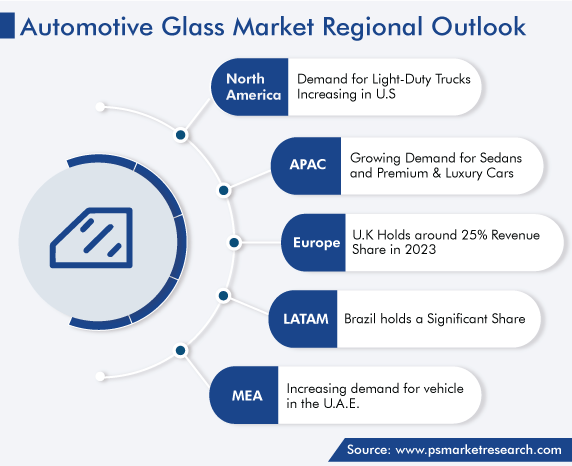 Market Size Breakdown by Segment
The report analyzes the impact of the major drivers and restraints on the automotive glass market, to offer accurate market estimations for 2017–2030.
Based on Glass
Based on Application
Windshields
Sunroof
Rearview Mirror
Based on Sales Channel
Original Equipment Manufacturer
Aftermarket
Based on Vehicle
Passenger Cars
Commercial Vehicles
Based on Material
IR-PVB
Metal-Coated
Tinted Glass
Geographical Analysis
North America
Europe

Germany
U.K.
France
Italy
Spain

Asia-Pacific

Japan
China
India
South Korea
Australia

Latin America
Middle East and Africa

Saudi Arabia
South Africa
U.A.E.