Market Overview
The global anti-vascular endothelial growth factor therapeutics market revenue stood at $12,178.0 million in 2021, and it is expected to advance at a CAGR of 1.4% during 2021–2030, to reach $13,812.6 million by 2030. The growth in the market is largely influenced by the FDA approvals for products in the pipeline along with research and development activities in this field.
Moreover, governments and private companies are funding research projects related to anti-VEGF treatment. For instance, Joslin Diabetes Center received funding from the National Institutes of Health, the U.S. Department of Health and Human Services, Regeneron and the DRCR Retina Network, to conduct research on early treatment of pre-existing diabetic eye disease with injections of anti-VEGF agent aflibercept. The results of the research published in May 2021 depict that the progression of vision-threatening diabetic retinopathy (DR) problems slows down with the help of early treatment.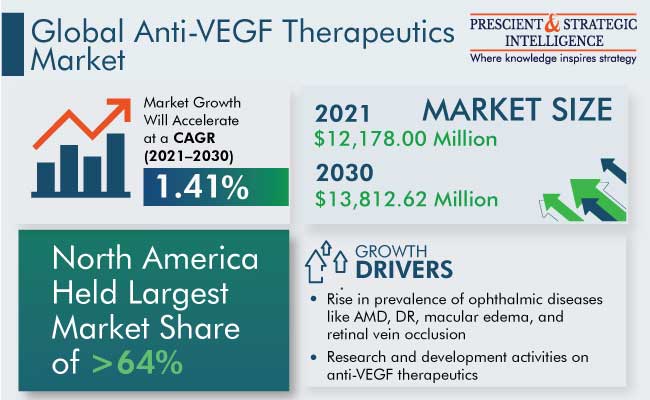 The growth can also be attributed to the rise in the prevalence of ophthalmic diseases like age-related macular degeneration (AMD), DR, macular edoema, and retinal vein occlusion, as well as the growth in the aging population that increases the risk of developing several diseases. However, the regulatory restriction on elective surgeries during the COVID-19 pandemic impacted the market negatively, as patients did not have the required access to resources, and the disturbance in the supply chain in the industry.
Eylea Product Dominates the Market
The Eylea category held the largest market share, of more than 60%, in 2021, and it is also expected to maintain its position during the forecast period. This is attributed to the ongoing research and development activities in this area. For instance, Regeneron has been conducting a phase-2 proof-of-concept study comparing the 8 mg dose against the established 2 mg dose to investigate if a higher dose can benefit wet AMD patients.
Lucentis also holds a significant share in the anti-vascular endothelial growth factor therapeutics market, and the category is likely to depict a growth rate of more than 1% in the coming years, owing to the approvals of Lucentis from the FDA. For instance, the organization approved Susvimo, a port delivery system with ranibizumab, in October 2021, for intravitreal use through ocular implant for the management of patients with wet or neovascular AMD, who have previously responded to at least two anti-VEGF injections. It may help people with wet AMD retain their vision with two treatments per year by continually injecting medicine into the eye through a refillable implant compared to a monthly injectable.
However, Beovu, approved by the FDA in 2019, accounted for around 2% of the market share in 2021, and the category is expected to gain momentum at the highest CAGR, of approximately 4%, in the coming years. Moreover, it received approval from EC for the management of visual impairment, owing to diabetic macular edema (DME), in March 2022, and thus, it can be used in all 27 EU member states as well as Iceland, Norway, and Liechtenstein. Therefore, the approvals from several organizations drive the market growth in this category.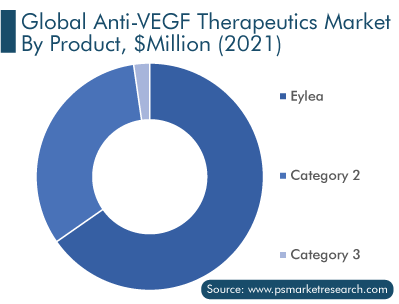 Anti-VEGF Medications Are Widely Used for Treating AMD
Anti-VEGF medications are largely used to treat AMD, contributing around 61% of the market share in 2021, owing to the increasing cases of AMD. For instance, around 2 million persons aged 50 years and more were blind as a result of AMD, and 6.22 million people had moderate-to-severe vision impairment (MSVI), as of 2020, globally. However, the age-standardized prevalence of AMD blindness decreased by more than 20% during 2000–2020, due to the increasing awareness and rising adoption of anti-VEGF medications.
Besides, the usage of anti-VEGF medications to treat DR is projected to witness the highest CAGR, of 1.5%, during 2021–2030, owing to the surging incidences of DR, globally. For instance, more than 100 million adults suffered from DR in 2020, which is expected to rise to more than 150 million by 2045.
Regional Outlook
The North American anti-vascular endothelial growth factor therapeutics market generated the largest revenue share, of around 65%, in 2021. This is attributed to the improvements in healthcare infrastructure, technological advancements, proactive government actions, rise in consumer awareness, and increase in disease prevalence.
The U.S. leads the North American market, as most of the major companies are headquartered in the country, providing early and easy access to the latest innovations to patients. Moreover, private companies along with educational institutes and other organizations are involved in new product development and research and development activities. Furthermore, overall annual spending on neovascular AMD drugs through fee-for-service Medicare Part B increased by 37% during 2013–2019, representing the growing spending on anti-VEGF medications in the U.S.
The Canadian market for anti-VEGF therapeutics is likely to witness significant growth, of 1.5% CAGR, during the forecast period, owing to the approvals received by companies for anti-VEGF medications. For instance, in March 2022, Health Canada approved Samsung Bioepis and Biogen's BYOOVIZ, a Lucentis biosimilar for the treatment of neovascular (wet) AMD and visual impairment due to DME, among others.
On the other hand, the APAC market size is likely to propel at the highest CAGR, of approximately 2%, during 2021–2030. Licensing agreements between companies are one of the major factors driving the market growth. For instance, in June 2021, PanOptica and Zhaoke Ophthalmology Limited entered into a licensing agreement to develop and commercialize PAN-90806, a topical eye drop for the treatment of neovascular eye diseases, including wet AMD and DR, in China, South Korea, and Southeast Asia.
Japan held the largest revenue share, of more than 45%, in the APAC market in 2021. This is because the country ranks number one, in terms of the geriatric population, with more than 25% of the total population being above 65 years of age, resulting in high incidences of AMD and DR, among other diseases. Thus, companies are introducing new treatments for such diseases. For instance, Chugai Pharmaceutical, a Japanese drugmaker, launched Vabysmo Intravitreal Injection 120 g/mL (faricimab) as an anti-VEGF/anti-Ang-2 bispecific antibody for the treatment of AMD associated with subfoveal choroidal neovascularization and DME, after receiving approval from the Ministry of Health, Labor and Welfare (MHLW), Japan, in March 2022.
Anti-VEGF Therapeutics Market Report Coverage

| | |
| --- | --- |
| Report Attribute | Details |
| Historical Years | 2017-2021 |
| Forecast Years | 2022-2030 |
| Market Size in 2021 | $12,178.0 Million |
| Revenue Forecast in 2030 | $13,812.6 Million |
| Growth Rate | 1.4% CAGR |
| Report Scope | Market Trends, Drivers, and Restraints; Revenue Estimation and Forecast; Segmentation Analysis; Impact of COVID-19; Companies' Strategic Developments; Market Share Analysis of Key Players; Company Profiling |
| Segments Covered | By Product; By Disease; By Region |
Explore more about this report - Request free sample pages
Business Opportunity
Patents for Ranibizumab and Aflibercept in the U.S. expired in 2020, while patents for these drugs in Europe will expire in 2022 and 2025, respectively. However, due to the economic effectiveness and availability of diverse choices of biosimilars, the USFDA and the European Medicines Agency (EMA) are predicted to approve a slew of biosimilars for clinical use in the near future. Thus, opening doors for biosimilar manufacturing companies and CDMOs. For instance, Xbrane developed Xlucane, in February 2022, a Lucentis biosimilar candidate under registration partnered with STADA and Bausch + Lomb, yet to be approved by the FDA.
Key Strategic Developments Adopted by Market Players
In recent years, players operating in the market have been actively involved in research and development and product launches related to anti-VEGF therapeutics. For instance:
Kodiak Sciences Inc., in February 2022, developed anti-VEGF antibody biopolymer conjugate for patients with DME and completed the enrollment in its GLEAM and GLIMMER phase-3 clinical trials.
Innovent Biologics Inc., in November 2021, made public the data of the phase-Ib clinical trial of IBI302, which is the first-in-class anti-complement bi-specific fusion and ophthalmic recombinant human anti-VEGF protein for neovascular AMD.
Key Players in the Anti-Vascular Endothelial Growth Factor Therapeutics Market Are:
Biogen
F. Hoffmann-La Roche Ltd.
CoherusBioSciences
Bausch Health Companies Inc.
Viatris Inc.
Pfizer Inc.
Amgen Inc.
Regeneron Pharmaceuticals Inc.
Bayer AG
Novartis AG
Market Size Breakdown by Segment
The research offers the market size of the global anti- VEGF therapeutics market for the period 2017–2030.
Based on Product
Based on Disease
Macular Edema
Diabetic Retinopathy
Retinal Vein Occlusion
Age-Related Macular Degeneration
Geographical Analysis
North America
Europe

Germany
France
U.K.
Italy
Spain

Asia-Pacific

China
India
Japan
Australia

Latin America
Middle East and Africa

Saudi Arabia
South Africa
U.A.E.