Market Overview
The global age-related macular degeneration market stood at $10,234 million in 2021, and it is projected to reach $18,500 million by 2030, growing at a significant CAGR of 6.8% between 2021 and 2030. The growth can be primarily attributed to the increasing cases of age-related eye diseases, the growing geriatric population, and the rising investments in R&D activities. Moreover, the market is driven by the surging prevalence of this condition, the introduction of innovative treatments, a robust product pipeline, and advancements in gene therapies.
Furthermore, patents of well-known medicines are expiring, allowing players to make improvements in current formulations. Drugs that have lost their patent may now be manufactured at a cheaper cost, making macular degeneration therapy more affordable for persons with lower incomes, which, in turn, bolsters the sales of drugs in the market.
Only a few approved medications are available in the market to treat the disease. The associated side effects are likewise hazardous to consumers' health. As a result, there is a significant unmet demand for safe and novel medications to treat this disease. As a result, numerous pharmaceutical companies are focused on advanced gene therapy to cure the condition. The gene therapy delivered through intravitreal injection does not affect the cells, and it also preserves and improves patients' vision. Such benefits will fuel the demand for this therapy, which will have a favorable influence on the market growth throughout the predicted period.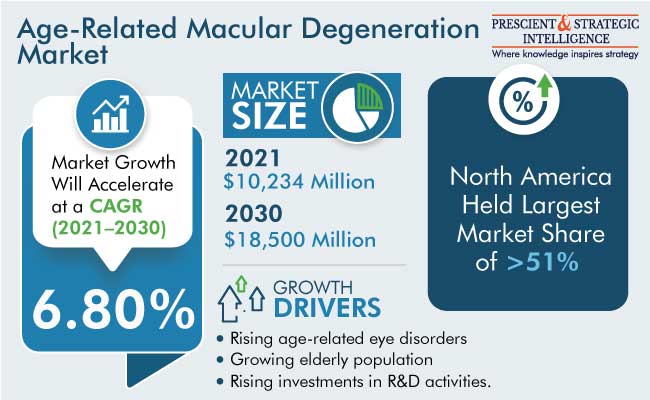 Eylea Category Is the Major Revenue Contributor
Due to its widespread market penetration and patent protection, the Eylea category led the market, with a revenue share of more than 50%, in 2021. The FDA authorized Eylea, an intravitreal injection of aflibercept, in 2011. It is made to stop VEGF from working in wet AMD. Patients with diabetic macular edema, wet AMD, and macular edema are treated with it. Additionally, patients who received Beovu reported four times greater intraocular inflammation than those who received Eylea, according to study findings. Such elements encourage people to choose Eylea over Beovu, a revolutionary medication.
The demand for Beovu, on the other hand, is projected to increase at the highest rate during the projection period, due to its higher drying effectiveness, patent protection, and success in treating severe cases of wet AMD. However, it has been discovered that the medication causes concurrent vascular occlusion, intraocular inflammation, retinal vasculitis, and vision loss. If the company does not come up with a creative strategy to prevent or decrease these negative reactions, the product's sales may suffer in the upcoming years.
Wet AMD Is Principal Revenue Contributor
The wet AMD category accounted for the majority of revenue share in the market in 2021. This condition is managed with intravitreal injections (IVT), with around 22.3 million procedures executed across the world in 2017. Also, about 75% of anti-VEGF injections were administered for the wet AMD treatment. Moreover, branded medications, the high prevalence of this condition, an increase in the number of treatments, and growth in awareness contributed to the market growth in this category.
Whereas, the dry AMD category is expected to record the highest growth rate in the coming years. This can be ascribed to the projected launch of capable product candidates by 2023 and the rising burden of this disease. Moreover, 85–90% of all macular degeneration cases are caused by dry AMD. Currently, the only treatment for dry macular degeneration is vitamin formulations. In addition, many innovative therapeutic alternatives for its treatment, including Zimura, Luminate, and intravitreal pegcetacoplan, are now in the clinical process.
Hospitals Pharmacy Is the Main Channel of Distribution
The hospital pharmacy category accounted for a market share in 2021. This is ascribed to the surge in the incidence of AMD and the increased number of patients in hospitals for its treatment. As per the Royal National Institute of Blind People (RNIB), around 26.5 million people, in 2021, were at high risk of developing this condition. Most of the patients are managed with drugs, such as Eylea, Lucentis, and Beovu, which are administered intravenously in hospitals under the supervision of competent specialists. Thus, the rising demand for AMD treatment is projected to rise the number of hospital visits, thereby propelling the market in this category.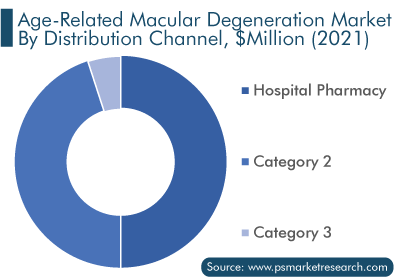 Age-Related Eye Disease Cases Are Fueled by Growing Elderly Population
For the elderly, vision loss is a serious problem since it becomes worse with time. The two primary forms of macula wear and tear are dry macular degeneration and wet macular degeneration. Both have the potential to be fatal and needed medical attention. Thus, the market is expanding as a result of an increasing number of aged patients. According to the WHO, over 200 million individuals worldwide were affected by age-related macular degeneration in 2021, with over 10.4 million cases of moderate-to-severe visual impairment. Furthermore, the United Nations Department of Economic and Social Affairs estimated that the number of people aged 65 years and above was around 750 million in 2021.
Currently, only a few numbers of medications are licensed to treat this disease, mostly by anti-VEGFs. These medications need frequent and uncomfortable intraocular injections, which enhance the strain and source non-adherence to therapy. Some of the major players are developing vitreous implants and longer-acting anti-VEGFs that allow for prolonged drug administration. Additionally, the launch of long-acting anti-VEGF drugs, including Vabysmo and Beovu, is expected to drive the market growth in the coming years.
Increasing Awareness of AMD among Consumers
The most common cause of permanent vision loss is macular degeneration. Various initiatives, such as programs, activities, and campaigns, are implemented by NGOs, optometrists associations, and health departments, to create awareness among people regarding the effects of AMD and the correct methods of treatment.
One such example is a major initiative taken at a global level in the form of National AMD awareness month; celebrated in February, in order to create awareness about the leading cause of vision loss and AMD. The main objective of the AMD month is to encourage people to learn more about AMD and raise awareness about symptoms, risk factors, and treatments. In addition, increasing funds, which are used for its research and related programs and encourage people for eye tests to improve chances of early detection, are driving the demand for macular degeneration drugs.
Age-Related Macular Degeneration Market Report Coverage

| | |
| --- | --- |
| Report Attribute | Details |
| Historical Years | 2017-2021 |
| Forecast Years | 2022-2030 |
| Market Size in 2021 | $10,234 million |
| Revenue Forecast in 2030 | $18,500 Million |
| Growth Rate | 6.8% CAGR |
| Report Scope | Market Trends, Drivers, and Restraints; Revenue Estimation and Forecast; Segmentation Analysis; Impact of COVID-19; Segmentation Analysis of Countries; Companies' Strategic Developments; Market Share Analysis of Key Players; Company Profiling |
| Segments Covered | By Drug Type; By Disease Type; By Age Group; By Gender; By Stages; By Distribution Channel; By Region |
Explore more about this report - Request free sample pages
North America Is the Industry Leader
North America accounted for the largest revenue share, of around 51.1%, in 2021, and it is projected to sustain its dominance in the next few years. Some of the key factors driving the regional market include the increasing burden of the geriatric population, the rising prevalence of this disease, the presence of major market players, and the increasing research and development activities in the region.
Furthermore, beneficial government initiatives, an increase in the number of research partnerships, recent product launches, and a rise in cases of AMD are projected to boost the growth of the regional market. For instance, according to the American Academy of Ophthalmology, around 15 million North Americans live with AMD.
Additionally, the European market is expected to hold the second-largest share throughout the forecast period, growing at a rapid pace. This can be due to the rising purchasing power to buy patented drugs and large unmet needs in Europe. Moreover, enhancements in lifestyle and the introduction of new drugs for macular degeneration are projected to drive the need for macular degeneration drugs in the region.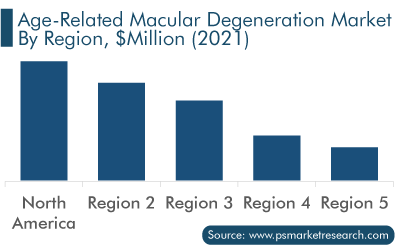 Top Players in the Age-Related Macular Degeneration Market Are:
Bayer AG
Novartis AG
Pfizer Inc.
F. Hoffmann-La Roche Ltd.
Regeneron Pharmaceuticals Inc.
Bausch Health Companies Inc.
Amgen Inc.
AbbVie Inc.
Regenxbio Inc.
Outlook Therapeutics Inc.
Market Size Breakdown by Segment
The study offers a comprehensive market segmentation analysis along with market estimation for the period 2017-2030.
Based on Drug Type
Based on Disease Type
Based on Age Group
Less Than 60
Between 60 to 80
More Than 80
Based on Gender
Based on Stages
Early AMD
Intermediate AMD
Advanced AMD
No AMD
Based on Distribution Channel
Hospital Pharmacy
Specialty Pharmacy
Online Pharmacy
Geographical Analysis
North America
Europe

U.K.
Germany
France
Spain
Italy

Asia-Pacific

China
India
Japan
South Korea
Australia

Latin America
Middle East and Africa

Saudi Arabia
South Africa