The digital imaging world has revolutionized with the introduction of 3D camera. The areas such as games & 3D movies, monitoring of industrial activities, home automation and monitoring management and others are widely accepting the 3D cameras owing to better image quality. Moreover, the enhancement in 3D scanning algorithms has enabled the development of sophisticated 3D camera based products. The introduction of 3D enabled tablets and smartphones would also fuel the growth of the respective technology.
The increasing usage of 3D content in entertainment & media applications and increasing adoption in different industries including manufacturing, and construction, would drive the growth of 3D camera market. The high prices of 3D camera are however, restricting the market growth; in addition ease in availability for its 2D counterpart is also restraining the market growth. The market exhibits the entry of new players owing to its rising application in virtual reality products and home automation. The introduction of many players would further enhance the technology.
EUROPE 3D CAMERA MARKET SIZE BY TECHNOLOGY $M 2012-2022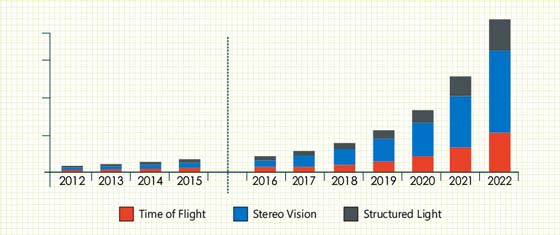 The report segregates the global 3D camera market on the basis of type, application, technology and geography. The technologies used in 3D camera include time of flight, stereo vision and structured light imaging. The lesser price of stereo vision based 3D camera and the ease in installations of stereo vision technology has attracted the manufacturers to use this technology, and hence, stereo vision has dominated the 3D camera market with a market share of more than 60% in 2015. On the basis of 3D camera type, the market is segmented into target and free camera market. Free camera category finds its dominance in the market owing to rise in application for such devices in tablets and smartphones. Free camera would attain a market value of more than $13 billion in 2022.
The applications of 3D camera are in professional camera, tablets, computers, smartphones and others. Others include mobile robots, home automation, notebook pcs and iPad. Professional cameras have dominated the revenue contribution and garnered market value of $694.6 million in 2014. In addition, the market for global 3D camera is studied based on the different regions which include North America, Europe, APAC (Asia-Pacific) and LAMEA (Latin America, Middle East & Africa). The report has also covered the primary strategies adopted by major players in the market for 3D camera.
The major players highlighted in the report are Nikon Corporation, Go Pro Inc., Sony Corporation, Samsung Electronics Co. Ltd., Canon Inc., Panasonic Corporation, Fujifilm Holdings Corporation, Faro Technologies Inc., LG Electronics Inc. and Eastman Kodak Company. The companies are primarily focuses on product launch followed by collaborations. The companies are targeting the market with their enhanced product portfolio and differentiated offerings.