Role of Digital Health in Enriching People's Lives
Published Date:

November 5, 2020
The biggest technological trend in the world right now is digitization or digitalization. In the most basic sense, these words refer to the usage of computers and IT servers for storing data, rather than the conventional pen-and-paper method. From the way people communicate with each other and long-term corporate growth strategies to public service applications and the bank account opening process, everything is going digital. Healthcare is another sector where digitization efforts are gaining ground, with the concept being called digital health.
What Is Digital Health?
Digital health involves the usage of smartphones and mobile apps, sensor-embedded equipment, telecommunication lines, and computers and laptops to deliver a range of healthcare services to people. Advancing beyond these simple technologies, digital health is now also utilizing complex concepts such as machine learning and artificial intelligence to help prevent, detect, and prompt action for diseases. The main purpose of this concept is to give patients more control over their health and their doctor better access to their condition.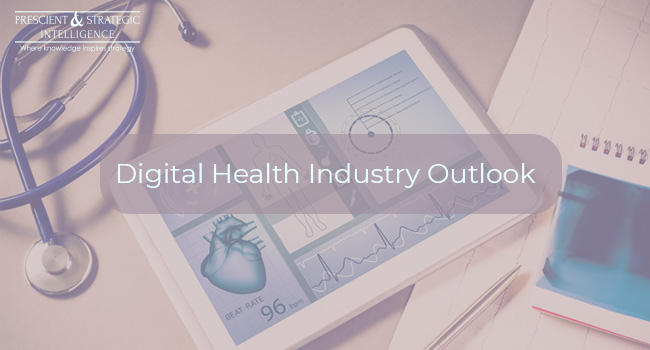 The Five Pillars of Digital Health
As vast as the concept is, it has five broad components: mobile health (mHealth), electronic health records (EHR)/electronic medical records (EMR), connected medical devices, telemedicine, and healthcare analytics. Each of these can be used on its own or in combination to make healthcare easily accessible and cost-effective.
mHealth: The provision of healthcare services via mobile communication devices is referred to as mHealth. It includes mobile apps, ranging from general health and fitness tracking apps to those that help people manage mental issues, as well as connected medical devices that integrate into a smartphone via their dedicated app. These apps can be used for preventive purposes, diagnosing certain conditions, establishing communication between patients and doctors, offering treatment, and monitoring the condition of patients remotely.
EHR/EMR: Till 10–15 years ago, doctors used the pen-and-paper method to keep a track of a person's medical history, including results of radiological and pathological tests, information provided by vital signs monitors and other such equipment, surgical notes, diagnoses, consultation schedule, prescriptions, upcoming procedures, and payment and insurance log. But, with time and encouraged by government efforts, all such data is being stored digitally, on computer servers. Much of this process is now automated, with the medical devices automatically feeding the data into a patient's EHR/EMR.
Connected Medical Devices: This is perhaps the most common form in which the digital health revolution is visible. A connected medical device is any instrument that collects health- and fitness-related data and transmits it to doctors or feeds it into the data repository in its connected mHealth application. In this way, the Fitbits and Apple Watches people wear are a type of connected medical device, though they accomplish a variety of other functions. Nowadays, a variety of medical devices, such as insulin pumps and glucometers, vital signs monitors, electroencephalographs (EEGs), and sleep and sleep apnea trackers, can be kept at homes and even worn by people.
Telemedicine: This component of digital health allows patients to get in touch with doctors through audio chats and video conferences. Essentially, if a patient is talking to a doctor on the phone, it is part of the larger concept of telemedicine. It also includes the connected medical devices, whether kept stationary, hooked to the patient, or worn by them, which transmit data via a broadband, Wi-Fi, or mobile internet connection to the doctor. Telemedicine is being utilized for patient consulting and monitoring, as well as for training and education purposes.
Healthcare Analytics: All of the four components of digital health mentioned above ultimately help in healthcare analytics, which involves studying the digital patient data to ascertain the epidemiology of a particular disease, predict what course a particular illness will take in a person, or whether a person is at a high risk of a certain condition, such as cancer, cardiovascular diseases (CVD), and respiratory disorders, and help caregivers serve the ailing person better.
Benefits of Digital Health
The key benefits of digital health emanate from the fact that it allows doctors and patients to virtually connect with each other. Accessing healthcare services virtually allows patients to be monitored and advised by doctors remotely, saves costs, and helps public agencies in population health management.
Remote Monitoring and Consulting: This is perhaps the biggest boon that digital health offers humanity. A lot of people do not have access to quality healthcare because they either live too far from a proper medical setting or are incapacitated due to age or a morbid illness. Such people simply need a communication device, such as a smartphone, computer, laptop, and tablet, with an internet connection to get in touch with healthcare professionals. This allows doctors to track the health of the patient in real time, and if it deteriorates, initiate the necessary action, such as evacuating them and getting them transferred to the hospital.
Cost Saving: In this era of continuously escalating costs of everything, from food to healthcare, digital health has certainly made people's lives easier. Often, people suffering from chronic diseases need to visit doctors at regular intervals, both for routine checkups and in case something goes wrong. Just traveling to a hospital sometimes costs a lot, so using video conferencing or something as simple as a phone call, at least the expenses of routine checkups can be eliminated to a large extent. Patients can send their lab and radiology results to the doctor via email and get the required advice via a video conference or traditional voice call.
Population Health Management: Digital health doesn't just have benefits for patients, but also for healthcare providers and public health departments. From the data being gathered by hundreds of connected medical devices and mHealth apps on thousands of smart devices, it can be ascertained how many people in a given area are affected by a particular illness. This helps in epidemiological studies, which, in turn, allows for population health management. During COVID-19 times, it is the healthcare analytics component of digital health that is helping governments tackle the pandemic.
For instance, the Indian government's Aarogya Setu app tracks people's location as they go from one place to another using the global positioning system (GPS) of their smartphone. The app immediately alerts people if they enter an area with a substantial number of COVID cases. Moreover, the app uses the Bluetooth of the smartphone to ascertain if the person has come within 6 feet of a COVID-patient, who also has the app on his/her smartphone. This not only alerts the person to get tested for the virus, but also allows the government to ascertain the number of cases, so that healthcare services can be directed to high-COVID-prevalence areas.
Why Digital Health?
The benefits of digital health, including remote monitoring and consulting and cost saving, are why it is popular. But, why is it needed? A combination of factors, such as the rising incidence of chronic diseases and booming geriatric population, is highlighting its importance.
Rising Prevalence of Chronic Diseases: The World Health Organization (WHO) says that "Chronic diseases will take the lives of over 35 million people in 2005, including many young people and those in middle age." Before they kill, they result in long-term discomfort and frequent complications. Most people prefer to be discharged from a medical facility as soon as possible and be home-cared. While at home, if their condition deteriorates suddenly, often it takes so long to reach the hospital that it might lead to death. Portable connected medical devices intimate the caregiver and doctor of such a situation, allowing for the least to be done till the person reaches the hospital or paramedics arrive.
Growing Geriatric Population: It is a well-known fact that old people fall sick more often than those in the lower age groups. With age, people lose a lot of their physical strength and immunity, which makes them susceptible to chronic and acute diseases. As per the United Nations, 703 people fell under the age bracket of 65 years and above in 2019, and by 2050, their population will grow to 1.5 billion. The elderly are often bedridden, therefore find it difficult to visit a doctor every now and then. This is why the usage of digital health solutions, especially connected medical devices, for continuous monitoring of the elderly is increasing.
Challenges for Digital Health and Countermeasures
Although digital health has made it easier for people to receive medical care, it comes with its own set of challenges, the most-significant among which is data vulnerability.
Data Vulnerability: Being a subdomain of IT, all digital health data is vulnerable to hacking and thievery, and if somebody's health data is stolen, it can be manipulated, which can lead to fatal consequences. As a result, data protection regulations revolving around the healthcare industry are being implemented around the world. The most significant among them is the U.S.'s Health Insurance Portability and Accountability Act (HIPAA) of 1996, which seeks to create standards to protect people's medical information and make healthcare insurance more accessible.
In the same way, in many countries, having cyber insurance is mandatory. As most hackers who steal information ask for hefty sums in turn for relinquishing it, patients who lose their medical records to such criminals can be reimbursed for the sum they pay to get their information back and save it from being used for the wrong purposes.
Prescription Fraud: Similarly, e-prescriptions, wherein doctors send prescriptions to pharmacists digitally, can be intercepted, unlawfully accessed, and modified. So, if someone gets the wrong drug at the wrong time, it might prove fatal. This is why e-prescriptions are being bolstered with e-signatures/digital signatures to make it difficult for cyber criminals to modify them. Pharmacists receive an online copy of the prescription with a digital signature, so if it is accessed or modified between the time it leaves the doctor's server and reaches the pharmacist, both of them can detect fraud and potentially save the patient's life.
Digital Health around the World
Presently, the greatest use of digital health solutions is witnessed in North America, which is the most technologically advanced region on earth. Additionally, the geriatric population is rising fast here, as is the incidence of chronic diseases. The Centers for Disease Control and Prevention (CDC) say that for every 10 people in the U.S., six have at least one chronic disease. Additionally, the region has a strong legal framework encouraging the usage of such solutions. For instance, in 2009, the U.S. implemented the Health Information Technology for Economic and Clinical Health (HITECH) Act, "to promote the adoption and meaningful use of health information technology."
Under this, doctors affiliated with the Medicare and Medicaid programs have been receiving monetary incentives since 2011 for using EHRs "meaningfully". For the creation of an efficient EHR network, the government sanctioned over $35 billion! Additionally, "Subtitle D of the HITECH Act addresses the privacy and security concerns associated with the electronic transmission of health information, in part, through several provisions that strengthen the civil and criminal enforcement of the HIPAA rules."
In the coming years, the penetration of digital health will most likely increase the fastest in Asia-Pacific (APAC), for most of the similar reasons that have led to its widespread usage in North America. "80% of chronic disease deaths occur in low and middle income countries.", says the WHO. Due to the alarmingly high chronic disease mortality rate, governments in regional countries are taking initiatives to improve their healthcare services and integrate them with the digital technology. For instance, the National Digital Health Mission launched in India in 2020 envisions giving each of its 1.38 billion citizens a unique health ID, EHRs/EMRs, and online database of affiliated medical centers and doctors.
Therefore, with digital health solutions being strengthened with data protection laws, whatever apprehensions people have regarding their use would go away, which would help the concept penetrate deeper into the world.