Network Connected Medical Devices Market Overview
The global network connected medical devices market generated $19.5 billion revenue in 2018. The market is projected to advance at a CAGR of 23.5% during the forecast period, mainly on account of increasing penetration of network connected medical devices in healthcare, adoption of advanced smart phone-based mHealth technologies, rising prevalence of chronic conditions, and growing investment by government and private organizations, across the globe.
On the basis of product, the network connected medical devices market is classified into patient monitoring devices, glucose monitors, insulin pumps, dialysis machines, continuous positive airway pressure (CPAP) machines, infusion pumps, defibrillators, ventilators, smart beds, oxygen tanks, coagulation testing devices, blood processing devices, computed tomography (CT) scanners, X-Ray imaging systems, and ingestible sensors. Among these, the patient monitoring devices category is expected to witness the fastest growth, with a CAGR of 25.1%, during the forecast period. This is mainly due to the increasing adoption of cloud technology in healthcare, and high cost of patient monitoring devices.
In the patient monitoring devices market, the cardiac monitoring devices category is further classified into mobile cardiac telemetry monitors, electrocardiogram (ECG), pacemakers, and implantable loop recorders. Of these, mobile cardiac telemetry monitors accounted for the largest share, of 50.8%, in 2018. This is attributed to the increasing number of cases of myocardial infarction and other cardiovascular disorders, worldwide.
Further, based on connectivity technology, the network connected medical devices market is categorized into Bluetooth-low energy (BLE), Wi-Fi, near field communication (NFC), cellular, satellite, and ZigBee. Among these, BLE technology is expected to be the fastest growing category during the forecast period, progressing at a CAGR of 23.9%, mainly on account of low power consumption and its increased adaptability by hospitals and healthcare professionals.
Network Connected Medical Devices Market Dynamics
Globally, prevalence of chronic diseases, such as heart diseases, cancer, stroke, respiratory diseases, and diabetes, is rising due to changes in lifestyle and lack of access to preventive care, mainly in developing nations. According to the World Health Organization (WHO), in 2015, 8.8 million deaths worldwide were caused due to chronic diseases. Therefore, the use of network connected medical devices to continuously monitor and manage the occurrence of chronic diseases will eventually lead to the market growth across the globe.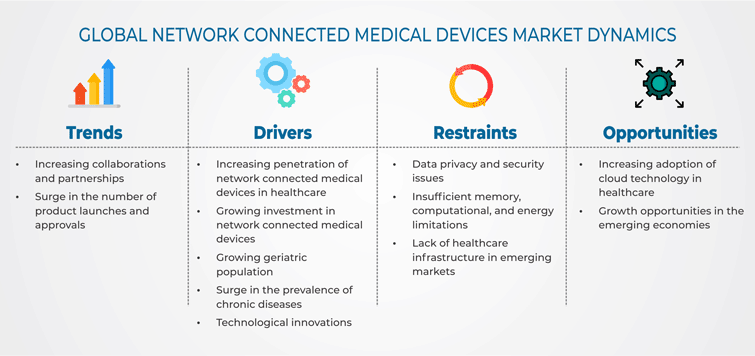 Besides, increasing collaborations and partnerships are the evolving trend in the network connected medical devices market. Players in the market are actively collaborating and partnering with other organizations to provide a range a cost-effective and less time-consuming services to hospitals and individuals. For instance, Nonin Medical Inc. entered into a partnership agreement with Ideal Life Inc. in April 2015, under which Ideal Life Inc. integrated Nonin Model 3230 Bluetooth Smart wireless finger pulse oximeter into its telehealth platform. Therefore, with the increasing strategic developments, companies are trying to capture substantial market share, thereby, expanding their geographical footprint.
In addition, increasing participation of market players and government associations, in the form of promoting and funding, plays a key role in the growth of the network connected medical devices market. For instance, in May 2018, Caretaker Medical LLC announced the completion of $3.4 million investment to accelerate the global commercialization activities for the Food and Drug Administration (FDA) approved wireless continuous non-invasive blood pressure (CNIBP) and vital signs monitor. Therefore, with increasing funds being provided by companies and governments, it is expected that the market will flourish in the coming years.
Network Connected Medical Devices Market Competitive Landscape
In the recent years, major players in the network connected medical devices market have taken several strategic measures, such as product launches, collaborations, acquisitions, and product approvals, to sustain and improve their position in the industry. For instance, in March 2019, General Electric Company announced a collaboration with UltrasoundPodcast.com, a weekly podcast and website devoted to POCUS education. This collaboration will help the company in increasing accessibility, training, and skill development for best possible patient outcomes.
Furthermore, in February 2019, OxyGo LLC launched OxyGo FIT Connect, with the aim to improve patient outcomes using BLE technology. The platform includes a provider dashboard and mobile application, which will provide real-time monitoring that will aid troubleshooting, concentrator health checks, preventive maintenance, and geo-locating of patient's point of contact (POC).
General Electric Company, F. Hoffmann-La Roche Ltd., Medtronic plc, OMRON Corporation, Koninklijke Philips N.V., Drägerwerk AG & Co. KGaA, OxyGo LLC, NuvoAir AB, PhysIQ Inc., and Proteus Digital Health Inc. are the leading product manufacturers in the global network connected medical devices market.