Market Overview
The wound dressing market size stood at USD 10,427.0 million in 2022, and it is will grow at a CAGR of 6.1% during 2022–2030, to reach USD 16,751.6 million by 2030.
Due to increasing incidence of infections because of injury, globally, key players, such as ConvaTec Group PLC, DermaRite Industries LLC, DeRoyal Industries Inc., and Hollister Incorporated are developing innovative and advanced technologies of advanced healing products. For instance, in January 2020, ConvaTec Group PLC launched ConvaMax, which absorbs excess moisture to help protect the skin integrity and functions as superabsorber.
Similarly, in February 2019, Axio Biosolutions launched MaxioCel, made of chitosan. It helps patients suffering from chronic injuries, such as pressure ulcers, diabetic foot ulcers, venous leg ulcers, cavity abrasion, skin abrasions, donor sites, and post-operative surgical wounds. Thus, due to innovative and advanced applications of these technologically advanced products, the adoption of these products for the management of chronic and acute injuries is increasing, which supports the growth of the global market.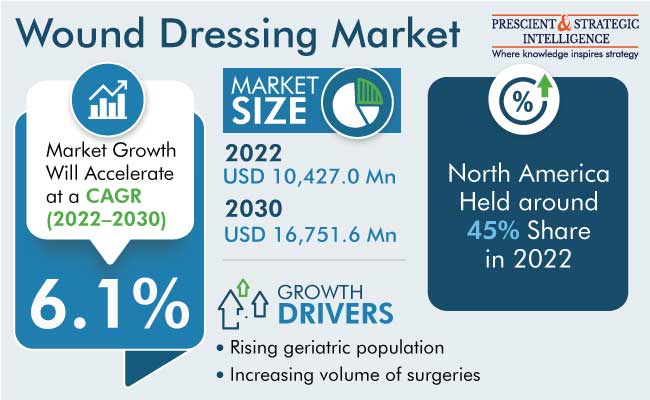 Rising Geriatric Population
Increasing geriatric population plays a pivotal role in the growth of the market. According to the United Nations Department of Economic and Social Affairs (UNDESA) report on the World Population Aging, the population of people aged 60 years and above is growing at a high rate.
The number of people aged 60 years and above increased from 382 million in 1980 to 1 billion in 2019 and is expected to reach around 2.1 billion by 2050. Emerging nations, such as China and India account for the highest number of aged people compared to the developed countries, including the U.S., Germany, France and the U.K.
People of 60 years and above are expected to make up 28% of the total population in China by 2040, as compared to a mere 8.4% in 2010.
Elderly population is in need of extensive care, as they are susceptible to illnesses because of low immunity and high recovery time. Aged people have weak body functions leading to longer recovery periods to heal, in comparison to adults. The impaired blood circulation and reduced collagen deposition lead to a delayed healing process in elderly people.
In addition, the aged people are more prone to chronic diseases, including cancer, diabetes, neurological ailments and cardiovascular diseases, leading to an increase in the requirement for surgeries that requires dressing, thus the contribution of surgical wounds in application segment is expected to be largest, over 70%, in 2022. Also, cardiovascular diseases and cancer majorly require surgeries at some point, which need various dressing products.
Increasing Volume of Surgeries
The demand for such dressing products is increasing due to the rising prevalence of chronic and lifestyle related diseases, which result in surge in the number of surgeries, globally. The prevalence of chronic diseases, such as heart disease, cancer, stroke, and respiratory disease is increasing due to alteration in lifestyle and lack of preventive care.
According to the report, approximately 60% people in the U.S. had at least one chronic health condition. Chronic diseases including cardiovascular disorders require surgery at some point, based on the severity. Moreover, diabetes is another major chronic disease, which is one of the factors for the occurrence of diabetic foot ulcers. These ulcers are required to be managed by surgeries and needs to be kept in check to prevent maceration of surrounding tissue, which need products, such as hydrocolloids, foams, alginates, and others.
As per a government report in 2020, 310 million major procedures were performed annually over the world, with around 40 to 50 million taking place in the U.S. and around 20 million in Europe. Therefore, it can be stated that increasing volume of surgeries is one of the major factors responsible for the market growth.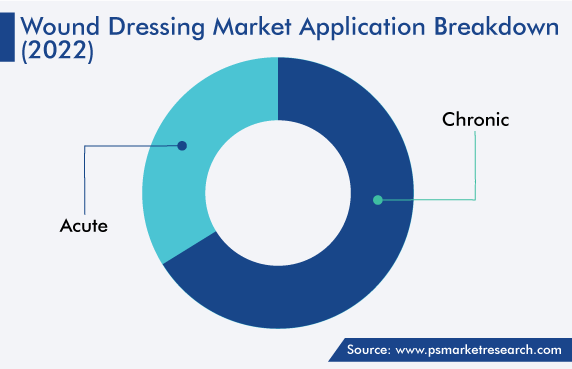 Rising Number of Burn Cases
Burns are caused by various factors, such as chemicals, friction, radiation, electricity, and heat. They lead to severe loss of skin, tissue and blood vessels.
According to the National Fire Protection Association (NFPA), in 2021, approximately 14,700 fire injuries occurred due to accidental fire in the U.S. As per the WHO estimates, around 180,000 deaths are there every year due to burns, especially in low and middle-income countries. In addition, non-fatal burn is the leading cause of morbidity.
Products such as gauzes, sponges, bandages, collagen dressing, hydrocolloid dressing and hydrogel dressings play an important role for the treatment of burns. Thereby, rising number of burn cases is expected to support the global market.
North America Has Largest Contribution to Global Revenue
The region held the largest wound dressing market share, around 45%, in 2022. The market is growing due to rapid growth of geriatric population, increasing number of road accidents and burn cases, and rising prevalence of chronic wounds.
The number of Americans aged 45 to 64 increased by 4% from 80.3 million to 83.3 million between 2009 and 2019. From 55.7 million to 74.6 million, the number of Americans aged 60 and over climbed by 34%. Elderly people are more susceptible to chronic diseases, such as diabetes and cancer; which require surgeries at some point of their treatment (based on the severity), thereby supporting the demand for these products in the region.
Moreover, increasing number of road accidents and burn cases have also increased the demand of various types of wound care products including, dressings in North America. For instance, according to the National Highway Traffic Safety Administration (NHTSA), 42,915 lives were lost due to road accidents in the U.S., in 2021. Additionally, the increasing incidences of road accidents and burn cases require traditional and advanced dressing products for their management.
Increasing obese population also supports the demand for such products in North America. Obese people are at a high risk of pressure ulcers, that can eventually lead to a rise in the chances of infections. Fat deposition around the edges of the injured part prevents skin closure and delayed healing. With increase in the cases of obesity, geriatric population and road accidents U.S. held around 90% in 2022 of the revenue, the demand is expected to increase in this region. Some players operating in the market include, Smith & Nephew plc, 3M Company, Integra Lifesciences Holdings Corporation, and Organogenesis Inc.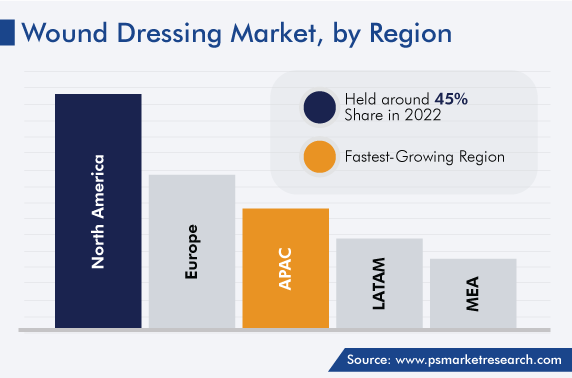 Increasing Number of Road Accidents
Globally, the number of road accidents is increasing every year that results in surge of demand for wound dressing products. According to the estimates of the WHO, road traffic injury is one of the major causes of death among people aged 15 and 29 years; and it is projected to become seventh leading cause of death by 2030 globally. Moreover, around 1.2 million people die every year due to road accidents globally.
The injuries resulting from road accidents can become fatal at times. In addition, tissue loss during road accidents increases healing time. Products such as gauzes, sponges, abdominal pads, foams, films, hydrogels and collagen are commonly used for cleaning, dressing and management of road accident abrasions from microbial infections. Thus, the increasing number of road accidents is fueling the demand of such products across the globe.
Wound Dressing Market Report Coverage

| | |
| --- | --- |
| Report Attribute | Details |
| Historical Years | 2017-2022 |
| Forecast Years | 2023-2030 |
| Market Size in 2022 | USD 10,427.0 Million |
| Revenue Forecast in 2030 | USD 16,751.6 Million |
| Growth Rate | 6.1% CAGR |
| Report Scope | Market Trends, Drivers, and Restraints; Revenue Estimation and Forecast; Segmentation Analysis; Impact of COVID-19; Companies' Strategic Developments; Market Share Analysis of Key Players; Company Profiling |
| Segments Covered | By Type; By Application; By End User; By Geography |
Explore more about this report - Request free sample pages
Due to High Prevalence of Diabetes APAC To Have Higher Growth Rate
During the forecast period, the market is expected to witness highest growth, around 10%, in APAC, mainly due to growing aging population, and increasing cases of diabetes and burns in the region. 13.6% of the population in APAC was aged 60 years or over, in 2020, and is expected, that the population will reach to 25% of the global population by 2050.
Moreover, the region has been witnessing rapid growth in the number of burn cases and road accidents. According to WHO, nearly 1 million people suffer from moderate to severe burns every year in India.
Additionally, the increasing prevalence of diabetes leads to a higher risk of diabetic foot ulcers among the patients. Owing to slow wound healing, diabetic patients are at a high risk of getting infected with various infections. Thus, factors such as rising prevalence of diabetes and growing number of obese people will lead to high demand for wound dressing products in the region.
Top Wound Dressing Product Manufacturers Are:
Hollister Incorporated
DeRoyal Industries Inc.
DermaRite Industries LLC
ConvaTec Group plc
Johnson & Johnson
Smith & Nephew plc
Mölnlycke Health Care AB
Medtronic plc
3M Company
Integra LifeSciences Holdings Corporation
Market Size Breakdown by Segment
The study uncovers the biggest trends and opportunities in the market, along with offering segmentation analysis at the granular level for the period 2017 to 2030.
Based on Type
Advanced

Foams
Hydrocolloids
Films
Alginates
Hydrogels
Collagen
Hydrofiber
Wound contact layers
Superabsorbent

Traditional

Bandages
Gauzes
Sponges
Abdominal pads
Based on Application
Chronic Wounds
Acute Wounds
Based on End User
Inpatient Facilities
Outpatient Facilities
Geographical Analysis
North America
Europe

Germany
U.K.
France
Italy
Spain

Asia-Pacific
Latin America
Middle East and Africa

South Africa
Saudi Arabia
U.A.E.