Market Overview
The voice and speech recognition market values at USD 10,220.5 million (E) in 2023, and it will witness a rate of 15% during 2023–2030, to reach USD 27,128 million in 2030.
The industry size is boosted by the technical improvements in AI and the increasing acceptance of enhanced electronic devices. For instance, voice-triggered biometrics can aid in offering access to authentic users for making a payment. Apart from the rising utilization of speech biometrics, the growing need for voice-integrated workplaces and navigation systems is propelling the market.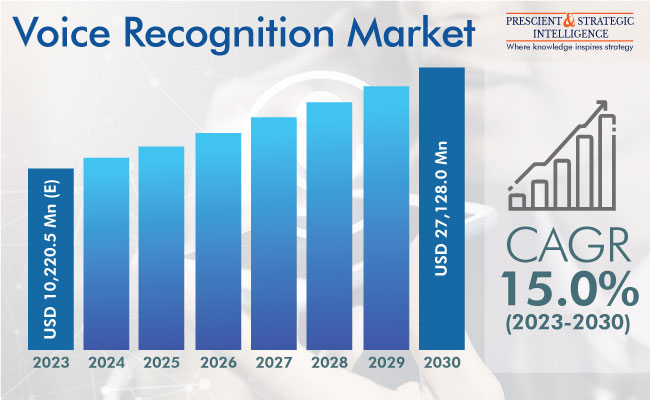 Speech-enabled in-vehicle infotainment systems are gaining traction throughout the world, as numerous nations have implemented hands-free guidelines so that people pay less attention to handling their smartphones and more to driving.
Moreover, the growing usage of voice-empowered IoT devices in smart homes is projected to boost the industry in the coming years. IoT allows people to control their home appliances from anywhere, with an internet connection. And, by using voice, they do not need to tap on the smartphone screen; they can simply speak into the smartphone to accomplish the task.
Growing Usage of Electronic Health Records Is Key Market Driver
The utilization of the speech recognition technology in phones allows doctors to decode their speech into a rich, comprehensive clinical description that can be documented in an electronic health record.
The fascination for voice recognition software has developed significantly among healthcare specialists. They commonly invest a huge quantity of time in typing reports and notes and maintaining patient records, which can take away valuable time from patient care and interactions. To overcome this problem, doctors are now using NLP-based voice recognition software for creating reports of health checkups, or when receiving details from patients on their conditions remotely.
By utilizing this software, healthcare specialists can enter the notes into the EHR system or their computers without compromising patient care. This removes the requirement for healthcare workers to stay late at work for paperwork, thus allowing them to take care of more patients during their general work hours. This also eliminates the need for hiring extra staff to handle paperwork, thus enabling cost-savings.
The accessible and hands-free features of automatic voice recognition systems further improve productivity in medical settings, thus boosting their deployment in the healthcare industry. This way, this augmented productivity leads to a better cash flow for healthcare providers.
Speech Recognition Category Is Leading Market
Based on function, the worldwide industry has been divided into speech recognition and voice recognition, of which the speech recognition category is larger. Vehicles and smartphones are appropriate platforms for speech recognition applications. The growing fondness of people for mobility creates the need for the availability of information and services anywhere and anytime. Cloud -based speech recognition services can significantly enhance the purchaser experience and offer money-savings for businesses.
Additionally, this technology helps radiologists and doctors in keeping lengthy patient records, thus decreasing the turnaround time and helping the staff in record maintenance. Further, popular AI-based voice assistants, including Siri and Alexa, utilize this technology to help people with online searches, controlling home appliances, and even remotely starting their car engines.
AI-Based Technology Category To Witness Higher CAGR
The AI-based category is projected to witness the faster development during the projection period, under segmentation by technology. The requirement for AI-based technology is increasing as it can identify various patterns in speech precisely. AI remarkably changes speech into organized algorithms by depicting speech units, developing and formulating recognition algorithms, and demonstrating precise inputs.
The increasing adoption of ML and NLP is also projected to fuel the development of AI-based speech and voice recognition technologies. In this regard, the growing popularity of AI-based digital support platforms, such as Cortana and Alexa, are projected to propel the requirement for AI-speech and voice recognition software over the projection period.
Healthcare Category Is Dominating Market
The healthcare category is dominating the industry due to the burgeoning usage of speech recognition for information storage in EHRs. This procedure allows doctors to communicate with the EHR with voice. EHRs integrated with speech recognition are still at the emerging level and positioned in individual subspecialties of healthcare, including pathology, radiology, and emergency medicine.
The automotive category holds a substantial industry share as well. Voice-assisted infotainment systems notify the driver regarding traffic and road situations on the chosen routes and can suggest substitute routes. Moreover, while driving, if someone wants to listen to a particular song, they can simply speak into the system, rather than taking their eyes off the road and hands off the wheel to type on the screen.
Speech and voice recognition is also projected to have an extensive variety of applications in the customer and retail verticals, because of the increasing acceptance of connected devices. Additionally, the rising usage of conversational AI platforms, including Amazon Alexa and Google Home, in the Asia-Pacific and European regions will propel the market in the consumer electronics category of the end user segment.
High Importance of Speech/Voice Recognition Technologies in BFSI Industry
Speech/voice recognition technologies have become important as a strong safety measure in the BFSI industry. Using enhanced algorithms, this technology allows for the precise confirmation and identification of people on the basis of their different vocal characteristics. By studying speech tones, patterns, and even delicate nuances, BFSI establishments can advance their verification procedures and strengthen cybersecurity procedures. This technology not only boosts the safety of critical monetary information but also rationalizes user experiences, by substituting old-style verification approaches.
Voice and Speech Recognition Market Report Coverage

| | |
| --- | --- |
| Report Attribute | Details |
| Market Size in 2023 | USD 10,220.5 Million (E) |
| Revenue Forecast in 2030 | USD 27,128 Million |
| Growth Rate | 15.0% CAGR |
| Historical Years | 2017-2022 |
| Forecast Years | 2023-2030 |
| Report Scope | Market Trends, Drivers, and Restraints; Revenue Estimation and Forecast; Segmentation Analysis; Impact of COVID-19; Companies' Strategic Developments; Market Share Analysis of Key Players; Company Profiling |
Explore more about this report - Request free sample pages
North America Is Market Leader
North America holds the largest market share, and it is projected to remain dominant throughout the projection period. The rising usage of voice-empowered applications in mobile banking, IoT devices, and customer electronics is propelling the industry. The development of the speech and voice recognition industry in the region is also propelled by the augmenting digitalization rate, rising acceptance of cutting-edge technologies, such as IoT and big data, and growing requirement for speech analytics and other kinds of contact center software.
Similarly, in Europe, such technologies are projected to find extensive adoption in the retail & e-commerce and consumer electronics industries, because of the booming trend of internet connectivity in automobiles and home appliances. Connected cars, which allow people to search for music, videos, and other entertainment content online using spoken cues, are widely popular in the continent. Equally popular are home automation systems integrated with voice assistants such as Alexa and Siri, as well as online shopping apps that feature voice searches.
The APAC industry is projected to experience the highest CAGR from 2024 to 2030. The market is propelled by the growing demand for speech and voice recognition in China, Japan, and Singapore. This is credited to the escalating acceptance of voice-assisted devices in the automobile and healthcare industries. The continuous advances in healthcare and other industries will boost the requirement for voice-identification-technology-based items in the APAC region as well.
Key Companies in Voice and Speech Recognition Market Include:
Advanced Voice Recognition Systems Inc.
Amazon.com Inc.
Apple Inc.
Anhui USTC iFlytek Ltd.
Baidu Inc.
BioTrust ID B.V.
CastleOS Software LLC
Facebook Inc.
Alphabet Inc.
International Business Machines Corporation
Microsoft Corporation
MModal Inc.
Nuance Communications Inc.
SemVox GmbH
Sensory Inc.