Market Overview
The virtual clinical trials market size stood at USD 8,213.7 million in 2022, and it is expected to grow at a CAGR of 5.9% during 2022–2030, to reach USD 12,987.4 million by 2030.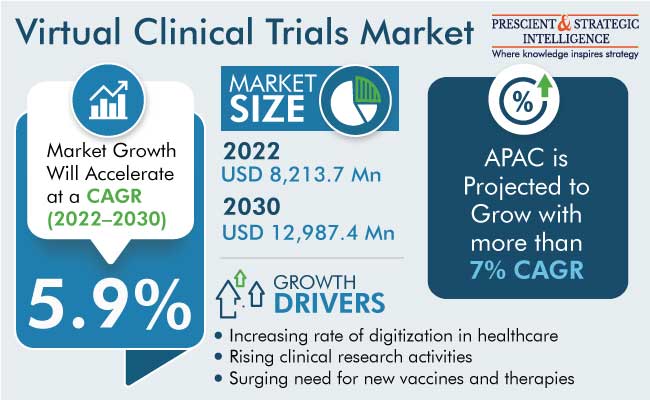 The market for solutions that allow clinical trials to be held virtually is majorly driven by the increasing rate of digitization in the healthcare sector, rising clinical research activities, and surging need for new vaccines and therapies. Additionally, the market is experiencing technological advancements in clinical trial and patient recruitment platforms, which is enabling the effective analysis of trial data. Additionally, the collaborations between CROs, biotechnology firms, and pharmaceutical companies, driven by the supportive government initiatives, are expected to drive the market.
In a fully decentralized or virtual model, the recruitment of patients, delivery of interventions, and acquisition of outcome data are all carried out without the need for the physical presence of patients.
Virtual clinical trials represent a novel approach that lets people participate in the research from their homes, without visiting the site. This also helps in effective control over data collection from participants for clinical studies. The virtual platform allows sponsors to include larger sample populations for the study, which improves subject recruitment, engagement, and retention. Moreover, with the help of innovative digital health technologies, it enables the analysis of real-time data collected from participants.
Therefore, with such virtual platforms, the effort clinical research coordinators need to put in to monitor and manage patients could reduce substantially.
North America To Dominate Market
North America dominated the global market, with around 40% share in 2022, attributed to the presence of several major market players. Moreover, the increasing adoption of advanced technologies in clinical research, rising R&D expenditure, and government support for drug R&D drive the market. For instance, the rate of new research project grant success increased by 1.6%, from 19.1% in 2021 to 20.7% in 2022. Additionally, in 2022, the NIH invested more than USD 43 billion in research to reduce the burden of illnesses.
Moreover, the contribution of the U.S. in the number of clinical trials registered around the world is the highest, at more than 31%. Additionally, more than 32% of the patient recruitment for such studies globally takes place in this country. The increasing number of registrations makes traditional methods of clinical trials obsolete; therefore, the virtual method is likely to be adopted in the coming years.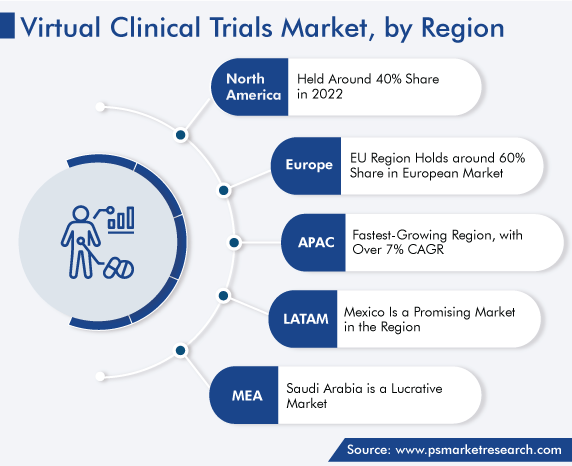 Strategic Developments among Market Players
Decentralized solutions have brought clinical trials closer to the patient and transformed product development. As a result, market players are engaging in a range of strategic development to offer the best services, to make the trials efficient and cost-effective. For instance, Syneos Health signed a multiyear agreement with Microsoft in 2023, under which Syneos will utilize Microsoft Azure services to develop an analytics platform with AI, ML, and other technologies, to ensure advanced clinical trial services.
Additionally, Syneos Health and Science 37 signed a partnership agreement in 2021 to enhance decentralized clinical trial delivery. The companies aim to together offer a unified technology platform to streamline workflow, real-world evidence generation, and data harmonization for sponsors.
Similarly, ObvioHealth collaborated with Oracle in the APAC region in 2022. The alliance is aimed at enabling the rapid collection, integration, and analysis of multi-source data collected from sites, patients, devices, and labs.
Additionally, in 2022, the Medable Partner Network was launched. It brings together technology, service, data, site, and direct-to-patient partners, allowing all these aspects to work to accelerate decentralized clinical trials. It includes partnerships with Cognizant, Advanced Clinical, and CVS Health and expanded connections with Oracle, Parexel, PPD, Datavant, and other firms.
Interventional Category Accounted for Highest Revenue
Owing to the rising number of research and development activities centered around novel therapies and digitization at the laboratory level, the interventional category held the largest share, around 50%, in 2022, and it is expected to continue the same way during the forecast period.
Interventional studies, also called experimental research, allow the medical community to conclude the cause-and-effect relationships between an intervention or treatment. Such studies provide reliable evidence during epidemiological research on preventative or therapeutic products.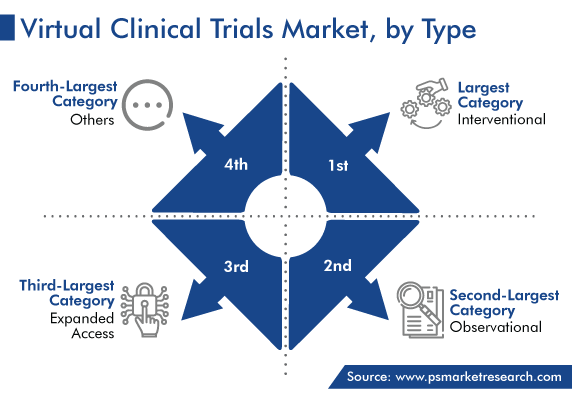 Growing Government Support and Initiatives for Clinical Trials & Research
The government support and stringent regulations in the U.S. pertaining to clinical trials are expected to boost the adoption of decentralized platforms, tools, and solutions. In addition, governments of various developing countries are taking initiatives for increasing the number of clinical trials. This is being done by raising awareness regarding such programs and motivating patients to enroll in them.
For instance, the U.K. government has launched a clinical trial program, ACCORD, to fast-track the development of new drug candidates for hospitalized COVID-19 patients. The program, carried out by industry partners, academia, and the government, aims to reduce the time taken to complete clinical trials for new treatments from months to weeks. In addition, technological advancements are expected to help in reducing the overall trial duration and providing accurate results.
Therefore, the growing support from the government of various countries for clinical research & development and the increasing awareness regarding wearable devices that monitor various health markers and transmit the data to the research coordinator are expected to aid in the market growth in the coming years.
Virtual Clinical Trials Market Report Coverage

| | |
| --- | --- |
| Report Attribute | Details |
| Historical Years | 2017-2022 |
| Forecast Years | 2023-2030 |
| Market Size in 2022 | USD 8,213.7 Million |
| Revenue Forecast in 2030 | USD 12,987.4 Million |
| Growth Rate | 5.9% CAGR |
| Report Scope | Market Trends, Drivers, and Restraints; Revenue Estimation and Forecast; Segmentation Analysis; Impact of COVID-19; Companies' Strategic Developments; Market Share Analysis of Key Players; Company Profiling |
| Segments Covered | By Type; By Indication; By Phase; By Region |
Explore more about this report - Request free sample pages
Pandemic Had Huge Positive Impact on Market Growth
COVID-19 has positively impacted the market, as during the global lockdowns, trials needed to be conducted. The implemented social distancing norms led to the adoption of virtual platforms for this purpose.
Moreover, the changes in policies during the pandemic, such as the relaxation of the regulations for telemedicine, and the improvements in the infrastructure supporting same-day home delivery of the under-investigation medications accelerated DCT platform adoption.
Sponsors and research agencies have aggressively worked to develop virtual platforms, to avoid any disruptions. Market players launched new solutions, brought certain updates to the existing ones, and leveraged digital health technologies, including telemedicine, to ensure the easy flow of research data.
Such breakthrough technologies have driven the virtual clinical trials market exponentially in recent years. Moreover, the clinical trial scenario is undergoing rapid changes with the usage of decentralized and virtual platforms and inclusion of more-remote elements, in response to the pandemic. Additionally, the market is growing with the increase in the spending by pharma companies on big data analytics and AI technologies, which are transforming the research and development process and, thus, lowering the associated cost.
Additionally, trials for the treatment of other diseases conducted during the pandemic had to deal with a lack of clinical data from on-site patients. To overcome this challenge, DCTs were initiated for numerous cancer drugs, an approach that is expected to become the norm in the coming years.
Top Virtual Clinical Trial Solution Providers Are:
Parexel International Corporation
ICON Plc
IQVIA
Dassault Systèmes
Oracle Corporation
CRF Health
Clinical Ink Inc.
Medable Inc.
Halo Health Systems
Labcorp Drug Development
Market Size Breakdown by Segment
The report analyzes the impact of the major drivers and restraints on the virtual clinical trials market, to offer accurate market estimations for 2017–2030.
Based on Type
Interventional
Observational
Expanded Access
Based on Indication
Autoimmune Diseases
Cardiovascular Diseases
Metabolic Diseases
Infectious Diseases
Oncology
Genitourinary
CNS
Ophthalmology
Based on Phase
Phase I
Phase II
Phase III
Phase IV
Geographical Analysis
North America
Europe

Germany
U.K.
France
Italy
Spain

Asia-Pacific

Japan
China
India
South Korea
Australia

Latin America
Middle East and Africa

Saudi Arabia
South Africa
U.A.E.