Market Overview
The veterinary pain management market size stood at USD 1.60 billion in 2022, and it is expected to grow at a CAGR of 7.10% during 2022–2030, to reach USD 2.78 billion by 2030.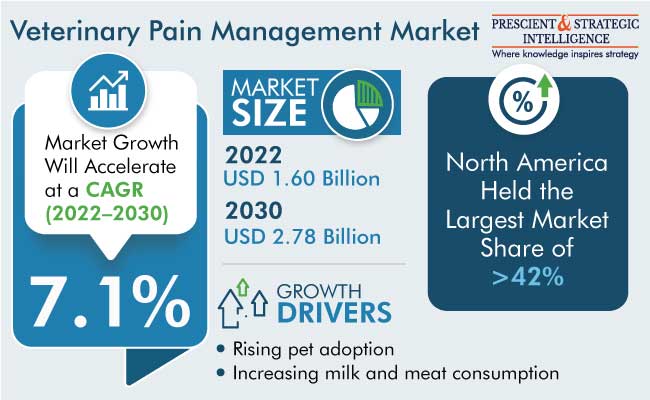 The growth can be primarily ascribed to the increasing prevalence of musculoskeletal disorders, such as osteoarthritis, in animals, as well as the rising adoption of companion and livestock animals. Moreover, the improvements in the animal healthcare sector have led to the rising demand for veterinary pain management products.
The advancements in the research and development ecosystem, for innovative products, are also propelling the growth of the market. The development of various innovative therapies for pain management in animals is a key focus area for many pharma and biopharma firms. One of the newer pain management therapies is Targeted Pulsed Electromagnetic Field (tPEMF) therapy, which is a non-invasive and non-pharmaceutical alternative. It is designed in such a way that the body's own anti-inflammatory mechanisms are stimulated by a rise in the levels of endothelial nitric oxide, which, in turn, activates anti-inflammatory cascades, thus speeding up tissue repair.
Additionally, the demand for monoclonal antibodies for veterinary pain management will lead to the growth of the market in the forecast period. Monoclonal antibodies selectively target and prove effective in a specific area, by binding to a specific antigen. An example of a canine monoclonal antibody is bedinvetmab, which offers effective pain relief from osteoarthritis. This works by inhibiting nerve growth factor (NGF)-mediated cell signaling.
Moreover, in January 2022, Zoetis Inc. announced the FDA approval for its injectable monoclonal antibody, Solensia (frunevetmab injection), for controlling feline osteoarthritis pain. This injection helps improve mobility, comfort, and the overall wellbeing by targeting NGF and functions as a naturally produced antibody. Additionally, it has been approved in the European Union and available to veterinarians since May 2021.
Furthermore, the increasing need for pet insurance, growing expenditure by animal welfare organizations, and rising number of initiatives by government agencies will foster the growth of the market.
Drug Category Holds Larger Market Share
The drug category dominated the product segment, with a revenue share of more than 88%, in 2022, owing to the rising usage of nonsteroidal anti-inflammatory drugs (NSAIDs) for analgesic purposes in animals. Hence, NSAIDs are dominating the drug category as they are extensively used in treating osteoarthritis-related pain and inflammation in animals. In addition, the major market players are manufacturing novel NSAIDs to lessen the side-effects and reactions caused by the existing ones.
For instance, Daxocox, which was developed by Animalcare, received the marketing authorization by the European Union on April 20, 2021. Daxocox is a novel weekly oral NSAID that helps stop pain in dogs with osteoarthritis. There is growing pressure on animal owners to keep up with the prevailing veterinary health standards, in order to fulfill the demand for dairy products, fresh meat, and animal-derived nutritional supplements. This is expected to escalate the usage of veterinary anti-infectives in the coming years.
Similarly, opioids are expected to witness a significant growth in demand during the forecast period due to their long-standing efficacy in pain management. Opioids are known to be the most-efficacious available analgesics and considered to be great drugs for moderate-to-severe surgical pain in certain animal species.
Veterinary Pain Management Market Report Coverage

| | |
| --- | --- |
| Report Attribute | Details |
| Historical Years | 2017-2022 |
| Forecast Years | 2023-2030 |
| Market Size in 2022 | USD 1.60 Billion |
| Revenue Forecast in 2030 | USD 2.78 Billion |
| Growth Rate | 7.10% CAGR |
| Report Scope | Market Trends, Drivers, and Restraints; Revenue Estimation and Forecast; Segmentation Analysis; Impact of COVID-19; Companies' Strategic Developments; Market Share Analysis of Key Players; Company Profiling |
| Segments Covered | By Product; By Application; By Animal Type; By End User; By Region |
Explore more about this report - Request free sample pages
Joint Pain Category To Witness Fastest Growth
The joint pain category is expected to grow at the highest CAGR, of more than 7.6%, over the forecast period, due to the increasing number of pets, rising number of overweight or obese animals, and growing incidence of chronic diseases, such as osteoarthritis, in animals.
Within the joint pain category, osteoarthritis holds the largest share, due to the growing occurrence of this condition, especially in the dog family. NSAIDs and coxibs are given for moderate-to-severe osteoarthritis pain, whereas nutraceuticals are advisable for mild osteoarthritis pain. The most-utilized medications for joint disorders include Meloxicam, Rimadyl, Galliprant, and Metacam.
Increasing Prevalence of Animal Diseases that Cause Pain and Inflammation Drives Market
The increasing occurrence of animal disorders that result in pain and inflammation is projected to fuel the growth of the global veterinary pain management market in the forecast period. There are various inflammatory diseases in animals, such as canine distemper, rabies, cryptococcosis, coccidioidomycosis, toxoplasmosis, and neosporosis, as well as chronic disorders, such as cancer, chronic kidney disease, and arthritis, most of which have pain as a symptom.
According to the National Cancer Institute, an estimated 65 million dogs and over 32 million cats in the U.S. are suffering from cancer, with roughly 6 million cancer diagnoses occurring each year. This huge population of animals with cancer provides an opportunity for the growth of the market, as pain is the most-common clinical symptom of the illness. Hence, there is a considerable need for safe and effective pain management in animals worldwide.
Moreover, due to the increasing prevalence of various disorders, there has been a significant rise in the number of veterinarians practicing in the U.S., which stood at 121,461 in 2021, compared to 118,624 in 2020.
Pain Management Solutions Demand More for Companion Animals
The companion animal category held the larger revenue share. This is credited to the growing demand for the best possible treatments, due to the rise in the number of pet owners, which is contributing to an increase in the pet healthcare expenditure. Dogs, cats, and horses are commonly petted around the world. Within the companion animal category, the dog subdivision accounts for a significant share of the overall product sales, as a result of the availability of advanced treatment alternatives for canines suffering from chronic disorders.
The rising investments in pet healthcare are owing to a strong bonding of humans with the animal and the high disposable income of pet owners in developed countries. In April 2022, according to the American Pet Products Association (APPA), the national pet industry reached USD 123.6 billion in sales in 2021. Furthermore, many leading market players are working to develop more animal healthcare products, looking at future growth opportunities.
For instance, in September 2022, Zoetis Inc. announced its acquisition of Jurox, an animal health company that develops, manufactures, and markets a wide range of veterinary medicines for livestock and companion animals. Through this acquisition, Zoetis has earned access to a broad range of products, including Alfaxan, an anesthetic product for companion animals.
Moreover, in March 2020, Ceva Animal Health launched a cattle campaign, 'Wave Goodbye to Pain', to spotlight how proper pain relief in lame cattle can speed up recovery time and improve results. These types of campaigns raise awareness among veterinary professionals and farmers, in turn, accelerating the market growth.
Additionally, companion animals receive more-specialized care and medical attention from their owners than production animals, which is a major factor boosting the market revenue in this category.
North America Will Maintains Its Dominance
North America led the market, with a revenue share of around 42%, in 2022, and it is further expected to maintain its dominance, growing at a significant CAGR, during the forecast period. This growth is due to the surging incidence of various infections, including those caused by parasites, which is resulting in the use of animal antibiotics. Other key drivers are the growing ownership of companion animals, booming awareness of animal health, and rising number of veterinary hospitals in the region. Additionally, the presence of all key market players in the region will contribute in driving the market for veterinary pain management solutions.
Furthermore, the growing investments in research and development in the well-established animal health industry are propelling the growth of the market. For instance, in June 2022, Boehringer Ingelheim partnered with CarthroniX to explore the utility of small molecules for cancer treatment in dogs. This collaboration will emphasize on identifying new molecules to target cancers in dogs, as small molecules could give superior disease control.
The Asia-Pacific region is expected to witness the fastest growth over the forecast period, owing to the rise in the export of animal products. This is putting pressure on people engaged in animal husbandry to maintain animal health, due to the stringent product quality requirements for exports. Additionally, the growing popularity of companion animals is being influenced by the improving living standards in countries including China and India. Hence, the growing trend of pet adoption and the rising cases of animal diseases in the region, together with its developing economy, are further boosting the growth.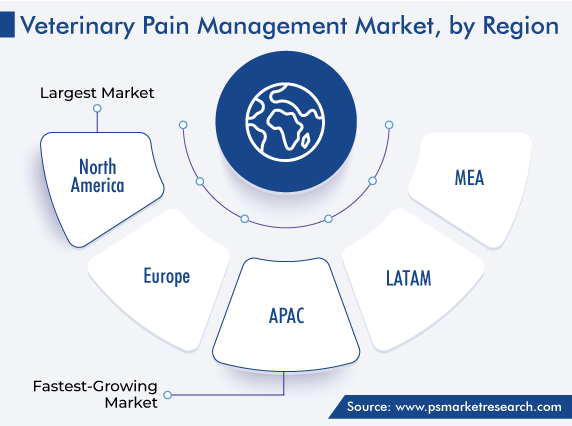 Veterinary Hospitals Category To Hold Largest Revenue Share
Veterinary hospitals held a market share of around 48% in 2022, due to the technological advancements in diagnostic imaging, remedial treatment, nuclear and regenerative medicine, laser diagnostics, and surgeries, all of which are easily available at veterinary hospitals. These healthcare centers are equipped with modern technologies and provide day-to-day care, immunogenetic & therapeutic vaccination, artificial insemination, surgical interventions, and other services for cattle, birds, and small animals.
Moreover, the veterinary clinics category will witness significant growth in the coming years with the increasing need for outpatient clinics to meet the rising demand for surgical procedures for animals. Additionally, the investments made to advance companion animal diagnostics through the creation of next-generation technologies would be beneficial for the sector's growth during the forecast timeframe.
Furthermore, the growing incidence of bacterial conditions in companion animals, especially dogs, is contributing to the increase in the number of veterinary hospitals and clinics. For instance, in the U.S., there are approximately 30,000 veterinary practices, among which 10% are general companion animal practices and 40–50% are referral practices.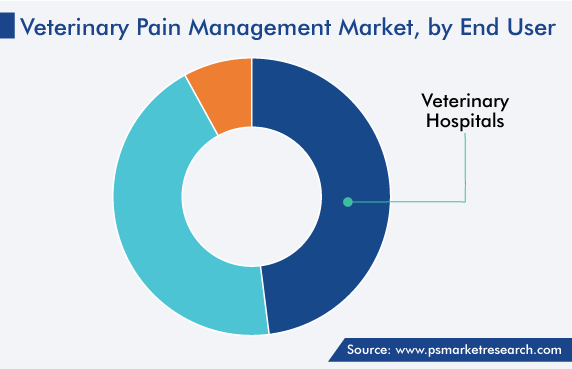 Key Players in Veterinary Pain Management Market Are:
Zoetis Inc.
Boehringer Ingelheim International GmbH
Elanco Animal Health Incorporated
Merck & Co. Inc.
Dechra Pharmaceuticals PLC
Vetoquinol
Assisi Animal Health
Fidelis Animal Health Inc.
Sequent Scientific Limited
Multi Radiance Medical
Market Size Breakdown by Segment
The report analyzes the impact of the major drivers and restraints on the veterinary pain management market, to offer accurate market estimations for 2017–2030.
Based on Animal Type
Companion Animal
Livestock Animal
Based on Application
Joint Pain

Osteoarthritis
Musculoskeletal

Cancer Pain
Postoperative Pain
Based on Product
Drug

By Type

NSAIDs
Opioids
Local Anesthetics
Alpha-2 Agonists
Disease-Modifying Osteoarthritis Agents

By Route of Administration

Device

Laser Therapy Device
Electromagnetic Device
Based on End User
Veterinary Hospitals
Veterinary Clinics
Geographical Analysis
North America
Europe

Germany
U.K.
France
Italy
Spain

Asia-Pacific

Japan
China
India
South Korea
Australia

Latin America
Middle East and Africa

Saudi Arabia
South Africa
U.A.E.