Market Overview
The global vascular patches market generated revenue of USD 387.3 million in 2022, which is expected to observe a compound annual growth rate of 8.1% during 2022–2030, to reach USD 724.2 million by 2030.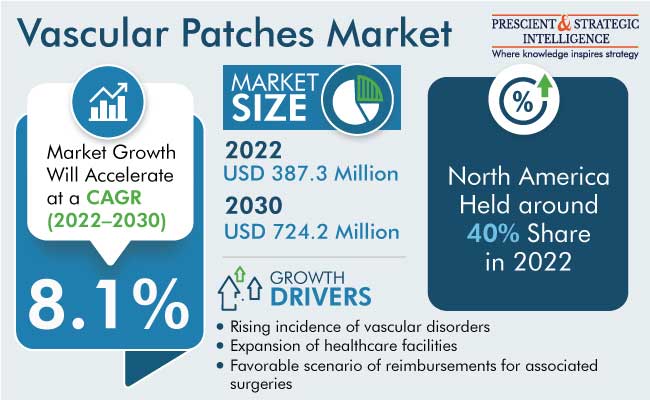 The rising incidence of vascular disorders among the aging population, favorable scenario of reimbursements for associated surgeries, expansion of healthcare facilities, and increasing use of biological patches are driving the market. Vascular patches are also gaining traction as a result of the rising healthcare infrastructure development expenditure. The high prevalence of stroke and ischemic heart diseases, which lead to a large number of hospital admissions, results in a high demand for vascular patches.
According to the World Health Organization, the main cause of death worldwide is cardiovascular disease. As per the agency, 18 million people globally die of cardiovascular problems each year, which equals over 30% of all global fatalities. The majority of these deaths (85%) are brought on by coronary heart disease and stroke. Additionally, more than 75% of the cardiovascular-disease-related deaths occur in low-income nations. Further, around 40% of the 17 million unexpected deaths from non-communicable diseases among people under the age of 70 are attributed to cardiovascular problems.
Increasing Geriatric Population and Rising Vascular Disease Prevalence
The growth of the global geriatric population is a major factor behind the rising prevalence of cardiovascular diseases, aneurysms, and cancer. The WHO says that 1 in 6 people globally will be aged 60 years or more by 2030, with this population rapidly increasing from 1 billion in 2020 to 1.4 billion. Moreover, by 2050, the global population in the 60 and above age group will be 2.1 billion. Similarly, the number of persons aged 80 years and above will triple from 2020 to 2050, reaching 426 million.
Additionally, the American Heart Association estimates the CVD incidence in the U.S. in the population aged 40–59 years at around 40%, about 75% in the age group of 60–79, and roughly 86% in those over the age of 80. Hence, the geriatric population, which creates a heavy burden on the healthcare infrastructure of the U.S. due to its high risk of cardiovascular diseases, is a major driver for the market.
Reimbursement Options for Vascular Treatments
The primary risk for patients currently is multi-morbidity, which denotes the concurrent presence of two or more chronic diseases. Nearly 80% of the adults aged 65 and older have two or more chronic conditions, and 68% have three or more.
Therefore, a large number of developed and developing countries offer government support for vascular operations. For instance, the Indian government's Rashtriya Arogya Nidhi program offers financial aid to patients below the poverty line who have serious life-threatening illnesses, so they can obtain medical care at any government super-specialty hospital or healthcare institution. Heart surgery for congenital and acquired conditions is one of the procedures covered in this program. The market for vascular patches is, therefore, expected to grow as a result of the rise in the volume of vascular operations brought on by the easy availability of reimbursement.
Vascular Patches Market Report Coverage

| | |
| --- | --- |
| Report Attribute | Details |
| Historical Years | 2017-2022 |
| Forecast Years | 2023-2030 |
| Market Size in 2022 | USD 387.3 Million |
| Revenue Forecast in 2030 | USD 724.2 Million |
| Growth Rate | 8.1% CAGR |
| Report Scope | Market Trends, Drivers, and Restraints; Revenue Estimation and Forecast; Segmentation Analysis; Companies' Strategic Developments; Market Share Analysis of Key Players; Company Profiling |
| Segments Covered | By Material; By Application; By End User; By Region |
Explore more about this report - Request free sample pages
Rising Number of Cardiovascular Surgeries
Cardiovascular surgeries are rising due the high prevalence of stroke and ischemic heart disease due to genetic factors, sedentary lifestyle, smoking, drinking, eating an unhealthy diet, excessive drinking, consuming junk food and staying in high stress, factors responsible to cardiovascular disease, that leading to a large number of hospital admissions, leads to a higher demand for vascular patches.
The cardiovascular surgery volume in South Korea, which was estimated at 10,581 in 2014, is expected to steadily rise to 15,501 by 2040, a 46.5% increase. Hence, as the volume of such operations grows, so will the demand for vascular patches, which are widely used to cover and replace the diseased tissue removed from the blood vessels during surgery.
Biological Vascular Patches Hold Larger Share
The biological category accounted for the larger revenue share, around 60%, in 2022, and it is further expected to maintain its dominance during the forecast period. This is because biological variants are widely used for closing the arteries during cardiovascular surgeries. These patches have several advantages over their synthetic counterparts, including higher compatibility with the living tissue, less toxic or injurious nature, lower risk of immunological rejections, and ease of use. They also minimize suture line bleeding and reduce the chances of infection.
Carotid Endarterectomy Category Accounts for Largest Share
Based on application, the CEA category holds the largest share, around 40%, on account of the rise in the count of such surgeries. A systematic review of randomized clinical trials found that patch angioplasty in traditional CEA could reduce the risk of a recurrent ipsilateral stroke and restenosis, compared to a primary closure.
Advanced stent research and development initiatives will also enhance patient outcomes with better endovascular management results.
Furthermore, vascular bypass surgery will witness significant growth during the forecast period due to the availability of reimbursement in emerging and industrialized economies. Every year, about 400,000 heart bypass procedures are carried out globally, including 60,000 in India and 20,000 in the U.S. Doctors in India prefer surgery over any other approach because its success rate is 98%, significantly higher than in the U.S.
Additionally, the congenital heart diseases (CHDs) category will show significant growth in the future. 'CHD' refers to a variety of structural issues with the heart that exist since birth. Their prevalence is reported to be 8–12 per 1,000 live births. Considering a rate of 9 per 1,000, about 1.35 million babies are born with a CHD each year globally. According to the Centers for Disease Control and Prevention, CHDs are found in nearly 1% or about 40,000 births per year in the U.S.
The prevalence of some CHDs, primarily those of the mild nature, is increasing, while that of others has remained relatively stable. A critical CHD affects about 1 in 4 infants. In their first year of life, infants with such a condition typically require surgery or other interventions.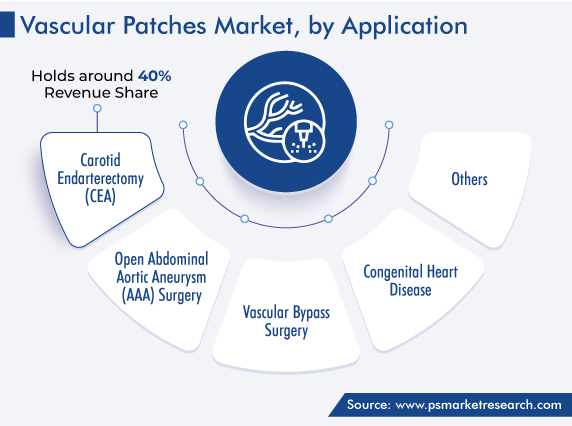 North America Is Prime Revenue Contributor
North America captured the largest revenue share in the market, of around 40%, in 2022. This is attributed to the ongoing development in healthcare technologies, rapidly changing lifestyles, rising prevalence of cardiac diseases and hernia, increasing consumption of alcohol and tobacco, growing obesity levels, and rising substance abuse. Moreover, the surging frequency of product launches and the commercialization of innovative treatments drive the market advance in the region. North America also dominates the market due to the advancements in its healthcare infrastructures and an advantageous insurance reimbursement scenario for vascular treatments.
Moreover, companies in the region are focusing on the development of innovative products. For instance, in December 2021, Aziyo Biologics Inc. received funding of USD 14 million to improve its offerings in the regenerative medicine area.
Canada is also witnessing a rise in the industry revenue with its advantageous healthcare infrastructure, growing consumer awareness, robust support of the government, and technological advancement in the surgery domain.
Moreover, Europe is the second-largest market due to the presence of prominent research institutions and market players and the favorable regulations of governments that encourage surgeries for the predictive management of diseases.
Furthermore, Germany is showing significant growth in this market. This is owing to the rise in its healthcare budget, adoption of advanced technologies, awareness raising initiatives of the governments, favorable reimbursement policy for vascular procedures, and strong preference for surgeries among healthcare personnel for CHDs.
In the same way, China is showing significant growth in the vascular patches market of the APAC region. China records a high prevalence of cardiovascular diseases, which are also among the leading causes of death here. This is owing to the consumption of a high-sodium diet and seafood, a sedentary lifestyle, and extensive number of smokers and alcoholics.
Moreover, mergers and demergers have become a trend in the industry as life sciences companies up their focus on enhancing patient outcomes. For example, LeMaitre Vascular purchased Artegraft Inc. in December 2021 to improve its line of biological vascular patches.
Similarly, in October 2019, LeMaitre Vascular purchased the operations and assets of Admedus Ltd. The businesses agreed to a licensing arrangement for the CardioCel and VascuCel product lines, which provide high biocompatibility and resistance to calcification.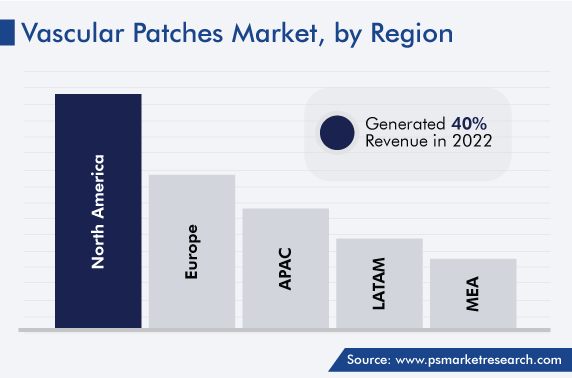 Top Providers of Vascular Patches Are:
Baxter International Inc.
LeMaitre Vascular Inc.
W. L. Gore & Associates Inc.
Medtronic plc
B. Braun Melsungen AG
Johnson & Johnson Services Inc.
Edwards Lifesciences Corporation
Market Size Breakdown by Segment
The report analyzes the impact of the major drivers and restraints on the market, to offer accurate market estimations for 2017–2030.
Based on Material
Based on Application
Carotid Endarterectomy (CEA)
Open Abdominal Aortic Aneurysm (AAA) Surgery
Vascular Bypass Surgery
Congenital Heart Disease
Based on End User
Hospitals
Ambulatory Surgery Centers
Geographical Analysis
North America
Europe

Germany
U.K.
France
Italy
Spain

Asia-Pacific

Japan
China
India
South Korea
Australia

Latin America
Middle East and Africa

Saudi Arabia
South Africa
U.A.E.