Market Overview
The vascular access devices market size stood at USD 6,100.6 million in 2023, and it is expected to grow at a CAGR of 7.2% during 2024–2030, to reach USD 9,843.5 million by 2030.
The market is driven by the rising aging population, unhealthy lifestyles, and increasing prevalence of cancer and other chronic diseases. Chronic diseases are already a major healthcare burden in high-income as well as low- and middle-income countries. Some of the most prevalent of all are cancer, diabetes, and autoimmune diseases, which require varying degrees of intervention. Immunotherapy drugs have the potential to mitigate the impact of many of these chronic diseases, which propels the usage of venial catheters.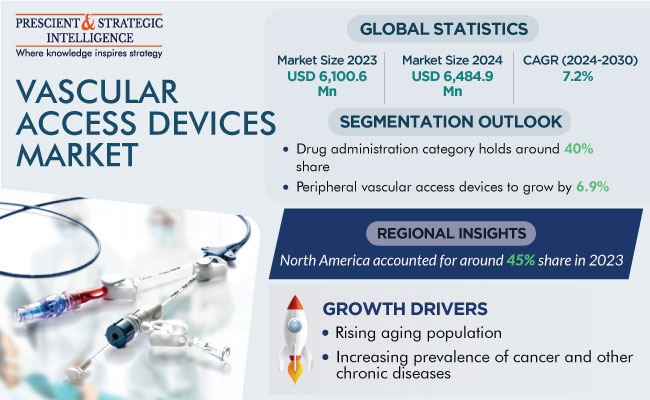 Moreover, during the pandemic, vascular access devices played an important role in the health management of patients, by allowing for the transfusion of intravenous fluids and blood and the administration of drugs.
Therefore, such devices were in high demand due to the rising prevalence of the COVID-19 infection, with many patients showing severe respiratory symptoms and requiring intensive care. Healthcare practitioners used hypertonic saline (HTS) for such patients as it was believed to be beneficial in reducing the inflammation in similar viral illnesses, which drove the usage of such devices.
Increasing Use of Vascular Access Devices on Geriatric Patients Drives Market
The increasing geriatric population is the key driver for the vascular access devices industry globally. The number of people aged 60 years or above is expected to increase from 1,000 million in 2020 to 1,400 million by 2030 and more than 2,100 million by 2050. Further, the population aged 80 years or more is expected to triple between 2020 and 2050, to reach more than 420 million.
Moreover, developing countries, such as India and China, are expected to have a larger geriatric population compared to developed countries, including the U.S., France, Australia, and Canada. The number of people aged 60 years and above is expected to reach approximately 107 million in the U.S., 324 million in India, and 437 million in China by 2050.
This rising aging population across the globe would lead to an increase in the burden of health problems, many of which require the continuous use of peripheral venous catheters and other devices for fluid transfusions and other procedures involving the blood vessels.
The elderly population needs continuous and high-level care as its low immunity makes it susceptible to infections. Moreover, aged people have weakened body functions, leading to longer recovery periods in comparison to adults. This is why the elderly are especially susceptible to chronic diseases, such as cancer, diabetes, neurological disorders, and cardiovascular diseases, which leads to an increase in the demand for such devices, to offer effective care. Moreover, a lot of cases of cardiovascular diseases and cancer require surgeries at some point, which drives the use of intravenous catheters.
Increasing Volume of Surgeries Globally Propels Product Demand
The vascular access device market revenue is also increasing due to the rising prevalence of chronic and lifestyle-associated diseases, which results in a surge in the number of surgeries globally. During a vascular access procedure, a flexible, sterile, thin, plastic catheter is inserted into a blood vessel, to draw blood or deliver drugs, blood and blood products, and other agents into the bloodstream, over weeks, months, or even years.
Nearly half the population suffers from at least one chronic illness, including cardiovascular disorders, which may require surgery at some point, depending on severity. Moreover, diabetes is another major chronic disease, which leads to diabetic foot ulcers in most cases. These ulcers require management by surgeries, to prevent the maceration of the surrounding tissue. Globally, the volume of surgeries conducted each year is over 300 million.
Vascular Access Devices Market Report Coverage

| | |
| --- | --- |
| Report Attribute | Details |
| Market Size in 2023 | USD 6,100.6 Million |
| Market Size in 2024 | USD 6,484.9 Million |
| Revenue Forecast in 2030 | USD 9,843.5 million |
| Growth Rate | 7.2% CAGR |
| Historical Years | 2017-2023 |
| Forecast Years | 2024-2030 |
| Report Scope | Market Trends, Drivers, and Restraints; Revenue Estimation and Forecast; Segmentation Analysis; Impact of COVID-19; Companies' Strategic Developments; Market Share Analysis of Key Players; Company Profiling |
| Segments Covered | By Device Type; By Application; By End User; By Region |
Explore more about this report - Request free sample pages
Rising Application of Vascular Access Devices for Drug Administration
The drug administration category held the largest share, of 40%, of the market in 2023, attributed to the extensive usage of these devices for the administration of drugs for the treatment of infections, chemotherapy, and other purposes.
For instance, the systemic treatment of cancer involves the administration of chemotherapy agents, alongside targeted therapies and immunotherapy, into a central vein, using peripherally inserted central catheters (PICCs) and completely implanted ports (PORTs). Moreover, the rising prevalence of renal diseases, which are a group of progressive conditions affecting more than 10% of the global population, or more than 800 million individuals, is propelling the usage of devices that offer access to the blood vessels.
Peripheral Vessel Access Devices Are Majorly Used
Vascular access devices can either be used peripherally, i.e., on the patient's arm, or centrally, i.e., inserted into the jugular foramen. Such devices are majorly preferred for the continuous and repeated administration of medications, such as antibiotics.
Moreover, due to the rising prevalence of cardiac disorders and the burgeoning geriatric population, the market has experienced a rise in the demand for peripheral vascular access devices, which held a share of around 50% in 2023. This is because cardiovascular diseases are one of the primary causes of death, taking more than 19 million lives all over the world in the year 2020.
Additionally, cancer, diabetes, respiratory diseases, and almost every other kind of chronic disease are increasing in incidence on account of the lifestyle alterations and inadequate access to preventive care. Among these, cancer accounted for over 18.1 million new diagnoses and nearly 10 million deaths across the globe in 2020. The rising burden of such ailments will propel the demand for peripheral vascular access devices at a CAGR of 6.9% during the forecast period.
Hospitals Are Expected To Make Largest Contribution
With a revenue share of 55% in 2023, the hospitals category dominates the market. With the rising dialysis usage due to the wide prevalence of diabetes globally, the usage of such devices for the infusion or collection of the blood and in the transfer of nutritional fluid continues to pick up at hospitals. Overall, the rising chronic disease prevalence is driving hospitalization volumes, in turn, promoting the consumption of vascular access devices.
Therefore, over the last few years, the world has experienced a significant rise in the number of hospitals. Moreover, the skilled healthcare staff employed at hospitals would help these places maintain their dominance on the market.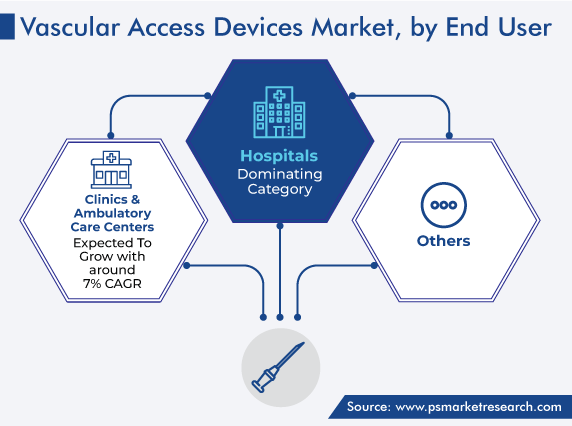 North America Holds Major Share in Global Market
North America dominated the market, with a share of more than 45%, in 2023. The large number of players in the region and the fast adoption of advanced medical equipment result in the growth of the regional market. Moreover, the favorable framework for healthcare cost reimbursement makes it easy for patients to seek quality healthcare.
Additionally, the market has been experiencing a faster growth in the U.S. than in Canada. The former country is internationally recognized for its healthcare facilities and innovations, with the government putting in substantial capital investments since a long time. Moreover, it is the biggest investor in healthcare due to its sizable population, established network of researchers, and expansive healthcare industry.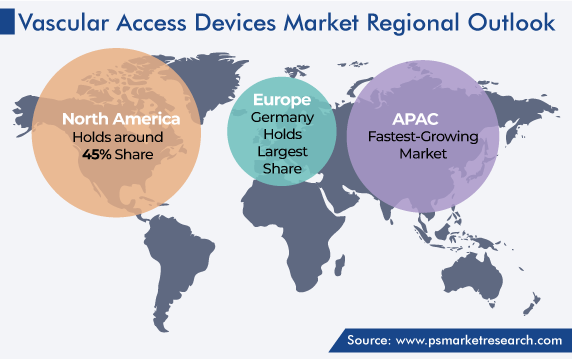 Further, the large number of hospitals, increasing disposable income, and government efforts to improve the standard of care drive the market at the higher rate in the country.
Top Vascular Access Device Manufacturers Are:
Becton, Dickinson and Company
Teleflex Incorporated
ICU Medical
B. Braun SE
Terumo Medical Corporation
Baxter International Inc.
AngioDynamics, Inc.
Cook Group Incorporated
Medtronic PLC
Access Vascular Inc.
Market Size Breakdown by Segment
This fully customizable report gives a detailed analysis of the vascular access devices market from 2017 to 2030, based on all the relevant segments and geographies.
Based on Device
Central
Peripheral
Accessories
Based on Application
Drug Administration
Fluid & Nutrient Administration
Blood Transfusion
Diagnostics & Testing
Based on End User
Hospitals
Clinics & Ambulatory Care Centers
Geographical Analysis
North America
Europe

Germany
U.K.
France
Italy
Spain

Asia-Pacific

Japan
China
India
South Korea
Australia

Latin America
Middle East and Africa

Saudi Arabia
South Africa
U.A.E.