Market Overview
The immunotherapy drugs market size stood at USD 121,746 million in 2022, and it is expected to grow at a CAGR of 7.10% during 2023–2030, to reach USD 210,752 million by 2030.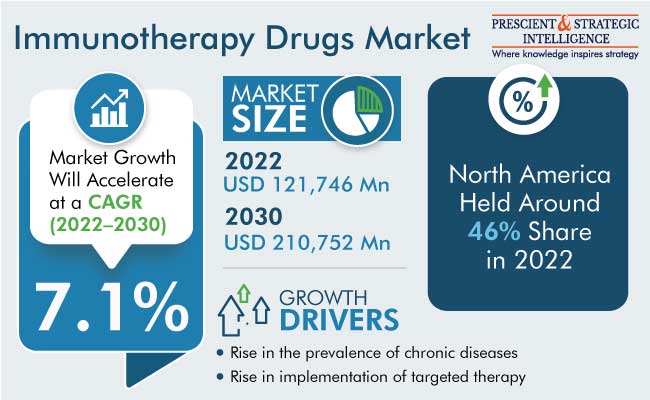 The global rise in the prevalence of chronic diseases is the main factor driving the market. According to the International Diabetes Federation, an estimated 537 million people between the ages of 20 and 79 had diabetes in 2021, a figure that is expected to reach 783 million by 2045. In order to improve research on related medications, major players are focusing on product launches and forming strategic alliances.
For instance, in March 2022, Nextera AS and Zelluna Immunotherapy AS worked together to produce optimal T-cell receptors (TCRs) for cancer immunotherapy. Additionally, Biomunex Pharmaceuticals and Institut Curie joined forces in February 2022 to develop an immunotherapy candidate for the treatment of hematological malignancies, using Biomunex Pharmaceuticals' BiXAR technology. Furthermore, Boehringer Ingelheim International GmbH and Enara Bio entered into a licensing deal in January 2021 to use Enara Bio's Dark Antigen discovery platform to develop novel cancer immunotherapies.
Additionally, it is projected that the rising usage of biosimilar medications will enhance patient outcomes. For instance, Biocon Biologics and Viatris Inc. introduced Abevmy, an Avastin biosimilar, for four cancer indications in Canada in May 2022. Additionally, in June 2022, Sandoz's application for a high-concentration formulation of the biosimilar Hyrimoz (adalimumab) was approved by the European Medicines Agency (EMA) for the treatment of rheumatoid arthritis, plaque psoriasis, Crohn's disease, and ulcerative colitis.
Furthermore, LATAM is expected to grow at a CAGR of 8.1% during the forecast period. The rising count of government initiatives, increasing healthcare expenditure, and growing prevalence of cancer are driving the growth in the regional demand. Additionally, the major players are focusing on the untapped market, which is further boosting the growth.
Surge in Prevalence of Chronic Diseases
Globally, chronic diseases are a major healthcare burden in high-income as well as low- and middle-income countries (LMIC). Some of the most-prevalent chronic diseases are cancer, diabetes, and autoimmune diseases, such as rheumatoid arthritis, which require effective therapeutic intervention. The impact of these diseases can be ascertained from the fact that roughly 10 million fatalities, or nearly one in every six, were caused by cancer in 2020. Hence, the cancer category held a significant share, of 41%, in 2022.
These drugs have the potential to mitigate the impact of chronic diseases. Several drugs manufactured for the treatment of chronic diseases are under clinical trials. Thus, the increasing use of immunotherapy drugs to combat the rising prevalence of chronic diseases is an important factor driving the industry.
Rise in Implementation of Targeted Therapy
Targeted treatments provide several benefits to patients of chronic diseases, such as lung tumor, leukemia, melanoma, and cystic fibrosis. For instance, Herceptin is a marketed targeted therapy for adenocarcinoma of the stomach or gastroesophageal junction and breast tumors. Similarly, Avastin is another targeted therapy drug, currently marketed for the treatment of several kinds of tumors, including breast, cervical, and colorectal cancer, glioblastoma, glioma, and non-small-cell lung, ovarian, and renal cell carcinoma.
The side-effects and low survival rates associated with traditional treatments have led to the increasing adoption of alternative approaches, such as targeted therapies, among healthcare providers globally. Thus, the growing preference for targeted therapies is expected to drive the demand for immunotherapy drugs in the coming years.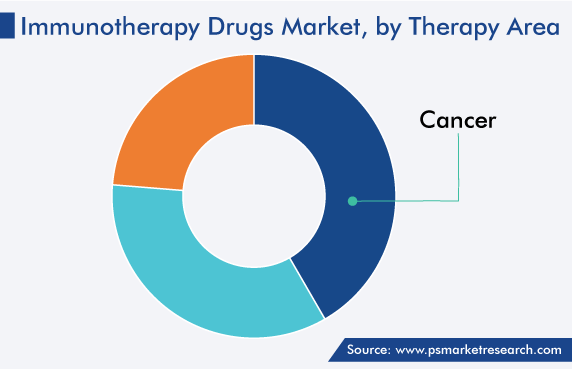 Increasing Availability of Biosimilars
Biosimilars are identical copies of already-approved drugs. The increasing number of patent expirations is leading to a rise in the availability of biosimilars across the globe. Moreover, the long time and high costs associated with the development of single drug molecules are supporting the demand for biosimilars.
According to the Tufts Center for the Study of Drug Development (Tufts CSDD), the cost to develop a new pharmaceutical drug that gains approval is estimated to be around USD 2.6 billion. These costs inflate the prices of the marketed drugs, thus leading to a high demand for alternative drugs, such as biosimilars.
Thus, pharmaceutical companies are developing biosimilars, which mimic the functionality of an approved drug, at a comparatively low price, which is expected to propel the growth in the adoption of the immunotherapy drugs.
Immunotherapy Drugs Market Report Coverage

| | |
| --- | --- |
| Report Attribute | Details |
| Historical Years | 2017-2022 |
| Forecast Years | 2023-2030 |
| Market Size in 2022 | USD 121,746 Million |
| Revenue Forecast in 2030 | USD 210,752 Million |
| Growth Rate | 7.10% CAGR |
| Report Scope | Market Trends, Drivers, and Restraints; Revenue Estimation and Forecast; Segmentation Analysis; Impact of COVID-19; Companies' Strategic Developments; Market Share Analysis of Key Players; Company Profiling |
| Segments Covered | By Type; By Therapy Area; By End User; By Region |
Explore more about this report - Request free sample pages
North America Is Largest Contributor to Global Revenue
North America is the largest revenue contributor to the immunotherapy drugs market, and it will advance with 7.9% CAGR during the forecast period. This can be ascribed to the growing R&D activities in these drugs and increasing prevalence of chronic diseases, such as cancer, and autoimmune diseases, in the region. For instance, in 2021, in the U.S., around 608,000 cancer deaths and 1.9 million new cases were reported.
With a focus on curbing the growing prevalence of these issues, several research studies centered around immunotherapy approaches to targeting carcinomas are being conducted in the region. In this regard, the increasing number of research laboratories and growing direct and indirect investments in R&D by pharmaceutical and biotechnology companies will support the industry growth during the forecast period.
For instance, in October 2017, the NIH partnered with 11 leading biopharmaceutical companies to launch the Partnership for Accelerating Cancer Therapies (PACT), a five-year public–private research collaboration worth USD 215 million, as part of the carcinoma Moonshot. Hence, cancer applications account for the highest consumption of these drugs in the region, and this category is expected to generate a significant revenue by 2030.
Moreover, the rise in the number of drug approvals is expected to drive the industry growth in the North American region. For instance, in 2018, the USFDA approved cemiplimab-rwlc (LIBTAYO) by Regeneron Pharmaceuticals Inc. for patients suffering from metastatic cutaneous squamous-cell carcinoma (CSCC); and pembrolizumab (KEYTRUDA) by Merck & Co. Inc., in combination with platinum and pemetrexed, as the first line of treatment for metastatic non-squamous non-small-cell lung cancer (NSqNSCLC) with no EGFR or ALK genomic tumor aberrations.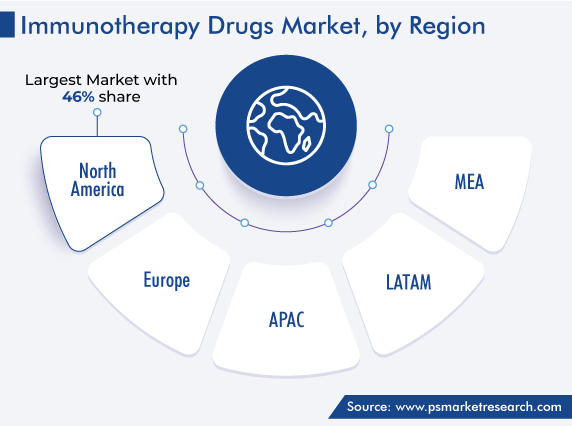 Thriving Demand for mAbs
mAbs, which are homogeneous antibodies developed through the hybridoma technology, have been extensively incorporated into the immunotherapeutic approach for treating several diseases. They are being widely adopted across the molecular biology, biochemistry, and clinical fields. High sensitivity to the changes in salt concentration and pH, as well as a higher concentration over polyclonal antibodies, is one of the advantages of mAbs that have led to their application as immunotherapy drugs for treating autoimmune diseases, cancer, infections, and other diseases.
The therapeutic potential of mAbs has inclined the focus of several biopharmaceutical companies to increase research investment, to develop more of them and investigate their immunotherapeutic application. Humira (adalimumab) by Abbvie Inc. and Rituxan (rituximab) and Herceptin (trastuzumab) by F. Hoffmann-La Roche Ltd. are a few available mAbs for chronic diseases.
Increasing R&D Expenditure Is Driving Growth of APAC Market
Geographically, APAC is predicted to be the fastest-growing market, at a CAGR of 8.6%, during the forecast period. This growth is mainly aided by the increasing expenditure in the improvement of the healthcare infrastructure and enhancement of the R&D pipeline in the region. This is creating huge revenue generation opportunities for pharmaceutical and biotechnology companies in the region.
Furthermore, the large untapped market provides ample opportunities to the players to explore fast-growing economies, such as China and India, and enhance their position.
For instance, in June 2018, Bristol Myers Squibb Company received the China National Drug Administration (CNDA)'s approval for Opdivo (nivolumab injection), to be used for previously treated NSCLC patients. It is a PD-1 inhibitor that has demonstrated better survival benefits compared to conventional chemotherapy for cancer patients.
Top Immunotherapy Drug Manufacturers Are:
Eli Lilly and Company
Sanofi
Novartis AG
AbbVie Inc.
F. Hoffmann-La Roche Ltd.
AstraZeneca PLC
Merck & Co. Inc.
GlaxoSmithKline plc
Bristol-Myers Squibb Company
C. H. Boehringer Sohn AG & Co. KG
Takeda Pharmaceutical Company Limited
Market Size Breakdown by Segment
This fully customizable report gives a detailed analysis of the market from 2017 to 2030, based on all the relevant segments and geographies.
Based on Type
Checkpoint Inhibitors

By brand

Humira
Rituxan/MabThera
Herceptin
Remicade
Enbrel

Vaccines

By type

Preventive vaccines
Therapeutic vaccines

By brand

Prevnar/Prevenar 13
Gardasil
ProQuad
Rotarix
Based on Therapy Area
Cancer
Autoimmune and Inflammatory Diseases
Infectious Diseases
Based on End User
Hospitals and Clinics
Individuals
Geographical Analysis
North America
Europe

Germany
U.K.
France
Italy
Spain

Asia-Pacific

Japan
China
India
Australia
South Korea

Latin America
Middle East and Africa

Saudi Arabia
South Africa