Market Overview
The uterine fibroid treatment market size stood at USD 3,121.1 million in 2022, and it is expected to grow at a CAGR of 10.1% during 2023–2030, to reach USD 6,714.4 million by 2030. The major factors attributing to the growth include the rising patient pool with uterine fibroids, the growing female geriatric population, the surging prevalence of hormonal conditions among females, and changing lifestyles.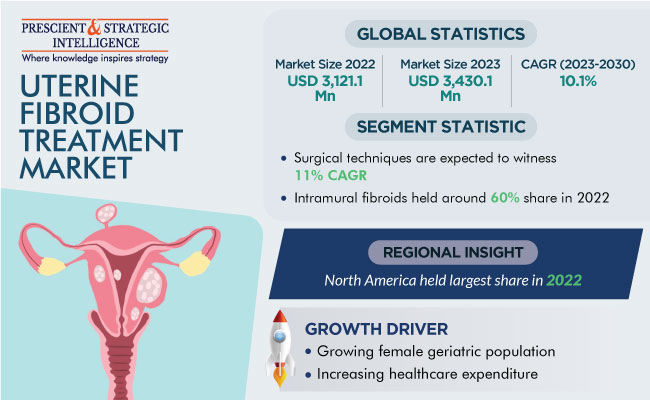 Additionally, the expansion of healthcare infrastructure in developing countries, increased consciousness among the population about abnormalities, developments of efficient and new techniques, and many governments as well as commercial groups are emphasizing raising awareness of the early diagnosis of fibroids are contributing to the demand for uterine fibroid treatment. For instance, July is celebrated as 'Fibroids Awareness Month' every year for creating awareness among the population around the world.
Also, the White Dress Project, Fibroids Project, HealthyWomen.org, and the Center for Innovative GYN Care are a few programs started for the same. For instance, the Fibroids Project aims to offer information about ongoing research, therapy options, and procedures for doctors and women. It is an online community that supports women to get rid of the condition. Further, the White Dress Project promotes national awareness and stimulates support for people with fibroids through research, education, and advocacy. Therefore, the surging awareness among women about the treatment of uterine fibroids is leading to promote the market growth.
Surging Prevalence of Uterine Fibroids Drives the Demand
There has been a significant surge in the prevalence of uterine fibroids among women globally in recent years, especially in their 40s and early 50s. For instance, as per a recent study in November 2022, an approximate incidence of uterine fibroids is between 20% and 77%, and an estimated occurrence is around 40–60% amongst women under the age of 35 years and 70–80% among women above the age of 50 years.
Additionally, in February 2022, according to an article published by the Contemporary OB/GYN, titled 'A look at the current state of uterine fibroid care', it is estimated that over 70% of women will develop uterine fibroids by the age of 50. This condition is a complex one that can extend from being asymptomatic to detrimental effects on a woman's health, and in turn, impacts the quality of life. Hence, the increasing prevalence of uterine fibroids creates the need for fast diagnosis and cure of the problem, which, in turn, influences the market for uterine fibroid treatment.
Intramural Fibroids Are the Most Common Occurring Type
The intramural fibroids category held the largest market share, of 60%, in 2022, based on the uterine fibroid types. This is attributed to the increasing occurrence of intramural fibroids among women globally. Typically, this type of fibroid could grow in the anterior, posterior, or fundal position, and seems to stay small in size as compared to other types of fibroids, although it has the potential to grow in large size. Furthermore, the intramural fibroids do not generally bulge outward or protrude into the uterine cavity and are rooted in the muscular uterus wall. Hence, there is a rising need for rapid abdomen diagnosis.
Moreover, the increasing need for research on various diagnosis technologies and a number of companies that are significantly focusing on launching innovative products for the treatment are contributing to the growth of the market. For instance, in May 2021, Myovant Sciences and Pfizer Inc. announced the FDA approval of MYFEMBREE, as a one-pill, once-a-day therapy to manage heavy menstrual bleeding related to uterine fibroids in premenopausal women for up to 24 months. In addition, the approval is supported by one-year efficacy and safety data, including 24-week data from the Phase-3 SPIRIT 1 and SPIRIT 2 trials.
Surgical Techniques Emerged as Most Significant Treatment Choice
The surgical techniques category is expected to witness a CAGR of 11% during the forecast timeline. This can be ascribed to the increased incidences of fibroids causing moderate-or-severe symptoms, including extreme pain and heavy bleeding. Although medications can help in case of mild symptoms, as a result, surgical methods are usually preferred by doctors for the removal of fibroids.
The hysterectomy category accounts for a major share based on surgical techniques. This is due to the rising number of hysterectomy surgeries, as these are the most preferred and permanent solutions for treating uterine fibroids in women. For instance, according to the Centers for Disease and Prevention (CDC) reports, approximately 600,000 hysterectomies are conducted every year in the U.S. In addition, as per the American College of Obstetricians and Gynecologists (ACOG), about a third of all women will undergo a hysterectomy by the age of 60. These high numbers are expected to support the market expansion during the projection period.
Furthermore, the rising shift toward minimally invasive and non-invasive fibroid surgical procedures is expected to drive the market growth in this category. These surgeries involve small incisions, cause less post-operative pain, have lower complications, and offer speedy recovery, leading to their surging adoption. Advancements in robotic and laparoscopic-assisted surgeries are delivering efficacious treatment and quality that are further promoting their demand.
Various market players are investing in research and development for launching surgical instruments helpful in these types of surgeries. For instance, MR-guided Focused Ultrasound (MRgFUS) is an emerging novel technology for the management of uterine fibroids. It is extensively used by medical professionals as it is one of the incisionless procedures. The device utilizes ultrasound beams that heat and remove specific tissue from the uterine cavity.
Uterine Fibroid Treatment Market Report Coverage

| | |
| --- | --- |
| Report Attribute | Details |
| Market Size in 2022 | USD 3,121.1 Million |
| Market Size in 2023 | USD 3,430.1 Million |
| Revenue Forecast in 2030 | USD 6,714.4 Million |
| Growth Rate | 10.1% CAGR |
| Historical Years | 2017-2022 |
| Forecast Years | 2024-2030 |
| Report Scope | Market Trends, Drivers, and Restraints; Revenue Estimation and Forecast; Segmentation Analysis; Impact of COVID-19; Companies' Strategic Developments; Market Share Analysis of Key Players; Company Profiling |
| Segments Covered | By Type; By Treatment; By End User; By Region |
Explore more about this report - Request free sample pages
North America Is Principal Revenue Contributor
In 2022, North America accounted for the largest revenue share, of 40%, in the uterine fibroid treatment market. This is attributed to the established healthcare industry in the U.S. and Canada, the rising cases of uterine fibroids, the easy accessibility of the latest technologies, and the increasing patient pool having hormonal disorders and uterine cancers in the region. Additionally, government initiatives, high reimbursement rates, and a rise in hysterectomy-associated surgical operations are further fostering the growth of the market for uterine fibroid treatment.
Moreover, the presence of key players, such as Stryker, Medtronic plc, Pfizer Inc., and The Cooper Companies Inc., and their technologically improved advancements and novel medications for curing uterine fibroids are boosting the market growth in the region. For instance, in March 2021, Myovant Sciences and Pfizer Inc. announced positive results from the Phase-3 LIBERTY randomized extraction study of relugolix combination therapy in females having uterine fibroids. This oral-fixed dose combination manages heavy menstrual bleeding associated with uterine fibroids and moderate-to-severe symptoms of uterine fibroids.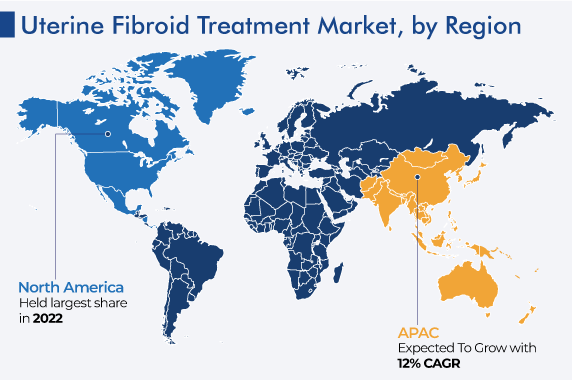 Hospital Dominates the Industry
The hospital category held the largest revenue share, of 60, in 2022. This is due to the presence of highly developed infrastructure across hospitals. In addition to that, better access to modern technologies for the treatment of uterine fibroids in healthcare facilities is accelerating the market growth in this category. Also, hospitals are highly developed to manage any complicated case and emergency associated with uterine fibroids through highly specialized doctors. Moreover, many large hospitals are putting emphasis on providing training to gynecologists and interventional radiologists in the area of robotic minimally invasive procedures and radiofrequency.
On the other hand, the ambulatory surgical centers category is projected to grow at a steady pace in the forecast timeline. This can be due to the upgradation of this healthcare infrastructure and having access to quicker and more effective technologies. Further, these centers offer customized surgical environments, improved patient accessibility, highly efficient surgical teams, on-time scheduling, lesser operative and facility times, less potential exposure to nosocomial infections, lower treatment costs, and intensified quality control processes. These benefits of ASCs lead patients to shift their focus from hospitals to ambulatory settings.
Furthermore, as per the Journal of the Society of Laparoscopic & Robotic Surgeons, there are more than 6,000 ASCs in the U.S., which account for roughly 35% of all surgical procedures in the country and have 10% of surgical revenue.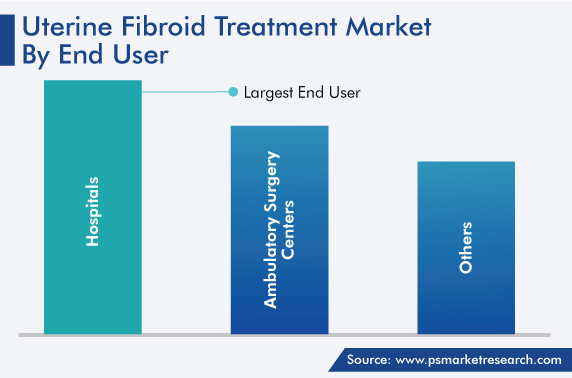 Top Providers of Uterine Fibroid Treatment Solutions Are:
Myovant Sciences Ltd.
INSIGHTEC Ltd.
Medtronic plc
Gynesonics Inc.
Minerva Surgical Inc.
Hologic Inc.
Boston Scientific Corporation
Abbvie Inc.
Pfizer Inc.
ObsEva SA
Market Size Breakdown by Segment
This report offers deep insights into the uterine fibroid treatment market, with size estimation for 2017 to 2030, the major drivers, restraints, trends and opportunities, and competitor analysis.
Based on Type
Subserosal Fibroids
Intramural Fibroids
Submucosal Fibroids
Pedunculated Fibroids
Based on Treatment
Medication

Levonorgestrel
Gonadotropin-releasing hormone (GnRH) agonists
Progestin-releasing intrauterine device (IUD)
Tranexamic acid (Lysteda, Cyklokapron)

Surgery

Non-invasive

MRI-guided focused ultrasound surgery

Minimally invasive

Uterine artery embolization
Radiofrequency ablation
Laparoscopic or robotic myomectomy
Hysteroscopic myomectomy
Endometrial ablation

Traditional

Abdominal myomectomy
Hysterectomy
Based on End User
Hospitals
Ambulatory Surgery Centers
Geographical Analysis
North America
Europe

Germany
U.K.
France
Italy
Spain

Asia-Pacific

Japan
China
India
South Korea
Australia

Latin America
Middle East and Africa

Saudi Arabia
South Africa
U.A.E.