Market Overview
The U.S. enterprise data service platform (EDSP) market size stands at an estimated USD 20,137.5 million in 2023, and it is expected to advance at a compound annual growth rate of 8.4% during 2024–2030, to reach USD 35,053.4 million by 2030.
Moreover, the Southeast Asian enterprise data service platform (EDSP) market estimated size is USD 1,778.5 million in 2023, and it is expected to advance at a compound annual growth rate of 12.3% during 2024–2030, to reach USD 3,955.8 million by 2030.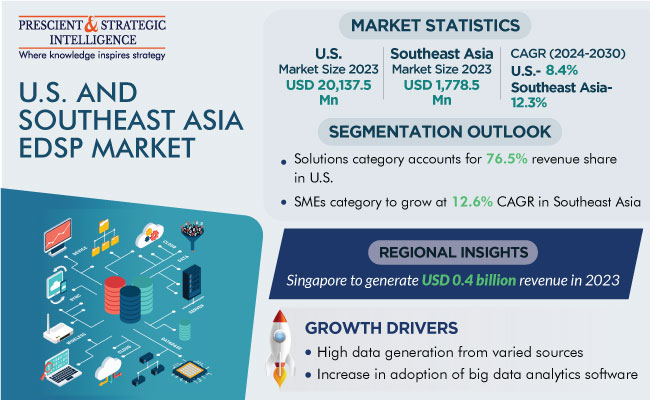 The growth in both the geographies can be primarily ascribed to the high volume of data generation from different resources and the growing cyberthreat.
Solutions Category Holds Larger Share in U.S.
The solutions category holds the larger share in the U.S., of 76.5%, because such software defines and enforces rules and regulations that unify information across workflows. This standardization brings businesses the following advantages: a reduction in costs through improved operational efficiencies and creation of a data-driven culture.
Among solutions, the growth of the analytics category is mainly because these solutions can absorb data in any format, from structured and semi-structured to unstructured. Analytics solutions further transform it for visualization and analysis, thus enabling businesses of all sizes to make sense of their information.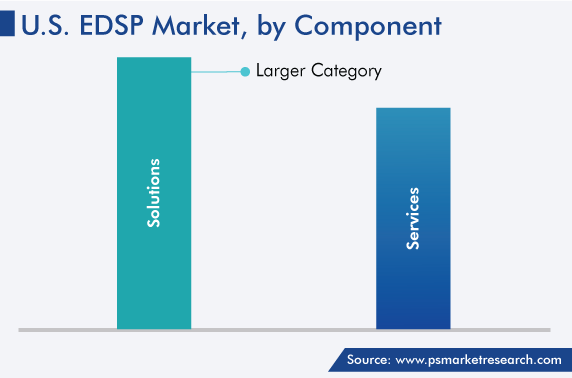 Based on Mode of Deployment, On-Premises Software Generates Higher Revenue in 2023
Based on the mode of deployment, the on-premises bifurcation generates the higher revenue as this deployment mode enables software installation and allows applications to run on organizations' own systems. These kinds of solutions have more-advanced security features, which encourages large financial institutions and enterprises to utilize them.
BFSI Is Largest Vertical in Southeast Asia
The BFSI category dominates the market in Southeast Asia with a share of 16.9%. This is because this sector is rapidly adopting a full-fledged data-driven approach to handling the issues associated with the long-term loyalty of high-valued customers, fraud detection, and application screening.
The retail & consumer goods category is expected to witness the fastest growth, as retailers have a lot of data to manage from many sales channels. The expansion of business opportunities through several online and offline channels has caused information scattering and made analysis more challenging. Therefore, they are utilizing analytics software to examine every potential data generated by interactions with customers during the purchasing stage.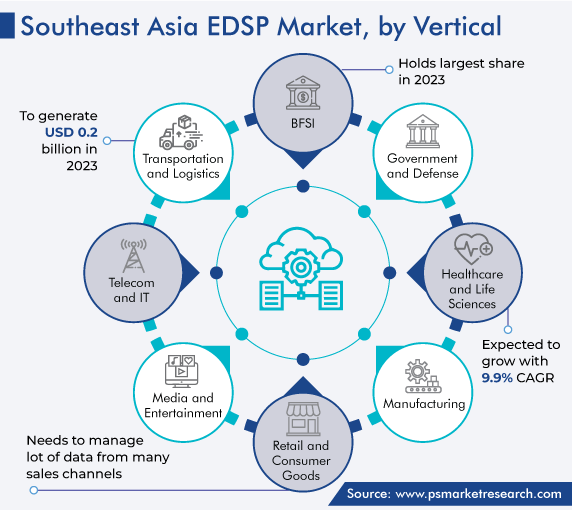 In Southeast Asia, Large Enterprises Hold Larger Share
In Southeast Asia, large enterprises hold the dominant share, of 65.8%, in 2023. To accelerate their digital transformation, large organizations are adopting various high-tech computer tools and platforms. Utilizing efficient applications to evaluate and foresee potential threats and then using this information to make quicker business decisions are key focus areas for large firms.
Growing Use of AI and IoT Is an Emerging Trend
AI has a major role in supporting data transformation, modeling, and storage, by improving the effectiveness, efficiency, and insights of analysis. In addition, it and ML automate data processing and insight generation, support interactions of natural language, facilitate intelligent exploration, enable modeling and advanced analytics, and provide recommendations and augmentation. A large number of processing tasks, including integration, cleansing, and transformation, can be automated with the help of AI-powered tools and algorithms. This further minimizes the manual effort and shortens the data preparation phase, thus ensuring the quality of information, as it will allow scientists and analysts to focus more on analysis and exploration.
Moreover, a large amount of information is being generated due to a rise in the number of IoT-based devices. Already, in 2021, there were more than 10 billion active IoT devices, which has led to avast requirement for such platforms. Furthermore, chips based on IoT are equipped with the encryption technology; whenever a transaction takes place, a unique one-time code is created, which is verified by the issuer. This chip provides end-to-end security via a cryptographic accelerator, secure RAM, and a hardware random number generator. Additionally, for stopping hackers from cloning and infecting these gadgets, reliable software and connected devices are needed. Additionally, to protect the data from theft, security measures, such as passwords, would be needed to enable authorized software, system, and premises access.
High Volume of Data Generation from Varied Sources Drives Market
The demand for EDSP platforms is driven by the massive generation of various types of data by an array of devices, sensors, video/audio services, networks, transactional applications, and web and social media platforms across the world. The boost in digital transformation has fueled this volume exponentially, thus driving the demand for cutting-edge software to store, analyze, share, and protect structured and unstructured data. This creates the demand for sophisticated enterprise tools and software, such as data lakes, warehouses, and integration platforms, for its proper management and effective utilization. As per reports, around 328.77 million Terabytes of data are created every day.
Big data largely originates with consumers, with people creating significant volumes even with the use of the internet for a few hours per day. With every activity, new information. With the increase in the size of business records, swift technological advancements, and rise in the penetration of smartphones and other smart devices, massive amounts of structured and unstructured information are generated every day. Modern solutions play a vital role in enabling organizations of varied forms and sizes to handle and analyze this information, particularly amidst the growing popularity of cloud computing. Thus, a framework is needed to consolidate and manage diverse sources of big data and analyze it to extract maximum value.
For analyzing all the collected information at a centralized location, a vast array of tools is provided by the players, which also aid in extracting and cross-checking the critical components of businesses. Various providers of such services offer unified data aggregation and analytics platforms, which help users successfully aggregate and analyze it from disparate sources.
Key Players in U.S. and Southeast Asia Enterprise Data Service Platform (EDSP) Market Are:
International Business Machines (IBM) Corporation
Actian Corporation
Zaloni Inc.
MongoDB Inc.
Splunk Inc.
Volt Active Data Inc.
SentinelOne Inc.
Microsoft Corporation
Fujitsu Limited
MicroStrategy Incorporated
Market Size Breakdown by Segment
This fully customizable report gives a detailed analysis of the U.S. and Southeast Asia enterprise data service platform market from 2017 to 2030, based on all the relevant segments and geographies.
Based on Component
Solutions

Analytics
Discovery and visualization
Management

Services

Support and maintenance
Consulting
Deployment and integration
Based on Organization Size
Small and Medium-Sized Enterprises (SMEs)
Large Enterprises
Based on Deployment Mode
Based on Vertical
Banking, Financial Services, and Insurance (BFSI)
Government and Defense
Healthcare and Life Sciences
Manufacturing
Retail and Consumer Goods
Media and Entertainment
Telecommunications and IT
Transportation and Logistics
Geographical Analysis
U.S.
Southeast Asia

Thailand
Indonesia
Philippines
Malaysia
Vietnam
Singapore