Market Overview
Integration platform as a service (iPaaS) is a cloud integration platform that integrates application and databases. It can also be defined as a set of clouds based suit, which helps in enabling end-users to develop, manage, govern and integrate application and services as a single, integrated infrastructure. The global iPaaS market has been categorized on the basis on service type, deployment type, organization size and industry. On the basis of service type, the market has been generating highest revenue from cloud service orchestration, while application integration, application programming interface management, real-time monitoring and integration, training and consulting data transformation and support and maintenance are the other major service types of iPaaS. Based on industry, telecommunication sector accounted largest revenue, while BFSI is expected to be the fastest growing sector in global iPaaS market, during the forecast period. Among the organization size, large enterprises accounts for the major revenue.
Market for iPaaS is gaining interest with its growing requirement by leaders across industries, who needs iPaaS solution for reducing ownership cost and business agility.
GLOBAL IPAAS MARKET, BY REGION, $M (2012 – 2022)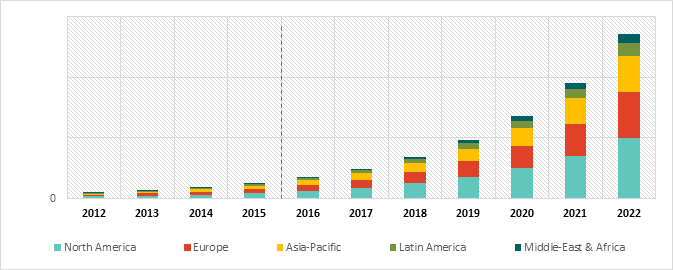 Market Dynamics
The global iPaaS market is expected to grow at a CAGR of 40.4% during the forecast period, to reach $4,054.8 million by 2022. A significant growth in demand for iPaaS is anticipated due to the growing need of real time monitoring and integration, rising awareness about iPaaS among enterprises coupled with growing government support, and rising focus of the companies towards reducing the ownership cost across the globe.
Growth Drivers
The global iPaaS market is driven by factors such as need for business agility, increasing awareness about iPaaS among business enterprises, faster deployment & scalability, growing adoption of SaaS application and reduced cost of ownership.
The total cost of ownership is an estimation of the expenses which are associated with the purchase, deployment, use and retirement of a product or piece of equipment. Total cost of ownership quantifies the cost of purchase across the product's lifecycle. IPaaS also helps business organizations in reducing the operational cost. For instance, a server's total cost of ownership includes an expensive purchase price, low system management time and a good deal on ongoing support due to its user-friendly interface. There are several methods used by the business organizations to reduce the total cost of ownership. IPaaS helps the business organizations in analyzing their total cost of ownership by considering all soft and hard costs. These include the costs of supporting and maintaining the purchase over time. With the help of iPaaS technology, organizations further consider the scenario of their purchases related to technological products, by understanding the complete picture and uncovering those areas where new efficiencies and improvements can be made.
iPaaS provides scalability to the business organizations and helps them to perform and cope under an excess workload. iPaaS helps to maintain or increase the enterprise's level of performance when screened by larger operational demands. Deriving business value involves processing of data at high speeds for actionable insight and actions. Adoption of integration platforms such as iPaaS helps to create a responsive architecture to derive maximum value from this type of data explosion. The need for faster deployment in business organizations is increasing rapidly and is driving the demand of iPaaS globally. The business organizations are developing a framework where no work is needed to install software or place physical servers in the company.
Trends
Some of the major trends in global iPaaS market include growing importance of personal cloud, increasing adoption of internet of things (IoT) and evolving big data concept.
Big data is a concept which can be used to describe the data that is complex and large in numbers, huge in volume and requires various technologies to be captured, stored and analyzed for better decision making. The increasing number of connected devices, growing Bring Your Own Device (BYOD) trend coupled with increasing data traffic is generating huge volumes of data that requires storage space, as a result of which, the demand for iPaaS is expected to grow in the coming years.
Opportunities
The growing need of organizations to streamline business processes and digital transformation are the major opportunity that are expected to drive the future growth of the global iPaaS market.
Digital transformation is a method that every business organization is adopting by investing in iPaaS. They generate revenue with the help of iPaaS technology, as it drives agility and service orientation. In a recent survey, it was estimated that large companies with around 10,000 employees are generating more than 10 million dollars a year with the help of iPaaS. This highlights the growing utility of iPaaS technology across the business organizations.
The services offered by iPaaS are expected to incorporate digital transformation in many companies. The access to quality iPaaS helps the business organizations to simplify the delivery of complex and costly enterprise-scale integration, whether it is to be required for on-premises deployment or in the cloud. This technology will enable the business organizations to re-platform or extend their existing platforms. This would help them to harness the full enterprise potential of new digital capabilities.
Competitive Landscape
The intensity of rivalry in the global iPaaS market is moderate. Most of the major vendors in the global iPaaS market are actively focusing on research & development and innovation to enhance their wired and wireless network. They are also focusing on product launch and partnerships to enhance their product feature and expand their consumer base across the globe.
Some of the key players operating in the global iPaaS market are Informatica, Boomi Inc., MuleSoft, Inc., SnapLogic, Inc., Celigo, Inc., Jitterbit, Inc., IBM Corporation, Oracle Corporation, DBSync Ltd and Scribe Software Corporation.
Scope for Customization
P&S Intelligence offers customization as per specific business requirements of clients. Illustrative customization within the scope of this report includes:
Period of Analysis – Increase in the study period, including historic and forecast years
Company Profiles – Wider company coverage in terms of detailed analysis or additional company profiles
By Type- Others under this segmentation can be further broken down into individual segments.
New custom report – A completely customized report can be provided on the market, specific to a region/ country/ segment.