Market Overview
Internet of Things (IoT) is internetworking of physical and virtual objects, which enables physical and virtual devices relate to each other through cloud technology in order to exchange data and information. With accelerated technological advancements and accumulating dependence on technology, IoT concept is expected to have a propitious future. Hardware components of IoT include processor, sensor, connectivity IC, memory device and logic device. The Internet of Things (IoT) can happen with traditional processor, sensor and other hardware components, but several concerns, including low power requirements and wireless support, have driven evolution of platforms designed for its applications. Moreover, accumulating investments in the IoT industry to develop new IoT-based products are expected to generate demand for more IoT chips. IoT chips are being used in numerous devices and applications of various industries. Applications of IoT chips include wearable devices, healthcare, consumer electronics and several others. The key purpose to adopt IoT enabled devices is to improve safety, comfort and efficiency of work. IoT also helps in better decision making and as result of which increases productivity.
Major factors propelling the growth of IoT chip market include soaring demand of application specific MCUs, and flexible SOC type architectures. IoT chips are capable enough to support varied communication protocols, owing to which these chips are widely being adopted in the field of automation. The increasing demand of IoT enabled applications and devices from various industry verticals is likely to spearhead the growth of the global IoT chip market.
However, security and privacy of data are the major concerns associated with the usage of IoT chips, which acts as restraint to the global IoT chip market. Additionally, lack of common communication protocols across application platforms and high power consumption by connected devices are the major challenges of the global IoT chip market.
GLOBAL IOT CHIP MARKET BY SENSOR $M (2013–2023)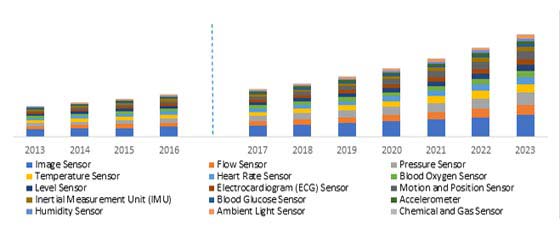 Market Dynamics
The global IoT chip market is expected to witness a CAGR of 15.1% during the forecast period, to reach $17,285.3 million by 2023. Concept of IoT is rapidly being adopted by several industries to provide ease and efficiency of work. Integration of connectivity competence in large number of devices and applications and development of various networking protocols have appreciably spurred the growth of IoT chip market. Moreover, accelerating requirement for application-specific microcontroller units (MCUs) and flexible system on chip (SoC)-type architectures are the major factors propelling the growth of IoT chip market.
Considering the market segmented on the basis of hardware, market for memory device is expected to register the highest growth in the global IoT chip market. IoT enabled devices generate a huge amount of data, it creates the huge demand of the memory devices and storage functions to process and manage data generated from these devices.
Trends
The major trend observed in the IoT chip market is the miniaturization of devices and decreasing cost of connected devices in order to accelerate their adoption. The push for miniaturization of devices comes from the demand for smaller assemblies in specific applications and the need to cut material costs through smaller parts that function similar to larger ones. Manufacturing techniques are pushing the limits of smaller, faster and cheaper products. Moreover, several developing countries including India, China and Japan are rigorously taking initiatives such as large investments in research and development to embolden the acceptance of IoT, which is expected to spur the demand of IoT chip in near future.
Growth Drivers
The factors driving the growth of IoT chip market include increasing growth in the number of networking protocols and accelerating requirement of application specific MCUs and SoC type architecture. Conventional microcontrollers are the general-purpose devices that are able to address an extensive range of control tasks. Additionally, conventional microcontrollers enable a large number of IoT integrated applications. However, despite their flexibility, there still exists a staggering array of inconsistencies from a number of manufacturers. Sometimes the application has specific requirements that device manufacturers are willing and able to develop. Application-specific MCUs allow them to get to market faster with a solution. IoT chips help to integrate connectivity capabilities in number of devices and applications, therefore, it is likely to spur the growth of global IoT chip market. Combination of IoT chipsets with integrated connectivity ICs such as Bluetooth, Near-Field Communication (NFC), Global Navigation Satellite System (GNSS) and others are expected to be used in smartphones and other consumer electronic devices to reinforce varied communication protocols.
The key industry players in IoT chip market have been making investments in R&D, which is expected to propel the market growth during the forecast period. Advancement of IoT generates demand for better wireless connectivity technologies to support new segments of automotive and transportation sector such as connected cars and intelligent transportation system (ITS), which is likely to spur the demand for connectivity ICs in the global IoT chip market. On the basis of application, automotive and transportation segment contributes the largest revenue to the global IoT chip market.
Competitive Landscape
The global IoT chip market reported a consolidated structure in 2016. Key players of IoT chip market include Intel Corporation, Qualcomm Incorporated, Texas Instruments Incorporated, NXP Semiconductors N.V., Microchip Technology Inc., MediaTek Inc., STMicroelectronics N.V., Renesas Electronics Corporation, Huawei Technologies Co. Ltd., NVIDIA Corporation, Cypress Semiconductor Corporation, Advanced Micro Devices Inc., and Samsung Electronics Co. Ltd.
Scope for Customization
P&S Market Research offers customization as per specific business requirements of clients. Illustrative customization within the scope of this report includes:
Period of Analysis – Increase in the study period, including historic and forecast years
Geographical Analysis – Increase in country coverage
Segment Analysis – More granular coverage related to:

Application segmentation - "Others" can be further broken down into different industries

Company Profiles – Wider company coverage in terms of detailed analysis or additional company profiles
New Custom Report – A completely customized report can be provided on the market, specific to a region/ country/ segment