U.S. Digital Signature Market Overview
The U.S. digital signature market size was valued at $230.7 million in 2016, and is forecasted to witness over 20% CAGR during the forecast period. The U.S. government's paperwork elimination act (GPEA) is a key factor driving the growth of U.S. digital signature market. The act encourages central agencies to use electronic filing, electronic signatures and electronic forms for conducting business with public.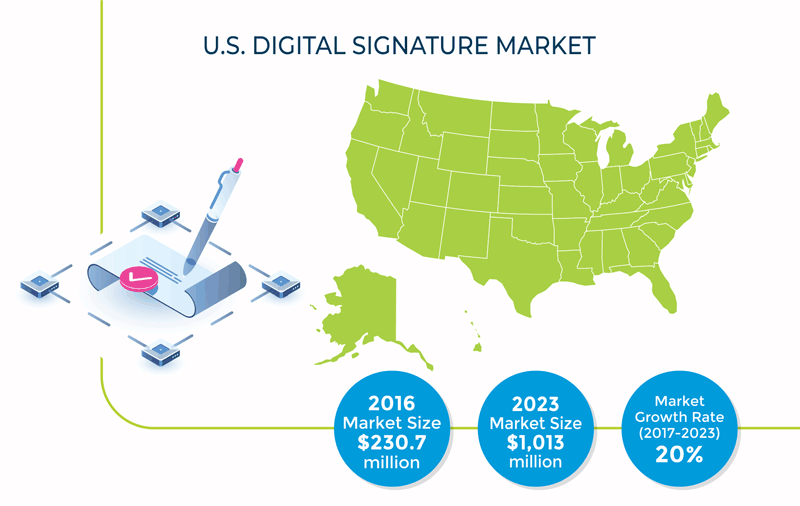 Digital signatures have been gaining interest from all industries in recent years, as they are useful in removing thefts and frauds in many sectors. This has led to increased product sales in the U.S. digital signature market. For example, in the health industry, specialists including doctors, lab investigators and researchers transfer prescriptions and other related data that are digitally signed from hospital's server to the druggist's pharmacy. Druggists get a copy of patient's prescriptions and bills online, to provide better healthcare services and appropriate medicine, due to which, any fraud or manipulation in the prescription can be checked and prevented.
According to a report by Federal Reserve System of the U.S., due to lack of extensive adoption of a more secure method of using credit and debit cards, and continuous use of traditional card purchase technologies, the country has become more vulnerable to card counterfeiters or frauds. Thus, the U.S. government is realizing the importance of digital certificates that are provided through digital signing methods, due to which, the U.S. digital signature market is expected to flourish in future.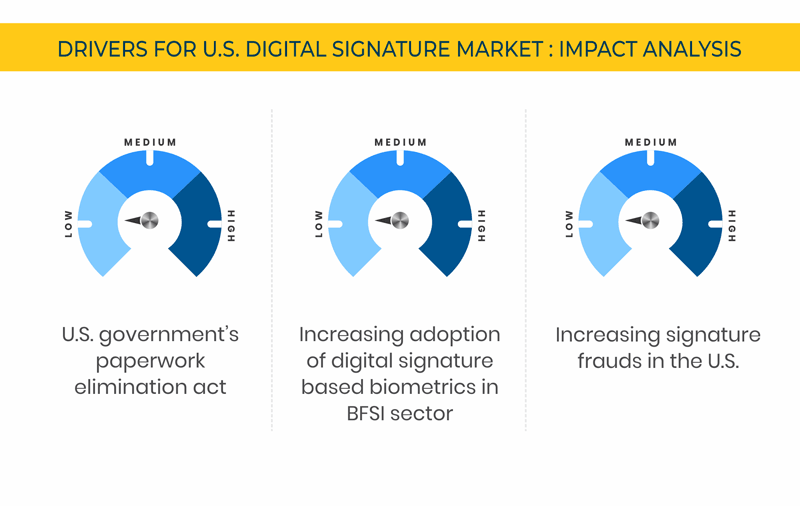 U.S. Digital Signature Market Dynamics
Market Drivers
The rise in adoption of biometric solutions based on digital signature in the BFSI sector in the U.S. is a prime driving factor for the growth of the digital signature market. Biometric systems use advanced and secured digitally sound methods for authentication and identification procedures. It provides unique keys to the characters of each user's signature. The pattern of signature of an individual cannot be stolen or illegally impersonated.
The U.S. government has started realizing that by internet based interaction method, the national agency and its partner can spend less time for completing the transaction. This is another factor backing the growth of digital signature market in the U.S.. Enhanced data analysis opportunities and record keeping efficiency, augmented quality of the final product and increased employee productivity, information benefits to citizens and extensive security for sensitive information are also some of the factors that adds to the benefits of using e-signatures and digital signatures, making them more desirable for being adopted by the U.S. government at mainstream level.
Market Restraints
The high price associated with different types of digital signature solutions has been significantly impacting the growth of the U.S. digital signature market. Most of the solutions are costly, due to multiple functionalities offered by them, which requires extensive software and hardware integration. The high cost of digital signature solutions makes it difficult for the small and mid-sized industries to implement them, thus hindering the growth of the market.
U.S. Digital Signature Market Competitive Landscape
The U.S. digital signature market is moderately competitive, where some prominent global level players are the market in the country. Some of the major players operating in U.S. digital signature industry are Adobe Systems Inc., Secured System Limited, Gemalto N.V., SIGNiX Inc., Entrust Datacard Corporation, DocuSign Inc., eSignLive, and Ascertia.
The companies in the U.S. digital signature market are trying to improve their offerings through new product launches. For instance, in February 2017, DocuSign made its DocuSign Payments available to its U.S. customers. DocuSign Payments, while saving a lot of time and effort, also provide a faster and easier way to collect payments and signatures in just one step. The new product is launched in partnership with the global payments platform, Stripe. The launch will enable users to digitally sign and pay using Apple Pay, Android Pay, or other major credit card.