Market Overview
The global digital signature market value stood at $1,858.3 million in 2020, and it is expected to demonstrate a CAGR of 29.2% during the forecast period (2021–2030). This is attributed to the growing need for authenticating user identity and for smoother digital transaction management. The market showcases a huge potential across the globe since the usage of digital signatures aligns with the growth in the digitalization rate, along with the substantial adoption of online channels for payment and other legalities.
The COVID-19 pandemic positively impacted digital signature solution and service providers in 2020. The market witnessed a hike in the growth rate from 2019 to 2020, a trend that continued from 2020 to 2021. The market is still witnessing significant growth as a result of the remote working culture and continual demand for secured connectivity and online transactions. For example, the banking, financial services, and insurance (BFSI) and information technology (IT) industries have adopted the necessary means to secure remote financial, contractual, and related processes as a result of the pandemic. Thus, all businesses, operations, and transactions that can be held online are being held online.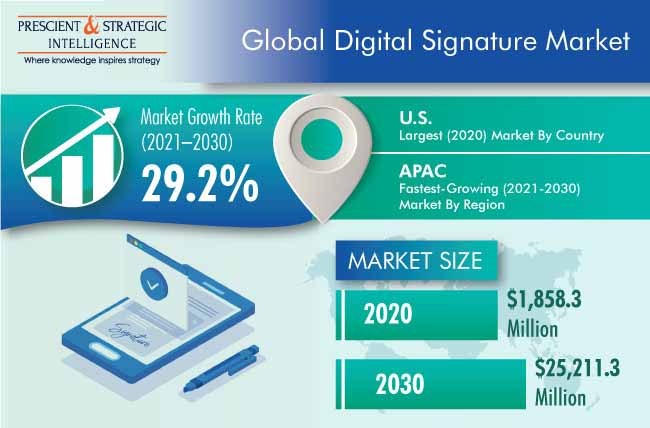 Due to Growing Digitalization Rate, Software Category Held Largest Share in 2020
The software category held the largest share in 2020, based on component. Additionally, the category is expected to maintain the lead during the forecast period owing to the substantial rise in the digitalization rate and awareness regarding advanced technologies across varied industries around the globe.
Owing to Rising Adoption of Digital Signatures, BFSI Held Largest Share in 2020
The BFSI category held the largest revenue share in the market in 2020, on the basis of vertical. This can be attributed to the fact that several countries' governments are focusing on digitized economies, thus resulting in the rising acceptance of digital signatures for electronic payments, improved security in financial documentation, cost-efficiency, and streamlining of records. This category would continue to hold the largest share till 2030 as a result.
North America Was Largest Market in 2020 owing to Favorable Governmental Policies
Globally, North America was the largest market for digital signatures in 2020. The regional market is being mainly driven by the growing use of digital signatures to reduce online fraud and, subsequently, their increasing application in the BFSI sector. Moreover, government policies, such as the Government Paperwork Elimination Act (GPEA) of the U.S., implemented in October 2003, act as an important growth driver for the North American digital signature market.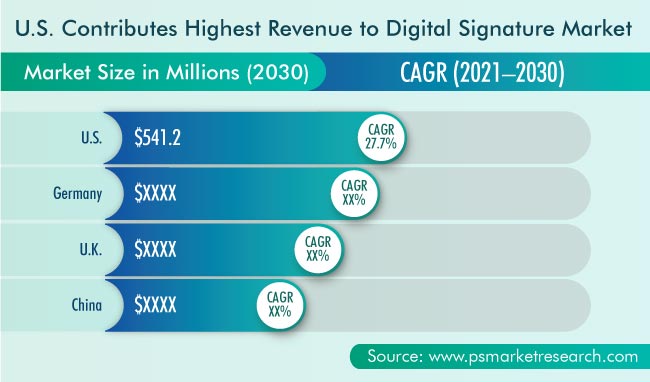 Use of Digital Signatures in Healthcare Sector for Greater Transparency Is Key Trend
The operations across hospitals, clinics, and private practices involve massive paperwork, including document registrations, consent for treatment, medical discharge documents, prescriptions, and invoices. Collecting traditional hand-written signatures from patients during registration and beyond requires the use of paper. This further necessitates the printing and scanning of electronic medical records (EMR) and archiving forms, along with their elimination at the end of their lifecycle (up to 30 years). Apart from eliminating the usage of paper and quickening up the entire process, digital signatures are helpful in reducing frauds and thefts in industries that rely on securing signatures for legal documents.
In the healthcare industry, thus, by the authentication of the digital signatures of healthcare professionals, paper-based prescriptions can be digitally transferred from the doctor to the hospital's server and then to the pharmacy, thus inhibiting a person's ability to manipulate or forge the doctor's prescription. Additionally, services such as drug registries, institutional patient-centered information systems, and appointment bookings over smart devices, which are offered by e-health service providers, such as Practo Technologies Private Limited, are also being adopted around the world.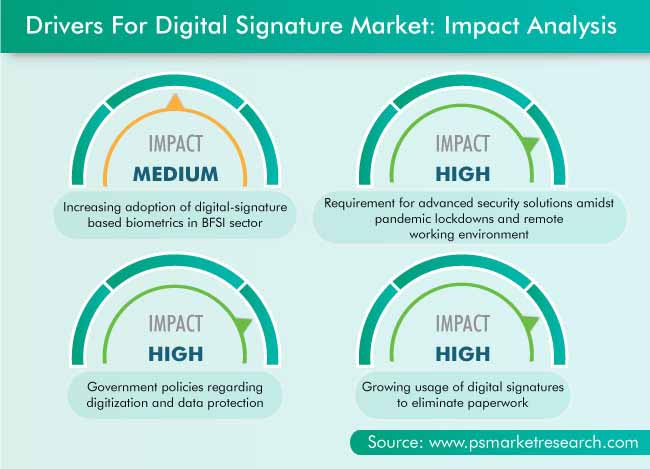 Increasing Adoption of Digital-Signature-Based Biometrics in BFSI Sector Is Strongest Market Driver
The increasing acceptance of digital-signature-based biometric solutions in the BFSI sector is augmenting the growth of the digital signature market. The digital-signature-based biometric technology is one of the most-secure methods of identification and authentication since it provides a unique characteristic to the user's signature. The signature pattern of any individual cannot be copied and stolen for any purpose. Moreover, in some developed countries, such as the U.S. and Germany, people use digital-signature-based smartcards for security purposes.
Growing Usage of Digital Signatures to Eliminate Paperwork also Helping Market Advance
Digital signatures assist in reducing the time involved in filling forms, such as banking, insurance, corporate communication, marketing, and legal and advisory forms. Further, a one-time digitized, scanned signature can be used several times for banking and insurance procedures. With the increasing digitalization rate, the usage of online forms for filing income tax returns, opening of savings and credit accounts, and buying insurance has increased the demand for digital signature solutions.
Using digital signature solutions, industries save costs and improve customer service in areas such as account opening and rendering applications, by reducing the response time down to days, or even hours. Similarly, companies save money by minimizing the costs linked to paper processing and increase the revenue by retaining clients with a shortened approval process. Such factors are together leading to the growth of the digital signature market.
Digital Signature Market Report Coverage

| | |
| --- | --- |
| Report Attribute | Details |
| Historical Years | 2015-2020 |
| Forecast Years | 2021-2030 |
| Base Year (2020) Market Size | $1,858.3 million |
| Market Size Forecast in 2030 | $25,211.3 Million |
| Forecast Period CAGR | 29.2% |
| Report Coverage | Market Trends, Revenue Estimation and Forecast, Segmentation Analysis, Companies' Strategic Developments, Company Profiling |
| Market Size by Segments | By Component, By Deployment Type, By Vertical, By Region |
| Market Size of Geographies | U.S., Canada, Germany, France, Italy, U.K., Japan, China, India, Australia, Brazil, Mexico, Saudi Arabia, U.A.E. |
| Secondary Sources and References (Partial List) | American Society of Notaries, Association for Intelligent Information Management (AIIM), Association of Science & Engineering Technology Professionals of Alberta (ASET), Controller of Certifying Authorities (CCA), Credit Management Association, Electronic Signature & Records Associations (ESRA), Environmental Protection Agency (EPA), European Commission, International Journal for Innovative Research in Science & Technology, Law Society of Scotland, Law Society of South Africa, Ministry of Corporate Affairs (India), Ministry of Electronics & Information Technology (India), National Informatics Center (NIC), National Institute of Standards and Technology (NIST), Ontario Associations of Architects, Society of Corporate Compliance and Ethics (SCCE), United Nations Commission on International Trade Law (UNCITRAL), U.S. Department of Homeland Securi |
Explore more about this report - Request free sample pages
Market Players Focusing on Product Launches
The digital signature market is consolidated in nature, with the top four players, namely DocuSign Inc., Adobe Inc., OneSpan Inc., and Secured Signing Limited, capturing the major share in 2020.Other small and large market players include Gemalto N.V., Entrust Datacard Corporation, SIGNiX Inc., and Ascertia Limited. The market is expected to become even more competitive in the coming years since the demand for identity, security, and business productivity solutions is constantly increasing across organizations.
As a result, many major players are focusing on product launches. For instance,
In May 2021, Entrust Datacard Corporation introduced its remote signing service (RSS) solution, which aims to enable trust for increasingly distributed workforces, by integrating high-assurance, verifiable employee signature capabilities into document applications and workflows. With organizations transitioning to the cloud and workforces becoming more distributed, the need to accommodate new remote business scenarios has increased.
In April 2020, eSign Genie Software announced the Google Suite integration rollout to enable customers to create documents to eSign from multiple platforms, thereby improving their throughput. The integration is aimed at providing customers with a feature that saves their time in getting the documents eSigned. In order to use the Google Suite integration, users need to log-in to their Google Drive or Google Suite account before installing the add-on. Using this, people can eSign any document in seconds, directly from the Google Drive.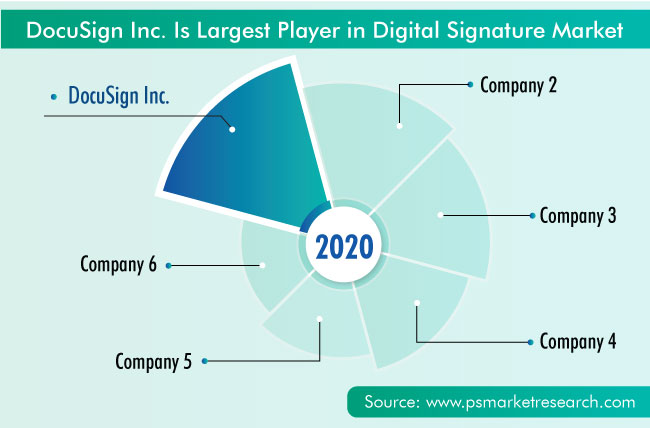 Major Players in Global Digital Signature Market include:
Market Size Breakdown by Segments
The global digital signature market report offers comprehensive market segmentation analysis along with market estimation for the period 2015-2030.
Based on Component
Software
Hardware
Service
Based on Deployment Type
Based on Vertical
Banking, Financial Services, and Insurance (BFSI)
Government
IT & Telecom
Healthcare
Retail
Geographical Analysis
North America
Europe

Germany
France
U.K.
Italy

Asia-Pacific (APAC)

Japan
China
India
Australia

Latin America (LATAM)
Middle East and Africa (MEA)

Turkey
Saudi Arabia
South Africa
U.A.E.