Paper To Be Most Widely Sold Material in Tobacco Packaging Market
Valuing $19,134.6 million in 2019, the global tobacco packaging market is projected to witness a CAGR of 3.7% during 2020–2030. The major reasons behind the increasing demand for tobacco packaging are the rising consumption of tobacco-based products, due to the high stress of employment, and growing popularity of premium tobacco products. Various materials are used to pack dried tobacco leaves and tobacco-containing end-products, such as cigars, cigarettes, bidis, smokeless tobacco, and shishas/waterpipes, in order to maintain their quality and aroma and protect them from natural degradation.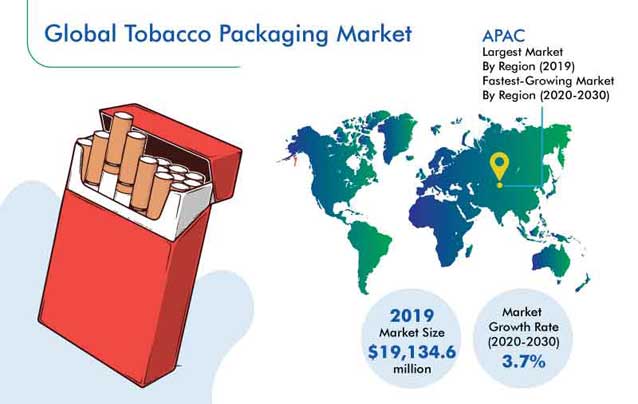 Segmentation Analysis of Tobacco Packaging Market
Till 2030, paper will continue being the most popular packaging material type, on account of the preference for it for packing cigarettes, which are the most widely consumed tobacco products in the world. As per the World Health Organization (WHO)'s estimates, 1 billion people used the almost 6 trillion cigarettes manufactured in 2019. Apart from this, the fact that paper and paperboard materials are environment-friendly increases their usage in packaging tobacco and other end-products.
The primary bifurcation, on the basis of packaging type, would witness faster growth in the industry in the coming years. This is because such packaging can be easily removed by people before using the product. The high utility and attractive appearance of this type of packaging would be primarily responsible for helping raise the demand for it in the near future.
Asia-Pacific (APAC) is currently the largest market for tobacco packaging, owing to the heavy production and consumption of tobacco in China. As a result, China National Tobacco Corporation produces almost a third of all cigarettes in the world. According to the WHO, China was home to 300 million or one-third of all smokers on earth in 2019. To cater to the domestic demand, the Chinese tobacco packaging sector is undergoing rapid technological advancements. Moreover, with the surging disposable income of the middle class and infrastructure development, the demand for such products is rising in Japan, India, Thailand, and South Korea, thereby driving the consumption of wooden boxes, cans, and paper & paperboards for packaging purposes.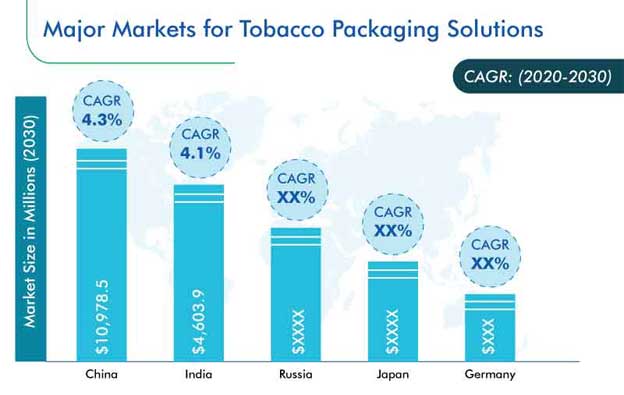 Increasing Work Pressure Is Most Powerful Market Driver
The most influential growth driver for the tobacco packaging market is the increasing consumption of tobacco-based products on account of the rising work pressure. The psychoactive mood-altering chemical, nicotine, which is present in tobacco, stimulates the release of dopamine in the body, after reaching the brain. This creates a sensation of relaxation and pleasure, thereby helping relieve stress. Thus, due to the increasing work pressure and associated stress, a rising number of people are turning to cigarettes and other forms of tobacco, to relax. The WHO estimates that in 2018, 1.337 billion people, including 43 million in the age group of 13–15, used tobacco in 2018, as a measure to deal with their social and physical environment, personal views, deteriorating mental health, and peer pressure. Due to the growing tobacco consumption owing to all these reasons, the usage of packaging materials is rising as well.
Tobacco Packaging Market Report Coverage

| Report Attribute | Details |
| --- | --- |
| Historical Years | 2014-2019 |
| Forecast Years | 2020-2030 |
| Market Size by Segments | Material Type, Packaging Type |
| Market Size of Geographies | U.S., Canada, Germany, France, U.K., Russia, China, India, Japan, Brazil, Mexico, Saudi Arabia, South Africa |
| Market Players | Amcor Plc, International Paper Company, ITC Limited, Mondi Plc, Packaging Corporation of America, Smurfit Kappa Group Plc, Sonoco Products Company, WestRock Company, Winkel Verpackungen GmbH, Bihlmaier GmbH, TFP Sp. z o. o., Duke Packaging, Emenac Packaging, Leser GmbH, Stora Enso Oyj |
Rising E-Cigarette Popularity Is a Lucrative Market Opportunity
The tobacco packaging market has a vast potential for growth, considering the rising demand for e-cigarettes. Due to the production of no ash, cost-efficiency, considerably fewer chemicals, flavor and cartridge strength customization flexibility, ease of use, no fire risk, odor-free nature, fewer health issues, and almost no teeth staining, e-cigarettes are more popular among people aged 15–20 years than those in the older age groups. Moreover, owing to the current fashion trends and rising interest in these products, the use of e-cigarettes is growing. The metallic-foil accents and vivid graphics on the packaging help highlight the over 8,000 unique flavors such products are available in, which is offering opportunities to packaging firms and material providers.

Players Engaging in Mergers and Acquisitions to Widen their Product Portfolio and Technology Hoard
In a bid to add more products to their portfolio and integrate new technologies into their operations, companies in the tobacco packaging market are rapidly merging with or acquiring each other.
For instance, Sonoco Products Company completed the acquisition of Corenso Holdings America (CHA), an uncoated recycled paperboard (URB) and high-performance core manufacturer for the packaging film, paper, specialty, and tape industries, in August 2019. This $110 million all-cash transaction has added CHA's URB mill, which produces a wide range of core board grades, to the production assets of Sonoco Products Company.
Similarly, in September 2016, Sonoco Blow Moulding, which manufactures rigid plastic packaging for the powdered beverage, processed food, confectionery, tobacco, pet food, personal care, home and garden product, and pharmaceutical sectors, was acquired by Amcor Plc. With this move, Amcor raised its production capacity of specialty containers and expanded its clientele and product portfolio.
The major players in the global tobacco packaging market are Amcor Plc, International Paper Company, ITC Limited, Mondi Plc, Packaging Corporation of America, Smurfit Kappa Group Plc, Sonoco Products Company, WestRock Company, Winkel Verpackungen GmbH, Bihlmaier GmbH, TFP Sp. z o. o, Duke Packaging, Emenac Packaging, Leser GmbH, and Stora Enso Oyj.
Tobacco Packaging Market Size Breakdown by Segment
The tobacco packaging market report offers comprehensive market segmentation analysis along with market estimation for the period 2014–2030.
Based on Material Type
Paper
Wood
Plastics
Metals
Based on Packaging Type
Geographical Analysis
North America
Europe

Germany
France
U.K.
Russia

Asia-Pacific
Latin America
Middle East & Africa

Saudi Arabia
South Africa